Update: Apology/statement from John via Facebook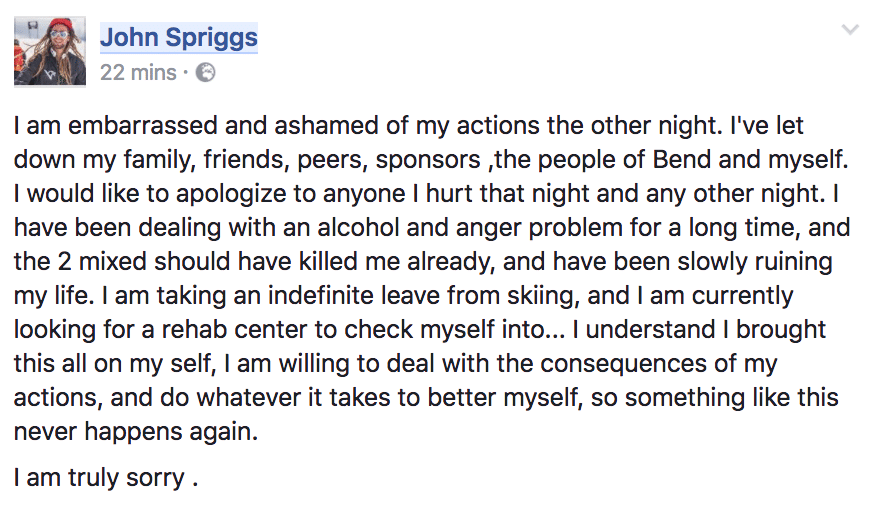 The story (Source: KTVZ):
John Spriggs was arrested early this morning, KTVZ reports. He has been accused of breaking into a local apartment complex in Bend, Oregon, assaulting two women and demanding that they give him back his hoodie. According to officer Lt. Brian Kindel, "alcohol was a factor" in the incident that led to the arrest of John Mario Spriggs, 28, who police described as "a transient". Full story below
"Around 5:30 a.m., officers were dispatched for a report of a domestic disturbance at an apartment complex at 82 Northwest Riverside Boulevard, Kindel said. A neighbor reported hearing what sounded like a physical altercation in an adjoining apartment. Officers arrived to learn that Spriggs had been an invited guest in the apartment, but was asked to leave by the two residents "after exhibiting inappropriate behavior," Kindel said in a news release.
Sprigs refused to leave, however, and began breaking items and assaulting the two female residents, the lieutenant said. The women were able to lock themselves in their bathroom while Spriggs allegedly continued to break items. Spriggs left that apartment but kicked in the door of another apartment, walked into the bedroom and awakened the sleeping residents by yelling at them, demanding they give him his property, a reported hoodie, Kindel said.
Spriggs then left the scene, "having caused extensive damage to both (apartment) units," the lieutenant said.
Responding officers found Spriggs nearby and took him into custody. He was taken to the Deschutes County Jail, where he was held on $55,000 bail, facing two counts of first-degree burglary and one count of fourth-degree assault, according to jail records.
In early February, Bend's Oregrown announced a sponsorship agreement with "pro skier and backcountry legend John Spriggs," noting his two-time "Best Trick" wins at Denver Big Air and three appearances in the Winter X Games, as well as many film appearances.They said it was believed to be the first time an Oregon marijuana company had sponsored a pro athlete.
An Oregrown representative said Wednesday that they have dropped Spriggs' sponsorship and will be issuing a statement."