We get a lot of customers who are unsure what to buy (parents mostly), so last week I asked some of the team to talk about their favorite gear.
Mike Broadbent: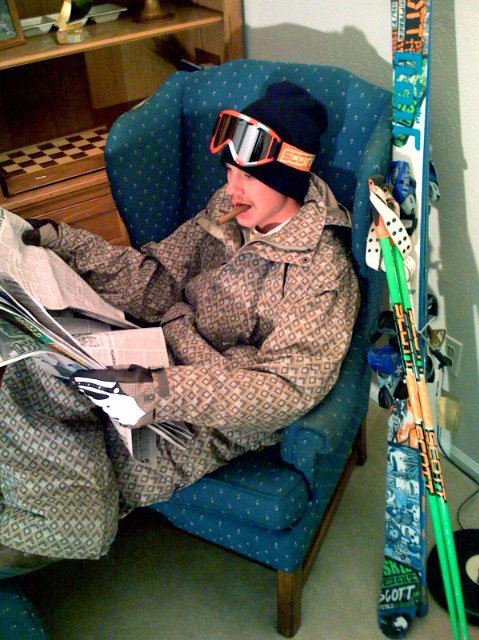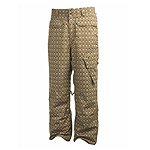 Mack CIS jacket and Agenda pant: The Mack CIS jacket and
the Agenda pant are a great pair to have because they go just as well together
as if you mix and match with other outerwear.  The Mack CIS is perfect for
spring and winter conditions because it has a removable inner jacket so no
matter what the weather, you'll always be comfortable.  They also have
some of the best waterproofing on the market and come with all the features you
would expect from Helly Hansen.
 Team issue poles:  These poles are made with extremely high
quality aluminum that is light and durable. If you like your poles to stay
straight and intact, get these.  They also have fresh, vintage leather
straps.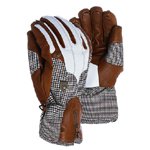 Level Utah Gore gloves:  The Utah Gore gloves are awesome! 
They are duel chamber so you can choose to have more or less insulation
depending on the day.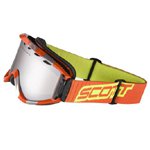 Scott Alias Community Service goggle:  If you hate goggles that fog,
these are a good choice.  No matter how much you hike  or sweat, they
stay clear.  Also, they have really really soft face foam which feels
amazing.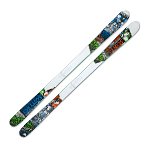 Scott P3 skis: A great, solid park ski.  It's also above average for all mountain skiing so it's ideal for a park or all mountain skier.
Jon Hartman: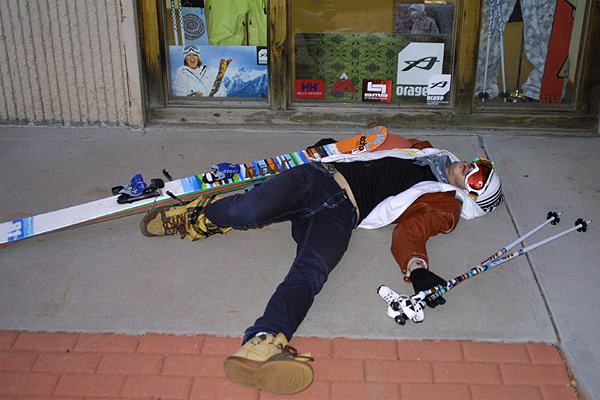 My Bula hat keeps me nice and warm, even when  my jeans
have been soaked through and frozen for a few hours. Its all about insulating
the head.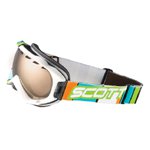 These Scott Alibi goggles never fog, try it im serious, they rock- and
that iridium lens on them keeps the paparatzi flashes out of my eyes while im
on the hollywood strip.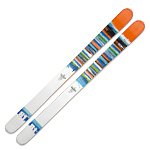 These Scott P4's are the most gnar kill skis that i have ever been on,
i ride em everywhere; park, BC, urban, anywhere. They are light and poppy, and
the action graphic makes you always feel like you are moving wicked fast.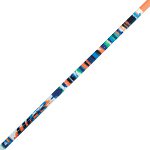 hmmm, these Scott P4 poles, what can i say about these poles.... oh they
kick ass, super durable good firm grip and they're so light you don;t even know
they are there (so you can actually ride with poles)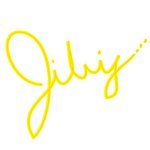 Finally my Jibij hoodie with the Jibij spelled out in pee, what
else can i say about this but that it is pure brilliance. i know that whenever
i go to piss in the snow i try to replicate the celing of the sisteen chappel,
but with theis hoodie i can bring my pee art with me where ever i go.
Oh and my jeans and leather jacket are so sick, $5.78 for the whole shebang, big shoutout to my other sponsor ARC (and yes kids if you didn't know, it stands for American Retarded Citizens) for hooking up the sweet used clothes that an old hobo probably died in.
Sean Jordan: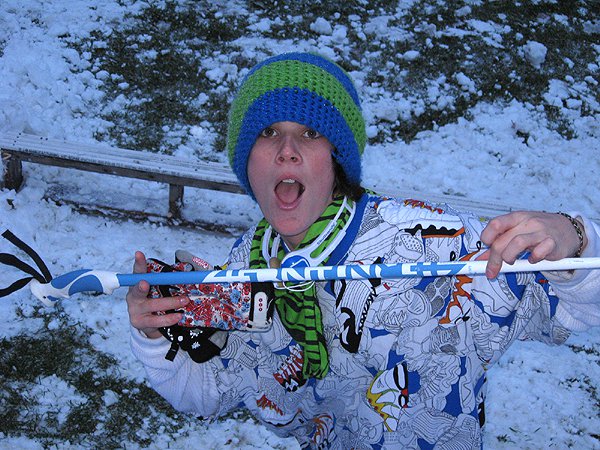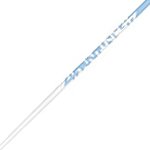 These 4FRNT Crossfade poles are by far the
lightest poles I have ever owned. On top of them being super light, the grip is
really comfortable and the design and colors are pretty rad. Get these poles
and all you friends will be jealous.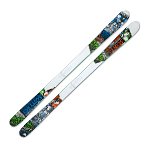 This is my first year on Scott skis. I have only been riding them for a
week and i like them already. Along with them being really legit on snow and in
the air, the graphic "What skis should i get" pops up.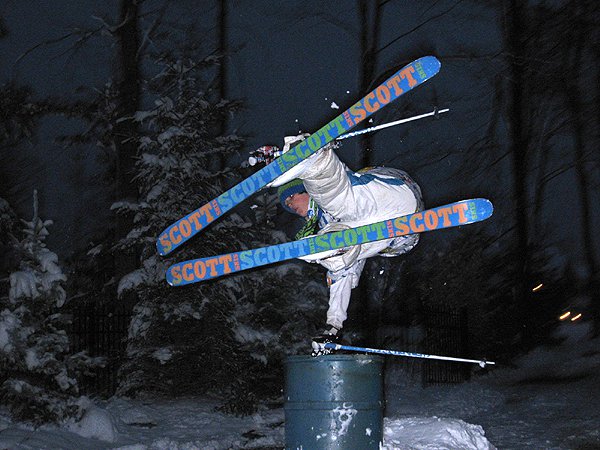 Dan Broadbent: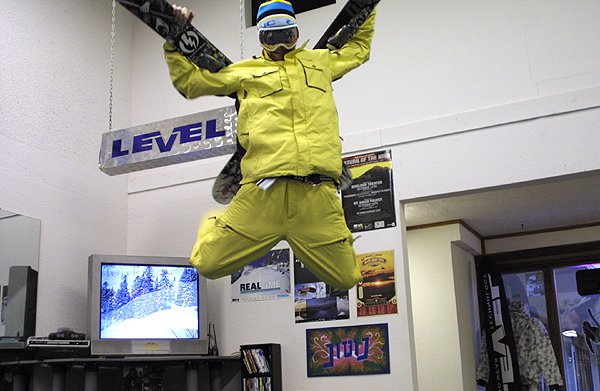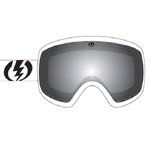 These EG2's are the best goggles I've ever had,
they have a huge field of vision and they look so sick.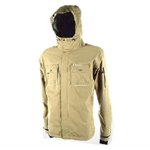 The Orage Morrison jacket is so perfect, its great for any weather and the attention
to detail really makes it stand out.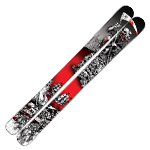 Even though these K2 Hellbents are beasts, they are great all over the mountain. 
It's surprising how easy and fun these skis are no matter what the conditions.
LJ Strenio: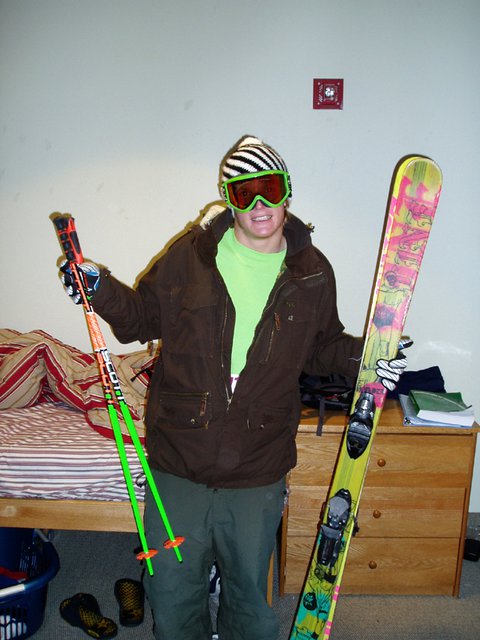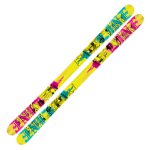 This year I'm skiing on a variety of different
Line skis but preseason means rails and there's no better ski than the Invader
for them, sooo buttery soo fun. It's not even an option. Rails=invaders.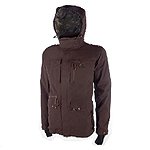 Then
Josh was nice enough to hook me up with this dope new Orage Jefferson jacket, very comfortable, very sick, standard Orage. Thanks Josh!
 Next up I'm rocking a bunch of Scott gear. The
goggles are so dope and cannot fog which is a bummer because I actually happen to
like skiing with fogged goggles but they dont do that sooo too bad. I've also
got someTeam Issue poles that are quite nice, the graphic is ill and they get the
job done.
For my dome, I'm always rocking one of the million different types of
EC Headwear hats that are all sooo sick, and if you rock a helmet during the
regular season like me, you can still charge it with like 90 percent of the
hats made by EC so get one! All in all I'm very stoked on my gear so GO TO
JIBIJ AND BUY ALL OF IT! and look like me!
Dan Grund - Jibij employee: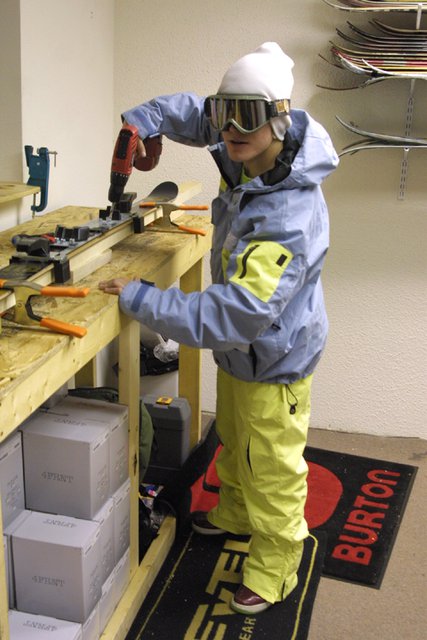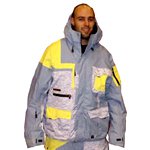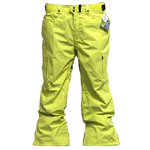 The SMS graph paper remix jacket and mrider pant
keep me warm and dry on even the coldest days of the season.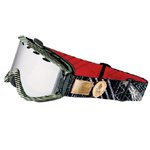 The Alias Scout goggle by Scott
has a great Amplifier lens system that works in any light condition, and has a good
looking graphic.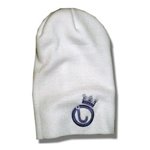 And I keep it fresh with my Jiberish tall beenie.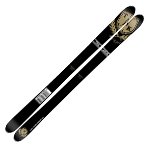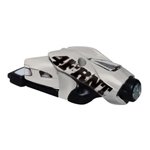 I'm mounting
my pair of 4FRNT TNKs with 412 Deadbolts. They are a really great park ski,
super poppy with a great flex.
Josh Bishop: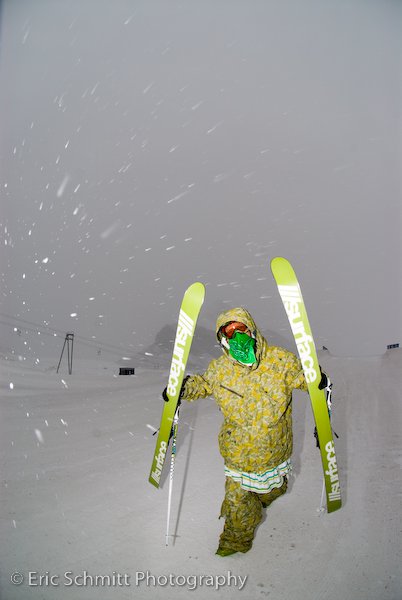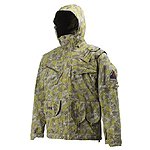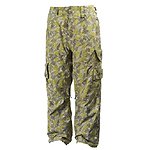 Military Jacket &
Pant:
I have never been more impressed with
the functionality, style, and fit of ski clothing. From everything to bluebird
skies, to hiking -9 Celsius temperatures, the military jacket and pant keeps me
warm, dry, and skiing until last chair everyday. My suit is wind proof! While
other athletes were getting chilled from the elements, I was able to ski lap
after lap, perfectly comfortable in my clothes.
An added bonus to this outfit is their
use of hidden pockets. Everything from goggle wipes, to I-Pod pockets, to
secret places to stash your valuables can be found in the jacket and pant. My
favorite feature is the pocket for the goggle wipe. The pocket is fully
integrated into the hood and provides easy access to your goggle wipe while
skiing.  Rather than dig through your
chest pockets and expose yourself to the elements, the goggle wipe can be
easily accessed without taking your gloves off!
This is the first suit I've worn that
fits properly. Given that clothing is a tremendous part of style, wearing the
Military suit allows my shots to POP on film. If you are looking for a suit
that fits well, looks great on film, and is absolutely bomb proof on the
gnarliest of days, the Helly Hansen Military Suit is for you.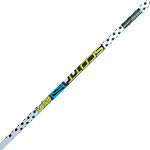 Scott Riot
Poles
The colors on the Riot poles provide a
fresh alternative to the standard matte black that most companies produce. They
stand out on film, add style to an otherwise piece of boring equipment, and
feel great in your hand. The Riot poles are very light, very strong, and
perfect for park skiing.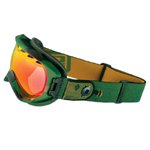 Alibi
Goggle:
After an entire day of hiking, the
Alibi goggle NEVER fogs. I'm really impressed with the amplifier technology,
the comfort, and the venting system in the goggles. Along with being
technically sound, the goggle looks sick and the different lenses POP on film.
The peripheral vision that the Alibi proides is superior to other goggles and
the spherical lens looks great in photos. If you feel limited by your goggles
fogging, or not being able to see well in flat light, the Scott Alibi is a
great solution.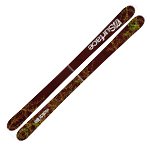 SURFACE Watch Life:
Buttery, very solid on jumps, and perfect for slaying park. At
183, this ski is 90mm under foot and provides a perfect base to stomp tricks on
big jumps. I'm really impressed with how light and poppy this ski is. While in
the park, having a versatile, ski with fast edge to edge control, and a
light swing weight is ideal. If you're into stomping your landing, buttering
into rails, and having a ski you can take beyond the park, then this ski is for you!
Hopefully these gift ideas helped you decide what to buy, or ask for.  If you still can't decide, we offer Jibij Gift Cards, perfect for anyone.
And don't forget to enter your NS username in the comments box during checkout for 10% off!