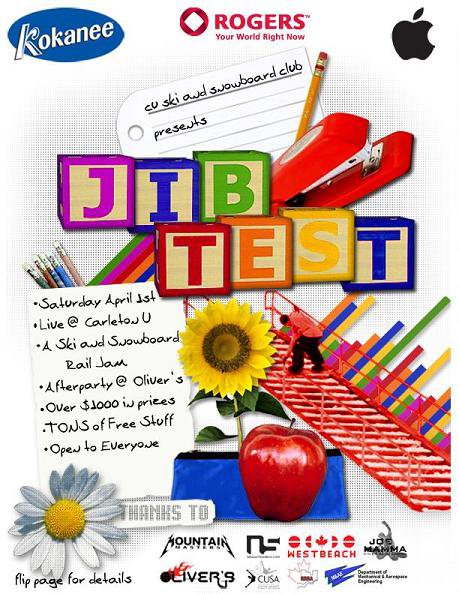 JibTest in Ottawa!
Graphic Design: Mikee
Press Release: lanks
Final exams are just a few weeks away at
Carleton University, but the biggest test on campus will be of a different
genre altogether. On April 1st of this year, 25 skiers and 25
snowboarders will have their rail sliding skills put to the ultimate test on a
custom built jib setup all afternoon and into the evening.  And in conjunction with the hours and hours
of jibbing, Apple and Rogers Wireless will be on hand to demo their latest
technological wonders. The evening will then be capped off with hours of
debauchery and prize giveaways inside Oliver's Pub.
The timetable for the day will begin with a
study session early on in the afternoon, which will enable everyone to cram as
many runs as they can on both the 24 foot down rail and the 25 foot double
kink. The midterm exam will feature all 50 participants, with a mere 10 skiers
and 10 snowboarders passing, and qualifying for the final exam. At the end of
it all, $1000's worth of prizes will be up for grabs for the day's greatest
achievers, as well as a handful of spots in the commencement ceremony that
evening (which incidentally come with your very own graduation caps!).
After the day's graduates are recognized at
the commencement, the focus will shift to the JibTest afterparty at Oliver's
Pub, our favourite campus watering hole. It is one of the final nights that
Oliver's will be fully open, ever, so Kokanee has fully jumped on board and
will be making sure the night will be one you won't forget. Errrr, yeaah. As
well, many of your favourite NS admins and celebrities alike will be on hand to
show you a good time. We're looking to sell out the bar like we did with our
premiere in the fall, so don't miss out.
In conclusion, if you feel you're at the
top of the class in jibbing, sign up for JibTest quickly, as there are a mere
25 spots available for skiers (email CURAILJAM@yahoo.ca
for more info). And for everyone who is of age and wants to get buckwild, come witness
the rail jam, pick up a $5 ticket, and go nuts at the afterparty. We'll even
bribe you with the possibility of literally tons and tons of free stuff inside
the bar! Hope to see you all there.