words & photos: cko
After stops all across North America, Europe and Asia, Salomon has descended on Mammoth, CA for the finale of their season-long Jib Academy Tour.  The tour paired jibbers 16-and-under with various pros for mellow morning sessions of quality riding, then pitted the young'ins against each other in a rider-judged jam at each stop, with the winner moving on to this week of skiing in Mammoth alongside the international team.
Day one was a great one for warming up and shaking any jet-lag, with windy and cooler than normal conditions in the Main Unbound park and a few inches of fresh blanketing the mountain.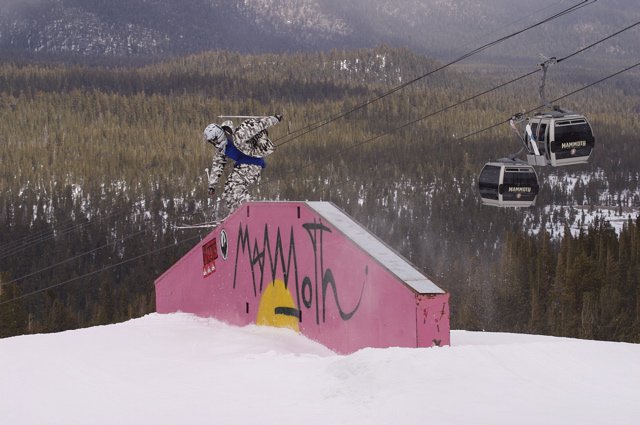 Michael Clarke is on hand shredding with fellow East Coasters like Nick Martini, who won the stop at Waterville Valley, NH.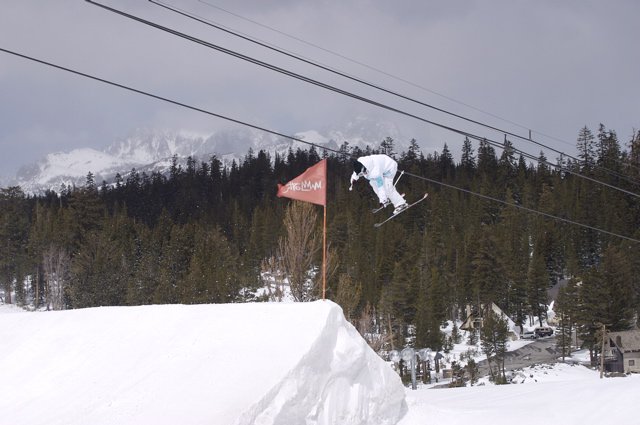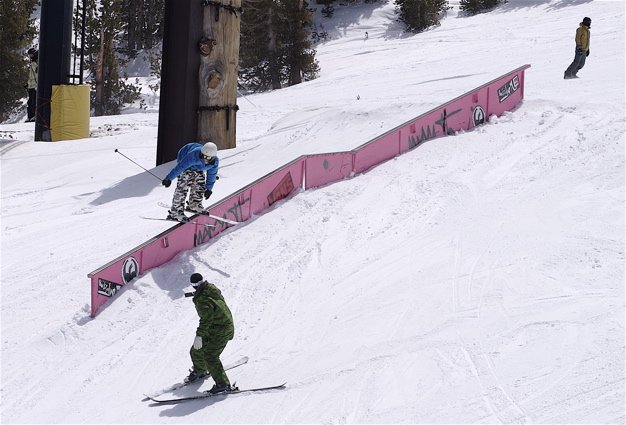 Saturday saw more riders arriving inlcuding Simon Dumont, Charles Gagnier, and Kaya Turski, who's back on snow albeit taking it easy until she has the go-ahead to charge it in August.  The weather was also better, pleasing the many camera people that are here to document the action. 
 
We've got myself, Jay from Freeskier (pictured), Ben from MSP, and three European media that are shooting photos and video for Salomon and TV in France. It's nice to know everything is being documented but it can get a little hectic with that many cameras going all the time.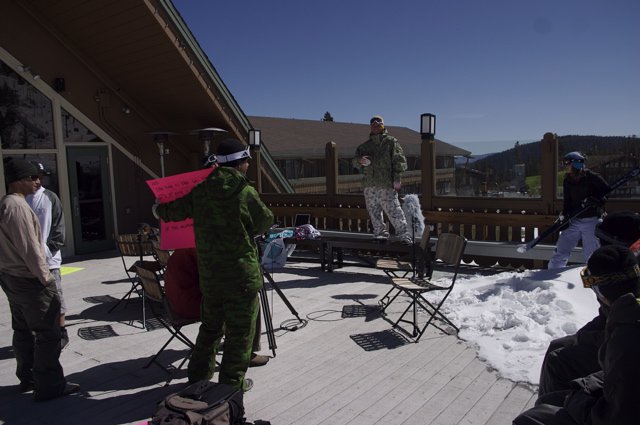 Since the team is on hand in one place for the first and only time this season, Salomon is taking this oppourtunity to gather content for their website and next years creative.  Mike Douglas came armed with an HD cam, next years skis, some cue cards, and was directing all the action like a seasoned tv pro.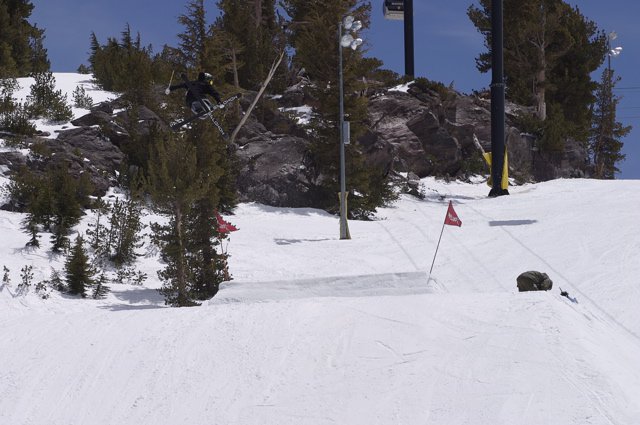 Matt Walker was also in town after Breck's closing, and he's killing it as usual.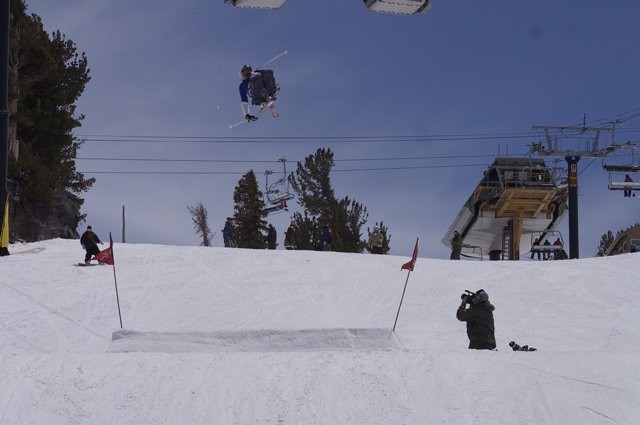 More Clarke action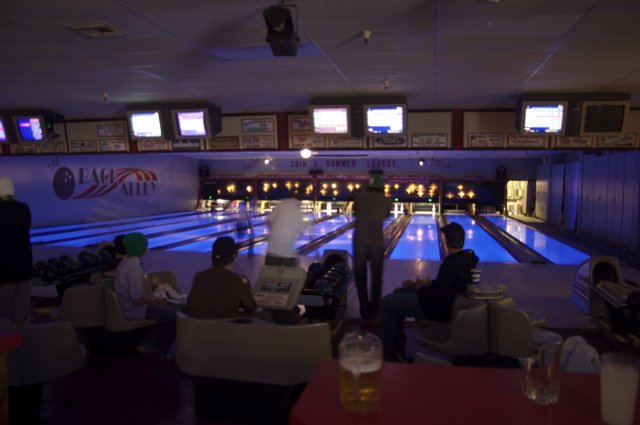 For apres-ski and dinner on Sunday, the local bowling alley in Bishop was rented out. It's really surprising how good some of these skiers at bowling.  Of note, Peter and Simon have got this game on lock down, complete with crazy curving spins and scores over 100 - which was enough to surpass most of the rest of the crowd quite handily.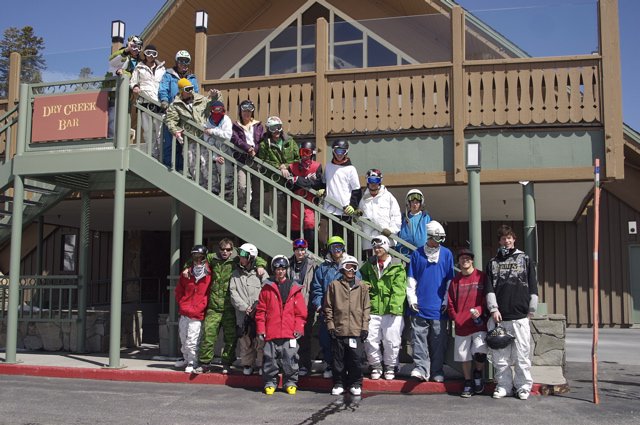 Monday starts with a group photo outside of our accommodations at the Mammoth Mountain Inn and as soon as that's done everyone heads straight up the mountain to get started on the big jump in the Unbound park. Until now it's been too windy but today we've hit the jackpot with a classic Mammoth spring day.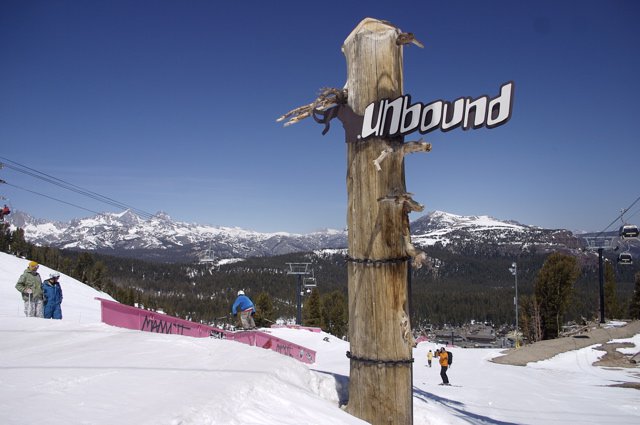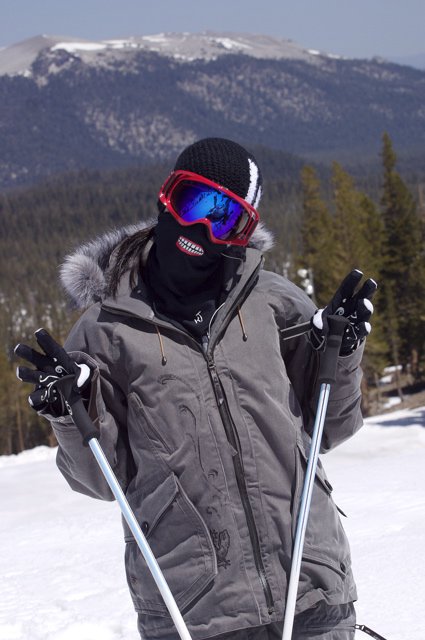 Kaya with her homemade grill-bandana.  This is what happens when you have too much time on your hands.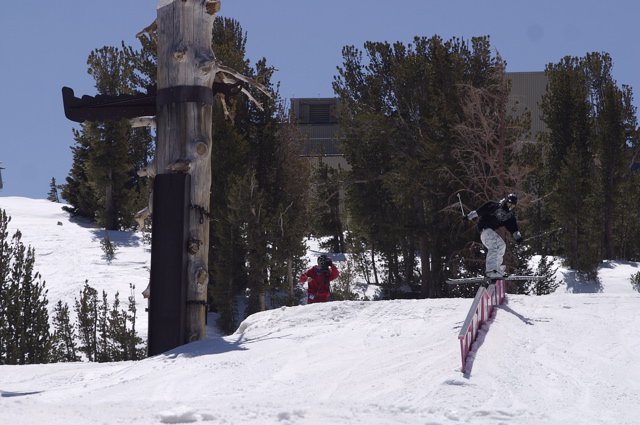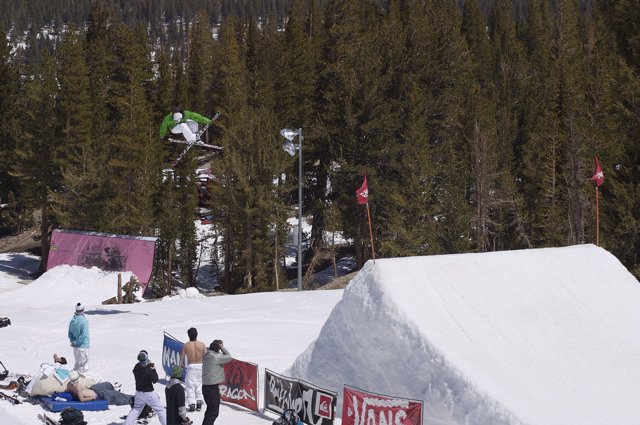 Charles Gagnier broke his hand in the Whistler pipe but he's still charging sans-poles, sporting a spiffy new cast.  No matter though, you'd likely have to put this guy in a straight-jacket for him to miss a grab.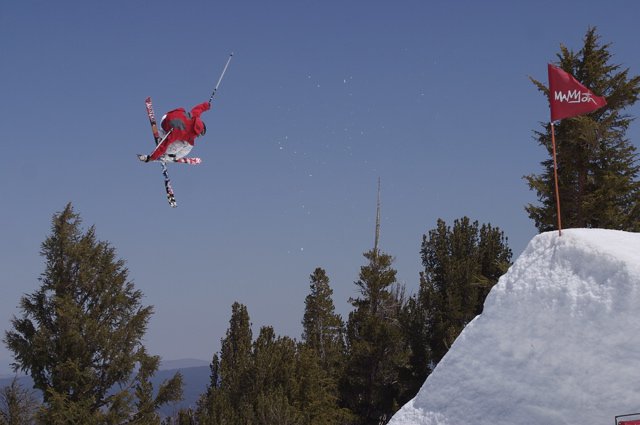 Super grom action followed by some lunch on the patio / tanning session. After a few too many red noses tomorrow is officially Nationals Sunscreen Day.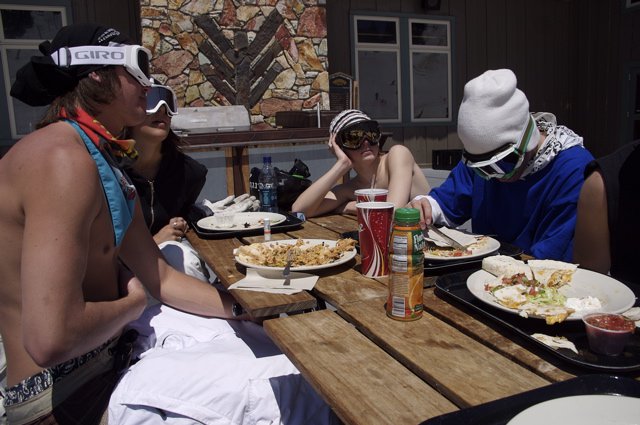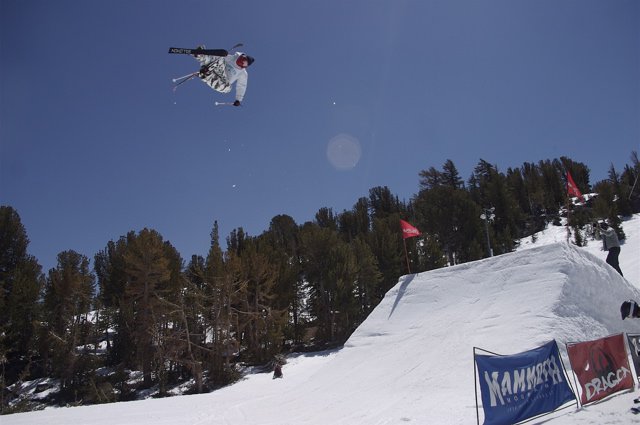 Sammy on one of his zillion runs through the park.  Everyone's been stoked on Mammoth's quick laps. It also makes for some tired skiers at the end of the day and some early nights.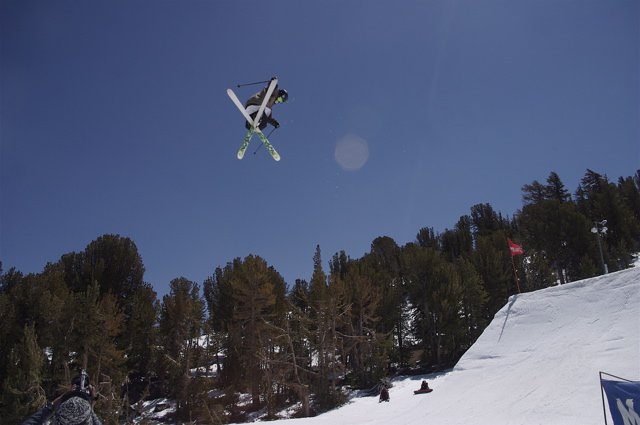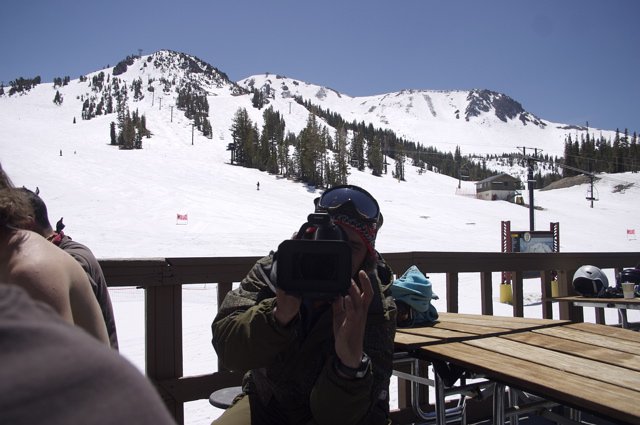 Tuesday we've got more day time skiing and an evening shoot in the park on what's looking like another great weather day.  Stay tuned for the next update.  We'll have video and hopefully some dope results from the sunset session.  Peace!