Interview by Anthony Bonello
Photos by Nicolas Teichrob
In February, 2012, The North Face athletes Izzy Lynch, Leah Evans and Mike Hopkins travelled to Kyrgyzstan to explore the Tien Shan Mountains and shoot the short film "Jalpak Tash – A Kyrgyzstan Epic" by b4apres Media. Situated in post Soviet Central Asia, the crew set up basecamp in a yurt, or traditional nomadic tent in the backcountry, and ski toured, bagging a few first descents and discovering a part of the world they knew little about.
Be sure to check back here tomorrow for the online premiere of the film, "Jalpak Tash – A Kyrgyzstan Epic".
What did you know about or expect Kyrgyzstan before arriving?
Leah Evans: When I got a call in early December from filmmaker Anthony Bonello asking me if I would like to go on a ski trip to Kyrgyzstan, I sheepishly asked if I could call him back because I had no idea where this "Stan" was located. I then called one of my best friends who is fascinated with Central Asia and she informed me on the location, culture and political situation. I asked her should I go and she said without hesitation "YES".
Mike Hopkins: I wasn't really sure what to expect. You can only learn so much from reading about a country. My first thoughts were of horses, rickshaws, and yurts. The post-Soviet cityscapes were in the back of my mind, but leading into the trip I had been preoccupied learning about recent revolutions and life in the mountains. I would say 85% of my fabricated perspective evaporated with the Mercedes, fur jackets and smiles waiting just outside the airport.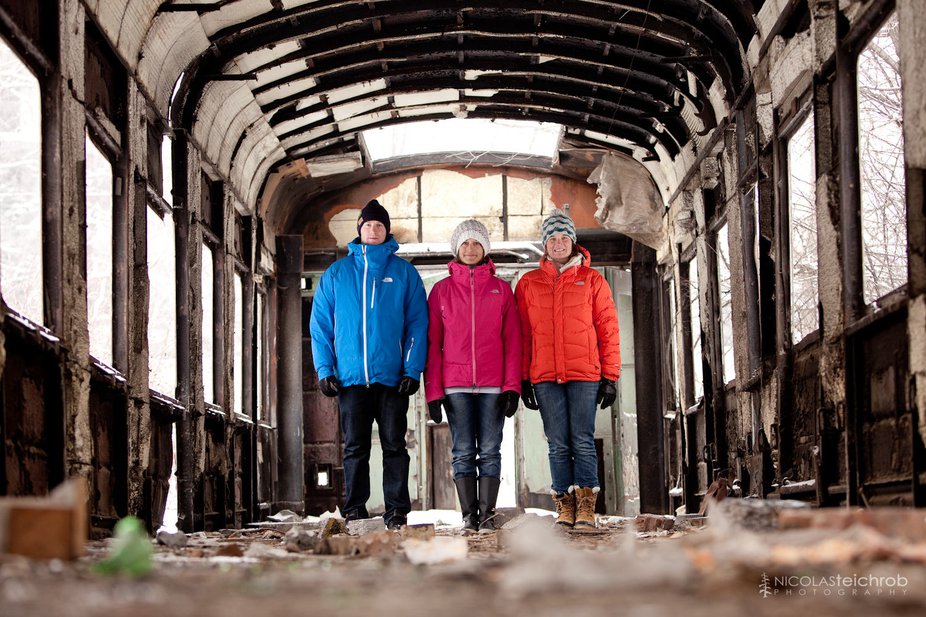 Mike Hopkins, Izzy Lynch and Leah Evans.
Why did you want to go on the trip?
Izzy Lynch: The fact that I knew nothing about Kyrgyzstan made me want to go on the trip more than anything. It's not often that you get to explore a place you really have no prior knowledge about. I tried to imagine what it might be like, but it was hard with minimal information and no personal ties to the place. The adventure of heading into the unknown without any preconceived notions of what it might be like was super exciting for me.
Leah Evans: When you have the opportunity to travel with your best childhood friend (Mike Hopkins) and your current ski buddy (Izzy Lynch) across the world to ski, you can't say no. I knew this was the trip of a lifetime. I also enjoy traveling to the unlikely ski destinations because you meet people who have never seen skiing or been skiing before and that is where the real adventure starts.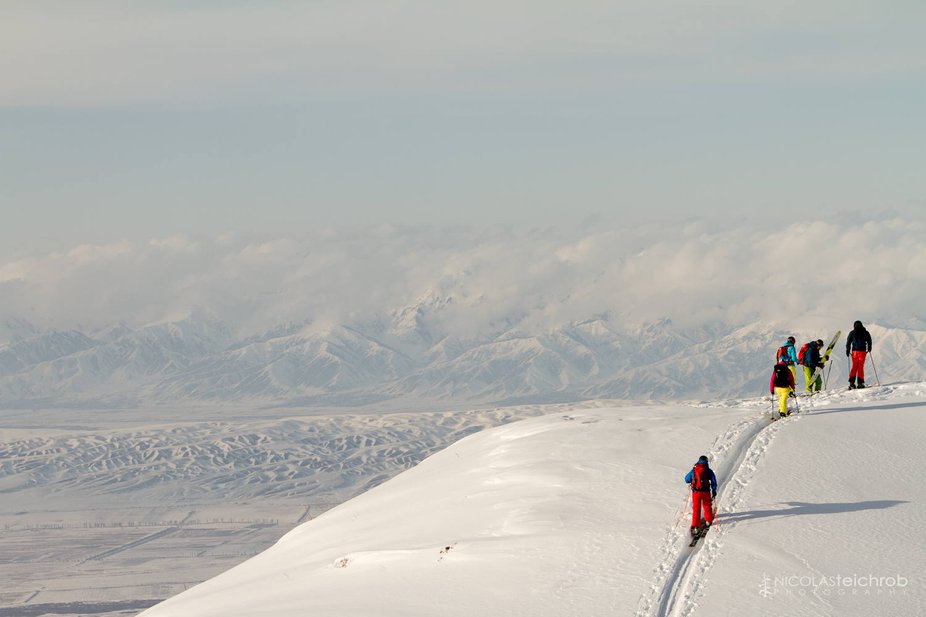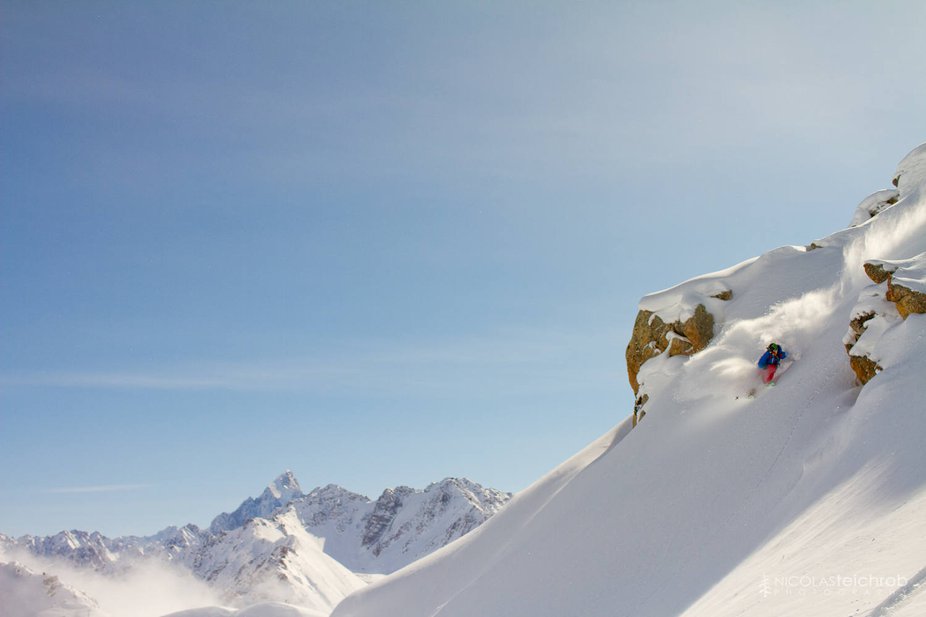 Mike Hopkins
What was it like arriving in Bishkek?
Izzy Lynch: Frigid. The first day in Bishkek might have been one of the coldest days of my life, reaching -30 degrees Celcius (-22 Fahrenheit). We were so excited to explore the markets and get a feel for the urban landscape and the history that surrounds Bishkek as a former Soviet city, but the cold made me wonder how we were going to survive a week in the yurt. By the second day I had surrendered to wearing my down booties around the city and discovered that we were never more than a few steps away from a hot bowl of borsht... Things were looking up!
Leah Evans: Two words: extremely cold. I engineered a way to keep my feet warm by up pulling my boot heaters out of my ski boots and putting them into my winter boots.
Izzy Lynch & Leah Evans
Mike Hopkins makes a friend.
Who is Ryan Koupal?
Leah Evans: From Colorado, Ryan spent three seasons exploring Central Asia before creating 40 Tribes Backcountry as an initiative to help generate winter tourism in Kyrgyzstan that employs local people in rural areas. A man with vision who is willing to follow his dreams and help people along the way.
Mike Hopkins: I have never seen someone so passionate about what he does and his area. He is like a kid out of Peter Pan with his "Lost Boys Club" at the yurt and he is stoked. He is definitely here for the soul of the area.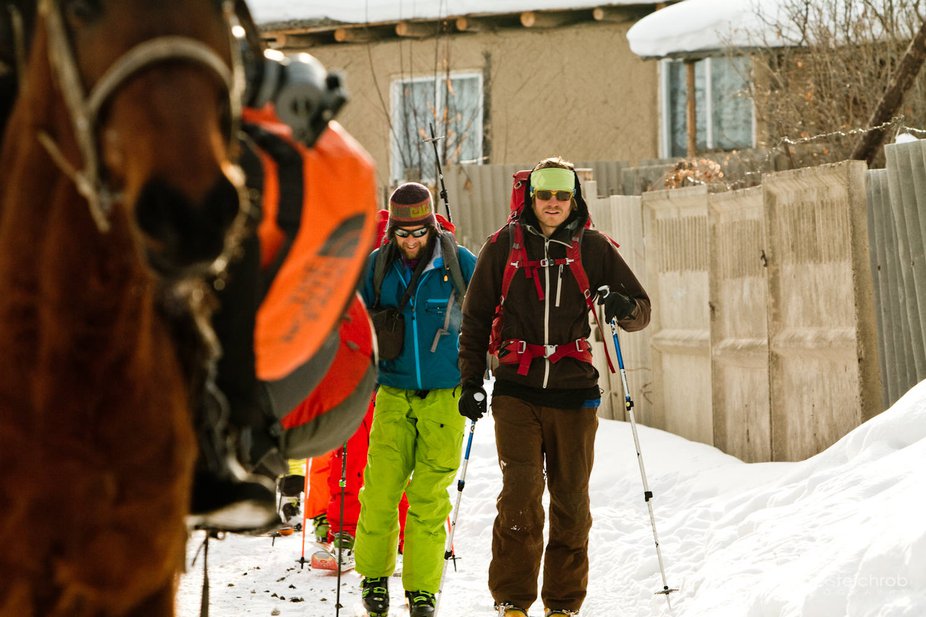 Ryan Koupal
What was the purpose of the homestay? Describe the experience.
Izzy Lynch: Ryan is conscious of how 40 Tribes is affecting the local Kyrgyz people. He makes an effort to provide an authentic experience for his guests while sharing the profits with the local people. Ryan arranged for us to stay with a family for a night in the village below the yurt. The homestay was one of the highlights of the trip for me as it gave us a taste of rural life in Kyrgyzstan and a chance to interact with the locals. The family we stayed with was so hospitable and it was awesome to see how much fun the young girls had sliding around on our skis.
Leah Evans: The most intriguing room in the house was the dining room where we ate. You walk into the room and you can tell they are expecting company because of the table is decorated with their finest tablecloths, silver wear and plates. All coming from the amour that holds their finest possessions including a brand new chainsaw. The smells drift into this room from the nearby kitchen and your hunger is slowly cured by courses of homemade bread and jam, fresh apples and rice dishes.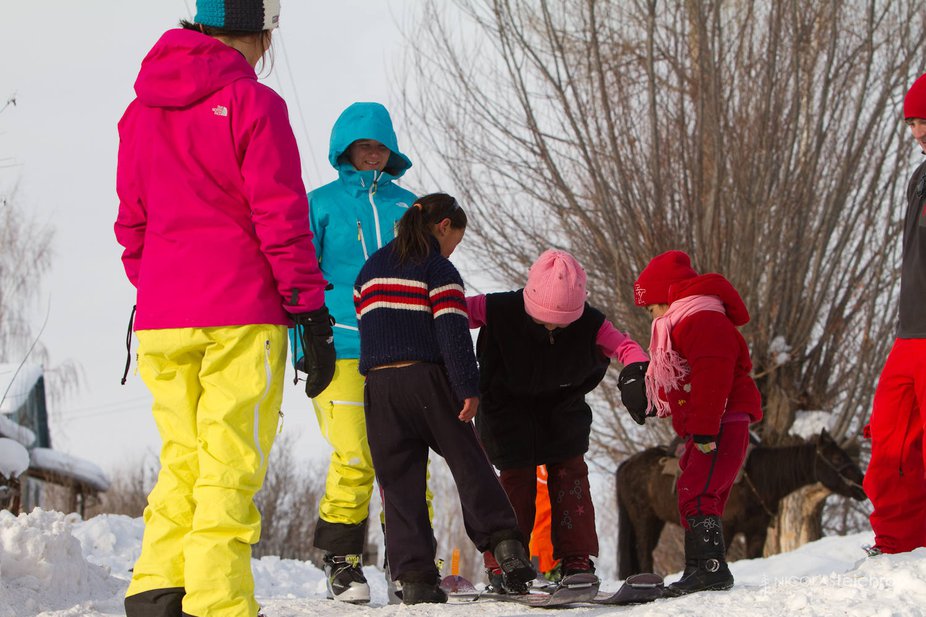 Who is this Schumacher character? What is his van all about?
Leah Evans: Schumacher is the only man I know who has two left ski boots. Upon meeting our group he immediately went to his van and pulled out a rear entry boot and said, "left, left" stating that he only had left footed ski boots.
Izzy Lynch: Schumacher! He is this hilarious Russian man with the dirtiest hands and raddest smile. He has this beat up old soviet military vehicle that we crammed full of ski gear and people to get wherever we needed to go. There is no way it was road worthy...which is probably why he detoured through a farmer's field and around back roads when he heard there were police on the road up ahead.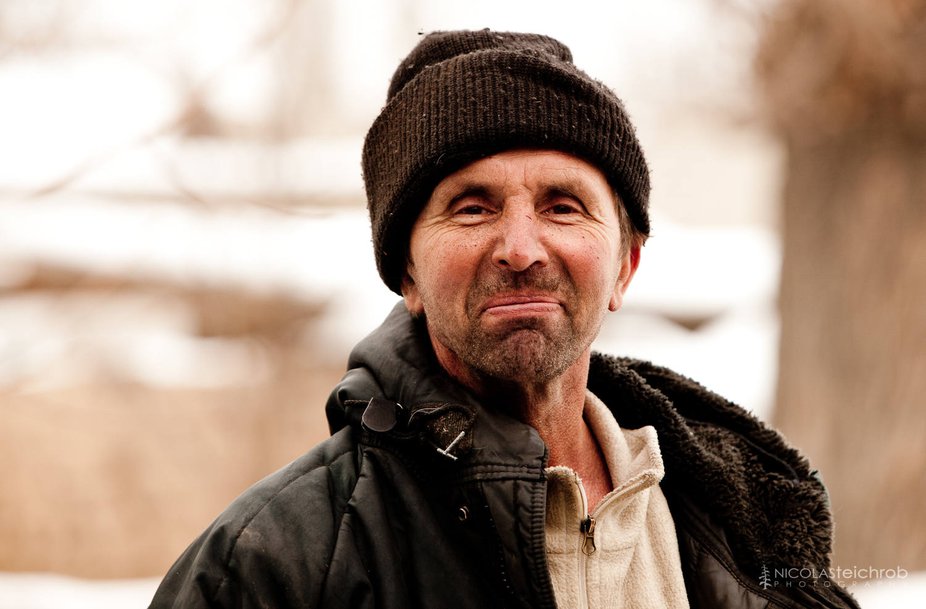 Schumacher...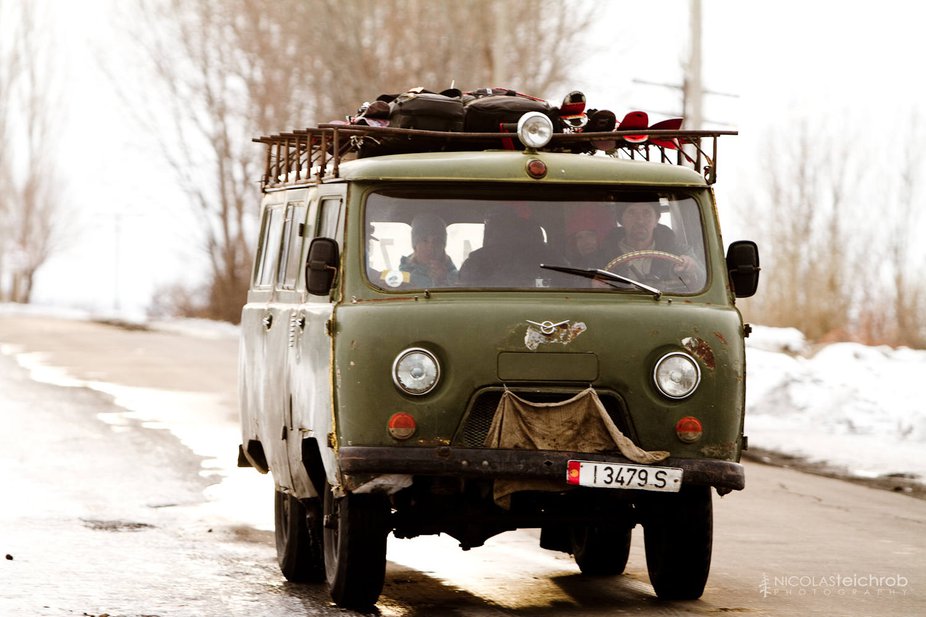 ...and his van.
You went there to explore new terrain and managed to ski a few first descents. What was that like?
Mike Hopkins: The Tien Shan mountains are unreal. Range after range of black jagged rock, that only seemed to get bigger as the horizon faded. We definitely had a difficult time working our way into zones. The avalanche conditions were sketchy at best. This made the entire trip a "touch and go" learning experience. In the beginning the snow conditions were humbling to say the least, but through it all we managed to ski some super fun terrain. Just being in those mountains was amazing but having the chance to actually lay in a series of turns where no one else had put things on another level.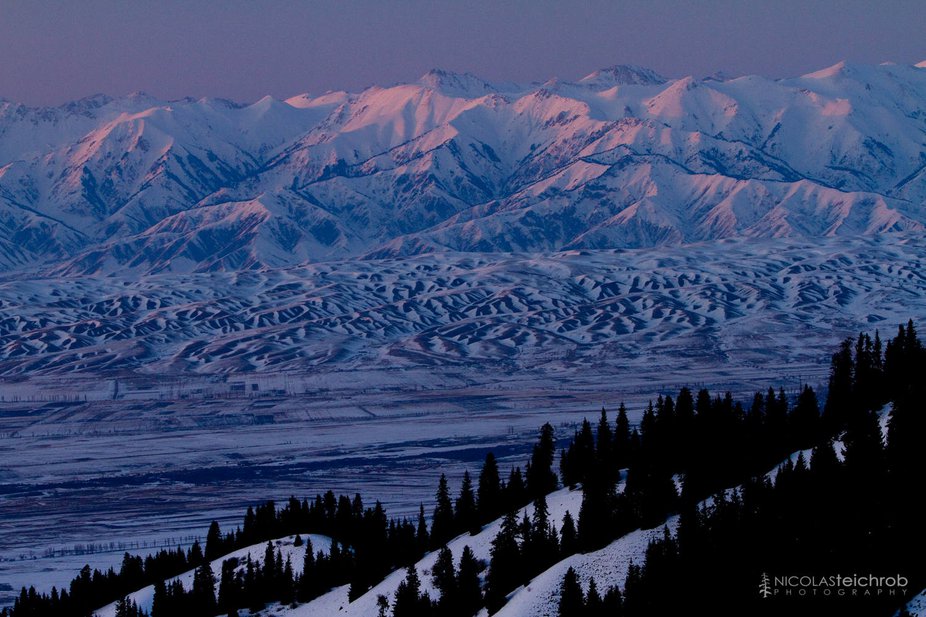 Tien Shan Mountains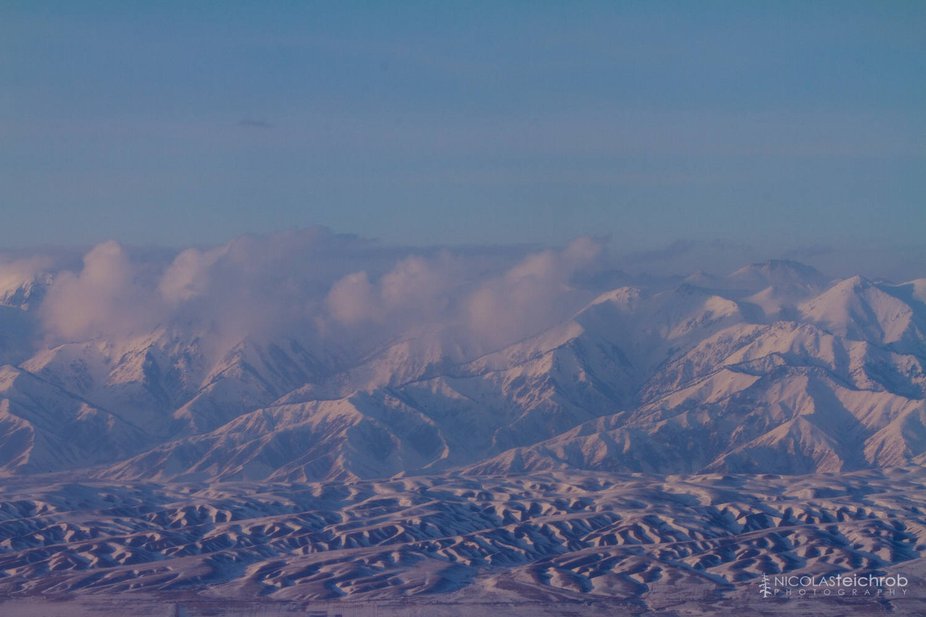 Describe the yurt.
Izzy Lynch: Our yurt, or traditional nomadic tent, was tucked into treeline at the base of some impressive peaks. There are sleeping mats lined up around the back wall in a half circle, with a wood stove in the center keeping things cozy. It is decked out in colorful felt tapestries and a small table in the middle that is constantly filled with snacks and hot tea. By the end of the trip the yurt felt like home...I could have spent forever there!
Leah Evans: The yurt was one of the most special aspects of the trip. Unlike other trips where people can retreat to their hotel rooms etc, we became a tight crew that ate, slept, read, played yurt-tzee, farted and shared stories together in this space.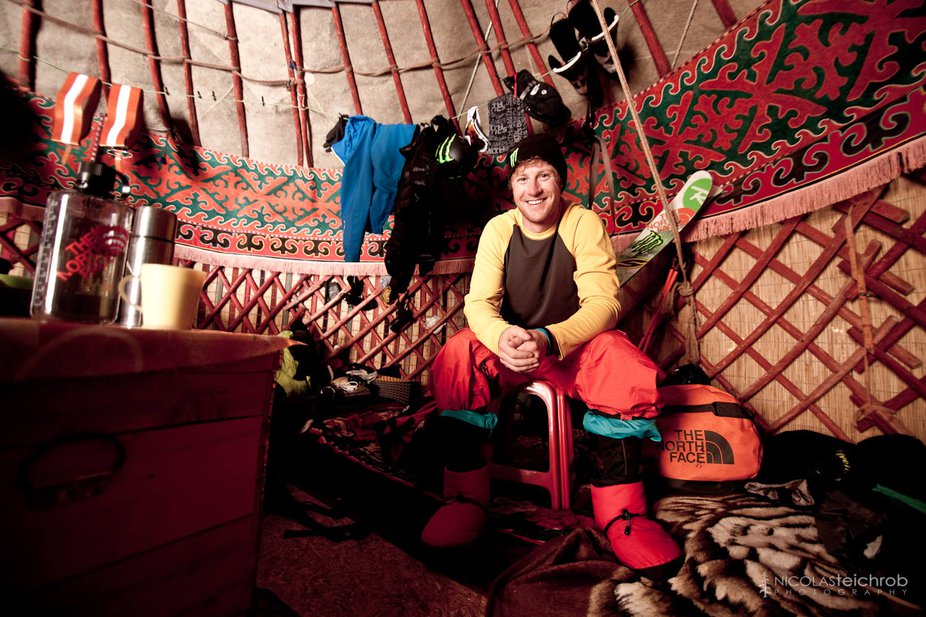 Mike Hopkins in the yurt.
What does Jalpak Tash mean?
Mike Hopkins: Jalpak Tash is the name of the spot where the yurt is. Apparently it is an old Kyrgyz name and according to our local hosts, Kasidin and Anarbek, it means "flat balls". That's what they said.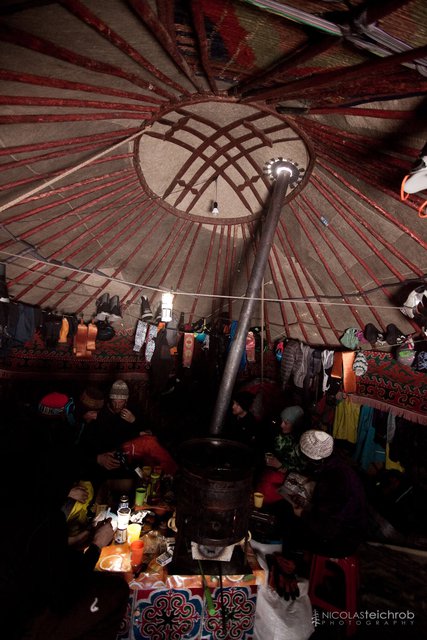 Jalpak Tash
What was it like skiing with Ptor?
Mike Hopkins: I didn't know too much about Ptor before I met him, but as the week went on, the stories grew. The story that captured him best for me was how this one time he was salmon fishing on British Columbia's west coast and he was getting sea sick. To medicate, he decided to catch a fish, cut it open and pull out it's heart while it was still beating and eat it. That pretty much sums up the character that is Ptor.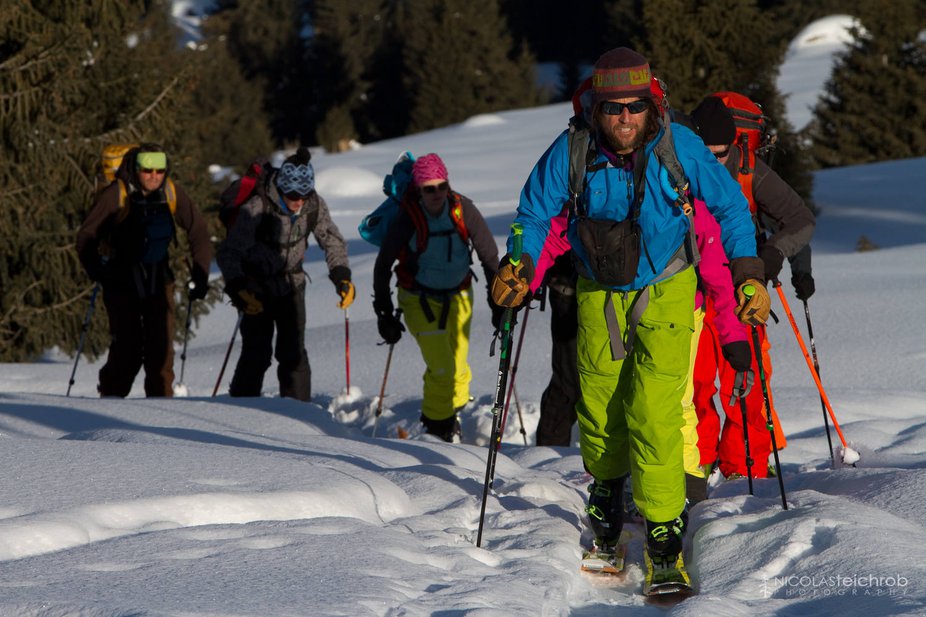 Ptor Spricenieks leading the crew.
How did this trip change your perception of the "Stans"?
Izzy Lynch: I had this perception that the Stans were an unfriendly place, and that I would feel threatened as a female traveler there. I left feeling the exact opposite. It is a beautiful place, the people are warm and friendly and the mountain culture is rich.
Leah Evans: Unlike other ski trips I valued our time in the cities as much as in the mountains, largely due to the fact that Kyrgyzstan only gained independence 10 years ago from the Soviets. There is little sign of "Americanization" like popular restaurant chains or clothing brands, however, there is a strong presence of "Russianization".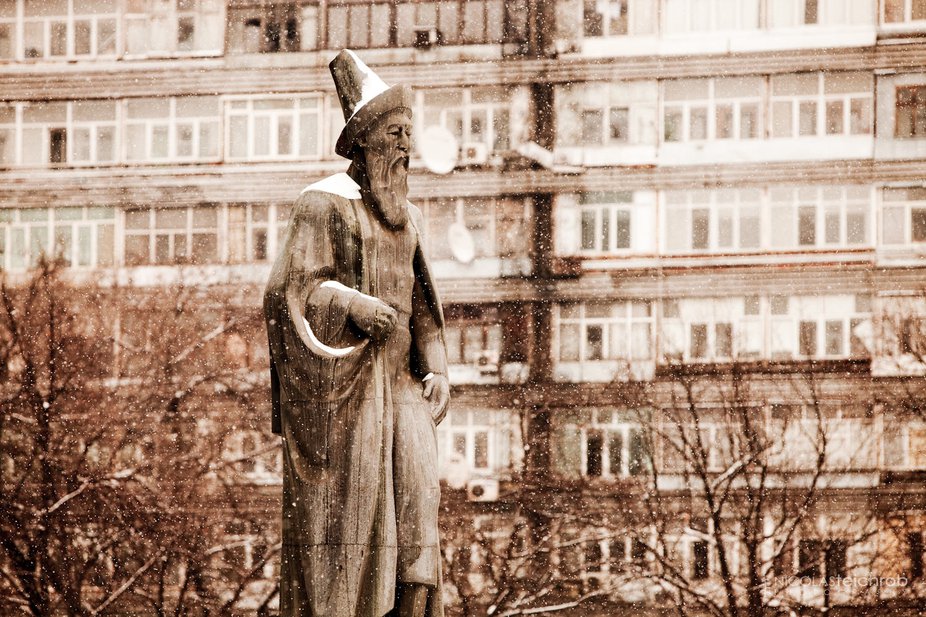 Parting Shot?
Leah Evans: Our last night in Karakol, Schumacher came into the restaurant holding what looked like a parcel wrapped in twine. He placed the mystery item on the table, then gave us a salute and bow with his hands and walked out. We all starred at each other and then everyone's gaze focused on me. I'd been subliminally nominated to open the package. Inside was a cake. A cake that looked like a wedding cake. The whole gesture was the perfect icing on the cake, literally and metaphorically.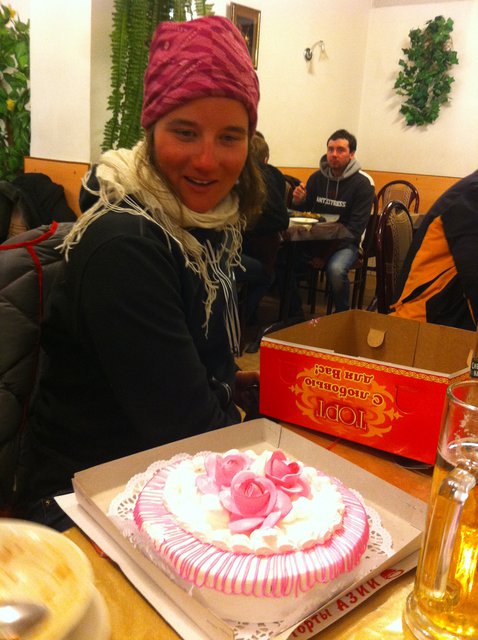 Be sure to check back tomorrow for the online premiere of the film, "Jalpak Tash – A Kyrgyzstan Epic".