"I'm
heading to Jackson".  Drop that gem in the lower 48 and watch
everyone's eyes get big like silver dollars.  The place is legendary –
Judaism has Jerusalem, Islam has Mecca.  Those of us in the skiing
community who only ski the green circles to get to the bar have Jackson
Hole, Wyoming.  The name even rolls off your lips, like a pair of fat
skis rolling into 45-50 degree Pucker Face on Cody Bowl.
The
plan was simple enough – finish coaching at WPR at 3pm Sunday, roll to
the airport in Denver and catch a 90 minute flight.  The Super Bowl was
on.  Was I upset to miss it?  Not for a second.  Perhaps that's what
separates me from the majority in the States.  Those that would much
rather watch a sporting event on TV than get the legs and lungs pumping
by doing something physical.  Anything really; skiing, surfing,
skating, jogging, whatever.  Get off the couch already is what I want
to yell at the majority of Americans!  Exercise is your friend – fun,
boosts endorphin levels, leaves one mentally sharp, sculpts the
physique and increases sex appeal.  It's a win-win for god's sake.
United
Airlines managed to lose my one ski bag.  Pretty impressive considering
I was at the airport 1 hour 45 minutes early and it was a direct
flight.  After the initial frustration subsided, it actually worked out
for the best, as I took out the new Seth Pistol K2 skis all 3 days on
United's tab, and saying that's a dope ski is like saying Bode Miller
skis fast.
Day
1 - We had to stay inbounds as my backcountry ski gear was still in
transit.  It's been a while since I have been on the true steeps that a
place like the Teton Mountain Range offers.  Squaw Valley last year was
sick, Taos 2 years ago as well, and Silverton the year before.  They
all had it.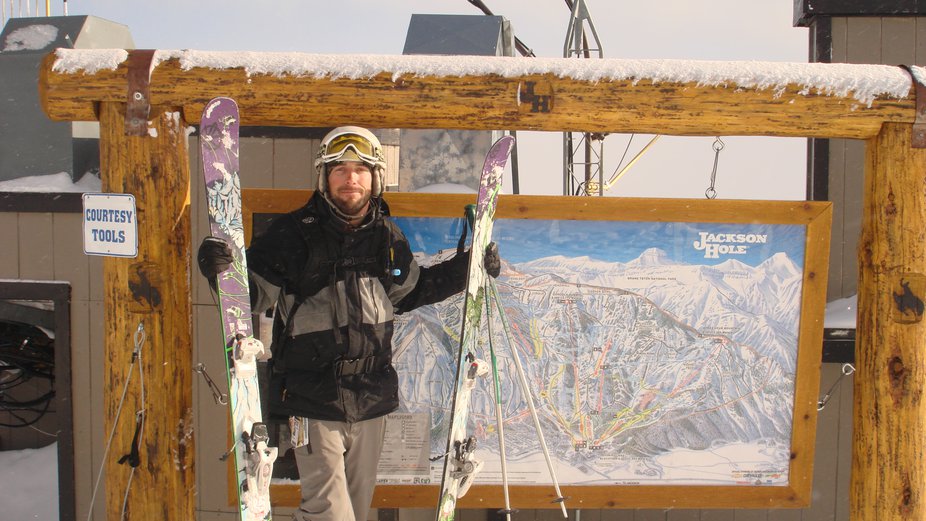 While
I love the valley I live in as well as the mountain I claim, the steep
and deep isn't exactly our forte.  In J-Hole rock drops beckoned from
all angles, and I must have hit 2 dozen in the 6'- 12' range by the
time I caught my flight back home.  I'd love to be back with some local
knowledge on which of the bigger cliffs were ready to huck, yet
unfortunately through my eyes anything in the 20'+ range had a
potential plethora of jagged rocks just below the surface.  Enough to
make me think twice, that's for sure.
The
most startling thing I noticed skiing in Jackson was the difference in
snow quality as you changed aspect.  Anything north facing was soft and
carvable, but switch to a southern aspect and you were asking for sun
baked crud that had thawed and refrozen too many times to count. 
Within one run you could go back and forth a half dozen times. 
Day
2 - A strictly side-country day.  We started with a hike on Cody Bowl. 
That's the one you'll see in plenty of pictures taken at Jackson.  It
is exquisite from any angle – corniced out 40-50 degree pitches with
plenty of rock exposure and mandatory airs both in and out.  The hike
was even rowdy.  One of those in which the boot pack is solid ice and a
fall would be devastating at best, deadly at worst.  The snow was a bit
heavy, but I'm a fan of the theory that perception, and not reality, is
everything.  For example, Winter Park has kind of sucked in regards to
powder skiing this winter; therefore my perception of the snow at
Jackson was enhanced.  However, someone coming from Utah may have
thought that it was less than stellar.  Remember that, perception is
everything, reality isn't.
Day
3 – The night before we stumbled into town, caught a true country
western band and then stumbled back to Teton Village to catch the last
couple of hours of the annual Jackson Ski Patrol party.  To say your
average resort patrol unit is a bit heavy on the testosterone is a vast
understatement.  Imagine that same crew at a mountain like J-Hole. 
They attacked the bar with zeal, probably in the exact same fashion in
which they descend the mountain.
Day
3 started a little slow.  We did a short hike in Casper Bowl and that
led us to some soft turns.  Unfortunately, the snow had deteriorated
considerably since day 1.  This is a mountain with sick locals that
know where every rock drop is in every nook and cranny.  Jackson Hole
gets tagged quickly.
We
didn't catch it on the most epic of powder days, and the mountain still
impressed.  If that's not a solid endorsement of a ski resort I'm not
sure what is.  I'll be back.