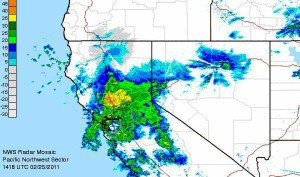 Alpine picked up 20 inches as of 6 a.m. this morning in the past 24 hours, and the heaviest part of the storm is still to come today. Alpine Meadows has now broken the 500 inch mark on the season at the summit and it's only February.
As the cold front moves through today we will see the heaviest snow of the storm as the temps drop and snow ratios increase bringing us some super light powder. Models show that a good amount the precip is still to fall today with 1.25-1.5 inches of liquid by Saturday morning. Expecting another 2-3 feet on the mountain by Saturday with storm totals of 4-5 feet by the Sunday morning snow report.
We should start to clear out Saturday morning with just some lingering snow showers and maybe even the sun poking through by afternoon. Temps will be cold with highs maybe not getting out of the single digits on the summit and the teens at the base. Sunday and Monday we warm up pretty quickly back into the 20′s & 30′s with brief ridging and a Southerly flow ahead of the next series of storms on tap for next week.
Another cold low pressure will drop down the Pacific NW coast next week bringing the Northern branch of the jetstream with it. The ridge in the Central Pacific will retrograde North and West allowing the Southern branch of the jetstream to come across the Pacific and merge with the Northern branch over CA by Wednesday. This will be the setup for more heavy snow measured in feet Wednesday through Friday next week.
The La Nina is weakening as we go towards spring and that may be allowing the Southern branch of the jetstream to finally get some energy. Looking at the teleconnections the MJO is forecasted to strengthen over the Western Pacific over the next 2 weeks & the PNA will stay negative. That all points to an ideal pattern for storms to continue into the Second week of March and maybe beyond. More on that after this storm…..BA