Shoot #1 - Boreal Mtn. Resort
Our first real private shoot of the season was at Boreal, just outside of Truckee, CA. The morning started off early with a drive down from Reno for myself and many of the team members. Upon arriving at Boreal we filled out the necessary paperwork and gathered in the upstairs lounge area for a mini pre-shoot meeting. The team riders took to the hill to start warming up while Moment Skis Staff Photog Max Miller, Bentley Ataberry from DOS Media and myself went to start scoping the locations we wanted to shoot from. After taking a tour around and checking out the features we met up with the team taking laps on the Lost Dutchman chair and did a little freeskiing of our own.
The first feature we lined up to shoot on was a tree jib Boreal had erected earlier in the season and was in prime shape the day we were on the hill. KC Deane, Jared Dalen, and Andy McDowell took to the tree, with Andy taking a hard wreck early on bombing in at the tree with a little to much speed.
KC and Jared began hitting the feature in rapid succession, each one going higher each hit. KC was focusing on stalling on the tree as long as possible and Jared was working some kinks out of 270-ing out of the stall. After watching her fellow teammates for a bit, Moment Skis youngest Am Team Member Brit White tried her hand at the tree. This was Brits first time attempting a vertical type of jib, and managed to get some hits in.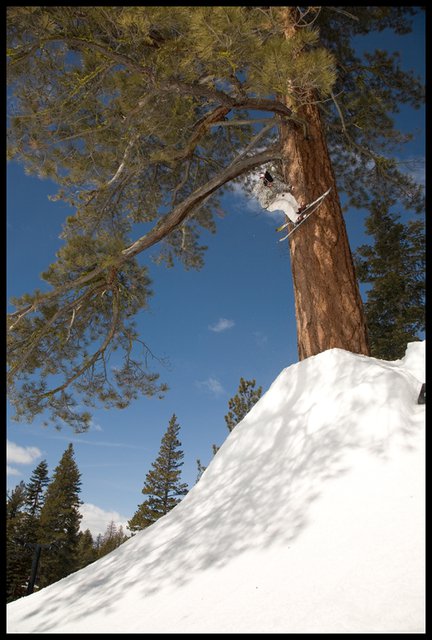 Jared Dalen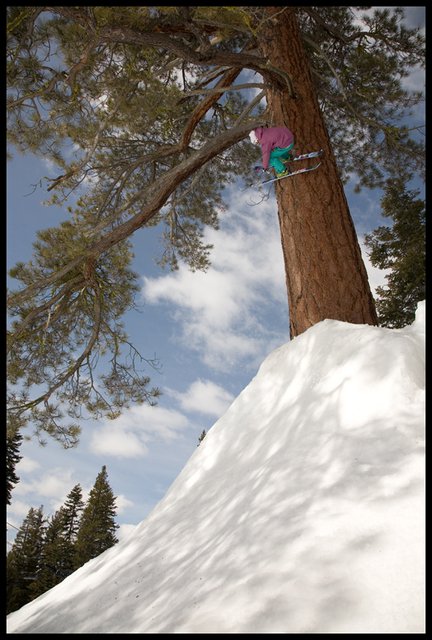 KC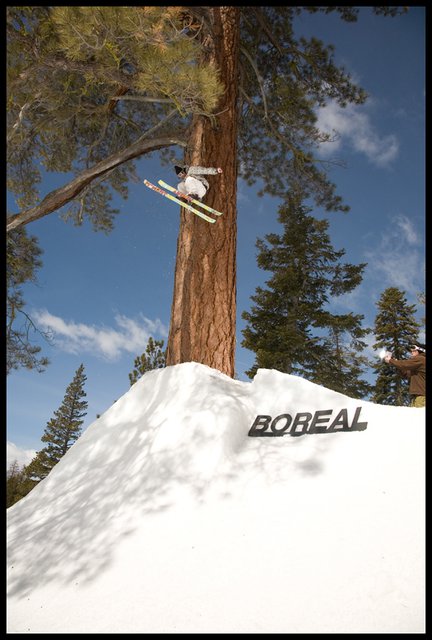 Jared having a little trouble with the tree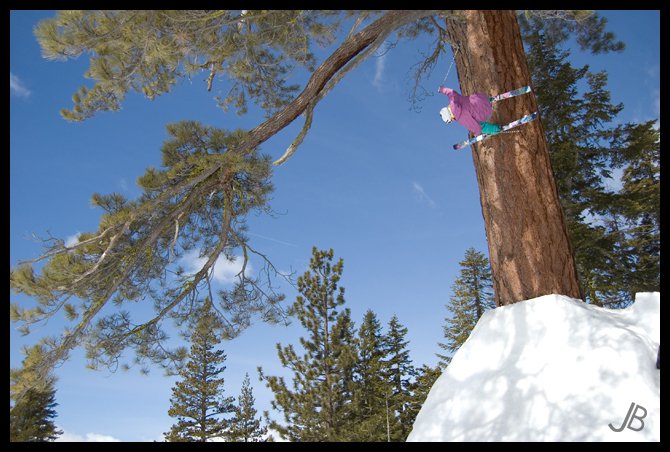 The Deaner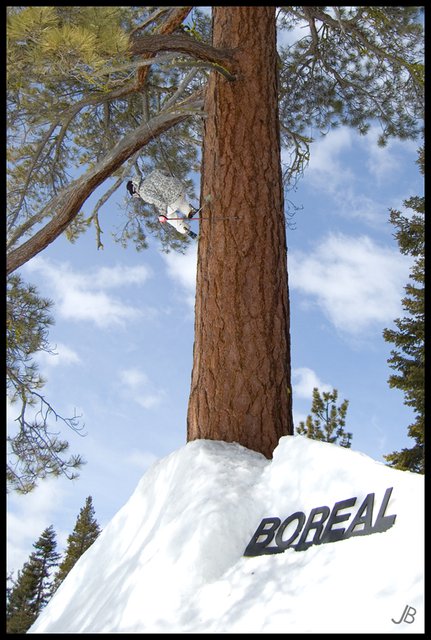 note: everyone wear bright clothes to shoots from now on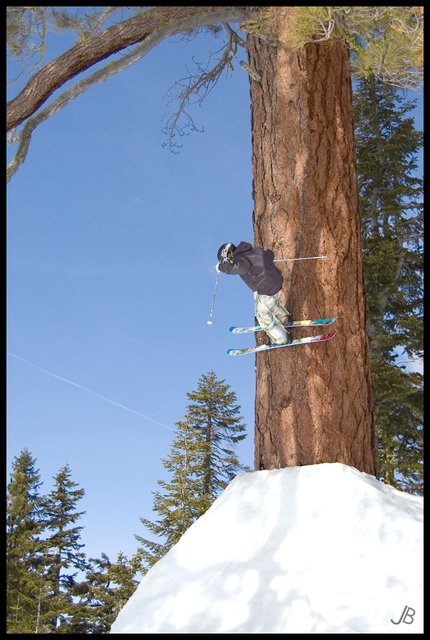 Brit gettin at it
After countless hits on the tree, KC emerged with the highest stall on the tree with estimates being around 15ft, but no official measure.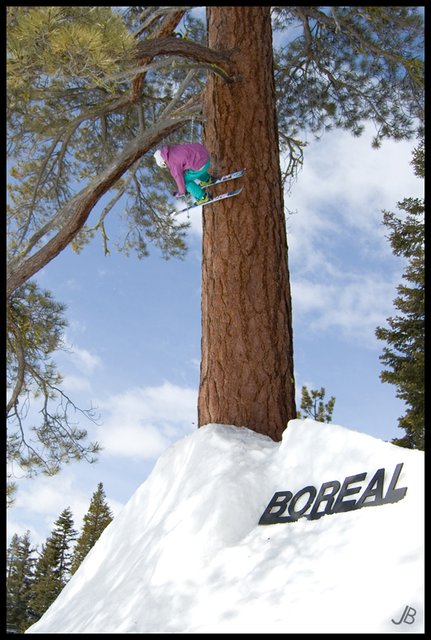 Woof Woof high up on that bark
Having spent a good amount of the morning on the tree jib, it was time for lunch. While the team checked out the next feature I took a run down to the base to order up some pizza's and bring them up on the hill. If you haven't tried it, the pizza at Boreal kicks ass! Becca Babicz managed to get off work a little early and meet up with us and do some shooting as well.
The gap jump turned out to be quite difficult to get the right amount of speed for, in order to clear it KC, Jared, Andy, and Boreal Park Crew Member Jamie Melton began had to skate from quite a distance before the inrun. With only straight airs being thrown, I decided to call it on this feature and move over to one of the many features Boreal had up that we could get more shots on. Mental note - next time wax the night before a shoot.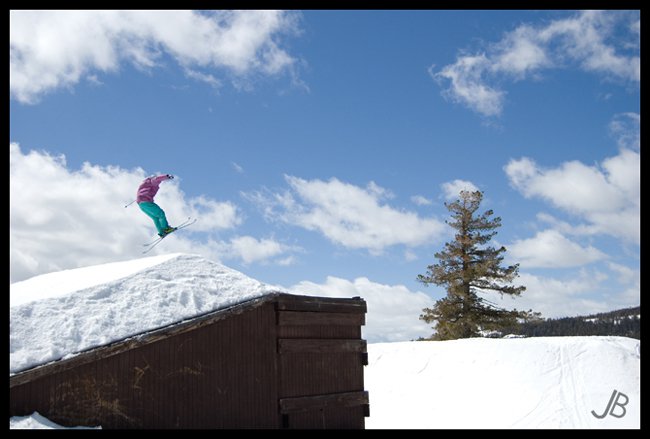 Uhm.....yeah...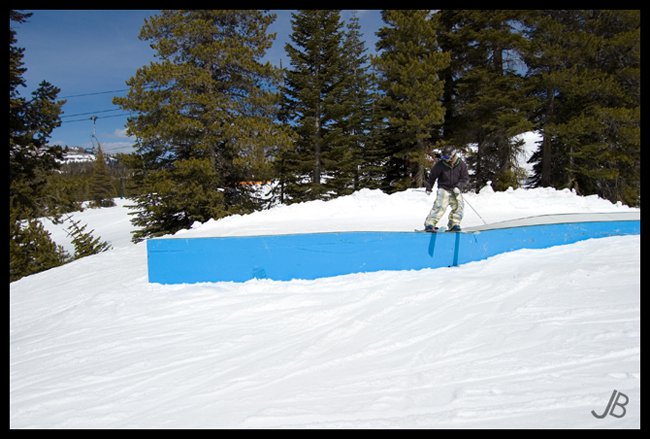 Brit
Without skipping a beat we moved over to Boreal's Pro Jump Line. We were down to Andy, Jared and Becca Babicz; KC and Brit had left right after the gap jump to try to get to work on time having stayed a little late at the shoot. Things were going well until Andy did a huge rodeo 7 to his side, and decided to sit out the rest of the shoot. Jared cleaned up the jump with some massive 5's over the lower table.
Stee-zee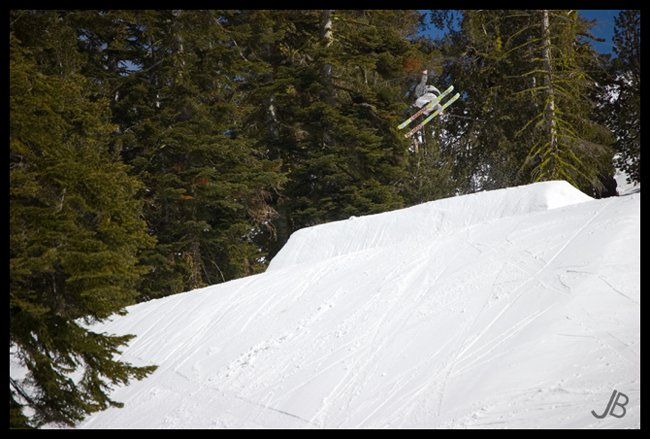 With only two riders left on the hill, we headed down to session some rails before calling it a day.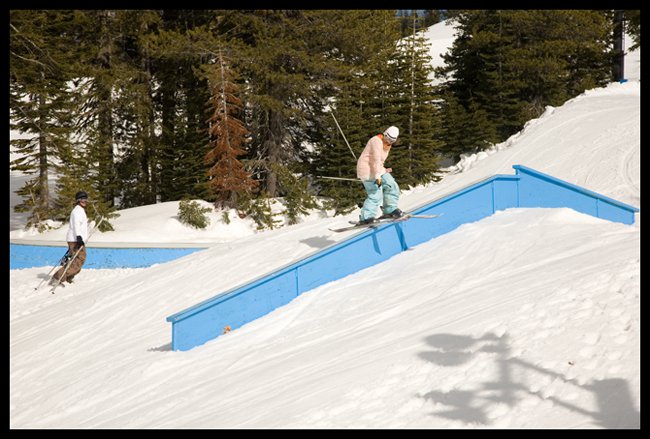 Becca Babicz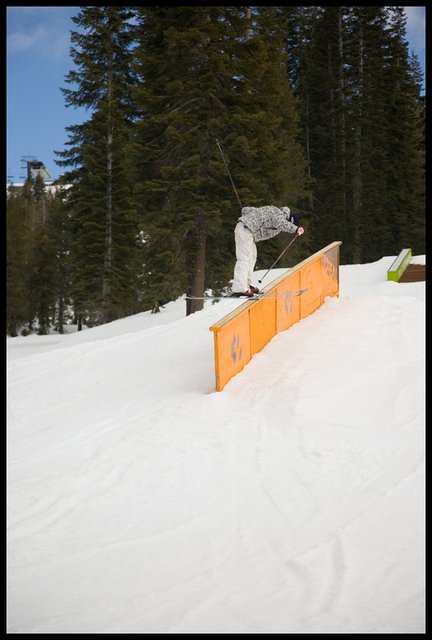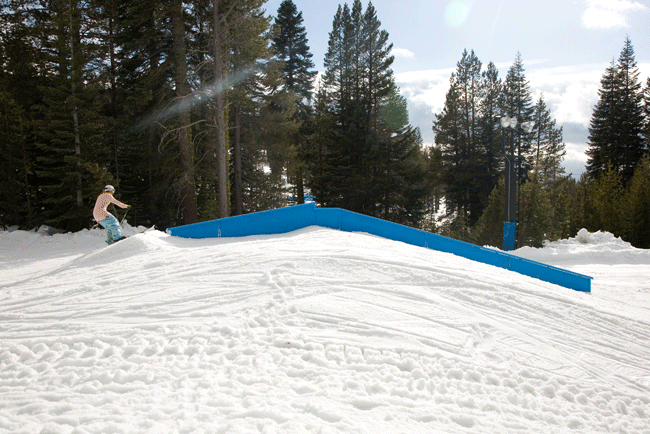 Becca Blindside Switch-up
Shoot #2 - Sierra-at-Tahoe
For the second shoot of the season we headed south to Sierra for a day of shooting on a custom jump set made for us. The Moment Team sessioned the first one, with only one rider attempting the second jump and coming away from it with 2 bruised heels and a possibly blown knee. We wish you a speedy recovery JJ!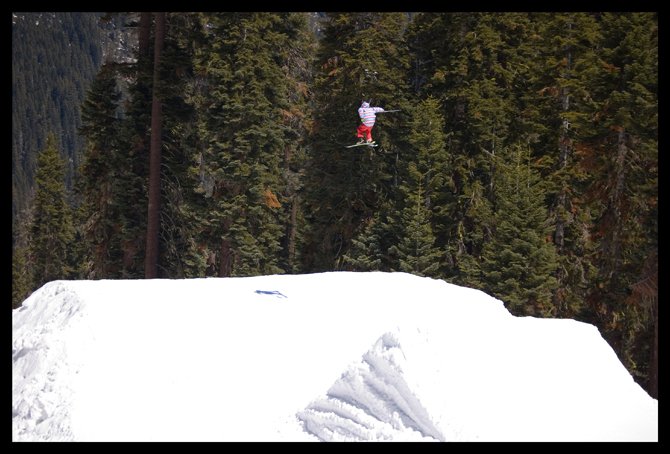 KC, Andy, Becca, Brit, and friend Matt Nelson continued to session the 65 footer, with Brit working on truck drivers over it, Becca doing some 3's. KC kicked things off with a few huge 180's, Andy worked on 5's and made his way through a few 720 variations. Along at the shoot, our friends from Sentury Snowboards came up to take a couple hits on the jump. Lil' John forgot about trying a safety trick and went for a corked 9 first hit. Unfortunately for him the jump was lippier than he had anticipated, and was thrown into a double cork 1080 landing on his side/head and having one of the worst concussions i've ever seen. For the next 2 hours I had the pleasure of reminding John where we were, what month it was, and what had happened.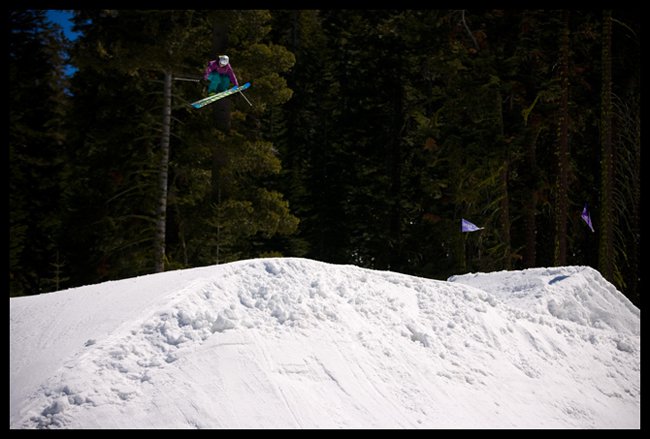 Boom Chaka Laka - Photo Cred Ben Meester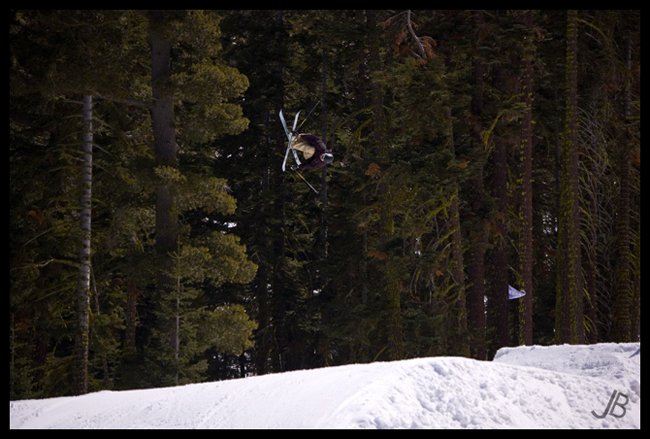 Hi Andy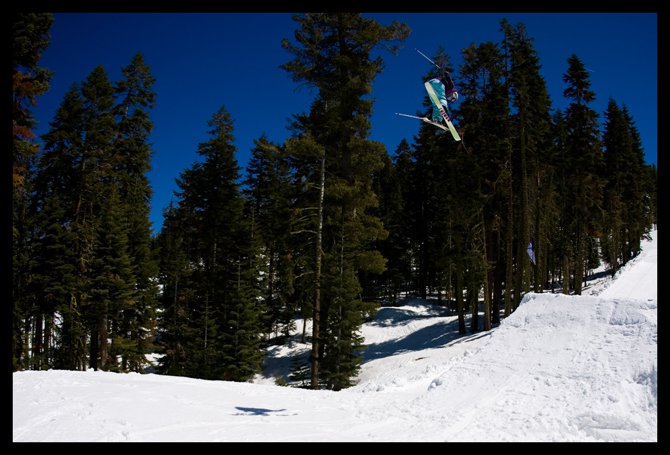 Photo Cred Ben Meester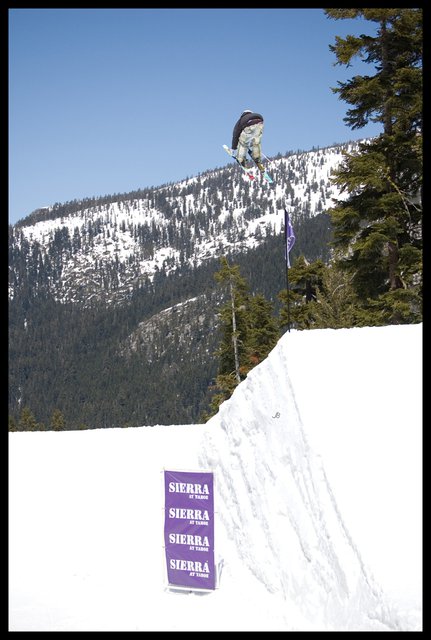 B-dub
Back to the jump - after a break midday KC headed back up to work on the lip and immediately started throwing down with his crazy corked 3's, 5's, and a laid-out backflip that he held until the last second. Andy continued to be solid on the jump as he had been all day. All in all, it turned out to be a great day of shooting.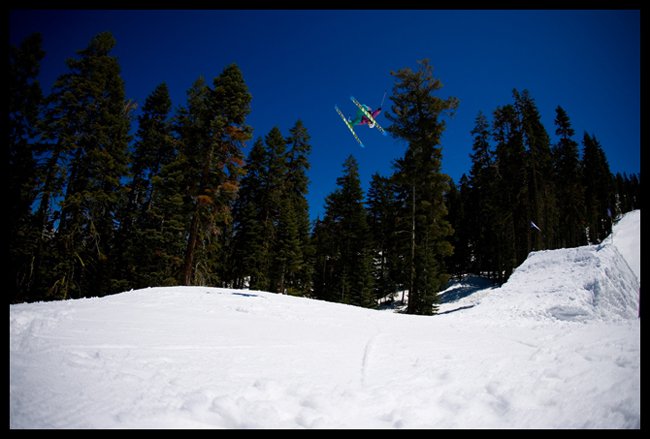 can you do a spread like KC can? - Photo Cred Ben Meester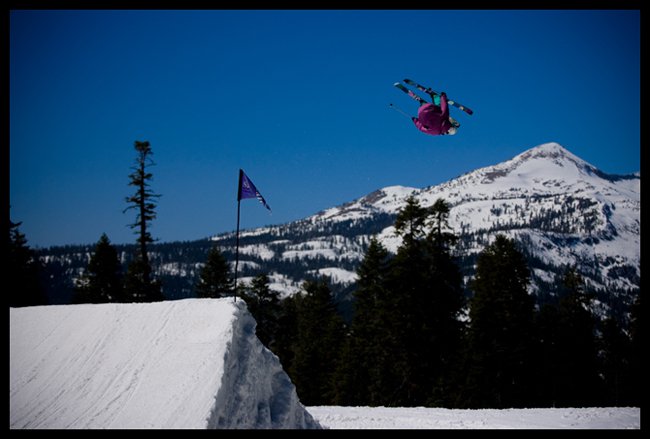 Mommy! - Photo Cred Ben Meester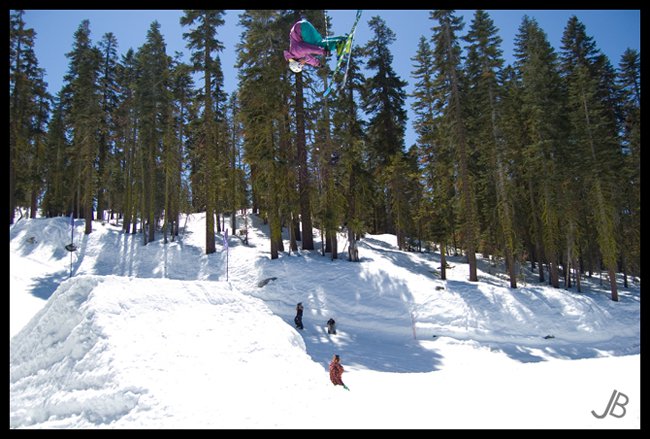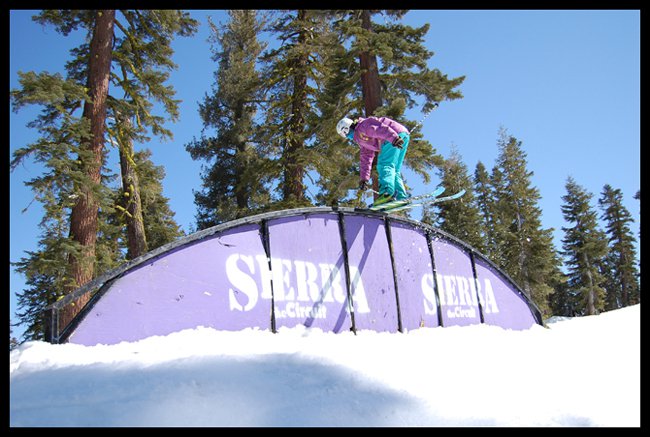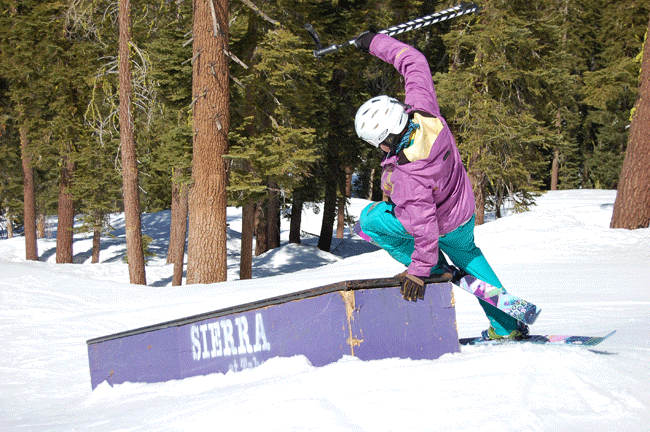 Next Update: A pirate sails to Reno...