I recently found this 2008 Iron Horse MKIII frame on Trademe and decided it would be an ideal upgrade from my old Kona Coiler frame. I was looking for something that would pedal on the trails better, but still be a fun all-round bike. This particular frame has a bit of history behind it. The good people at Bike Barn in Wellington have written a blog post on this particular frame:
"This particular bike has some history. Owen recently acquired it up from it's first NZ owner, New Zealand's Maxxis team rider and former junior World Champion Cameron Cole. Prior to that it was in the possession of French Maxxis team rider and 2009 World Cup winner, Sabrina Jonnier. The Iron Horse, which still bares her name on the top tube, carried Sabrina to first place in the Dual Slalom at the 2008 Sea Otter Classic in California after which it traveled to the southern hemisphere. Out of the box, the MKIII was a 5″ trail bike, but this custom kit was built to race, and last. Tipping the scales at 30lb, it features a modified 4″ Fox Float 36 RC2, RP23, Magura Louise, a single ring pulling a DH cassette and Stan's ZTR Flow rims laced to Hadley hubs. The gratuitous colour co-ordination should be self explanatory. In Owen's own words, it's the most fun bike he's ever owned, and that's saying a lot."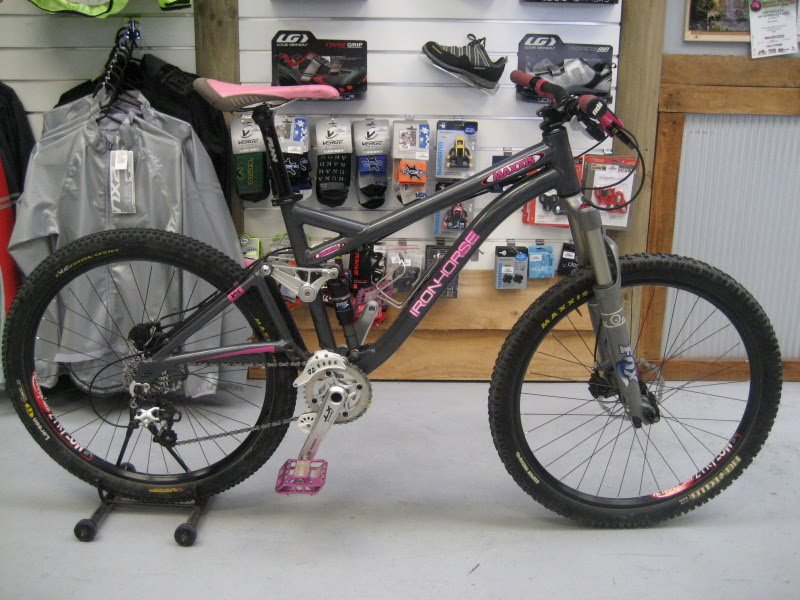 The original post can be viewed at http://howierowle.blogspot.com/2010/01/bikes-of-barn.html.
My build is a bit different to the original, mainly using cheaper components! My build is as follows:
Forks: Rockshox Pike 409 with U-Turn adjust 90-140mm & 20mm axle
Brakes: Hayes 9
Shifters: Shimano SLX
Front Derailleur: Shimano XT
Rear Derailleur: Shimano XTR
Cables: Jagwire Ripcord
Stem & Bars: Truvativ Hussefelt
Cranks / BB: Shimano Deore external
Chainguide: Blackspire Stinger
Bashring: Raceface
Pedals: DMR V12
Wheels: Sun Rims Ditch Witch
Tyres: WTB Weirwolf 2.1″
I'm putting the finishing touches on my build now. That includes fitting the Jagwire derailleur cable kit, adjusting the gears and changing the sticker kit from the custom pink kit to an orange kit. Some people might consider it a bit of a sin to change the bike from how it looked when world cup winner Sabrina Jonnier rode it, but I think it's going to look pretty good when it's mainly charchol / grey with orange cables and stickers. It also takes the pressure off me as I don't feel I have such big shoes to fill!
I'll update this entry when I've finished the build and have my own photos to add.