Words by Inspire Snow Sessions
Inspire Snow Sessions is a snow summer camp open to 12-18 year olds, skiers or snowboarders, boys or girls. Based in Wanaka, New Zealand, we feel that we are ideally located to offer the best mix of on-snow coaching, on-snow riding, beautiful scenery, comfortable accommodation, fun activities and cultural experiences of any summer camp in the world!
Wanaka, New Zealand...home of Inspire Snow Sessions.
We have designed the camp to provide you with the best on-snow experience possible and to develop you into the best all round rider you can be. For our freeriding, Treble Cone offers us world class terrain, and with its natural halfpipes and cliff bands, powder days here are all time! On the freestyle side of things, the infamous Snow Park NZ offers us endless features from small beginner boxes to a massive kicker line and superpipe. And not only do we have fresh winter snow for you to ride all day, we are also the only summer camp in the world to offer night riding! Several times a week we run night sessions up at Snow Park NZ from 5-9pm, making it so that no other other summer camp offers as much weekly on-snow time as us!

Snowpark NZ. Photo by Miles Holden
To help you all make the most of these resorts and time on snow our world class coaches are there to look after you on the hill, along with running video feedback and tramp sessions in the evening. Not only are these guys awesome skiers and snowboarders, but they are also awesome people who are there to share your entire experience of Inspire Snow Sessions.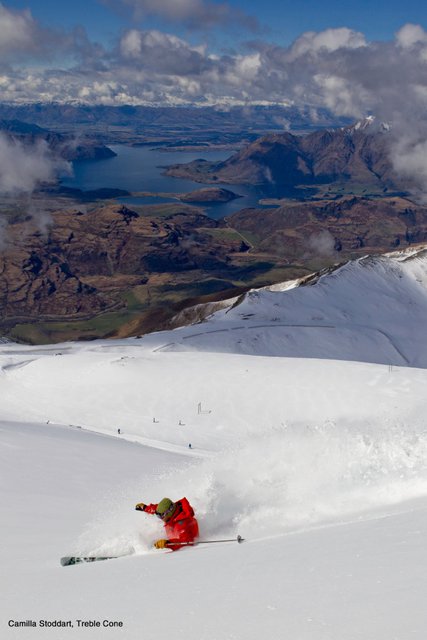 Treble Cone. Photo by Camilla Stoddart
For even more reasons why your summer spent with Inspire Snow Sessions will be the best ever, check out our website at http://www.inspiresnowsessions.com and on Facebook by clicking here, and feel free to email us with any question you have at info@inspiresnowsessions.com.