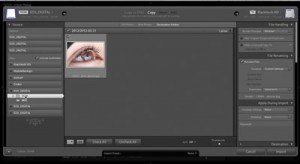 Yes you read that correctly, despite what many people told me, this is entirely possible and it's also incredibly easy! A little known function of Lightroom that can save you a LOT of time. Check out the video below and be sure to subscribe to my Youtube channel for more software tips and tutorials as well as product reviews and tours.
 

Support the site
If you enjoyed reading this post and found it helpful, please consider supporting the site by making your next photography purchase by clicking through one of the links below.
B&H Photo
Amazon.com

Adorama
Zacuto
Outdoor Photo Gear
ebay

Think Tank Photo -As a friend of this site, clicking through to the Think Tank site and spending more than $50 will earn you a FREE bag when you reach the checkout. Choose from several different accessory or modular bags for FREE!
Borrowlenses.com
DROBO Enter coupon code DANCARRPHOTO for up to $150 off on certain models.
Clicking through these links doesn't cost you a penny more but helps me to bring you new, fresh content.Thanks for your support !