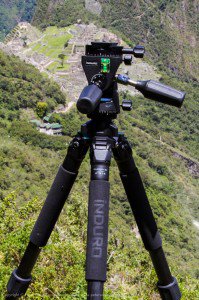 I hadn't heard of Induro before the PR rep contacted me last Fall. I was preparing for a trip to Peru and took one look at the carbon fiber and multi-directional head and agreed. But lingering in the back of my mind was the question, ?Do I really WANT that much freedom??
You see, the Induro PHQ-3 head has five planes of travel. I'm used to a ball head which has three. It also came with two control arms and a passel of levels, while I was accustomed to one main locking lever and no levels (except a bubble level on the hotshoe of my camera). To be honest, the unit seemed like overkill for a 13 day trip to Peru. It seemed better suited to video use.
Opening my mind to try new things, I agreed and toted the tripod and Induro PHQ-3 and CT-214 carbon fiber tripod with me from Seattle to Lima to Cusco to Machu Picchu to the rainforest and home again. Here are my impressions of their use in the wild.
Specs
CT-214 Carbon Fiber Tripod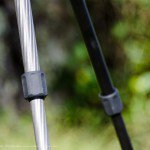 Material: Carbon Fiber
Maximum Load: 26.4 lb (12 kg)
Max Height (24° Leg Angle) w/Column Extended: 61.2 in (1555 mm)
Max Height (24° Leg Angle) w/Column Retracted: 52.6 in (1335 mm)
Min Height (24° Leg Angle) w/Column Retracted: 19.1 in (486 mm)
Min Height (80° Leg Angle) w/Short Column: 5.9 in (150 mm)
Folded Length: 20.9 in (530 mm)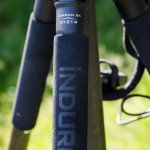 Number of Leg Sections: 4
Leg Lock Type: Moisture and dust-resistant locking grips
Independent Leg Spread: Yes, with three position stops
Center Column: Grooved-Rapid
Spiked Feet: Removable – Included
Head Mount Thread Size: 1/4″-20 & 3/8″-16
Weight: 3.3 lbs (1.5 kg)
PHQ-3 Head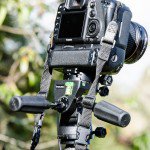 Maximum Load: 35.2 lb (16 kg)
Height: 4.7 in (120 mm)
Width Including Handles: 7.4 in (187 mm)
Tilt Range: +90°/-15° Front; +90°/-45° Side
Drag Control: No
Panning Range: 360° on both fixed and variable axis
Separate Panning Lock: Yes, two
Quick Release (QR) System: Dovetail (Arca-Swiss Style Compatible)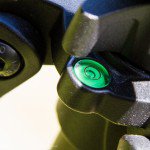 Bubble Level: Yes, five
Head Mount Thread Size: 1/4″-20 (with supplied QR Plate)
Base Mount Thread: 3/8″-16
Weight: 2.2 lbs (1 kg)
Length Including Handles: 8 in (202 mm)
Base Diameter: 2.7 in (68 mm)
In The Real World
My reason for choosing this combination was simple: I was going to travel with it. While the CT series of tripods comes in longer lengths, the 214 was my best best for packability (I tend to only take carry-on luggage, so 22? is about my max length allowed) and over all height as I stand at 6'1? and want a tripod that doesn't make me stoop too much. While not perfect in terms of height, I was happy to stoop a little in order to save weight and ensure the tripod could be carried onto a plane with me. I dare not test the carbon fiber strength against baggage handlers as it was a loaned item.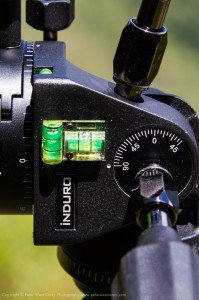 The PHQ-3 head is tall. As you can see above, it is practically 5? tall and for packability that's fairly tall. Still, the arms swing in (it takes some fiddling the first couple of times to get them to line up just right while still keeping the head locked down) and can be secured with a strap or rubber band. The unit comes with a Acra-Swiss standard plate and any such plate will work with this unit.
I only tested the tripod and head of four weeks on the road and it performed outstandingly. I was satisfied with the panning smoothness after getting used to using the arms for this action with a DLSR attached. There's not much to be said for the CT-214 tripod legs as they are standard issue twist lock with rubber feet. They work smoothly.
The tripod has a hook in the middle to attach a bag or some of the weight to help stabilize the unit as the legs are quite light (they weight only a pound more than the head!). I never had to use this hook as I was not in high winds or oblique angles. For mostly flat ground and a slight hill, the tripod felt well balanced.
The head is incredible with five levels to help ensure you get things straight. Not all are used at one time but I constantly used the base level to set up a shot. Every movement of the head has a marked scale to help make pans and tilts repeatable.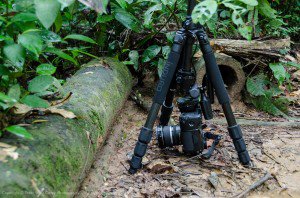 Inverting the head on the tripod was easy but did requiring removing the hook at the bottom of the main post. Once set up, the head, with full-sized camera body and power grip, was still able to clear the forest floor for me to shoot some time lapse of leaf-cutter ants in action. In this position the control arms would sometimes get in the way as I rotated the head and they hit the tripod legs. But, as you can see from the image at right, being able to fold away those arms helped.
Once in a while I had a problem attaching the control arms as the screws are slightly spring loaded. I would push them in and think the threads had grabbed, then start spinning, only to find I wasn't quite making contact. This is a feel issue that takes a little getting used to, but it s a minor issue and won't not detract from me recommending the tripod.
Below you will find a quick video with five pans performed with the tripod. I'm not the world's most smooth operator when it comes to video on a DSLR, so your ability can be better or worse.
Conclusion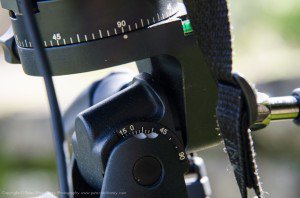 Returning the Induro PHQ-3 head and CT-214 tripod tugged at my heart. In our short few weeks together, traveling through Peru, we bonded. I sorely wanted to keep the tripod around and will go the Induro route with my next tripod purchase. I appreciated the build quality I found and stoutness of materials.
The light weight of the carbon fiber tripod and its relative sturdiness wowed me. Mind you I was coming at it from a 15 year old Bogen aluminum unit with cast iron connections. Your appreciation of the weight may vary.
I may choose a different head for my own shooting situations, but the PHQ-3 is a serious contender. I can easily see picking up the head for local work where packing isn't as much of an issue. Having to remove the head so it wasn't damaged in transit was a minor annoyance and the control arms made it an odd size to pack. Still, the thought put into making the arms swing down (and securing them with a rubber band) worked well for me.
In use both units were comfortable and easy. It takes a while to get used to the amount of adjustment that can be made with the PHQ-3 (?Do I rotate it on this axis first or that one??) so give yourself time to understand how to use the unit best when conditions are less than ideal, such as in the cold or dark.
Post originally from: Digital Photography Tips.
Check out our more Photography Tips at Photography Tips for Beginners, Portrait Photography Tips and Wedding Photography Tips.
Induro PHQ-3 Head and CT-214 Tripod [REVIEW]