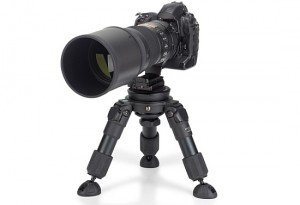 Induro have just announced this cool looking new hi-hat. Just the other day I was reading Vincent Laforet's blog post on the new Cinevate Dromos hi-hat and thinking to myself that it would be a cool little addition to my gear cupboard. Well the Induro offering looks to be a better option if you want to use it for both photography and video production. It also comes in considerably cheaper, supporting a 220lb load for only $279. I can see wildlife photographers liking this with long lenses and as an owner of Induro gear myself I can testify that they do know how to make support equipment. I'm looking forward to taking a closer look at these at some point.
 
Induro Press Release
Induro® Announces New Dual Range Hi-Hat Tripod Set
Unique support system for both still cameras and video cameras that can securely hold up to a 220 lb. load scheduled to be in stores July 2012
North White Plains, NY ? (June 1, 2012) ? Induro (http://www.indurogear.com), makers of tripods, heads and accessories designed for demanding professional photographers and videographers, announces July 2012 availability of the new Dual Range (DR) Hi-Hat Tripod Set.
Shown for the first time at NAB 2012, the new Induro DR Hi-Hat Tripod Set, designed with both photographers and videographers in mind, is a unique support system that provides a range of capabilities that makes this tripod compatible with the requirements of still cameras as well as video platforms. Supporting an unprecedented 220 lb. load, the new DR Hi-Hat Tripod Set consists of both a short Aluminum Alloy tripod with 100mm Bowl, and a 100mm Half Ball Adapter.
?We are so excited to soon be bringing this amazing compact, flexible and extremely strong tripod set to market,? said Jan Lederman, President of Induro. ?Sure to please the most demanding photographers and videographers, this new tripod set meets and exceeds the standards set by other Hi-Hat and Low-Hat solutions.?
Matching traditional Hi-Hat dimensions, the DR Hi-Hat Tripod Set goes far beyond in terms of operational scope and flexibility. Each leg features a two section extension and three steps of variable angle adjustment, making height adjustments and terrain adjustments a breeze. Specially reinforced pivoting ovoid feet provide a sure grip on virtually any surface, plus the capability to be screwed, spiked or otherwise firmly secured to establish a rock-solid connection to the ground or a board.
Bubble levels are incorporated both on the tripod spider and the top plate of the half ball adapter. And three evenly spaced points provide secure 3/8? and 1/4? threaded mounts for accessories.
The Induro DR Hi-Hat Tripod Set will be available in stores in early July 2012 for $279. For more information visit http://www.indurogear.com .

Support the site
If you enjoyed reading this post and found it helpful, please consider supporting the site by making your next photography purchase by clicking through one of the links below.
B&H Photo
Amazon.com

Adorama
Zacuto
Outdoor Photo Gear
ebay

Think Tank Photo -As a friend of this site, clicking through to the Think Tank site and spending more than $50 will earn you a FREE bag when you reach the checkout. Choose from several different accessory or modular bags for FREE!
Borrowlenses.com
DROBO Enter coupon code DANCARRPHOTO for up to $150 off on certain models.
Clicking through these links doesn't cost you a penny more but helps me to bring you new, fresh content.Thanks for your support !