Boot: Dynafit Radical Pro
Reviewer height/weight: 6'1", 200 lbs
Boot weights:
-Stock Weight: 1518/1520g
-Modified Weight: 1588/1590 g
Size Skied: 26
BSL: 297 mm
Flex: Not Listed
ROM: 60°
Locations: Teton Pass, Grand Targhee, Grand Teton National Park, Crested Butte, assorted backcountry locales
Conditions skied: Just about every type of snow you can imagine
Days skied: 50ish
Intro
Like many Newschoolers, I just got Full Tilts in 2012. I loved my Full Tilts. I walked up a shocking number of mountains in them and clunky frame bindings. I shot park comps and skied powder in them. But eventually, the draw of untracked backcountry powder accessed without lengthy transitions became too much, and I moved to tech boots and bindings for my touring.
So, I stuck to three piece inbounds boots, and tried out touring boot after touring boot, trying to find something that skied well enough for my uncultured style, while walking well enough to not hold me back while chasing faster friends uphill. With the Dynafit Radical Pro, I've found all that and more. In fact, this boot marks the first time since my days of Full Tilts that I've used one boot for everything, both in, and out of bounds.
And I think the Radical Pro is a great entry drug to the world of more walkable touring gear for the average NS user. Here's why:
Fit
Go. To. A. Bootfitter. Just do it. Ok, I said the thing, do the thing. But if you can't do the thing, here's my perspective: I have wide, tall, sensitive feet. They're relatively short (size 26), but I've been sizing up for years (to a 27 or 27.5) because of the rest of their weird hobbit proportions. The Radical Pro fits these feet of mine quite well. In fact, it's the first boot I've been totally happy skiing my true size in. Most of that comes down to the width and height. The 103 mm last fits my feet without a punch, and they're tall enough that there's minimal pressure on my instep. I run the toe buckle as loose as possible, tighten the middle buckle, and party on. Folks with narrower and less tall feet than mine might want to crank down the toe, for me, it works best open.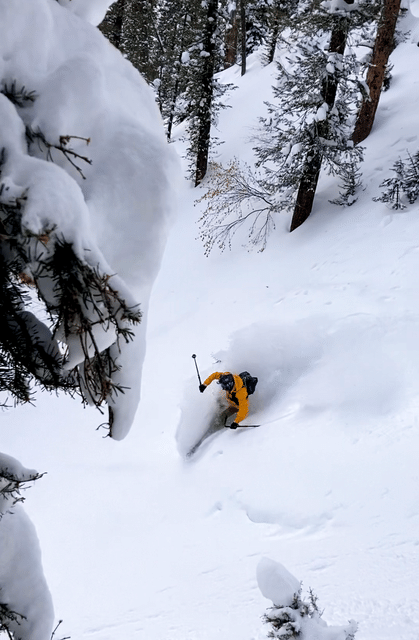 Photo: Julia Tellman
Personally, I'm pretty convinced that touring boots benefit a lot from some extra volume, as long as they've got a method (like the Radical's middle buckle) to keep your heels locked. More space up front means your feet stay warmer and more comfortable over long days walking uphill, even if you don't have weird feet like mine.
Downhill Performance
I am reviewing these boots on this freeskiing website because they ski downhill very well. They are not the absolute stiffest boots around, but absolute stiffness is a reductionist way to look at downhill performance. Off the top, they feel similar to a 120ish flex, but they ramp up smoothly and consistently, deliver good suspension, and have plenty of lateral and rearward support. I've been running them in the stock, 14° forward lean position, although if I get stuck with higher ramp bindings, I may remove the spoiler to get that more upright 11° feeling.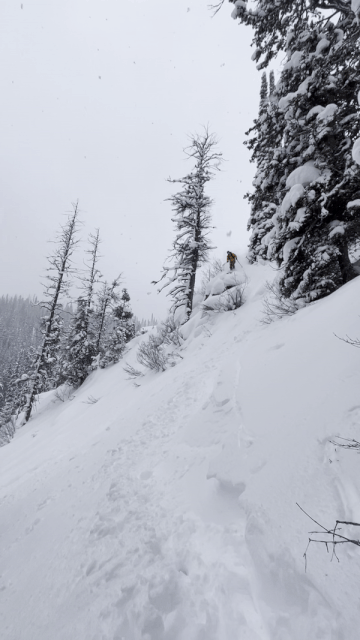 Video: Bria Gillespie
I started off only touring in the Radical Pro, but after some experimentation, found that I lose very little in terms of outright power to my Roxa R3 130's, while gaining comfort. If you're used to skiing 130 flex overlap boots, these will feel a hair undergunned inbounds. But, if you're coming off an 8 flex Full Tilt, the Radical Pro will feel very familiar. They drive big skis well, and don't punish you when the snow is less than perfect or inconsistent.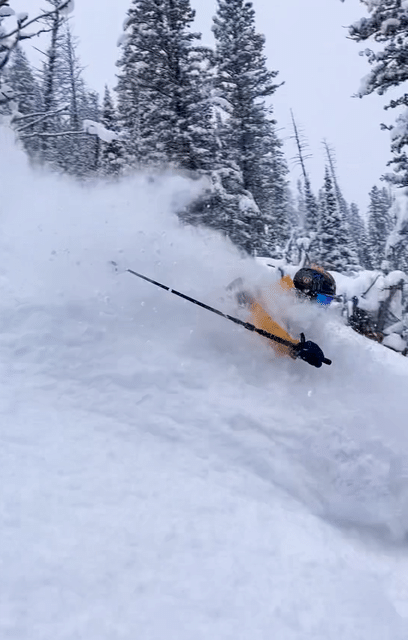 Photo: Julia Tellman
I'm a fairly big (200lbs) and inelegant skier, and I have no compunctions about using these boots to jump off of things onto firm snow, or making big, fast turns on big skis, they just get the job done. They are the first boots I've had, in my life, that I'm happy to ski inbounds, or on fully human-powered days.
Climbing Performance
If you're coming off a lightweight boot (Dynafit TLT series, Scarpa F1, Atomic Backland, etc.) this boot won't blow you away with its walk mode. But, if you're coming from something like a Roxa R3, it will feel great, and is comparable to an Atomic Hawx XTD. The stated ROM of 60° feels a little optimistic, I think a lot of that ROM is forward, but weirdly, it has less rearward ROM than I'd expect. I find a hard stop to the ROM in the rear occasionally on steep skin tracks, or when making big strides on flat areas, that I didn't with my Scarpa Maestrale RS.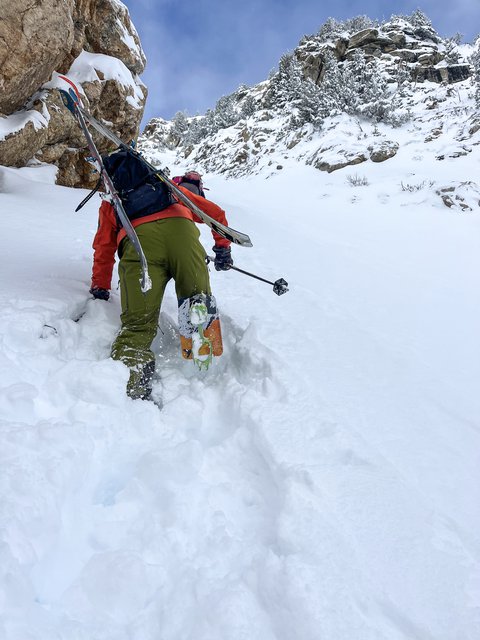 Photo: Bria Gillespie
All that said, the Radical Pro's ROM is great, for what it is. It walks better than it has any right to, given how it skis, and it's only my past experience on ultralight, absurdly high ROM boots, and race bindings that colors my perception. If you're coming from heavier, more inbounds-focused boots, don't worry about the ROM. And if you're coming from lighter, more uphill-focused boots, also don't worry about the ROM, this is what it feels like to walk in a boot that can handle bad snow and big skis.
Transitions
I am embarrassed at how much I like the Radical Pro's "Hoji Lock" combined cuff closure and walk mode lever. It works really, really, really well. One motion is all it takes to transition. It takes less time, and guarantees that your buckles are perfectly set every time. I even do it when getting on and off the lift since it opens things up and buys me a little extra comfort.
I've used a lot of boots with external walk mode levers, and while they work, they're a little prone to icing up, and seeming locked when they're really not (like that time I almost slid to my death on the Middle Teton when I thought my boots were locked). The Radical Pro suffers none of that ambiguity. When they're locked, they're locked.
I also really appreciate that Dynafit left some room for mods with this mechanism. Having the buckle and power strap on cables means you can tweak them to your heart's content. Which leads me to…
Mods
I know. I should buy gear and use it the way it's meant to be used. But I like tinkering, a lot, and I am a weird person who looks for weird, specific things in his gear. So I made some mods.
The first was to swap out the liner. I have no complaints about the stock liner, I skied a day in it, and it was great, but something about my weird feet means that I'm more comfortable in a wrap liner, so Intuition Tour Wrap it was, ROM be damned. (Put your pitchforks down, the hard stop of the ROM I mentioned above is due to the cuff contacting the lower, my liner swap didn't make this any worse.) The weight change was negligible, and boots that are more comfortable ski better, so I was a happy camper.
Later, I swapped in a Booster Strap for the stock power strap. This is an easy swap if you have a heavy-duty sewing needle and thread, or rivets. Here's a picture of the swap: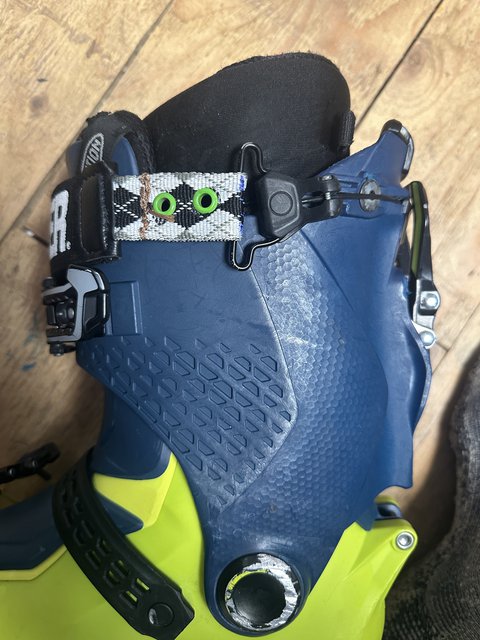 Back to that "stiffness isn't everything" comment up top: I've found that with lightweight boots, a fixed power strap can accentuate that crappy, pingy, too-stiff before they collapse and then suddenly too-soft feeling. A Booster Strap, run over the cuff (I know, not the way it's designed to be run) gives me, at least, a smoother transition into the boot's flex, a more comfortable cuff feel, and a better-skiing boot. Yes, it adds weight. No. That is not the point.
All of those tweaks have had the net effect of making the Radical Pro ski a little bit better, walk a tiny bit worse, and work just a bit better for what I, specifically, am looking for.
Comparisons
Roxa R3 130 TI IR
The Roxa skis a little more like an inbounds boot, it's stiffer and more supportive. It does not walk as well, and transitions are clunkier. Looking for an inbounds boot that can tour? Roxa. Touring boot that can bang chairlift laps? Radical.
Scarpa Maestrale RS
I spent a lot of time in this boot before skiing the Radical, and the Radical directly replaced it. I've been using the same liners in both boots. The Maestrale maybe feels a hair stiffer initially, but then sort of collapses into the flex in a way that I really don't like. It also feels like it transmits more shocks and vibrations from the ski to your feet. So, for me, the Radical is a much better boot for aggressive skiing. The Maestrale has more rearward ROM, and about the same forward ROM. It's not as smooth to transition. Notably, the Radical has held up a lot better for me than the Maestrale did. I broke a lot of small parts of my Maestrale, whereas the Radical has had no issues, yet.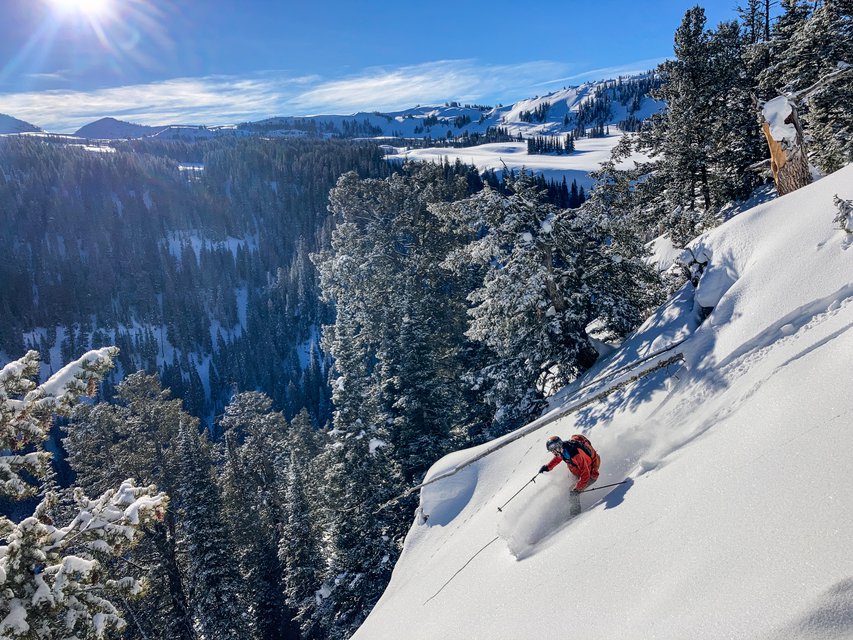 Photo: Julia Tellman
Full Tilt Ascendant / K2 FL3X Diverge
The Radical Pro is not in the same class as the Diverge uphill. It walks SO much better. It transitions much quicker. It's much lighter. It skis about the same. If you're hammering laps, the Diverge will probably be more durable. If you're walking a lot, the Radical is a much better boot.
Atomic Hawx XTD 130
To preface this: I had fit issues with the XTD, and never got to try the wider Prime version, so I'd be very interested to compare a Hawx Prime XTD 130 with the Radical Pro. But, I think the Radical and Hawx ski and walk very similarly. The Radial is easier to put on and take off, and they have the typical differences in feel that you'd expect between an overlap and three piece boot. Again, I'd love to pit the Radical against an XTD Prime (or that rumored Backland Carbon 120…) since I think those are the boots closest to giving it a run for its money.
Conclusion
For the type of skiers this site caters to, buying a dedicated touring boot can be a fraught process. It can be hard to translate all the competing marketing gibberish and determine what sort of boot will walk well, while giving the sort of downhill performance you need. Luckily, the Dynafit Radical Pro checks both of those boxes. It skis predictably, handles big skis and bad snow with ease, and has some of the smoothest transitions on the market.