Ski: Revolt 90
Reviewer height/weight: 6'1" / 160lbs
Ski weights: 1774/1768g
Length skied: 180cm
Actual length (with straight tape): ~
Dimensions: 118-90-118
Radius: 21.5m (@ 180)
Mounted: Team Recommended (True Centre)
Bindings: Rossignol FKS 14s
Locations: Falls Creek, Australia
Conditions Skied: Slush, Ice, Park, Aussie Pow
Days Skied: 30+
_
Intro
The Volkl Revolt 87, previously the Volkl Wall, has been the full-camber park ski stalwart from Volkl for many… many years. With its highlighter yellow topsheet, it became life's third constant, alongside death and taxes, adorning many a podium in its lifetime. Finally, as a part of Volkl's "Built Together" series (which brought us the Revolt 121 and 104 in previous seasons) the Revolt 87 has been revamped. The 87 has now been split into two skis, a Revolt 84 for halfpipe riding, a full camber, full sidewall, stiff stunt ditch weapon, and the 90, which gains a smidge of nose rocker and a reduced sidewall to allow for a more playful and progressive style of slopestyle riding whilst remaining a solid platform for those heading to the largest of features.
Testing the Revolt 90 in Australia over summer, this modern twist on a Volkl classic was my daily driver both in and out of the park and I got a whole heap of days on it.
_
Shape/Flex/Construction:
_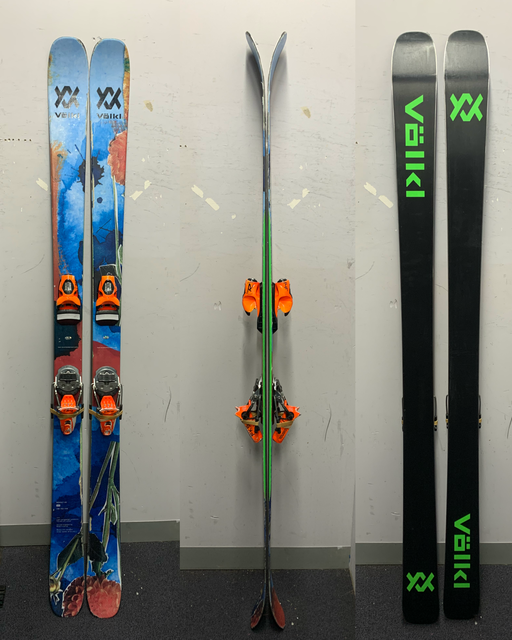 _
The Revolt 90 retains the symmetrical sidecut of its predecessor the Revolt 87, yet it is directional in that there is more rocker in the nose than the tail. The Revolt 90 has also departed from the old construction, the sidewall only runs through about 40% of the ski as opposed to its full length. This, I believe, is intended to create a more playful platform in conjunction with the Volkl light swingweight wood core, which reduced the amount of material in the tips and tails of the ski - this wood core is also found in the Revolt 84 yet the latter ski retains the full sidewall due to being designed primarily for the brutal icy walls of a halfpipe.
The Revolt 90's dimensions sit at 118-90–118 and it has a touch of taper in the somewhat squared-off noses. There's nothing mind-blowing about the shape of the ski but this is to be expected for its intended usage. In terms of flex, the Revolt is a stiff ski out of the box, I find attributing numbers to flex quite difficult, in my Prodigy 1.0 review I described that ski as being somewhere around 7 - 8 - 7.5 and I would say on a hand flex the Revolt felt very similar and after skiing it for a while it broke in similarly to the Prodigy as well, becoming softer and more playful. With the difference in sidewall construction between those two skis the relative stiffness of the underfoot portion of the Revolt potentially felt more solid than the Prodigy but I feel that also related to how the ski flexes not just how stiff/soft it is, more on this later. To put some numbers to it I will go with 7 - 8.5 - 7.5 as my flex rating for this ski out of the box.
_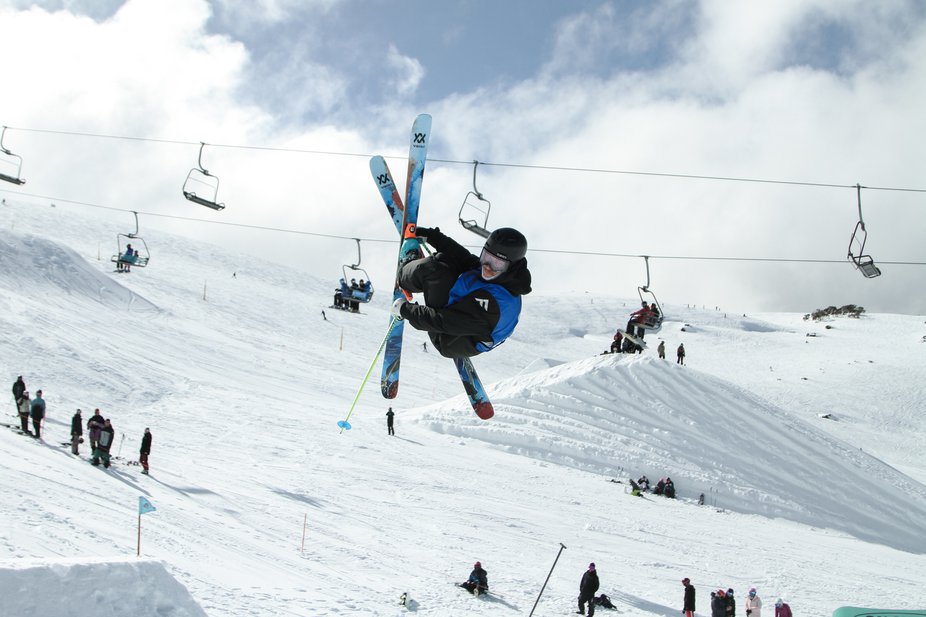 The only downside of the Revolt 90 is it turned me into a comp jock
_
On Snow:
One of the harder things to discuss when it comes to an out-and-out park ski is its general on-snow performance, this ski is designed to ski well all over no doubt but it's got a specificity about it that lends it to park performance and, as always this means there are trade-offs and limitations. That being said one needs to understand the ski they're on and assess it accordingly. I'll say that right off the bat I rode this as my daily driver out in Aus on 70+% of my days out there and it didn't leave me wanting once.
I didn't ski the greatest spectrum of snow conditions on the Revolt 90 and when the snow (often accompanied by rain) did fall I'd opt to take out a more appropriately wide ski - Majesty Dirty Bear XL review to follow soon enough. But the Revolt saw me right through everything I decided to bash it through.
The Revolt 90 skis like a park ski skis piste and off-piste runs, it's energetic in turns but didn't give the most rebound and oomph when trying to really carve them yet remained poppy and playful. Out of the box, the ski is stiff. Tips, tails and underfoot, rock solid. When I got on these at first I was a little apprehensive about this, I am not the biggest guy by any means (tall but skinny) and I'd heard they were super playful and I just couldn't really get that side of the ski to shine through. However, after giving them a thrash around and trying my best to wheelie and press the skis around the hill they started to give in a little and became beautifully balanced in this aspect.
For my preferred style of resort skiing the Revolt was a perfect match, I could open up the taps and bash through moguls and crud at high speed while being able to source side hits and drops; with all the stability to throw the breaks on when required. They did lack some of the energy and rebound that I like to feel when really laying a ski over but they were grippy (until I did my best to de-grip them with a file) and fun to rip around on.
_
Some DFD Fun
_
Park/Jibbing:
This is what this ski is built for and I'll say right off the bat that this is an absolutely fantastic park ski. It's super stable and the swingweight is super light due to the reduced wood in the tip and tails of Volkl's new light swingweight wood core seen in both this and the 84.
_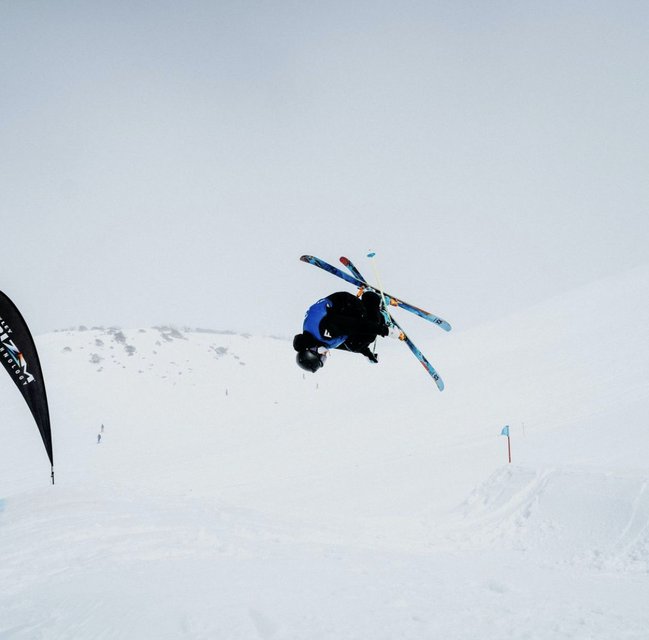 _
The Revolt 90 is a light and nimble ski. The burly flex pattern is somewhat paradoxically accompanied by a really light swingweight, Volkl has done something pretty special here in that the stiffness hasn't come at the cost of heaps of extra weight. Our testers on the NS Ski Test out in Sunshine Village echoed these feelings. Switch-ups and spins on/off rails are basically a dream on these skis and yet they're stiff and stable for bigger jumps. These were honestly a perfect park tool and it's hard to iterate much more than this.
While they were crazy stiff at first I did spend some time breaking them in and after a while, the skis became more playful and buttery. I found they behaved similarly to the Faction Prodigy 1.0 in this respect, they were hard to play around on at first but given a bit of time and persistence the flex rounded out nicely and offered a playful yet stable platform which is exactly the kind of behaviour you want out of a ski like this in my eyes.
_
Comparisons:
Revolt 90 vs Prodigy 1.0
The Prodigy 1.0 is a much more directional ski than the Revolt 90, with longer rocker lines and a mount point set further back in the ski than the true centre recommended mount point of the Revolt. I found them to ski fairly similarly in the park (my Prodigys were mounted at -2cm) and all over, the Prodigy is more energetic when laid over to carve and lets you get into butters, especially of the nose variety, a little bit more easily due to the longer rocker lines with more splay. The other noticeable difference in how these skis ride is the nature of the flex pattern, I found the stiffnesses to be nearly comparable in terms of effort required to bend the ski yet different in how they behaved, I believe due to the difference in sidewall construction, when you bend the Prodigy it is a very even flex throughout the whole ski as the sidewall runs nearly the full length of the ski, ending about a foot from the nose and half that in the tail, whereas the Volkls sidewall is built more like the AR Sidewall seen in the likes of the ARV lineup. This is also felt on slightly more tail-heavy landings, I love this flex pattern. With the Volkl, as there is sidewall underfoot that turns into a semi-cap construction one can feel the flex change fore/aft the bindings, they felt pretty rock solid underfoot but the flex definitely changes through the ski more than in the Faction. As an out-and-out park tool I think the Revolt wins out but for a more directional all-mountain ski the Prodigy probably takes the W in my eyes.
Revolt 90 vs Candide 1.0
The Candide 1.0 was certainly a more enjoyable ski for me when it came to shredding hard around the mountain, it just has an energy and a charginess to it that I found so fun, they bust through crud and are so at home going Mach 10. I found myself wanting on this ski when I rode it consistently in the park (albeit in summer parks which I tend to find lend themselves to softer/wider skis than stiffer ones that need to be skied with intent). I never found the Revolt unstable this is more a vote of confidence for how the Candide just loved to charge. This comes at a cost of weight and playfulness which is something the Revolt really impressed me with. When I rode the Candide I didn't put as many days on it as the Revolt or ski it quite as hard so I don't think I broke it in quite the same. Again the Candide has that full sidewall construction so behaves a little more consistently through the length of the ski in terms of flex. I think if you're looking for something with a more playful nature or aren't the biggest/strongest the Revolt is going to treat you better than the Candide whereas for that full-throttle park skier the Faction option may provide more of what you're looking for.
_
Durability:
After failing to give the Prodigy's I owned an appropriately thorough de-tune and questioning whether or not that was the cause of the plethora of edge cracks I gave these Revolts a serious 45-degree underfoot file bash and that helped to a huge degree. The inside edge of my leading rail ski did crack after a while and then slowly degenerated from there as water made its way into the ski. I got a friend of mine to replace the edge and they've held up well since. I do not see this as an indication of too poor a build quality as these got skied for over 30 days and almost every day I skied them I rode rails and I don't tend to be the smoothest of operators here. In addition, I had one spinner when I mounted them up but I filled this with epoxy (because my tech skills don't extend as far as heli coils) and carried on.
I could have probably looked after these better when the cracks started, but they held up superbly even after the edge cracks arrived and I had no other issues. Could they have held up better? Yes. Given that I mounted them and am not the smoothest of rail skiers do I think this was damning evidence of poor build quality? No.
At the end of the day, these are a park ski and I treated them as such and they looked fairly well used when I was done with them. I was happy overall though.
_
Conclusion:
I absolutely loved these skis and I think Volkl have made some long-overdue and well-directed changes to the Revolt 87/Wall. If you're going to be sending it big on jumps and getting technical on rails these won't see you far wrong. They're also going to be a riot on frontside resort bashing and they pivot and slash really well due to being a symmetrical ski. These were a blast every single day in Aussie conditions and I would have brought them back despite thrashing them, if I'd had the luggage allowance. They really have a place in my heart after that season and I'd have ridden them to death for sure.
_
Photos shot by: @royced
Video shot by: My good friend Jackson