Ski: Icelantic Nomad 95 2023
Reviewer height/weight: 5'9, 150lbs
Ski weights: 1578 & 1575g per ski
Length skied: 176
Actual length (with straight tape): 173.4
Dimensions: 130-95-120
Radius: 17m
Mount Point: -1.5cm from true center
Bindings: Tyrolia Attack 17
Locations: Crans Montana, Leysin, Zermatt
Conditions skied: Fresh groomed, ice, slush, jumps, rails, bumps
Days Skied: 10
_
Photos: Hanne Lundin
The Nomad 95 has been around for a while now and it's something of a sleeper ski… outside of CO perhaps. Positioned more as an all-mountain ski, it has a growing reputation in the park world, in part thanks to the addition of more sizes over the years, and likely its starring role in the Strictly movies. I hadn't skied the Nomads before this season, but I got on both the 95 and the 105 and put them through their paces.
Shape/Flex/Construction:
The first thing you notice about the Nomad 95 is its ridiculously light thanks to the paulownia/poplar core. 2.2mm edges and Sintered 4001 bases round out the construction but neither are particularly remarkable in this space.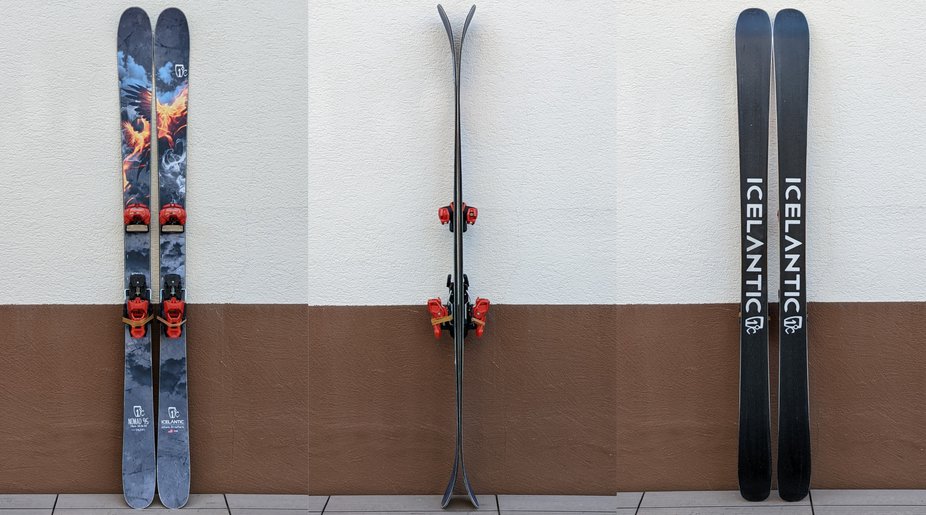 The 95 supposedly has the least rocker of the Nomad line but my 95s had more tip/tail splay than my 105s, just slightly less rockered length, so that depends on your definition. It's still a pretty sizeable length of rocker slightly more in the tip than tail, and these are a heavily rockered ski. Not quite Vishnu Wet territory but it's a lot of rocker for a 95mm underfoot ski. They have a full sidecut with no taper and a smidge of camber underfoot, though mine more or less flattened out.
The flex is stiffer than I expected, particularly underfoot but it's smooth without any obvious hinge points. The ski softens in the rockered sections a tad but I would say the actual flex was perhaps similar to the ON3P Magnus 90, maybe a smidge softer throughout.
_
On snow:
It's worth noting that my 95s arrived a little railed from the factory (meaning the edges were higher than the base) which meant they felt pretty awful when I first skied them. After a couple of runs, I realised and returned them, which fixed the problem to a large degree. The forward mounting point (-1.5cm) still felt a little like I was fighting the sidecut of the ski but I got them carving nicely on groomers. But they didn't feel as responsive on groomed snow as I expected from a ski with a 17m turn radius.
That said, they held an edge well and felt predictable on hard snow, and they were a lot of fun in mixed snow and bumps. The significant rocker makes them pivot beautifully in tight spaces and while they might lack power for really heavy crud, they push through heavy slush well. While I didn't like them at first, the Nomad grew on me as an all-mountain option. I didn't ski them in pow but my educated guess would be 'ok but not great'. The rocker will float nicely but full sidecut generally feels hooky compared to more tapered skis.
_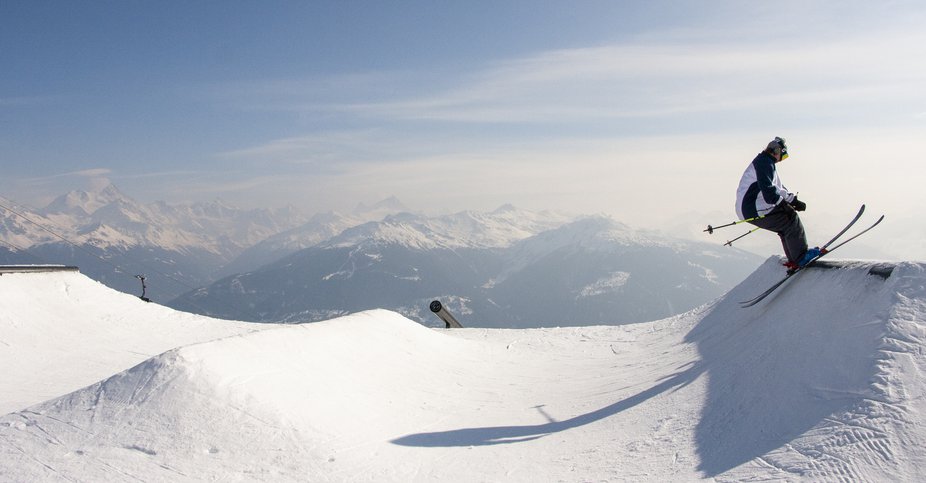 Park/Jibbing:
The low weight of the Nomad 95, and the fact that they came up a little short meant these felt like they had pretty much 0 swingweight. They are probably the lightest feeling park ski I've tried and definitely the lightest ski with a 95mm waist. For reference, the Line Wallisch Pro, which feels like a pretty light ski to me, comes in at ~200g per ski heavier and even the Vishnu Wet is 100g per ski heavier. I found them making me want to throw more swaps and spins onto rails than I typically tend to, and they made it easy to do so.
The flex, to me, comes somewhere between the Vishnu Wet and the ON3P Magnus 90. They are pretty soft in the tip/tail but not as soft as the Wet, nor as heavily rockered. But they are definitely softer than a Magnus 90. To me, that makes them an incredible jibbing ski but leaves them feeling surprisingly stable on jumps.. The tail has a touch less rocker than the nose, helping provide a more stable landing platform but they definitely aren't in the Wallisch/Poacher stability bracket either. I'd give them perhaps a 5/10 on stability and to me they are more suited to a park skier with a penchant for rails/swerving than for big jumps.
The balance of rocker/flex makes them really comfortable for buttering. In fact, they are one of the most controlled skis for butters I've tried. I tend to prefer a wider ski than these but the wide nose and pronounced rocker, combine with a medium flex to make them easy to initiate butters but not so soft they fold up if you throw your weight too hard. For everything from low to high-speed butters, I really enjoyed these which I was surprised about given the relatively short length. The Wet is better for very low speed or super flexy maneuvers and a stiffer ski like the Poacher is better at mach 10, but these provide a great middle ground.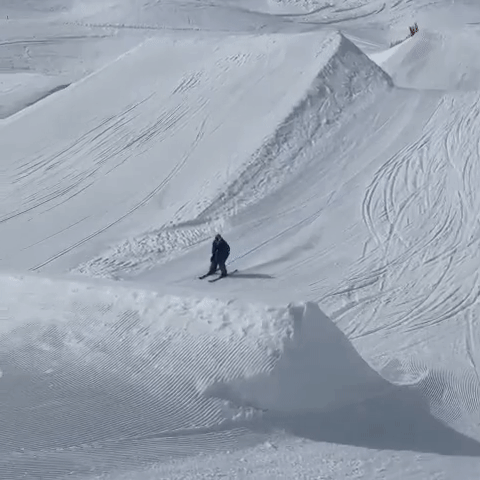 Durability:
By and large, I think the build on these skis was pretty good. They feel light but they feel solid and the edges seemed about average to me. I didn't get any edge cracks but I'm still nursing my knee a bit, so I didn't do any big gaps or disasters and I'm generally fairly smooth on rails anyway (if I may say so myself).
The one thing that lets them down a bit is the topsheets, which aren't as solid as what many brands are using these days. The way the sidewall is profiled doesn't do anything to reduce chipping and the topsheets themselves seem fairly thin. I noticed this more on the Nomad 105, where bad pole placement switching modes on Shifts put plenty of dings right on top of the ski, The 95 construction is the same so I'm drawing a parallel. I don't think the skis will blow up from this, but I do think they started to look scrappy pretty quick.
_
Comparisons:
Vishnu Wet:
To me, the Nomad 95 is a decent amount stiffer feeling than the Wet. The actual flex is stiffer and in addition, the profile, with less rocker both tip and tail, provides an overall more stable platform. The Nomad is also even lighter than the Wet. But it's also a less swervy ski; more edge bite and it takes more work to flex, pop, and play.
ON3P Magnus 90
The Magnus is probably the closest ski to the Nomad I've tried. It's a touch stiffer throughout but the more significant rocker profile balances that and leaves a ski that feels much the same when playing around. The main difference is that Nomad has lower weight but the Magnus is damper and smoother in mixed conditions and a bit more powerful in heavy snow.
Armada B-Dog:
The Armada B-Dog has a similar rocker profile to the Nomad but the tapered shape doesn't ski nearly as well on groomers for me and it's significantly heavier too. I'd say the B-Dog is the softer of the two and correspondingly a touch less stable on jumps too.
_
Conclusion:
In some senses, I think the Nomad 95 could be due a bit of an update. There are little things, like a touch of taper and tougher/more profiled topsheets that would really elevate the ski. Perhaps the sidecut center could be moved forward a bit too. But that said, while these were a ski that took me some getting used to, I came away enjoying them a lot, especially in the park. They are so easy to spin that it feels like you don't have skis on and they are certainly one of the better skis to butter that I've tried. Since 'flexing' is a large percentage of what I do these days, that was a huge plus. And after a retune, they skied well all over the hill too.
Overall, I think they are a pretty versatile ski. They do most things fairly well and I could see multiple applications depending on the mounting point. Mount forward and you have a great park ski. Mount around -4 and you have a narrow do-it-all option. I could see these working well as a narrower touring ski too due to the weight. For those who like to jib, they would be a very capable Rockies/west coast (narrow) all-mountain ski. They have a bit too much rocker to be an ideal all-mountain ski on really icy hills, especially if you also hit rails because that's about all your effective sharp edge gone given the Nomad's rocker profile. For me though, they do best as a park ski, offering a slightly stiffer and more versatile alternative to skis like the Vishnu Wet, while still keeping (most of) the fun of the low-weight and abundant rocker.
_
Next up on The Roofbox - Fauna Omni by @milo-mcsenderson