Ski: Batalla All MTN Twins
Length skied: 177cm
Actual length tip tail (Straight tape): 176cm
Measured weight: 2113g/2118g per ski (5g difference, closest I've seen in a pair)
Sidecut: 134-106-130
Radius: 15.9m
Mount: True Center (+2cm of recommended)
Days skied: 7
Reviewer height/weight: 5'9, 135-140lbs
Conditions: Park, Groomed (Icy + Soft), Refrozen slushy crud, Chopped up pow, 1ft Fresh
Many skiers are coming to realise that what they really need is one pair of skis that can do everything well and so the one-ski quiver market is getting increasingly packed. Pretty much every brand, large or small, makes a ski that aims to do it all. The All MTN Twins, Batalla's entry to this sector, are going up against some heavy hitters in the all mountain, freestyle oriented market. Among them are the Faction 2.0s I reviewed last time around and one of my all time favourite skis, the Line Sir Francis Bacon.
Before the skis arrived on my doorstep, just hours before they needed to go in a bag, I didn't know much about Batalla. I'd heard of them, I knew they were one of several new independent brands on the up but that was about it. It was really interesting going in to a review with next to no preconceptions of what the ski would be like. When I opened the box, the first thing that I noticed was that the topsheets are beautiful. I really like the art direction of the whole Batalla range and these might be my favourite of the graphics. With their clean lines and subtle Texas flair, they are something completely different from what other brands are doing. The sidewall finish was smooth and I couldn't find any kind of edge gaps. Very impressive for the first run out of a new factory.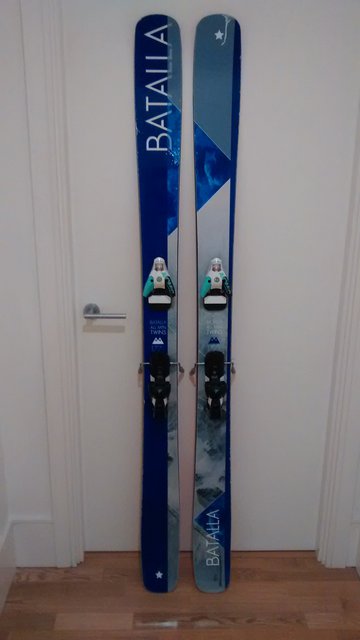 Topsheet shot, note the significant taper both tip and tail.
Fast forward one hurried binding mount, 24 hours and around 700 miles to my testing ground in Saas-Fee, Switzerland. My first day skiing, conditions were a mixture of bulletproof groomers, chopped up refrozen slush and crusted over pow. Not exactly my dream ski day but they are conditions which trouble a lot of skis, particularly ones that place any focus on jibbing, so in testing terms it seemed a great place to start.These things have a smooth predictable flex profile which is pretty stiff throughout the whole ski. They are stiffer than anything I've ever skied, which is marketed as a jibby ski. That stiff flex combined with a generous amount of smooth, kink-free rocker translates to excellent crud busting. At high speeds on icy groomers they were a bit skittish, thanks to detuned edges, but the tips never flapped significantly. They definitely held up better at speed than anything else I've skied in this market sector by a significant margin. Later on in the week, conditions improved and once I could hold a good edge on slightly softer snow, I found you could really ski lay in to them and ski them hard. They felt happiest in mid-length turns but you can slash super quick turns thanks to the small radius, rocker and taper and they were happy enough swinging long turns from one side of the slope to the other too.
Camber profile, a small amount of camber underfoot, with significant rocker in both the tip and tail.
I spent a fair amount of time in the park over the course of the review thanks to sub-par conditions and they do a good enough job there. I have no qualms skiing a wider ski in the park. In fact I generally prefer it, except in the tight confines of indoor slopes, so the width only took a lap to get used. I had no problems with switch ups and spins off rails because I'm used to riding 100mm+ underfoot. There is significant early taper which keeps the swingweight low and the stiff flex is a massive bonus on off-centre landings. Obviously they are a little heavier and slower than something 90mm underfoot but I had no problems. If you are looking for a spin-to-win park ski, you won't buy. For anyone else, they work perfectly well.
Skiing these certainly made me reconsider my preference for (overly?) soft skis, because of the stability they offered on landings. The rocker is pretty pronounced, especially in the nose. As a result, buttering was still possible, despite the stiff flex and my light build but it did take more force than normal. The one other thing I found more difficult than normal was flexing the ski to ollie over things and up on to high rails with flat-ish takeoffs. Again, it was doable but did require my whole bodyweight meaning a lot more effort than I'm used to. This isn't a ski you're going to be able to fold Kieran McSlay style but you can still play on them. In the construction of every ski there is a trade-off between butteriness and stability (despite frequent manufacturer claims otherwise). These are on the more stable end of the continuum but you can still play around.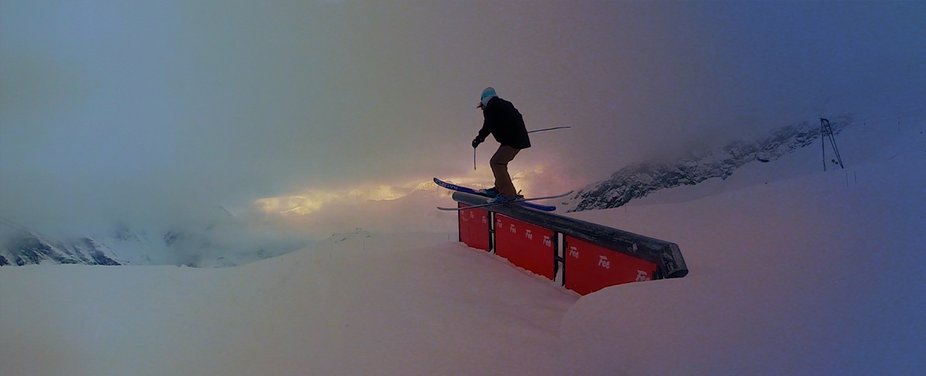 The one decent photo I got while riding these. It was pretty much whiteout the whole time, this day was the only window in the clouds.
The night before the last day of my trip, it finally started snowing and around a foot fell overnight. I was on the first lift the next morning to see how these things did in pow. Even with a centre mount, the generous nose rocker kept them afloat happily. The tapered shape, with plenty of rocker and only low camber underfoot, was great for slashing and buttering in deeper snow without any hooking. There's even enough rocker in the tail to land switch in a foot of snow without backwards tomahawking. And the stiff flex meant that once the pow got tracked out, I could still have fun skiing tighter lines despite less than stellar conditions, when on softer skis like the Line SFB I'd have been bricking it. They really will charge pretty much anything. Mounds of frozen crud, tree stumps, small children, you name it, these will go through it. They aren't quite say, a Volkl Mantra but they do the best impression of that type of ski I've seen from one I can still comfortably do a front 4 on.
I've ridden these for a week so far meaning it's hard to give a definitive answer on durability other than "so far so good". I've seen some topsheet chipping typical of a full sidewall ski but in terms of damage, that's it. No edge cracks despite a fair bit of rail use, no damage to the bases (which are great by the way, rock solid and quick to boot). I've also not experienced any real softening of the ski, they are just as stiff as the day I got on them, which is a good sign of quality.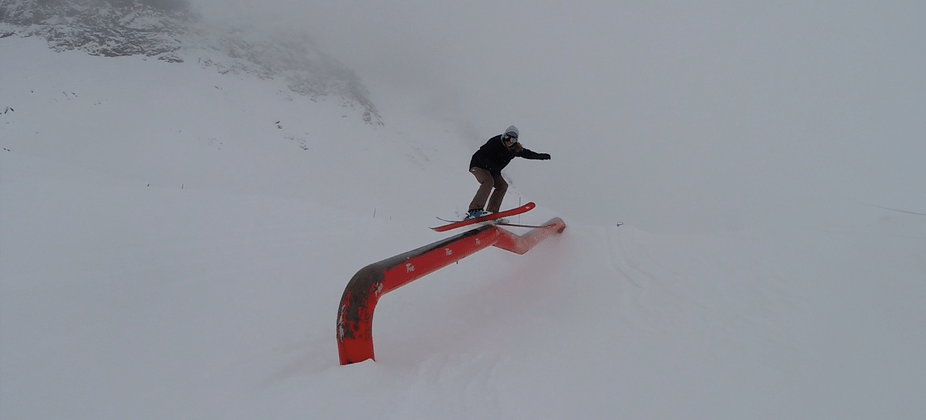 This shot is mostly here to break up the text but you can see the lone star on the bases too. These were the conditions for most of the week.
Given how much choice there is in today's ski market, it's very easy to write off smaller brands as they appear. But Batalla are bringing something slightly different to the table and based on these skis they deserve to succeed. There are a lot of skis out there you can ski rails, jumps and some pow on. But with the All MTN Twins, you can comfortably do so much more than that. You can trust them to stay solid on more technical lines and in cruddy conditions. You can land a bit backseat on drops and they won't fold. And if the mood takes you, you can open the throttle and go, without worrying about stability. I ended up skiing stuff I haven't skied in years, because of how miserable it would be on the skis I typically ride, and having an absolute blast. The fact that I could do it all then dip back into the park and comfortably throw most of the tricks I normally do made for a hell of a week. I can't really criticize anything about these skis. On occasion I found them a little too stiff for me in the park, but I'm not a big guy. If I put on another 10lbs, that 'issue' would be gone. The All MTN Twins are the most genuinely 'all-mountain' skis I've ever ridden. So if you want to ski it all and still get some park laps in during the course of the day, these skis should be right at the top of your list.
Have you skied these skis? If so weigh in with your own review here:
http://www.newschoolers.com/reviews/3731/All-MTN-Twin
Make sure you review all your own gear in the review section for your chance to become a gear editor here at NS and get boxes of free gear to review. After all, everyone likes free stuff!