Strictly have had a productive year, producing a trilogy of banger films. To honor their long-standing partnership, Icelantic is releasing limited edition skis for Strictly riders Calvin Barrett and Parker Norvell. The Colorado-based ski company joined forces with Strictly to launch a unique Saba Pro 117 for Parker Norvell and a Nomad 95 for Calvin Barrett. Each ski has a topsheet designed by Icelantic and Strictly rider, designer, Sam Winship.
https://www.newschoolers.com/videos/watch/1015578/Icelantic-X-Strictly-m4v
Check out the Icelantic X Strictly Ltd Nomad 95 and Saba Pro 117s here
_
Strictly released their first movie, Strictly Business, in 2018 and have been producing insane content since. The venture, spearheaded by Andrew Mildenberger and Gavin Rudy, has been a blessing to the community. Cementing some careers and helping others to flourish, they cap off this immense year - which sees the release of Most Gutter, Wildcard, and August Light - with a pair of pro models for two of their finest riders (and there's many in that crew).
For Parker, the Saba Pro 117 is his weapon of choice for slaying pillows and stomping pow landings. I spoke to Parker a little bit about the skis and Icelantic's support:
"We developed the Saba Pro with Icelantic two years ago, it was a pro collab where quite a few of us came together to design the ski. It's the best ski I've ever been on hands down. It's definitely a big ski but I love it, it rips.
Icelantic has always been so supportive and the skis have always been insane, I don't think I've broken a single pair since I've been riding them. The guys at Icelantic have always been so down with what we've [Strictly] been doing. I don't think we've ever even sent them a pitch; they're just always on board and fired up."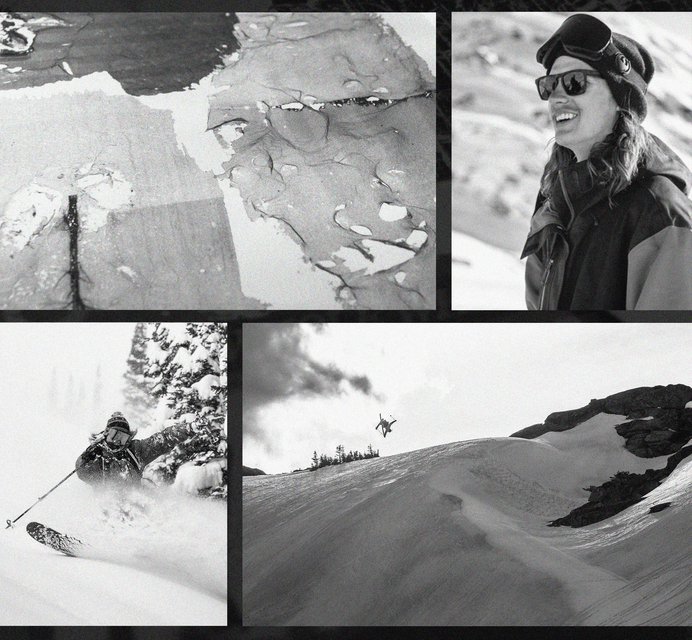 _
Parker used to be known more as a park skier - supported by Icelantic through his park and competitive skiing days - but has made the transition to the backcountry in a really big way the last few seasons. He has some banger shots in Wildcard although an injury during filming curtailed his season somewhat. He told me about the progression to filming more backcountry and how it links with the birth of Strictly.
"I grew up in southwest Colorado, so I always skied pow. It really clicked one year when I bought a sled and went out and filmed with Ben, Ethan and Andrew. I thought it was so sick that I moved to Montana and started pretty much just skiing in the backcountry. That year we went on a trip filming and had this idea to make a movie. We got a park shoot that year at my home mountain Purgatory, my buddy Chance built the park which was awesome. Andrew had done some filming with Pete Koukov. We all kind of came together and made Strictly Business. We had a co-premiere with the street boys, with Banged Up! After that, we decided to work together and that's kind of how Strictly formed, we made Welcome and Bermuda. We've all gotten super close, and it's cool to have created this thing with your homies that people are stoked on.
_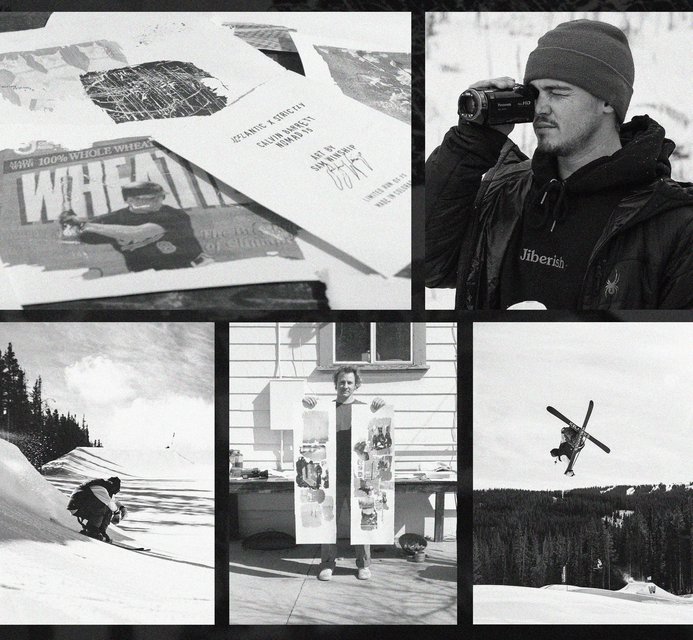 _
Calvin starred in Strictly's all-street film this year, Most Gutter, riding the trusty Nomad 95 which now has a limited run with his signature topsheet; he shared some thoughts on them with me.
"They're super fun, stiff enough to hit big jumps but still butter, and here's a reason they have that 3-year warranty, they just don't break. I have a lot of friends that ride for other companies and that's just not the case for them, going through pairs in a matter of weeks. I'll probably have a street pair and a mountain pair and that'll get me through the season.
It was sick to see Strictly divide and conquer this year, although they have plans to film for one big film again this year. Calvin told me what it was like to have more freedom with a project this year and shared his most enjoyable trip of the winter.
"It was myself Sam [Zahner] and Pete [Koukov] running the whole production, filming, and editing, which normally Andrew and Gavin do. We had full creative control this year and it was all street, kind of similar to how we did Banged Up! Just higher quality because they showed us how to use cameras properly. We had our own separate budget, usually it's all one pot and we had the van too, that we did the GoFundMe for, which was huge so it was fun to have the reins a bit this year.
Towards the end of the season, we went to Chicago, everyone had what they needed to get so we were just doing things that we wanted to at that point. Patrick Ring came and filmed, Carson Kerr and Seamus Flanagan too so we had a good crew. That was probably my favorite trip because we were rolling so deep and everyone was having a good time."
Calvin has been with Icelantic for over 10 years and was stoked to share some of the ideas and inspiration from the topsheets. Alongside the three Dobermans at the top of the ski and the balaclava'd soldier at the bottom, which were some of Calvin's contributions; it's the Wheeties box that has a heartwarming tale behind it.
"I've had that Wheaties box with Cal Ripken Jr. on in a case in my room since I was like 5 years old, he was the guy I was named after. In 1995 he broke the record for the most consecutive baseball games played. My grandfather gave it to me, he was a scout for the Orioles, so I wanted to do an homage to that."
_
The skis are super detailed, Sam's art and the images chosen by him, Calvin, and Parker on their respective skis make for a really interesting-looking topsheet. This is definitely a ski that isn't done justice by photos. I think in hand these are going to be beautiful.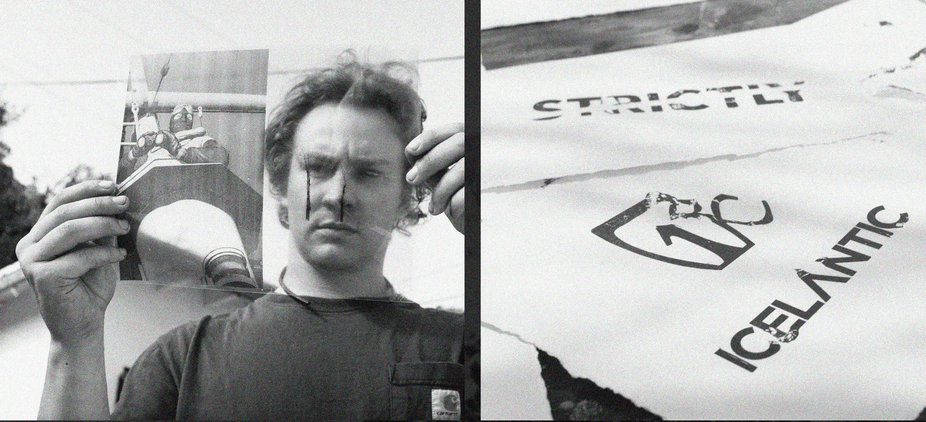 _
Sam Winship was the creative force behind the pitch of the ski. Having met Parker and Calvin on a 2018 trip to South America with Icelantic, which brought him onto the team as an athlete. He tells me Calvin and Parker stood out to him as some of the best young guns in the team and he had set his sights on a project down the line. With designing a top sheet being a dream of his, he made the pitch to Icelantic and got the go-ahead to design these awesome skis.
"The process is called photo transfer, you print the image onto a plastic laminate and use an adhesive to transfer it to watercolor paper. I've been working with this medium for some time trying to see what's possible. It allows you to distort images and essentially I pulled images from my photography library that I was inspired by and reminded me of Parker and Calvin and the way that I know them.
They ended up being two related but different thematic collections of images, some are more legible than others. I was trying to create this overall mood of something that has been distorted, disregarded, and torn. It's almost abandoned-looking; there's kind of an absence in both of them. I was very lucky that everyone at Icelantic, Calvin, and Parker trusted me to do something a little out there and departed from the traditional Icelantic look."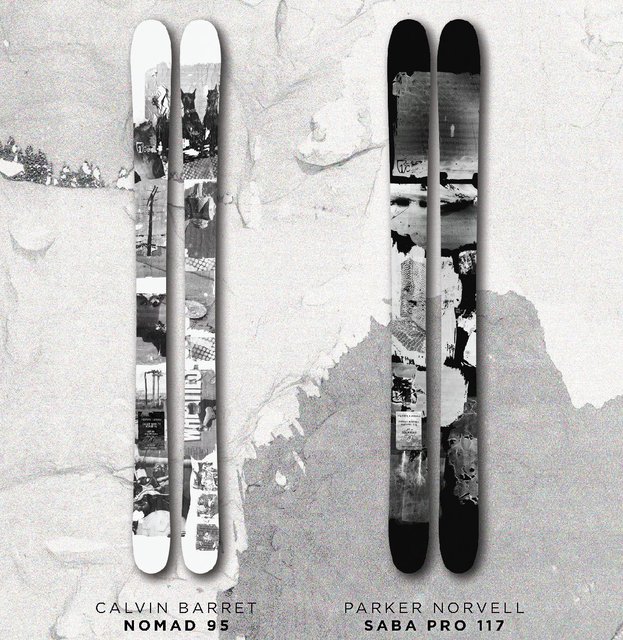 Calvin and Parker's topsheets side-by-side
_
The skis definitely have a certain mood to them. Sam's artistic process really has captured something special and this collaboration is a fitting accolade to Strictly and its riders, showing the continued and unwavering support of them by Icelantic. This ski ties together several amazing tales that are still being told. The three films this year are all insane. Make sure to catch them when they drop, the guys have done awesome things yet again this year. The skis are limited to 25 pairs each so if you want them, I'd be quick; you can grab em here!
Photos by Sam Winship & Drew Clark