Hopefully you just enjoyed watching what is undeniably a fantastic 20 minute audiovisual spectacle. If not take a look right above these words and focus your seeing holes on the moving images you'll find there. If you've done that and want to find out more, read on!
I asked the mad scientists behind the Unseen, Kaleb (Wiz) and Zam, a few questions about their latest creation. Enjoy!
Since this film wasn't your typical chronological/rider by rider run through of winter, tell me a bit about the season for you guys?
W: It started on the night of New Year's Eve, while we were all partying our faces off in Sun Peaks just outside of Kamloops BC and Zam was on the road up from Montana. We started the year off in 'Loops hitting spots with a full crew, 5-6 riders & all 3 filmers. After January Zam, Kieran & Ty did a trip to the Nelson, Rossland & Trail and I went down to CO from SIA. February and March were mainly spent in Revy staying with Jake Teuton and the boys at The Acres, where we shot the basement scene. Huge shout out those boys letting us stay on the land, you guys are legends! In Revy we met up with Jaeden Schnieder-Clark (JD$C) and Jarred Martin, Unfortunately Jarred took a nasty spill that landed him in the hospital with a separated hip. Our last day shooting was in the beginning of April. We shot the basement scene last.
Crew shot (Left to right); Zam Matchett, Parker Blackstock, Kaleb Weston (Wiz) , Kieran Nikula, Jarred Martin & Jarrad McCarl. Photo: Eddie Foster
How did the story of the basement film maker come about? Can you break the thought process down?
W: It wasn't easy haha! We had to figure out a way to tie all this footage that we had together and Zam was the only one that had a full segment. The Acres is an old farm house built in the 20's with a very eerie basement complete with wood stove and all! We had already agreed that Quasimoto would be the soundtrack and Zam was super keen about this music video for the track "Catching The Vibe" a trippy video about a guy that lives at the dump and walks with a gimp and you can't tell what he's doing throughout the video until the very end. seriously you guys watch it. Anyways we wanted to make the process something that could be strung out throughout the entire film. A story without words was a big thing too, Neither me or Zam was about to step in front of the camera to give a lame speech about how the season went.
Z: Wiz pretty much nailed it, the idea for the movie was heavily inspired by the music video for Quasimoto's 'Catchin the Vibe'. The video has a really dirty feel to it, this grimey vibe that I wanted to try to recreate and infuse into a skiing video. Originally only my segment was going to be styled after the Catchin the Vibe video, but as the season wore on, I began taking more control of the project as a whole and the idea expanded throughout the film. As soon as I saw the basement at The Acres in Revy (shout out to Jake and boys) I knew we had to utilize that space, it matched up really well with the feeling I wanted for the film. From the beginning of the season we knew we wanted to tell a story with our project, but we did not settle on the basement filmmaker idea until late in the year. At that point we were looking through page after page of elaborate ideas, possible shot lists, and themes; asking ourselves, which ideas are actually attainable? Kaleb and I both have a sort of weird nostalgia for VHS tapes, I'm pretty sure we had talked about releasing the project on a small number of VHS tapes before we decided it was going to be a movie about making a movie.
Was it difficult to shoot a story segment given you're from a ski filming background'?
W: We can both agree it was quite difficult... Zam wore the mask practically the whole time and could hardly see what he was doing with his shredded up mitts on, And i had never filmed anything like this before. I wanted to make sure that I got the shot that Zam had envisioned, and would get him to do things multiple times and at points we were both questioning .. WTF are we doing ?! We soon realized that we had dipped into something much bigger than we anticipated. Glad we pushed through to see the end. We spent quite a few late nights in the basemen plugging away at the shot list.
Z: It was a learning experience for sure! Making the story part of the movie was way more time consuming than I anticipated. Shout out to Wizman for being so patient, and for crushing the filming in the basement! I basically made up the fake tape making process based on the random objects I found in the basement, destroyed a few perfectly good sci-fi movies, arranged and wrote it all down, so that while we were shooting we could just go through the list crossing off shot after shot. I learned that it is a really rewarding process to figure out what shots you need to convey an idea, get them, and put them all together.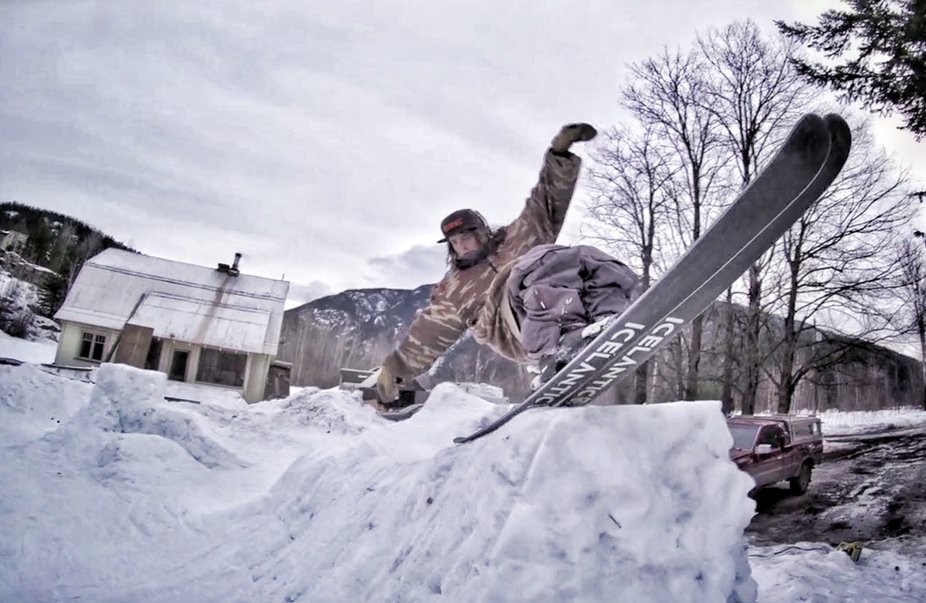 It worked out super good in the end though. Tell me a bit about the music?
"Quasimoto (also known as Lord Quas or Quas) is the animated alter ego or side project of hip hop producer Madlib, from Oxnard, California. Quas is known for his high pitched voice, and sounds as if he has inhaled helium. Another notable characteristic is the interplay between Quas' voice and Madlib's voice. Quasimoto was conceived one day in the studio, when Madlib decided to rap to his own beats. Madlib didn't like the sound of his voice (his friends in Oxnard call him 'Barry White' in reference to his deep voice) so he decided to slow his recorder down, rap slowly, then speed the recording back up to produce Quasimoto's distinctive high pitched sound.- wikipedia
W: After shooting the basement. Zam returned home and we reunited down at Mt Hood with JD$C where we did nothing but ski, drink coffee, and listen to lord quas. After Hood I followed Zam to his rents house in Lewistown, MT where we sat down to make the film. We simply picked the tracks each of us liked and would pick a track to go with the spot. It actually went surprisingly smooth.
Z: I'm not exactly sure when we decided on an exclusively Quasimoto soundtrack. It just seemed right for the feeling we were going for with this project, so we went with it. Lord Quas, if you somehow see this through the magic of the internet, please consider our version of The Unseen to be an elaborate piece of fan art. Thank you for inspiring us.
Zam, how long did it take to do those crazy animations?
Z: Making those animations is a mad slow process. I don't even want to try to guess a number for total hours spent on the animations and credits. A long time.
Any last words?
Big shout out to Cam & Will @ Pimp Hands, Parker, Scotty & Ashley @ Icelantic, Inga @ Herd Headwear, The GOON SQUAD everyone that helped make this film possible !