https://www.newschoolers.com/videos/watch/936470/iF3-Chile-2019The wait is over, the favorite festival of snow lovers already has a date: July 27th and 28th. This year the festival brings the best winter sport films as well as hosting its own version of the IF3 Video Quest. A competition where people were invited to send videos with a maximum duration of 59 seconds. The contest will reward the best ski and snowboard videos. The nominees are rewarded with exclusive gifts from our sponsors. The winning videos receive a pair of Awka skis or a Pillán snowboard according to the category as well as some incredible Red Bull Spect Eyewear goggles. There will be other incredible prizes thanks to Insta 360, Red Bull, The North Face, Karün, Buff and My Line.
IF3 brings incredible films from around the world, such as: Far Out, Unbroken, Here After, Frozen Mind, The Future of Yesterday, The Skypiercer and Ode to Muir. In addition, and as always, the festival supports the national snow scene presenting the most outstanding local productions of the season. It should be mentioned that this festival is the only opportunity to see these films subtitled in Spanish, with the best image and sound.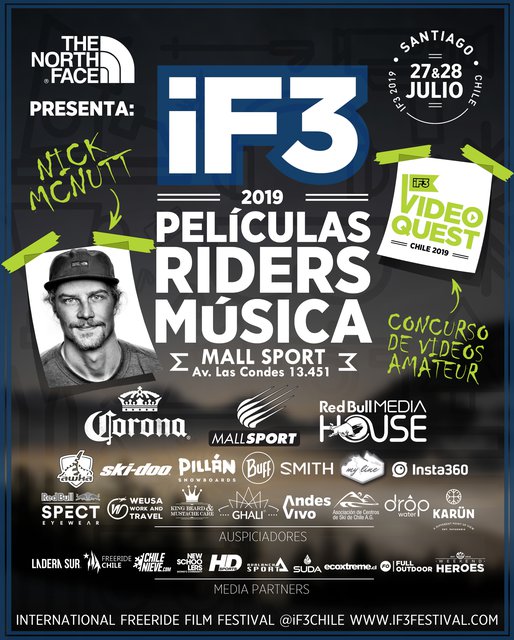 In this version, the festival, along with The North Face, will bring Canadian athlete and star of the acclaimed Teton Gravity Research film, "Far Out" ...Nick McNutt (@nickmcnutt) as a special guest. During the festival at Mall Sport, he will share his experience with the visitors and sign autographs.
Trailer Far Out:
https://www.newschoolers.com/videos/watch/906758/Far-Out---Official-Trailer
For more info visit www.if3festival.com or follow @if3chile ans @if3festival