Words: JF DuRocher
Photos:
Jean-Marc Favre
We all need lots of powerful long-range goals to help us past the short-them obstacles – Jim Rohn
When Felix, Doug and I created IF3 in 2007, we thought of its European version and it was great dream. It took a couple of years to put the project together, to find the right people to work with and to make it happen.
IF3 Europe is now a reality and I couldn't be happier.
I will be honest; I am completely bias, but I will do my best to bring you this coverage through the eyes of a guest enjoying its own event.
The selection of Annecy as the host city for IF3 Europe is probably the best decision the organizers could have made. It is a great and beautiful city where skiing is everywhere and well entrenched in the culture. From Salomon's head office to Orage's European office in Annecy, businesses and people all inclined to support and fully live the IF3 experience, Annecy eats, sleeps and breathes skiing.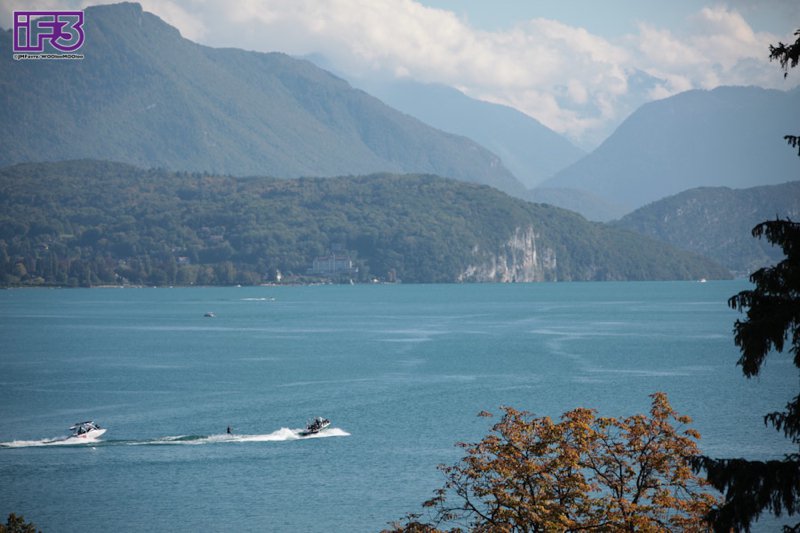 Annecy, France
The support from local businesses is amazing as well as every store is proudly displaying an IF3 poster and they all know about the event, needless to say, this is refreshing. The Courrier Mall is also pretty cool, which features an exhibition including products from Salomon, Orage and Oakley with photos and tons of great displays, all of which is taking over the floors of the centre and exposing skiing to the masses.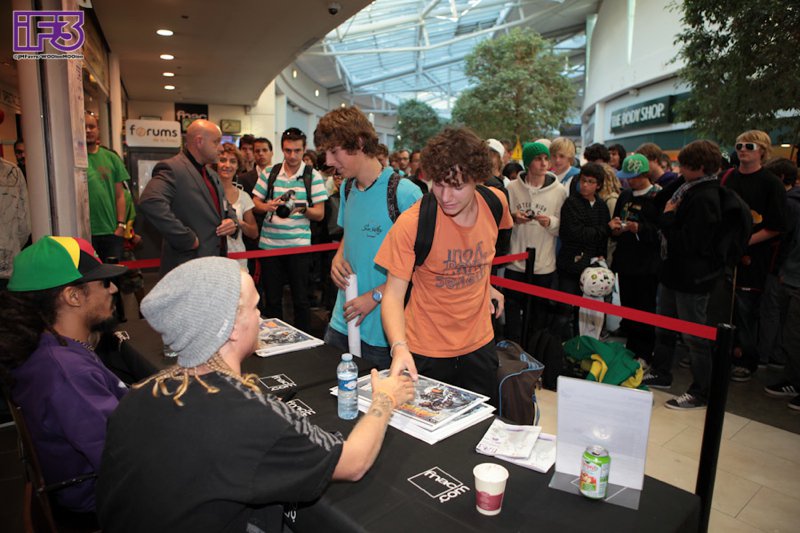 The event itself is well organized and everyone is taken care of. Working with Gaylord Pedretti, Lily Marcoux and the Like That production team to put this event together has been wonderful and they are doing one hell of a job. They came up with awesome ideas and so far, they have over delivered.
IF3 Europe all started on Thursday with an industry meeting – Outdoor Sports Valley – where a group of industry folks discussed different subjects including the Olympics, how to make your ski movie more appealing and media sessions for athletes, research and others. I had the opportunity to witness the dynamic within the meeting and was quite impressed by the level of conversations that took place. I also had the chance to speak to the crowd and to explain one problem we all are facing, the revenue model of ski movies and how we can reinvent it. A topic we are all picking our brains about at IF3. Thanks to Remy and Clive for putting the event together.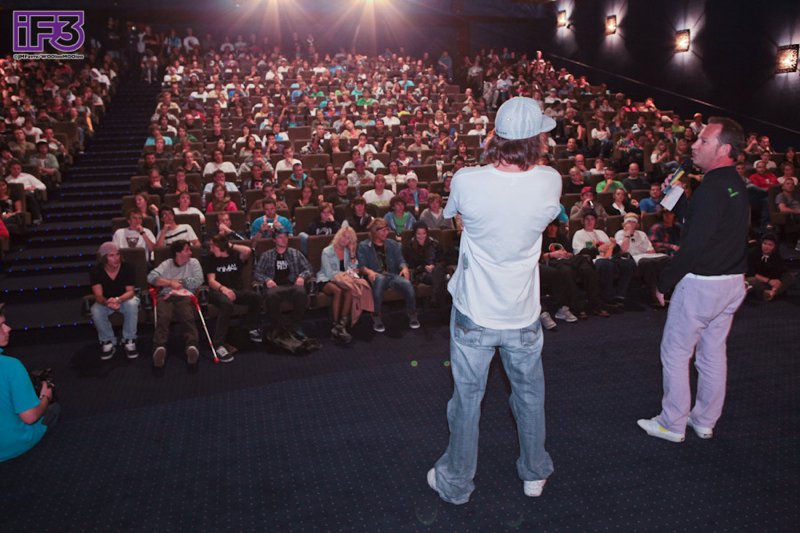 Then weekend then kicked off with the Like a Lion reggae party at the Bowl Night Club. The club has a restaurant, various party places and bowling alleys. Kya Bamba hit the stage first and killed it in front of a capacity crowd, who then eagerly awaited the arrival of Tanner Hall to introduce Cali P the Lyrical Faya, who gave another exceptional performance for IF3. Bottles of Vodka and of Crème de menthe where flowing, which was interesting as pro skier Thomas Krief explained to me that Crème de menthe is pretty ballin' in France…I was under the impression that you needed to be at least 80 years old to enjoy it (I didn't change my mind though, as it's pretty similar to a big glass of Listerine mouth wash). The night went off as athletes Candide Thovex, Lolo Favre, Richard Permin, Tanner Hall, Jacob Webster, Sean Pettit, Alexis Godbout, Thomas Krief, Xavier Bertoni, Anais Caradeux, Kevin Rolland, Kaya Turski, Dane Tudor, Nick Martini, Taylor Seaton, JP Auclair, Phil Casabon, Henrik Harlaut and many others enjoyed The Like a Lion party till 5am. I have to admit that partying till that late is a sport in itself!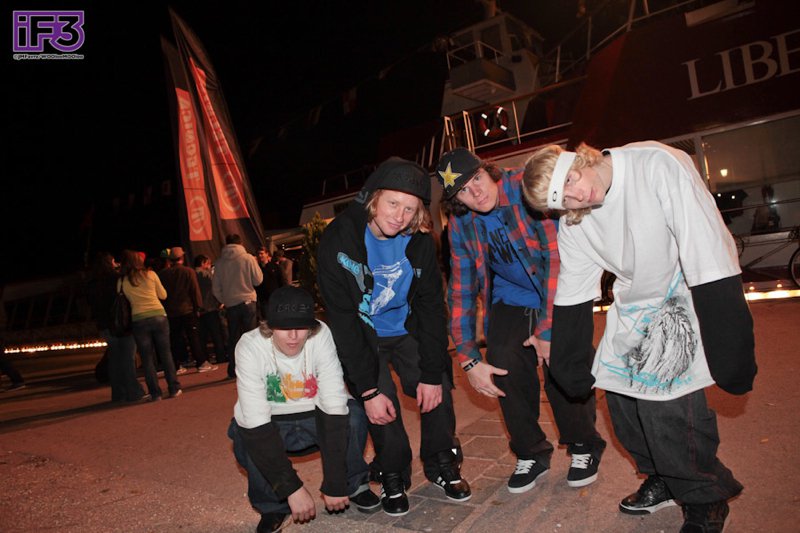 Phil Casabon, Dane Tudor, Nick Martini and Taylor Seaton
The next day various activities were planed and I took the liberty of exploring the city, which has splendid architectural views with so much rich history. The Monster guys were also contributing with boat rides in two of their Monster wakeboard boats.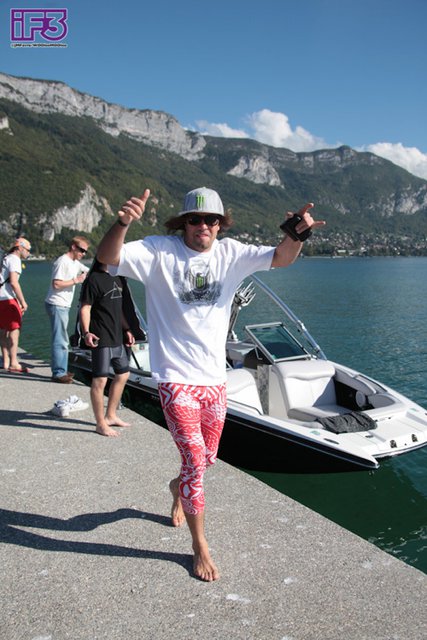 Luke Van Valin
I hopped in one of them with Lolo Favre, Nick Martini, Jacob Wester and Monsieur Luke Van Valin and enjoyed the ride. It is always such a pleasure to converse with Luke Van Valin, and a mixture of conversational topics lead us to realize how lucky we were to be on a boat in Annecy…quite special indeed.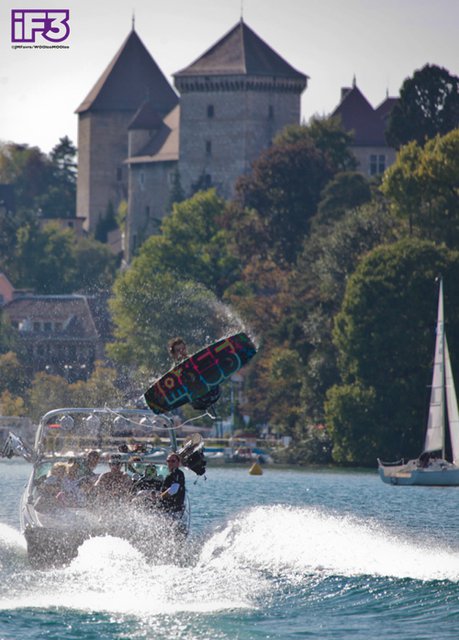 Laurent Favre
The first premiere of IF3 Europe then went down with Like a Lion, which was the only movie to be presented on Friday, and needless to say, it was a great success. Tanner Hall and Eric Iberg came on stage with Cali P and introduced this epic documentary, which is a must see film that explains the complexity of Tanner's life. I have to admit, I have a tremendous amount of respect for Tanner Hall, and to put it all out there is one hell of a courageous move.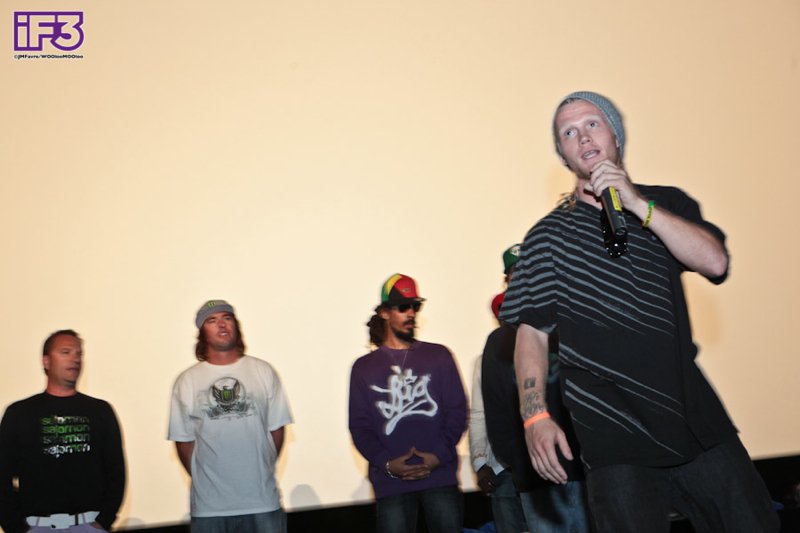 Tanner Hall introduces Like A Lion.
Later that night, our boating adventures continued as the celebration of the 40th anniversary of Moon Boots took place on the Libellule boat, which took us on a great cruise across the Annecy Lake where a few hundred people enjoyed the open bar party.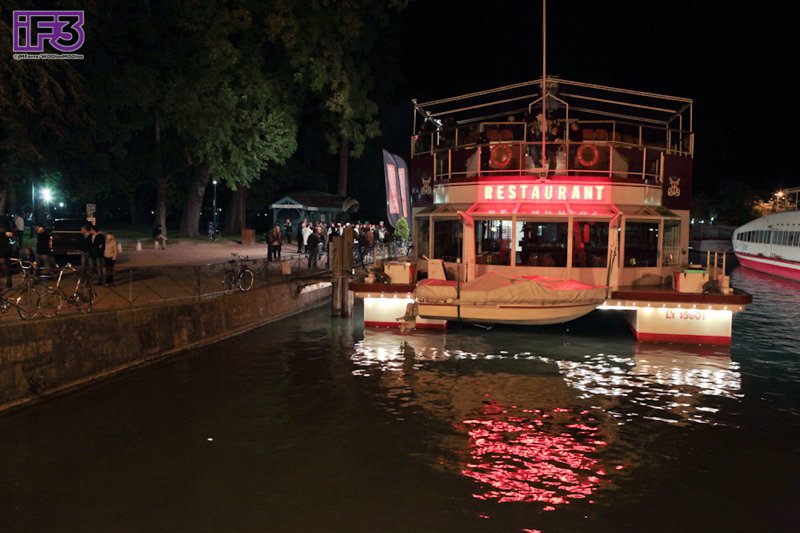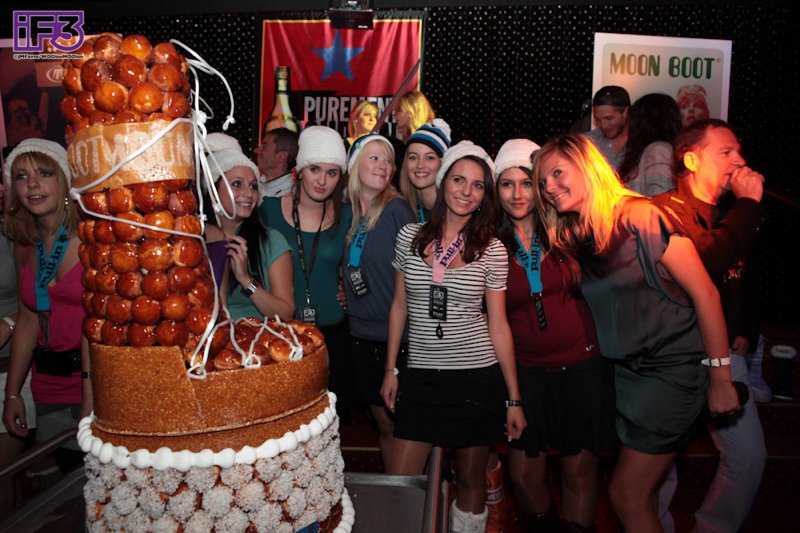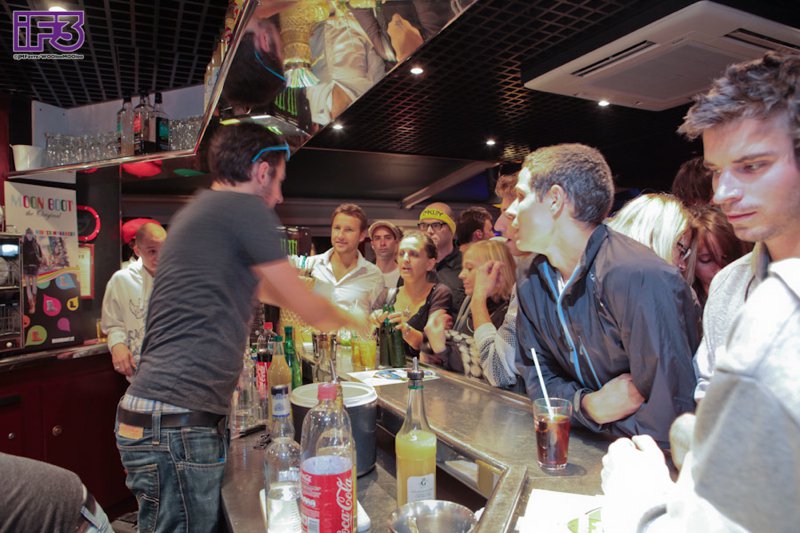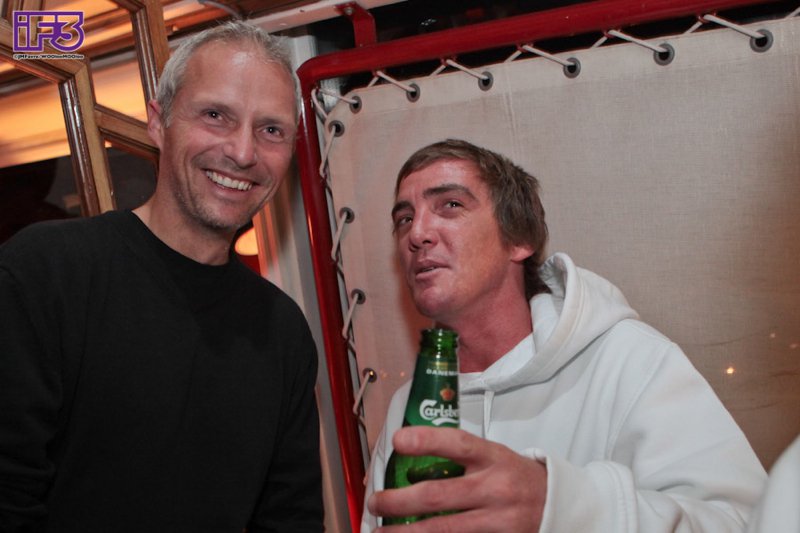 Candide Thovex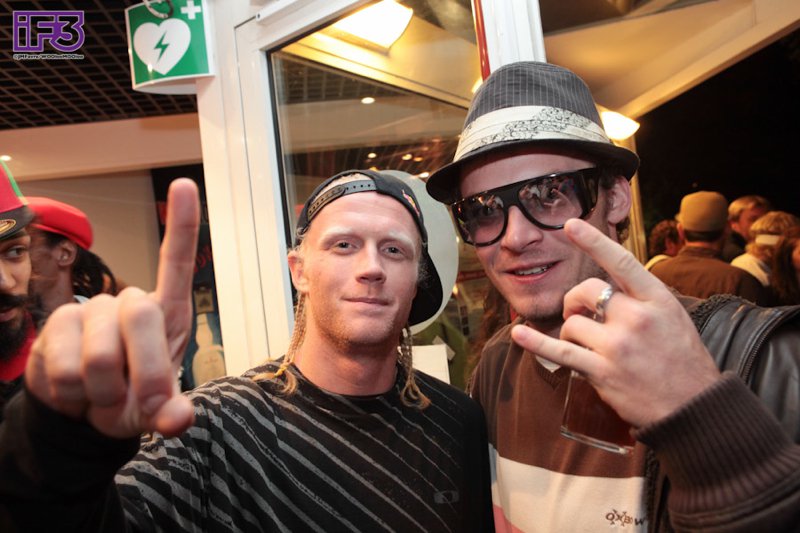 T-Hall and Lolo
Following the cruise the second night was just beginning as local heroes Kevin Rolland and Xavier Bertoni put on the Follow Us.Tv Party #2 with DJ Madgic, Freddy Jay (a real nice guy) and les Plastiscines. Also happening at the Bowl Night Club, the theme of the night, 'I Love Sweden,' brought a whole new aspect to partying in Annecy.
Xavier Bertoni with some friends from Monster.
Today is the big day, with lots of movies and great soirées to come. I can't wait for my friend Jarred 'All Star' Haynes to perform on stage, and big thanks to Salomon and Tyler Gigg for stepping it up and brining All Star over here. And by the way, you can expect major things in the next few months from our friend All Star. Mad thanks also to Gaylord Pedretti, Lily Marcoux, Hadrien, Flora, Amandine, Justine, Marc, Rita, Manu, Caro, Mouss, Remi, Franck, Julie from Like That, Bruno, Yo, PauPaul, Tyler and the team at Salomon, Guillaume and his team at Skipass, Simon, Ben and the Monster Crew, Gino and his team at Orage. Guillaume at Pull-in as well as everyone from Orange, LG, Oakley, Dakine, FNAC, La Clusaz, Maped, Outdoor Sports Valley, Skieur, We Ski, Skiinfo, NRJ, Ipac, Burn!, Twinner as well as everyone involved with this great event!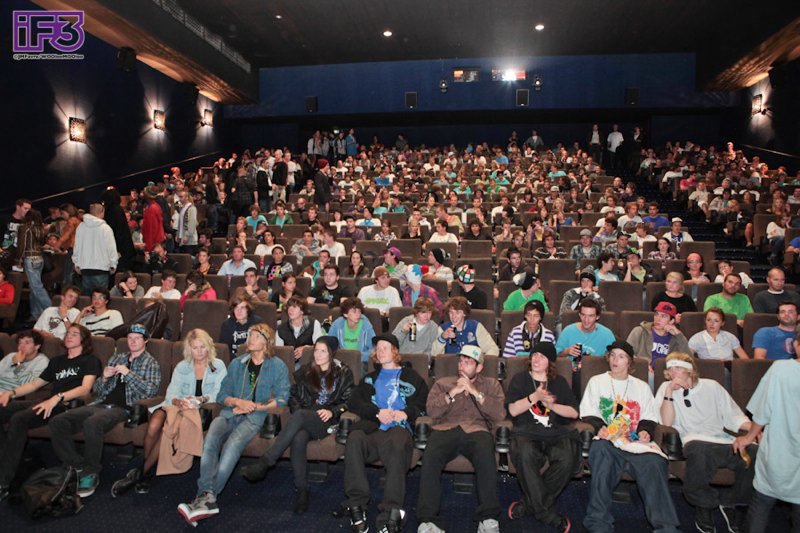 Stay tuned for more from IF3 Europe!