Words by JF DuRocher
Photos courtesy of IF3 Europe
The second edition of IF3 Europe took place this weekend in fabulous Annecy, France. Beautiful weather, the best movies, a slew of the finest mountain people in the world and a trio of great parties were all part of the program.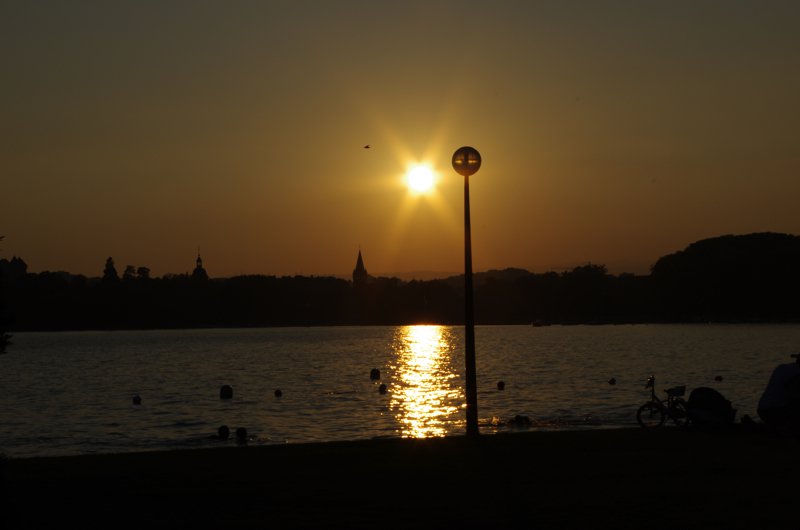 Annecy, France
It all started on Thursday with the IF3 Freeski Forum, a day organized by the Outdoor Sports Valley which showcased a great program as the future of freeskiing was discussed. Tanner Hall took the lead in the discussion and expressed his apprehension concerning the Olympics. Rule books, judging problems and politics were part of the discussion, but Hall's main point was to include X Games and Dew Tour as part of the process. Canadian team members Phil Casabon and JF Houle agreed along with France team member Kevin Rolland and Sweden team member Henrik Harlaut. Downdays' Rafael Regazzoni (who is also the head judge at many freeski events in Europe), Olivier Cote of the SFR Freeskiing Tour, IF3 Europe organizer Gaylord Pedretti and renowned pro skier and Nine Knights organizer Nico Zacek were also part of the panel and all brought forth interesting viewpoints, along with Salomon's Bruno Bertrand, an Olympic veteran. The discussion is not over and everyone in the room witnessed the passion translated by the athletes and event organizers.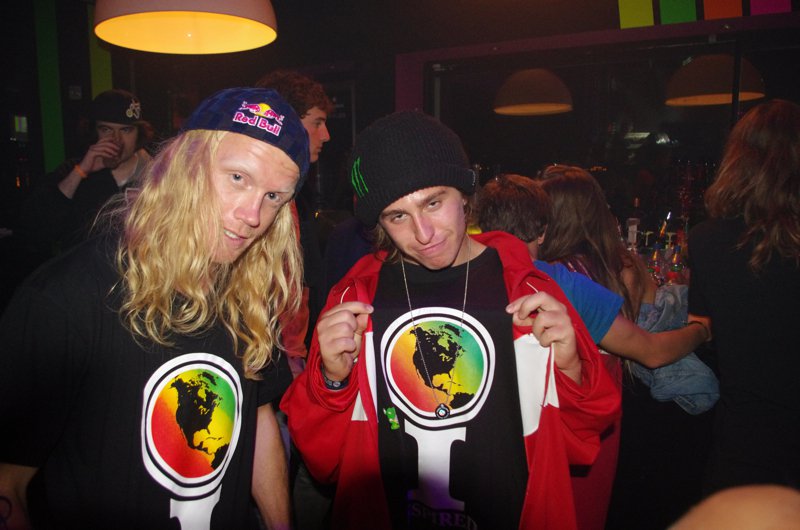 Tanner Hall & Henrik Harlaut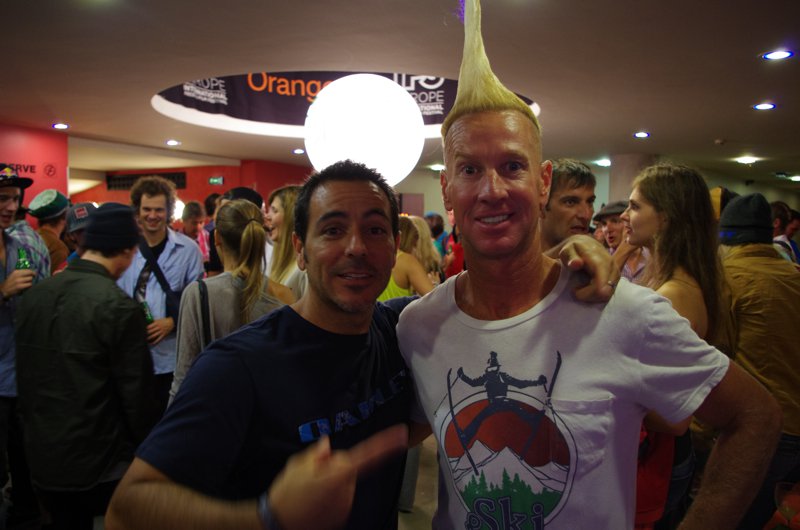 Poor Boyz Productions Johnny Decesare & the legendary Glen Plake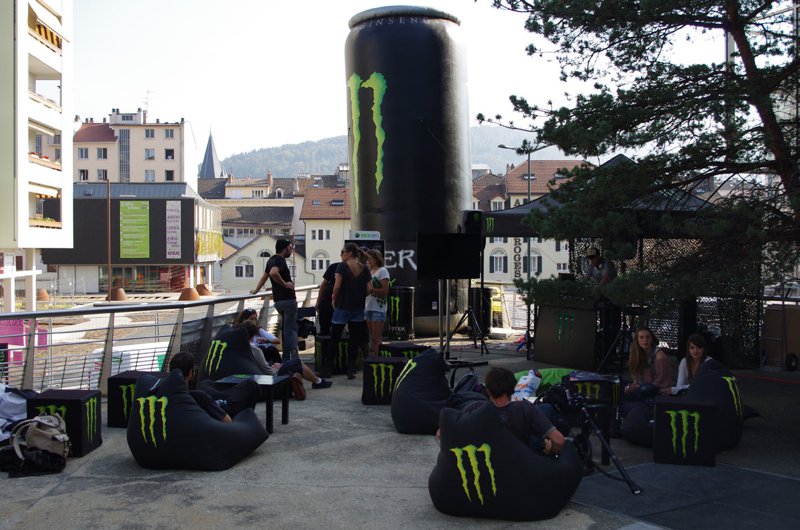 The Monster Lounge...
...and Monster Girls.
Friday was the launch of what I would call a mini-tradeshow, where the best European manufacturers showed off their new products. Under a giant tent in the heart of Annecy, thousands of people showed up to witness the magic of the brands. Filled with excitement and the presence of pro athletes, companies like Orage, Salomon, Pull-in, The North Face, CoreUPT, Fischer, Ride Sessions, Orange and others offered signing sessions with their riders.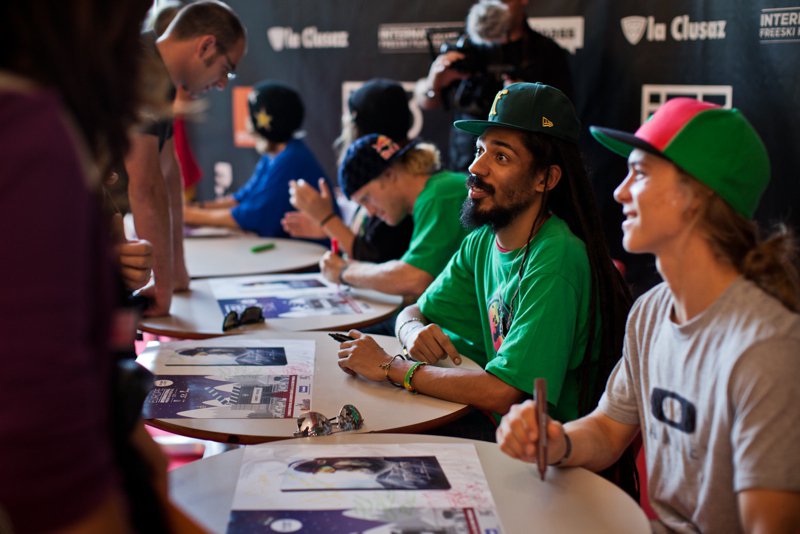 Cali P & Kye Petersen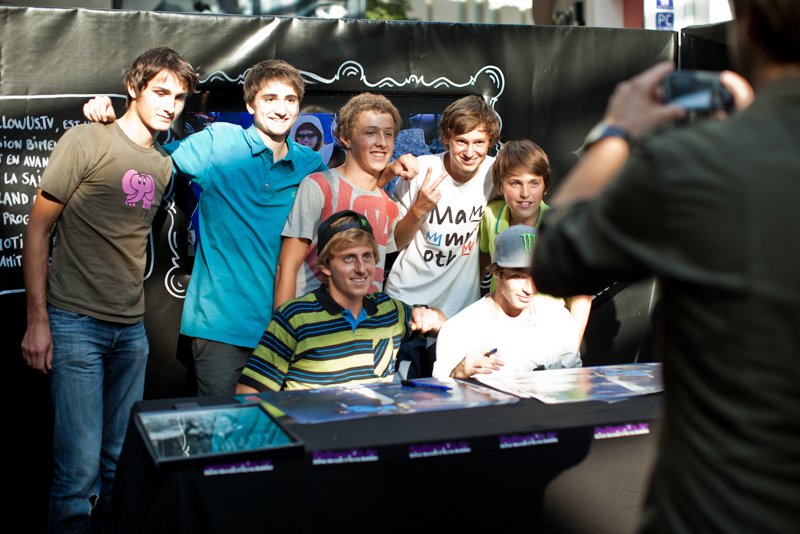 Xavier Bertoni & Kevin Rolland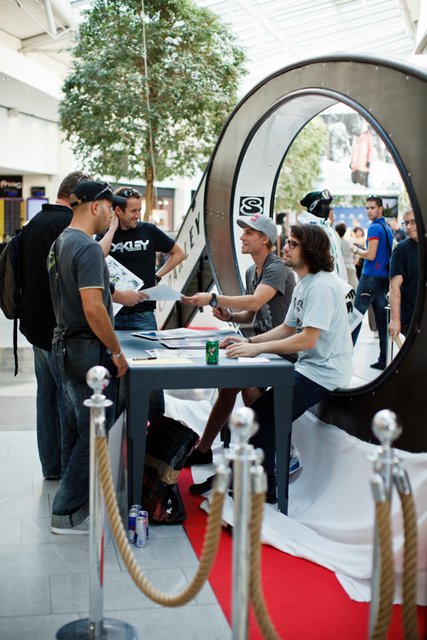 Richard Permin & JP Auclair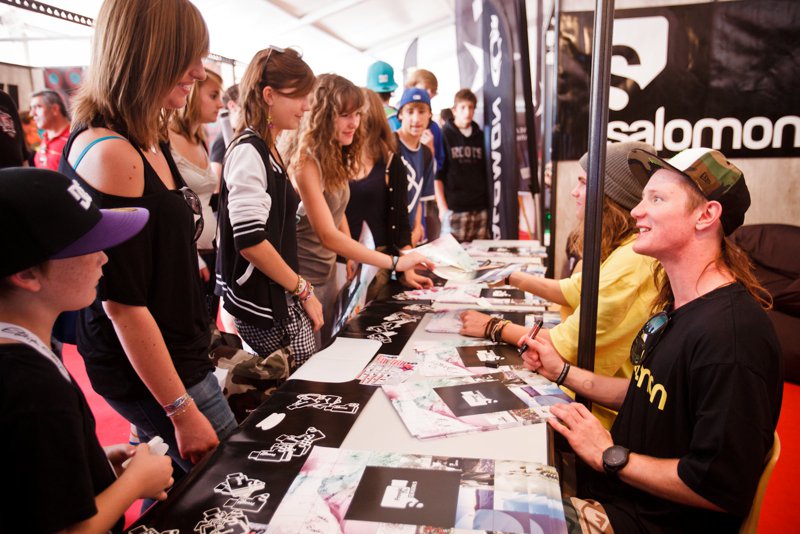 Simon Ericsson & James 'Woodsy' Woods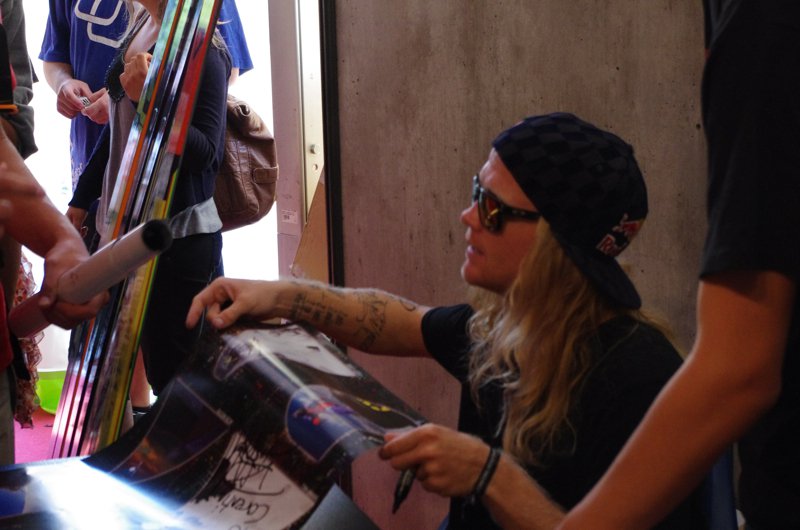 Tanner Hall
Meanwhile, the premieres began at Cinema Decavision, where over the course of three days, more than 30 films and webisodes were presented during the second annual IF3 Europe.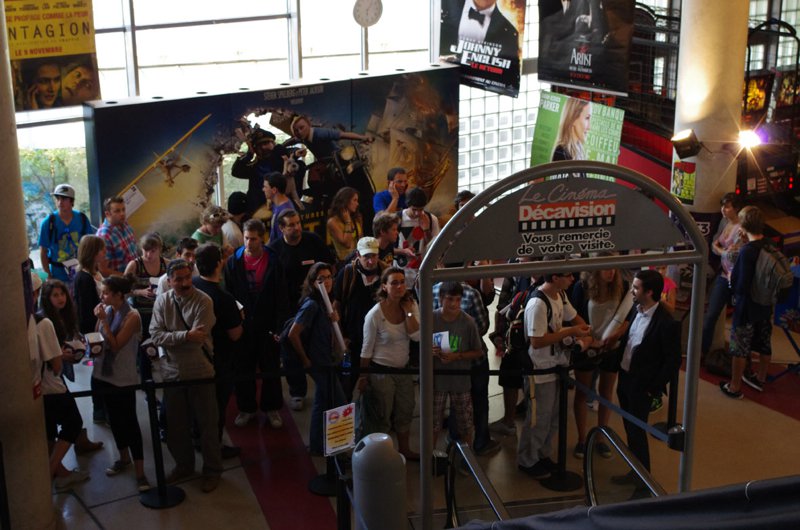 Cinema Decavision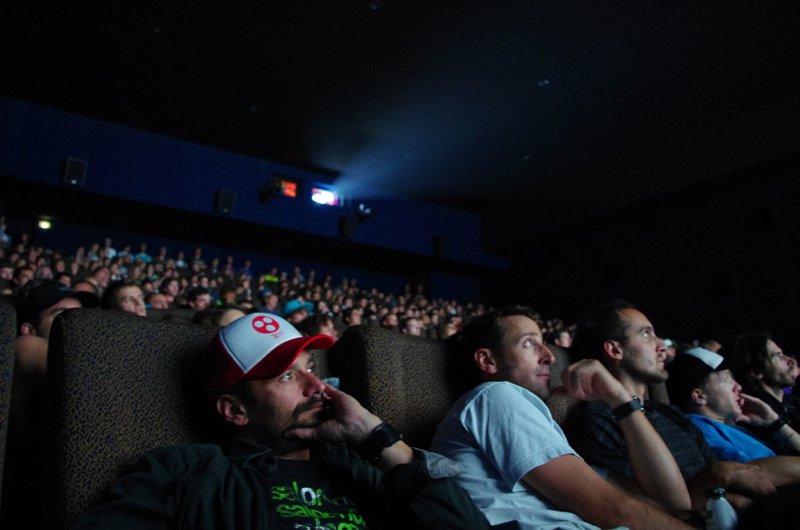 As the premieres wrapped up on Friday, the perfect day then turned into a perfect night, as the great weather continued and thousands of fans showed up to the parties, beginning with Salomon's Bon Appetit Night followed by a performance by international DJs Beat Torrent at The Bowl Club presented by Orange and Oakley. The club was as packed as it could get and the crowd bounced to the crazy rhythm of Beat Torrent, while at the same time, CoreUPT went all in at Pop Plage with a wicked party featuring performances by MOP, Mims and Eklips.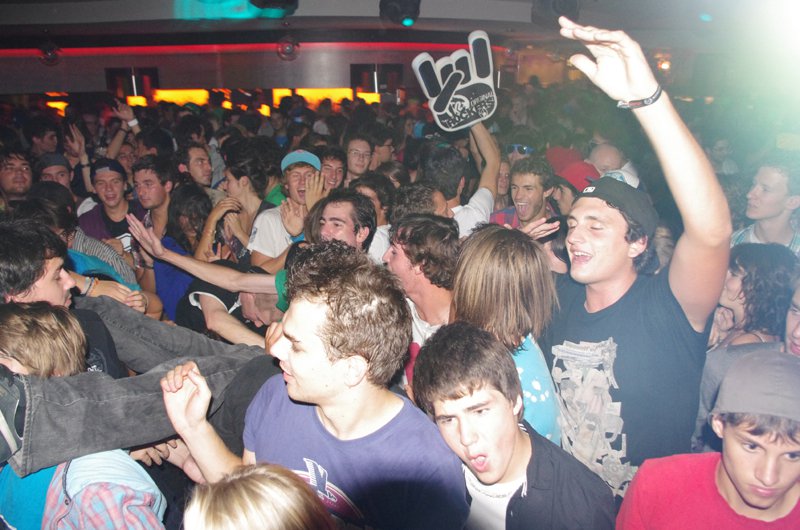 Party time! First up, Salomon's Bon Appetit Night...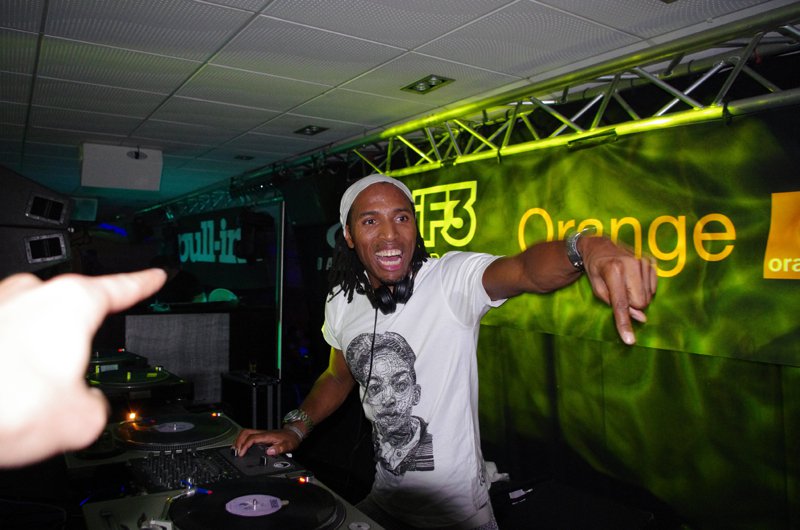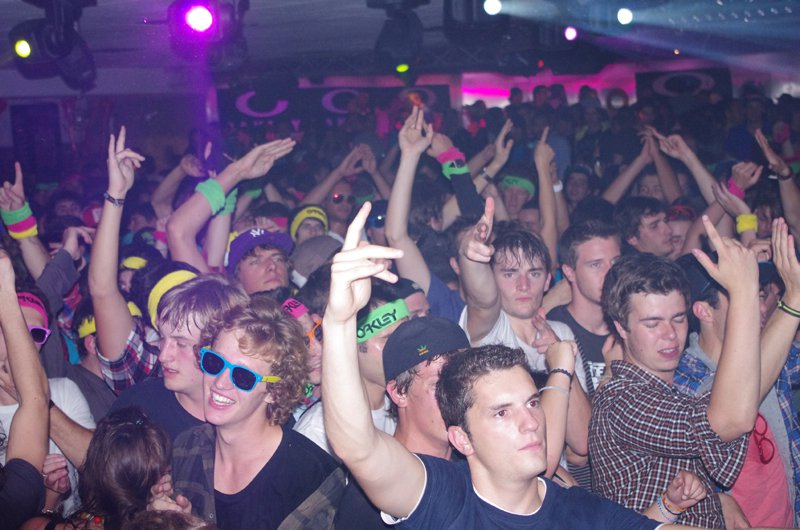 ...followed by DJs Beat Torrent at The Bowl Club presented by Orange and Oakley.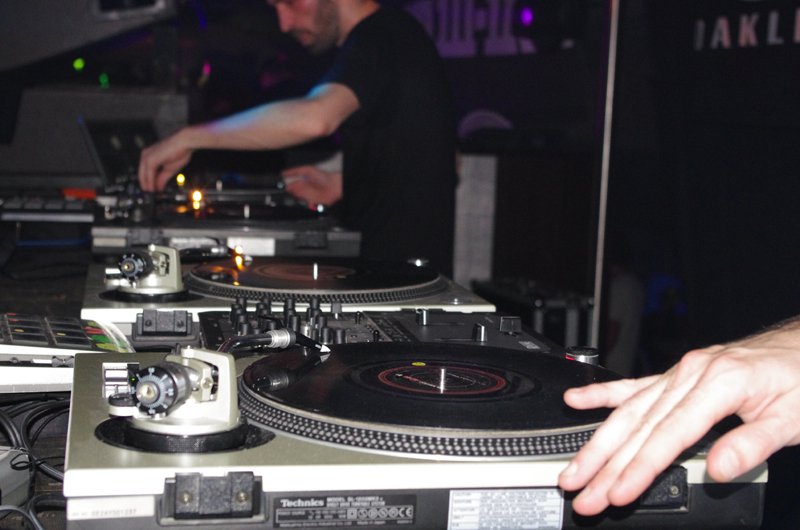 Saturday was once again jam packed with action at Cinema Decavision and Courrier Mall where autograph sessions, live TV shows, movies, an indoor exposition, the IF3 Europe Awards and a Monster party featuring reggae sensation Cali P and Xzibit all happened in one day. Needless to say, it was an epic 24 hours.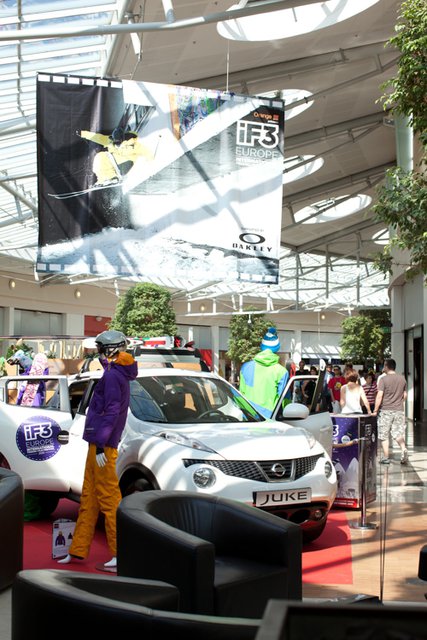 Courrier Mall
The highlight of Saturday was without a doubt the IF3 Europe Awards. Split in half with the awards ceremony that took place during the Nike 6.0 IF3 in Montreal, there was a lot of surprises yet to come. Spending most of their winter together filming with MSP's Guillaume Tessier, European sensation Richard Permin won Best European Performance while Sean Pettit won Best Male Performance.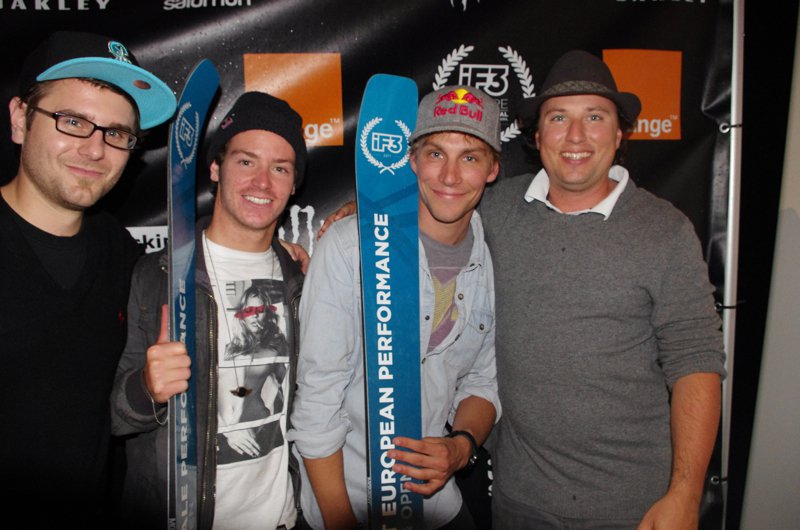 Sean Pettit wins Best Male Performance and Richard Permin wins Best European Performance with IF3's JF DuRocher and MSP's Guillaume Tessier looking on.
A few minutes before accepting the award, Pettit, who traded his pants with a girl in exchange for her shorts, went on stage and asked for his pants back, which he got. Only a couple of minutes after putting his pants back on, Pettit accepted the Best Male Performance from the man, the myth, the legend…Glen Plake.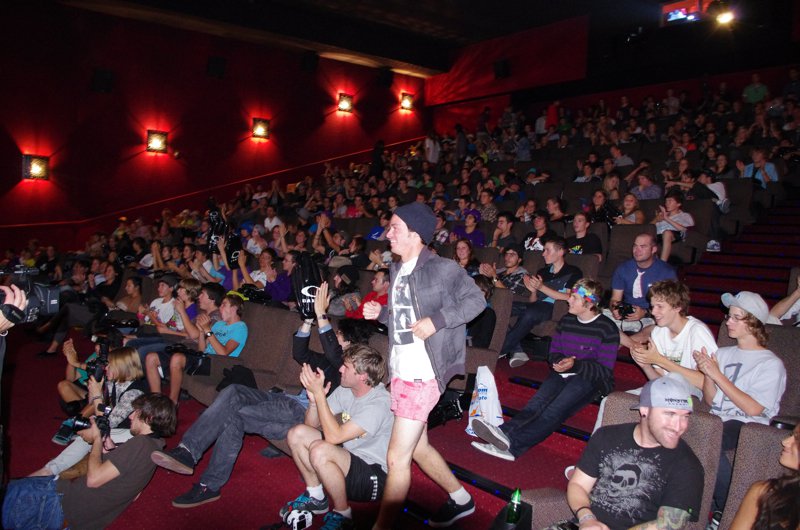 Sean Pettit trades his pants with a girl for some short shorts before accepting the award for Best Male Performance from the legendary Glen Plake...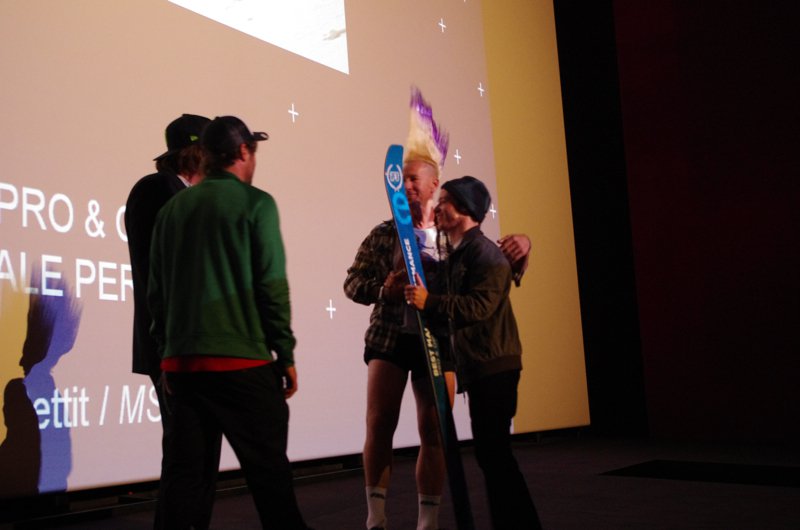 During the awards the crowd was whipped into a frenzy via the presence of all of the riders and saw Field Productions' Filip Christensen take home Best European Film for Being There, while Johnny Decesare from Poor Boyz Productions accepted the awards for Best Single Shot for Simon Dumont's cubed pipe segment in The Grand Bizarre.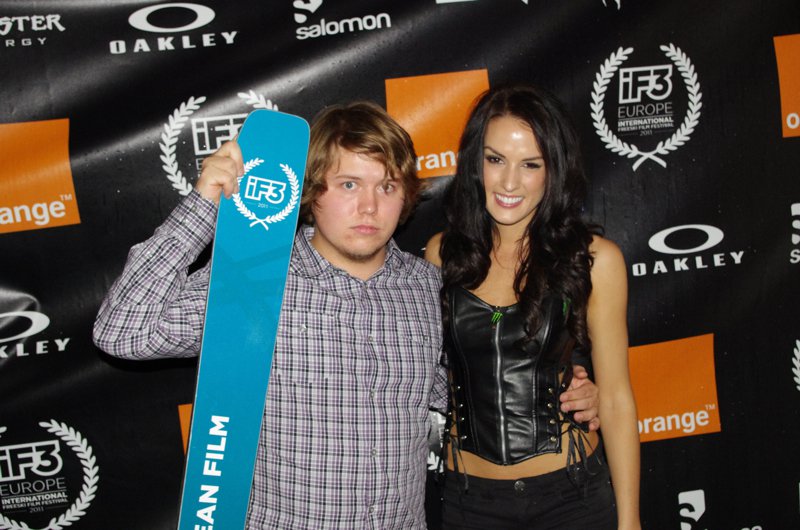 Field Productions' Filip Christensen accepts the award for Best European Film.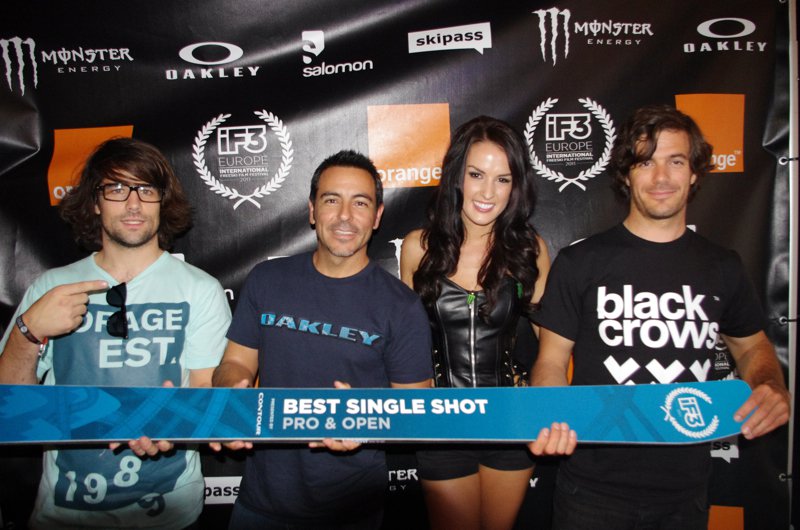 JP Auclair, Poor Boyz Productions' Johnny Decesare and Julien Regnier accept the award for Best Single Shot.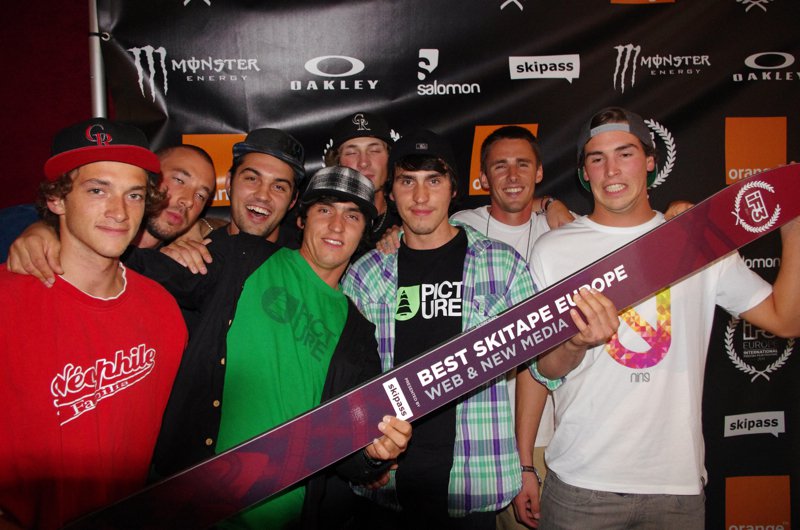 The crew from Maxi Best of CB'C accepts the award for Best Skitape Europe.
Here's the full list of winners of the IF3 Europe Awards...
IF3 Europe Awards
AM
Best European Movie (presented by Skieur Magazine)
1) Every Direction by TJF Productions - Winner
2) One Love by Freeski Crew
3) Gonzo by Gypsy Feeling
Web & New Media
Best Ski Skitape Europe (presented by Skipass)
1) Maxi Best of CB'C - Winner
2) Tom Lesuire
3) Lucas Högland
Best European Photographer (presented by Leica)
1) Jérémy Bernard - Winner
2) Tim Lloyd
3) Sebastien Anex
4) Klaus Polzer
5) Allessabdro Bellucio
6) Elina Sirapenta
7) Oscar Enander
8) Jesper Molin
Best Photo of the Season - People's Choice (presented by Leica)
1) Tim Lloyd - Winner
2) Sebastien Anex
3) Klaus Polzer
4) Allessabdro Bellucio
5) Jérémy Bernard
6) Elina Sirapenta
7) Oscar Enander
8) Jesper Molin
Best Teaser (presented by Zapiks)
1) Being There by Field Productions - Winner
2) Nothing Else Matters by Legs of Steel
3) After Dark by Level 1 Productions
4) Lifelong by Aestivation Entertainment
Pro & Open
Best Single Shot (presented by Contour)
1) Simon Dumont's Cuped Pipe Segment in The Grand Bizarre by Poor Boyz Productions - Winner
2) Six Seconds of Jib Academy in Salomon Freeski TV by Switchback Entertainment
3) Three-way jump train in Nothing Else Matters by Legs of Steel
Best Big Mountain Movie
1) One For The Road by Teton Gravity Research - Winner  
2) Attack of La Nina by MSP Film
3) Being There by Field Productions
Best Male Performance
1) Sean Pettit - Winner
2) Dane Tudor
3) Sammy Carlson
Best European Performance (presented by Oakley)
1) Richard Permin - Winner
2) Jesper Tjäder
3) Henrik Harlaut
Best European Film
1) Being There by Field Productions - Winner
2) Animus by PVS Company
3) Nothing Else Matters by Legs of Steel
Following the awards the night was still young as the guys from Monster Energy invited everyone to the Pop Plage night club, where literally thousands of people showed up to party it up until 5am. The excitement in the air rose to a pinnacle when Cali P and Xzibit took turns performing, before everyone eventually shut it down for some sleep in anticipation of the additional premieres taking place at the Decavision Cinema on Sunday.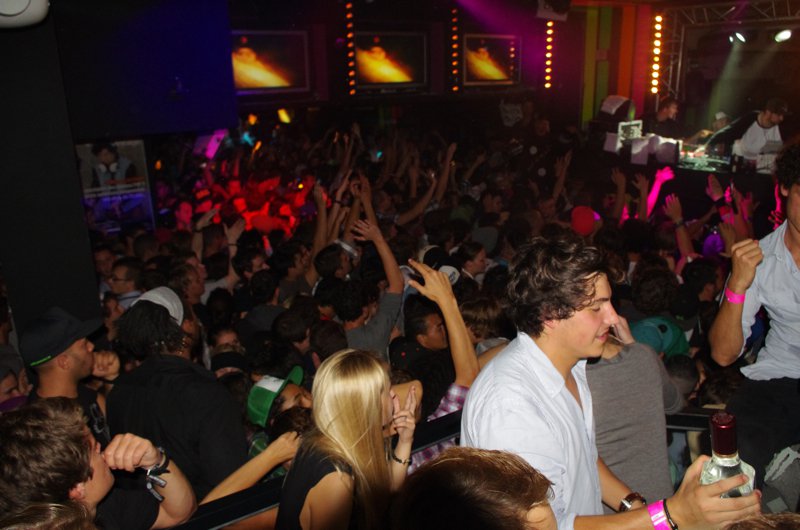 The IF3 Europe Closing Party, presented by Monster Energy.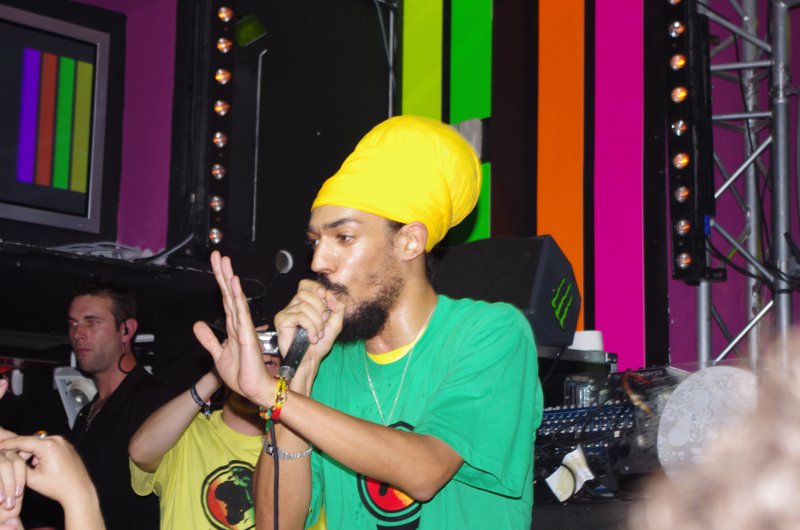 Cali P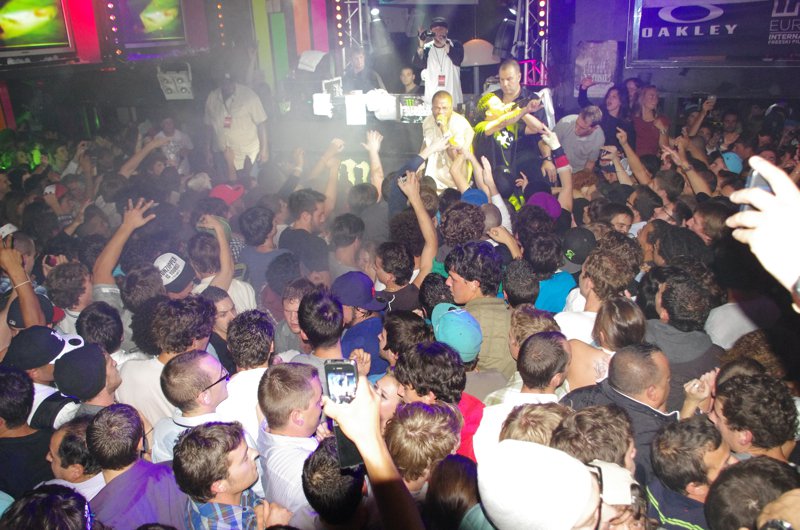 Xzibit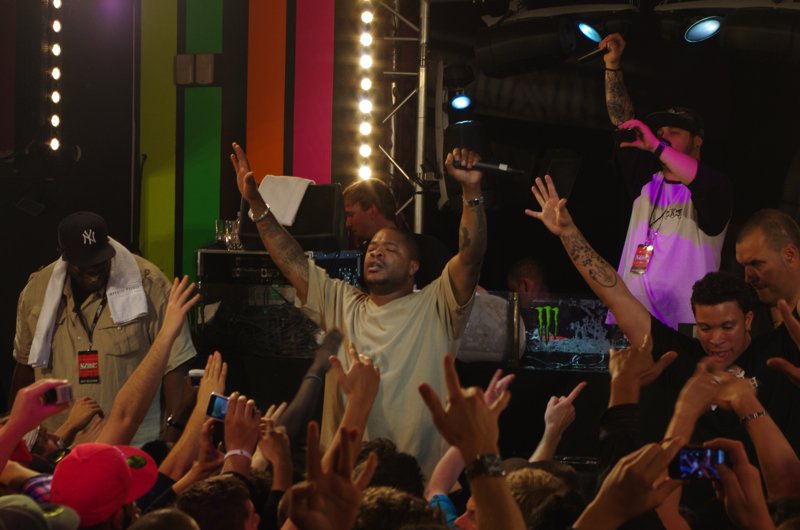 Congratulations to all of the producers and athletes for your hard work, and thanks to all of the riders who showed up to support IF3 Europe: Tanner Hall, Candide Thovex, Julien Regnier, Sean Pettit, Xavier Bertoni, Kevin Rolland, JF Houle, Jacob Wester, Bene Mayr, Sven Kuuenle, JP Auclair, Anais Caradeux, Phil Casabon, Taylor Seaton, Kaj Zackrisson, Phil Meier, Mark Abma, Arnaud Kugener, Henrik Windstedt, Laurent 'Lolo' Favre, Richard Permin, Henrik Harlaut, Tobias Tritscher, Markus Eder, Russ Henshaw, James Woods, Sverre Liliequist, Gauthe Silseth, Elias Ambhul, Paddy Graham, Tobi Reindl, Roy Kittler, Fridtjof Fredricsson, PC Fosse, Oskar Pedersen, Ane Enderud, Jeremy Pancras, Seb Michaud, Enak Gavaggio, Simon Ericsson, Niklas Ericsson, Kye Petersen and the one and only Glen Plake.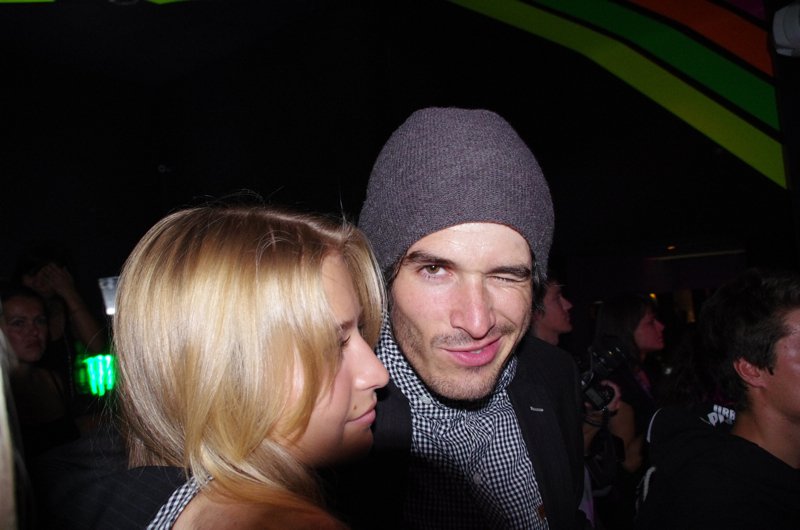 Much respect to Gaylord Pedretti, the organizer of IF3 Europe.
I would also like to personally thank all the people who worked so hard this past weekend to make the second IF3 Europe a reality, especially everyone from Like That, the reps, tech reps and interns along with a very special thanks to the following people: Gaylord Pedretti, Lily Marcoux, Hadrien Durand, Flora Wyss, Jason Woolf, Felix Rioux, Guillaume Tessier, Bruno Bertrand, Gino from Orage, Simon and Ben from Monster, Richard Permin and Anne-Flore Marxer, Guillaume Baché, Candide Thovex, Lolo Favre, Guillaume Lahure and the Skipass team, JF Houle, Phil Casabon, Kevin Rolland, Xavier Bertoni, Sean Pettit, Luke Van Valin, Tanner Hall, Eric Iberg, Cali P, JP Auclair, Remy, Anne, Clive and most importantly, to everyone who supports the IF3 movement! See you next year!