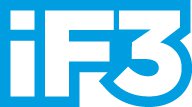 It's time! The fourth annual International Freeskiing Film Festival begins tonight in Montreal, Quebec, Canada.
This year's festival promises to be bigger and better than ever, with the largest turnout of pro skiers and industry-types ever assembled at the festival. In attendance will be Ahmet Dadali, Alexis Godbout, Anais Caradeux, Andy Parry, Banks Gilberti, Cedric Tremblay-Fortier, Charles Gagnier, Cole Drexler, Eric Olson, Even Sigstad, Grete Eliassen, Jamieson Irvine, JD Zicat, Jen Crichton, Jen Hudak, JF Houle, JP Auclair, Julian Carr, Julien Regnier, Kaya Turski, Kevin Rolland, Matt Walker, Max Hill, Mike Douglas, Nick Martini, Oskari Raitanen, Oskar Pedersen, Paul Bergeron, Phil Casabon, Seb Eaves, Sean Jordan, Sean Pettit, Simon Dumont, Tanner Hall, Tom Wallisch, Vincent Gagnier, Wiley Miller, Will Wesson, Xavier Bertoni and many more!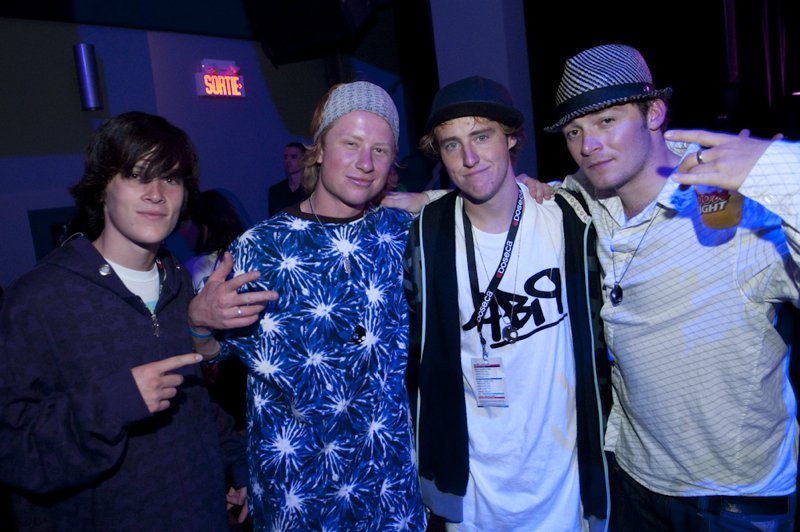 Sean Jordan, Dane Tudor, Tom Wallisch & Laurent Favre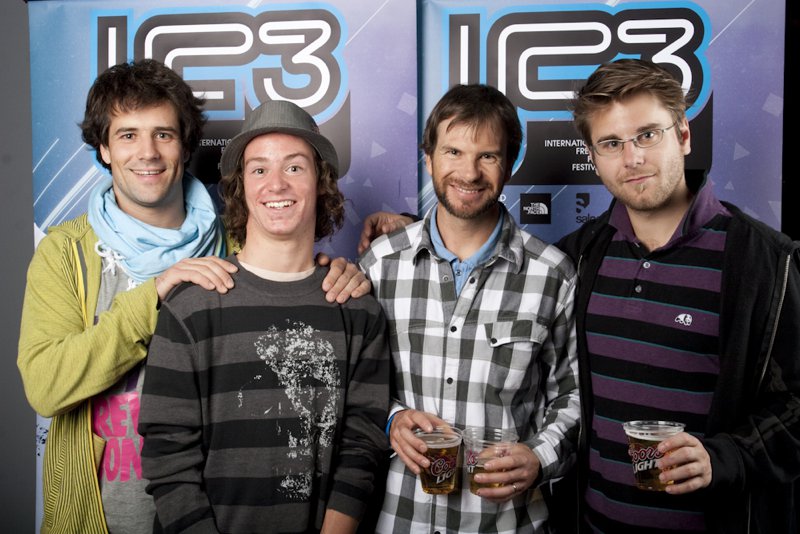 JP Auclair, Sean Pettit, Mike Douglas & IF3's JF DuRocher
The festival officially kicks off tonight at 8pm at Place Royale in Old Montreal with The North Face Outdoor Screening. The evening begins with the first webisode nominated (by you!) in the Best Webisode category, Follow Us Episode 5, followed by a look at this year's Red Bull Cold Rush, into the first official premiere of the weekend, Field Productions' Side By Side.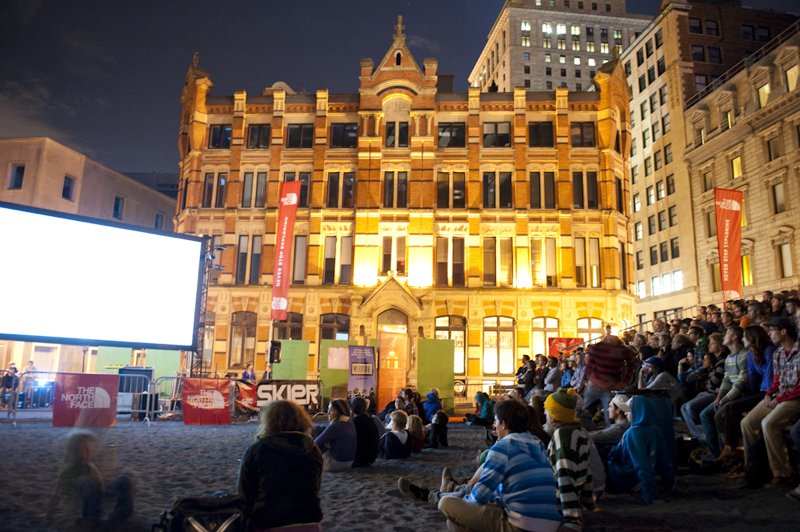 From there, prepare yourselves for an onslaught of premieres (18 in total over the course of the weekend) and three stellar parties, including the IF3 VIP Party tonight at the Red Bull Space (which is invite only unless you were lucky enough to purchase one of the Platinum Passes), featuring a DJ set by Daywalker and the World Premiere of Grete Eliassen's film Say My Name...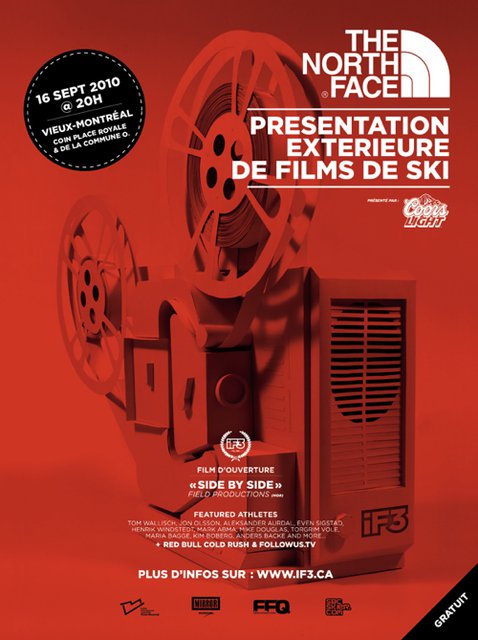 The Like A Lion Reggae Party on Friday night hosted by Tanner Hall and featuring performances by Biga*Ranx, Mikey Dangerous and Cali P...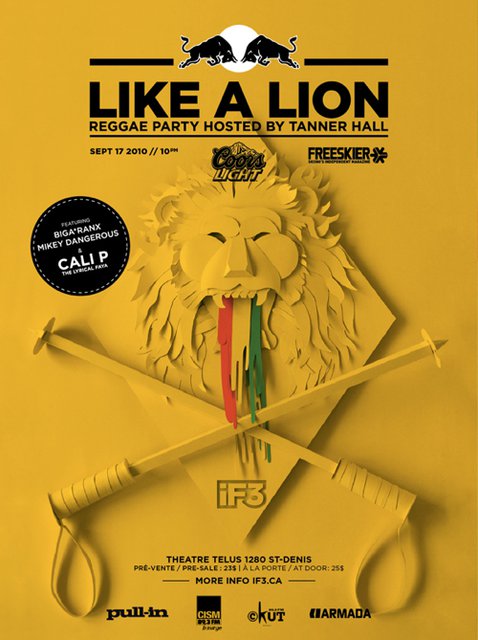 ...and then the grand poobah of all them, The Newschoolers Awards on Saturday night, hosted by Philou Poirier and Mike Rogge, and featuring a DJ set by Daywalker and a performance by All Star.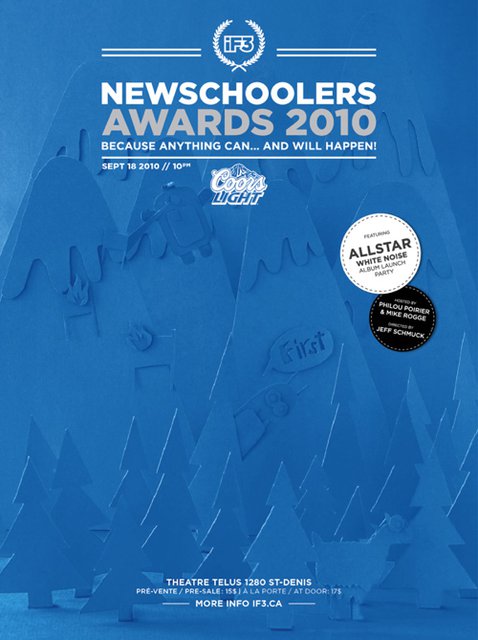 In addition to all of this madness, there are a few new and special things that will be going down over the weekend that we want to let you in on. First and foremost, The Riley Poor Silent Auction.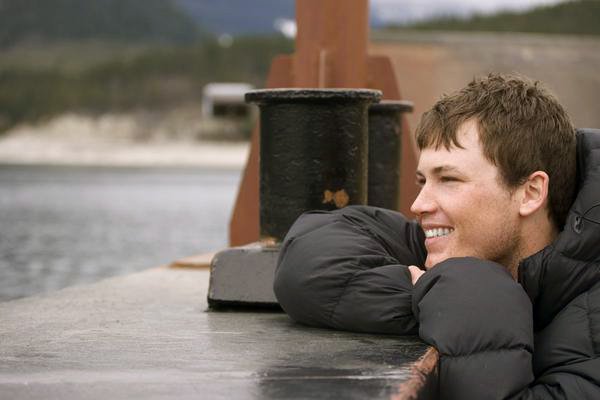 Riley Poor
Following a severe life-changing experience that left him paralyzed a year and a half ago, Riley, who premiered his movie Transitions during last year's IF3, will be attending the festival this year. Riley's challenges are not over and IF3 is putting on a silent auction during the festival in order to support his cause. Some of the items being auctioned off include TJ Schiller's helmet that he used during his win at X-Games slopestyle in 2008, a pair of exclusive Armada/Red Bull skis signed by Tanner Hall, a pair of Salomon's signed by Sammy Carlson, a pair of Scott skis signed by Tom Wallisch, an IF3 poster signed by 15 athletes, and signed illustrations by Steve Balok of Tanner Hall, John Spriggs, Sammy Carlson and Tom Wallisch (seen below). Stay tuned to http://www.IF3.ca for details on the silent auction procedure.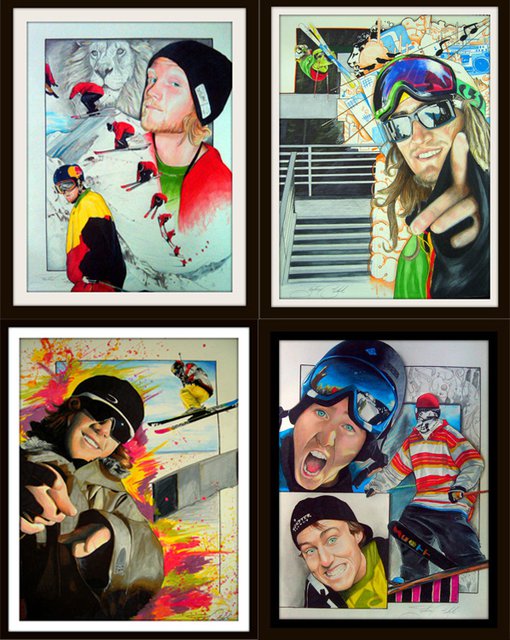 These paintings and much, much more will be auctioned off at The Riley Poor Silent Auction during IF3.
There's also been some changes to the Newschoolers Awards, namely the addition of two brand new IF3 Palms, including Best Documentary, which highly anticipated films like Like A Lion, Azadi:Freedom and Say My Name will be eligible for, and Best Teaser, which we want you to pick the winner for! Head on over to Zapiks.com to watch all of this year's teasers and vote for your favorite, and whoever scores the most votes will take home the first ever award for Best Teaser at the Newschoolers Awards this Saturday night. And in addition to all of that, the award for Best Big Mountain Movie is now presented by Retallack, and the winner will receive four days of skiing and lodging for five people at the fabled lodge, while the award for Best Film is now presented by Black Diamond Lodge in Niseko, Japan, with the winner receiving a week of skiing and lodging there.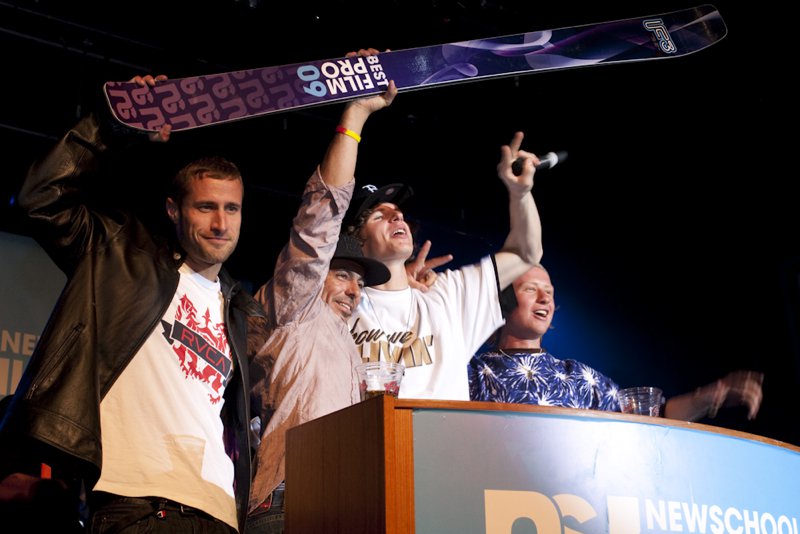 And speaking of the awards, the winners of the rest of them will be decided by the esteemed panel of IF3 judges, who have been announced and are currently meeting in Montreal to go over specifics. Legendary pro skier JF Cusson and Skipass.com's Guillaume Lahure will both be returning to the judging booth, and joining them in Montreal (and Annecy for IF3 Europe) will be Orage's Neil Sotirakopoulos, producer of the cult classic ski film Wicked. So when you see those guys, be sure to buy them a shot, because they've got quite the task ahead of them.

Guillaume Lahure, JF Cusson & Neil Sotirakopoulos
There's also a bunch of cool stuff going down at http://www.IF3.ca, including some great contests from The North Face and Nike 6.0 that you can enter to win prizing from by clicking here, and a section where you can download free music from Daywalker, Biga*Ranx, Mikey Dangerous, Cali P and All Star. Click here to check it out!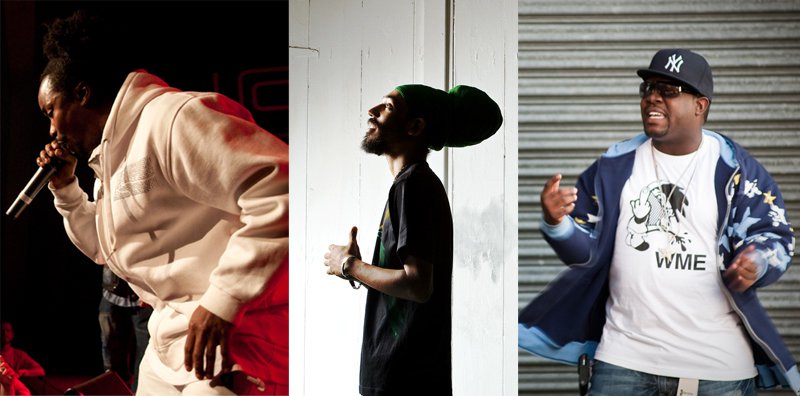 Download free music from Mikey Dangerous, Cali P and All Star at http://www.IF3.ca to get you hyped for their performances, and while you're there be sure to enter the contests from The North Face and Nike 6.0.
And don't forget that following IF3 in Montreal the festival will expanding to other locations for the first time ever this year, beginning with IF3 Europe in beautiful Annecy, France from September 30th - October 3rd, and then with IF3 On The Road in Toronto on October 16th and Vancouver on November 20th. Stay tuned to http://www.IF3.ca and Newschoolers for more details!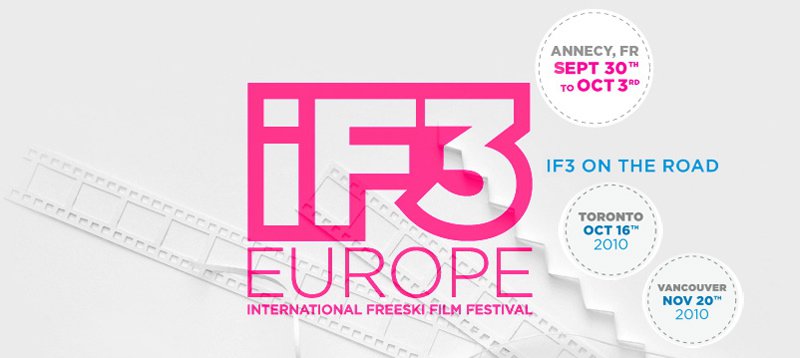 Tickets are still available for IF3, so if you haven't already done so, click here to purchase yours right now! For those of you who have, you can pick up your passes tonight at The North Face Outdoor Screening or on Saturday and Sunday at Cinéma Impérial for the action-packed weekend ahead of us! And for those of you who sadly can't make it, be sure stay tuned to Newschoolers for daily coverage on everything that's about to go down.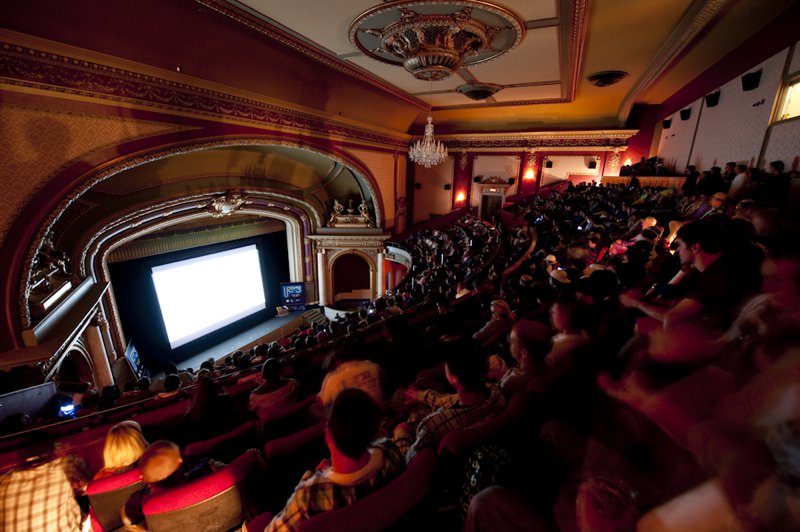 IF3 is here, and it's going to be bigger and better than ever! So get stoked…and we'll see you tonight!