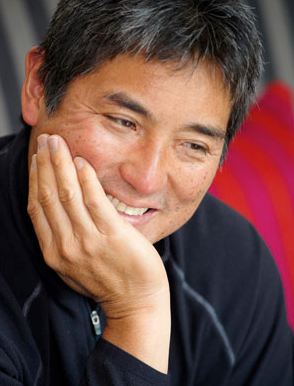 ———
UPDATE!! If you're reading this now – the LIVE broadcast is TODAY. Read the post below, then be sure to tune into http://www.chasejarvis.com/live and enjoy the show. Giving away some serious prizes, below. See you on air in a few…
——-
HUGE news here, friends. This coming Wednesday, March 21st, I am proud to host the legendary Mr. Guy Kawasaki to the next episode of chasejarvisLIVE. In addition to being a mentor to me and one of my largest influences, he is a New York Times Best Selling author of 10 books (What the Plus! Google+ for the Rest of Us,

Rules for Revolutionaries, Enchantment,
etc), a renowned entrepreneur, social media guru (millions of followers), venture capitalist and Apple computer's first "product evangelist" working under Steve Jobs.
BUT more than all that combined–and why he will be one of your favorite and most valuable guests in the history of chasejarvisLIVE– Guy is simply a genius at sharing crystal clear insights around what makes people, creative businesses, brands, and industry leaders tick. He'll be giving concrete advice on how to kick ass in the creative space, how to influence your sphere and the marketplace, AND how to be different–not just better–to take your game to the next level. [And then read all the way to the bottom of this post if you want to win an all expenses paid trip with me to an exciting event and an undisclosed location...]
THE DETAILS YOU NEED TO KNOW…
Who: You, Me, Guy Kawasaki & a worldwide gathering of creative people
What: Q&A with the inspirational Guy Kawasaki
When: this Wednesday, March 21st, 10:00am Seattle time (1 pm NYC time or 17:00 London)
Where: tune in to http://www.chasejarvis.com/live. It?s free – anyone can watch.
***Lastly, 3 important things:
1. Score. We are giving away 2 signed copies of Guy's book Enchantment, to the the 2 people who send out the best tweets that contain the URL (or short url) to THIS post AND hashtag #cjLIVE, starting NOW and ending at the beginning of the show on Wednesday. So re-tweet this post. Enter as many times (tweets) as you want – we'll be watching out for your shoutouts.
2.Very limited, 20 slots only. SORRY – No more slots available. If you'd like to be a part of the live in-studio audience, meet me and Guy and our cjINC crew in Seattle – send an email to production@chasejarvis.com with "Guy" in the subject line. Winners will receive a confirmation email with attendance instructions. Don't forget to sign up for our email newsletter on the cjLIVE page here as well.
3. ********Want to win a FREE TRIP FOR YOU AND A FRIEND (airfare to NYC, 2 nights hotel, food, ground transpo = $3k US value) to attend dinner and a movie screening with ME in New York this year?? I'm collaborating with some talented people on a soon-to-be announced film project that will screen this year. If hanging out for the night and attending this show with me sounds fun, be sure to tune into the LIVE show on Wednesday. Entering will be easy – just follow @hpprint and don't miss the show for how to enter.
?Guy?s book captures the importance ? and the art ? of believing in an idea that delivers something entirely unique… The power of a really good idea to transform the marketplace and individual customer experiences is huge, and [Guy] offers a wealth of insights to help businesses and entrepreneurs tap into that potential.? ? Sir Richard Branson, Founder of the Virgin Group
See you LIVE this Wednesday, March 21st. Cue your questions up for twitter and send them in via hashtag #cjLIVE. See you then!