Well, it's still snowin' like crazy at Alpine. Another 18 inches is forecast for tonight in addition to what falls today.
It makes for a lot to keep track of in terms of snow stats! A common question is, "just how the heck do you figure out your snowfall totals?", or, "hey, that can't be right! How did that much snow fall??".
It may be common knowledge to many of the long-timers at Alpine, but might come to a surprise to others – Alpine keeps track of everything there is to know about the snow that falls on its mountain: snow depth; temperature; weight; water content; layers; relationship between layers; sublimation; wind-effect; you name it, it's studied, every day.
There are several dedicated, full-time forecasters and snow studiers at Alpine. One of those forecasters is Gary Murphy. He's the skier who appropriately resembles Ullr (without the long beard). Gary has been recording snow stats since 1970 at Alpine (if earlier, sorry Gary!). Gary is one of the most respected avalanche and snow forecasters within forecasting's cream of the crop. If forecasting were basketball, Gary would be Michael Jordan. Among many reasons for clocking the snow, he provides snow reporters each morning with snow stat updates – whether it snows a lot, a little… even if it doesn't snow at all. Snow reporters use that info to then update snow reports which reach skiers and riders every day throughout the season. We can look forward to Gary's data for this storm, as well as storms throughout the winter.
Measuring the 24-hour stake and taking a snow sample:
Having a look at the behavior of the new snow layers (very light, fell away easily):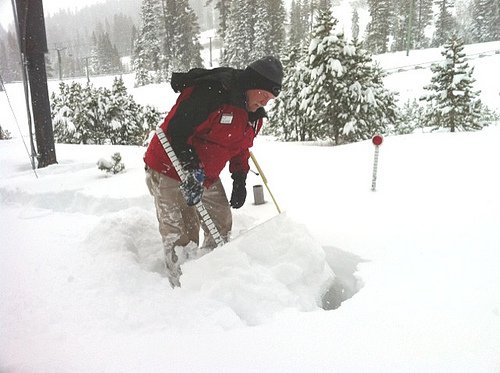 Placing the 24-hour stake on top of the snow to start the accumulation count all over again: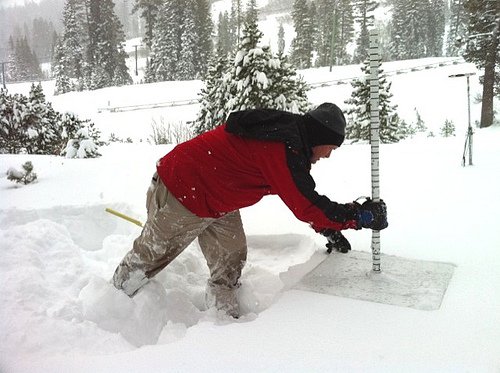 Weighing the snow, determining snow density and water content: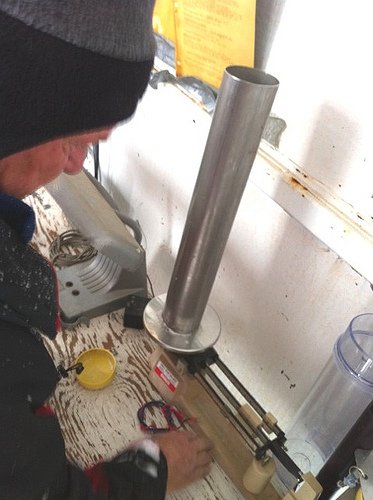 The surface layer was cold enough so that the crystals were easily visible: