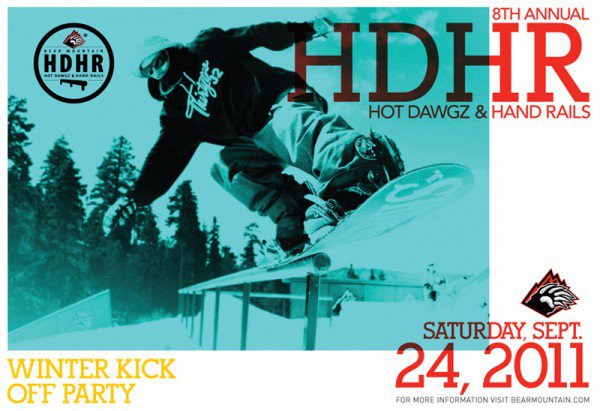 This past Saturday, the 8th annual Hot Dawgz & Hand Rails awakened the snowboarding scene in Big Bear California. The sun was shining. The features were out of control. It was too good to be true. During Snowboarder Mag's live webcast, riders Zak Hale and Melissa Evans said it was the best rail jam set up they had ever seen. Competitors and spectators would agree; Bear never fails to make each year better than the last.
Whether they made it to the finals or not, the riders on Saturday were all worthy of medals, trophies, and high fives. Windells snowboard coach, and all around stud, Dylan Dragotta was nothing short of amazing. Everyone was throwing down like they hadn't missed a day of riding since April. Dylan Alito, who was flipping on and off every feature, was undoubtedly a crowd favorite. As well as our friends Nick Visconti, Dylan Thompson, Jamie Madrid, and Andrew Brewer. Those guys and gals have definitely been eating their Wheaties.
The lucky winners of HDHR walked away with some serious cash, and it was well deserved. For the ladies, local Bear rider Melissa Evans took home the grand prize of $1,000. For the gentlemen, Jesse Paul took 3rd, Brandon Hobush walked away with 2nd place, and Ryan Paul won it all taking 1st place and $10,000. Congrats to all the riders. It was definitely a tough day to be a judge.
You can check out Alito, Hobush, and all of the other Ammo team competitors below. Thanks to our friends at Thirtytwo for the recap. Happy watching everyone, if you weren't hyped for the winter, you better be after this!
Windells - BMX. Skiing. Skateboarding. Snowboarding.