Horizon Air Expands Mammoth Mountain Service With Flights from Northern California and Pacific Northwest
MAMMOTH LAKES, Calif. — After a successful first winter season, Horizon Air is expanding air service to the Mammoth Mountain resort for the upcoming snow season. In addition to adding a second daily nonstop from Los Angeles, Horizon will offer new daily nonstop service from San Jose and Reno and direct (same-plane, one-stop) service from Seattle and Portland.
The Mammoth Mountain resort area is just 15 minutes from the Mammoth Lakes Yosemite airport. During last year's inaugural season of service, thousands of Southern Californians took advantage of Horizon's 70-minute flight from Los Angeles instead of enduring five hours or more of driving.
"Our Southern California customers have made no secret of how much they've appreciated having such quick and easy access to this world-class recreation area," said Dan Russo, Horizon's vice president of marketing and communications. "Now, with Horizon Air's expanded service, winter sports enthusiasts from Northern California and the Pacific Northwest will be able to enjoy the same convenience."
The new service from Northern California and the Pacific Northwest is expected to introduce thousands of new visitors to Mammoth – many of whom would not have considered it for a winter vacation otherwise. Similarly, travelers from the town of Mammoth will gain an easier way to travel, with nonstop service to Los Angeles, Reno and San Jose, and direct (same-plane, one-stop) service to Seattle and Portland.
"The new and expanded routes on Horizon for next season put Mammoth within easy reach of thousands of skiers and snowboarders who love to play big in the mountains and have dreamed of visiting Mammoth for years," said Howard Pickett, CMO of Mammoth Mountain. "Our guests loved the flights from Los Angeles last year and they asked us for even more flight options. With this expansion into Northern California, Reno and the Pacific Northwest, we are doing our best to deliver on that request."
Horizon is offering special low fares for flights on select days between Mammoth and each city. Fares start at $49 each way from Reno, $69 from San Jose or Los Angeles, $144 from Portland, and $149 from Seattle.
The Mammoth winter season flight schedule shown below will run from Dec. 17, 2009, through April 11, 2010, and is available for sale now at http://www.horizonair.com or by calling 800-547-9308 (TTY at 800-682-2221).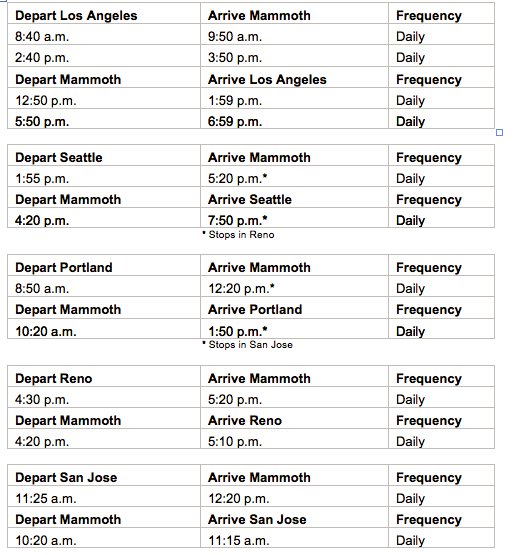 Well known for long seasons and plentiful snowfall, Mammoth Mountain is Southern California's favorite mountain resort and is consistently ranked among the top ski resorts in the country by SKI Magazine. It currently hosts more than 1.1 million skiers per year, making it the third most visited mountain resort in the country, and boasts one of the most recognized terrain parks in the world. Other winter activities around Mammoth include cross-country skiing, ice skating, snowmobiling, dog sledding and dipping into the hot springs. Mammoth Mountain Ski Area owns and operates a variety of resort businesses, including recreation, hospitality, real estate development, food and beverage, and retail. More information is available at MammothMountain.com.
Horizon will operate all flights to Mammoth with 76-seat Bombardier Q400s. This high-speed, twin-engine turboprop is one of the most technologically advanced regional aircraft in the world. It's as quiet and comfortable as a jet – thanks to special technology that suppresses noise and vibration, generously sized overhead storage bins, unobstructed under-seat space, and ample headroom (6 feet, 5 inches). The Q400 is also among the most environmentally friendly aircraft today, burning 30 percent to 40 percent less fuel and producing an equally lower amount of emissions (and 10 decibels less noise) than comparable jets.
Onboard, travelers will enjoy Horizon's award-winning service, which includes – at no extra charge – Starbucks coffee, soft drinks, snacks, and (for passengers 21 and older) Northwest wines and microbrews. Members of the Horizon Air/Alaska Airlines Mileage Plan frequent flier program can earn 500 miles or actual mileage on Horizon flights to Mammoth. Mileage Plan miles are redeemable for flights worldwide on Horizon Air, Alaska Airlines and their numerous Mileage Plan partner airlines.
Horizon serves 48 cities throughout Arizona, California, Oregon, Washington, Idaho, Montana, Nevada, Baja California Sur (Mexico), and British Columbia and Alberta (Canada). Together, Horizon Air and Alaska Airlines serve more than 90 cities and are subsidiaries of Alaska Air Group, Inc. (NYSE:ALK).