Date: December 31st, 2007
Time: 6:36pm EST
Location: living room, Leven residence, Chesterland, Ohio
Heat source: fireplace
Mom: taking down Christmas decorations
Dad: youtube'ing it, I think
Sister: Times Square, NYC
Dogs: just put them on the porch
After
a New Years eve dinner with my parents, I am sitting and waiting for my
friends to get home from NY, where they went skiing for the day. I had
to miss out due to a morning doctor appointment that left me with no
new information. I have stress fractured Tibias and Fibulas but there
is something else wrong that they cannot figure out. And it hurts.
Doctors seem absolutely puzzled by this, don't understand it and have me
leave their offices with no news. Oh well, as long as I can keep skiing
Im okay. It's a good thing that Full Tilt makes the most comfortable
boots EVER.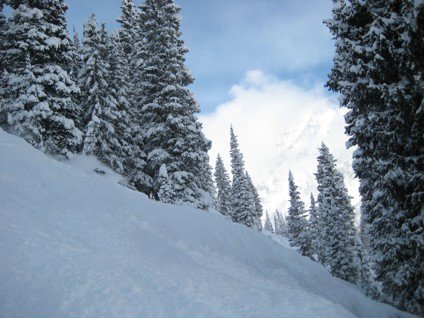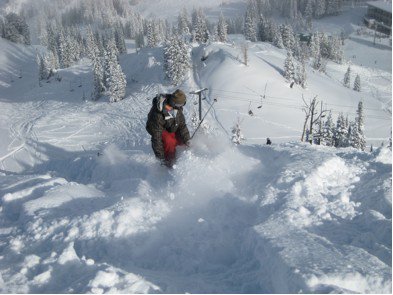 Back in Utah, notice only a small hand coming out of the pow on the left hand picture
Christmas Break started off back at school in SLC.
Abundant handrails were sessioned after spending time at Alta and in
the ever-changing PC parks. Some of my favorite sessions were with
the likes of Tex, the Green Goblin, KZA, TJJ, Chris and Kristie.
Locations are obvious; and if not obvious, they are obviously secret.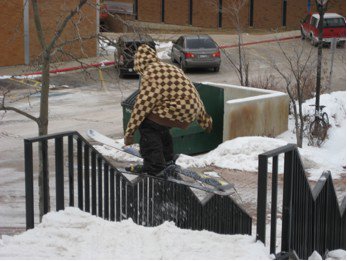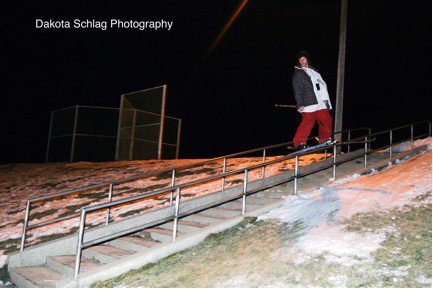 I
was then on a flight back to Ohio to spend the holiday season with my
family. I hadnt seen my sister for a long time due to her South
American travels, so it was good to see her, my dogs and my parents.
There was a bit of snow when I got back home, too. It too was good to
see.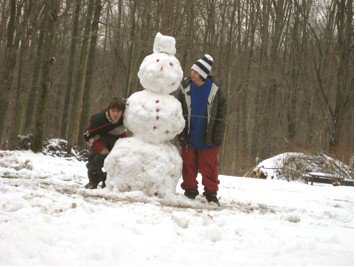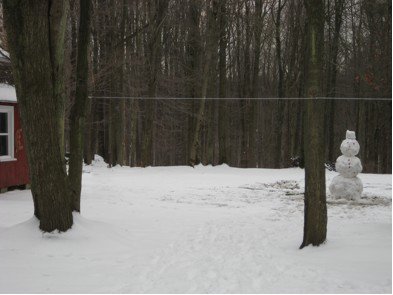 After being home for 24 hours I was officially bored out of my
mind. So, obviously it was time for urban. I called up a couple of
like-minded individuals by the names of Nate and Vince and was off to a
non-photographed double kink. Footage is around, though. After Nate and
I sessioned hard with no drop-in and only a nice Vince to hand-whip, a
security guard finally came out. Being as nice as he was, he allowed me
the traditional 2-more-minus-the-last and we GTS (1st person who figures out what GTS means wins an imaginary prize). We talked for a long
time and he openly disclosed that the factories we were near, which
were in full force at these wee hours of the morning, performed drug
testing on animals. I openly disclosed to him, then, that I had just
seen a nine-legged dog running by, in pursuit of a barking cat. My
friends and I then proceeded to clean our area up so it looked like we
never even sessioned. Remember, kids: if you find yourselves on others'
property, always leave the area cleaner than you found it!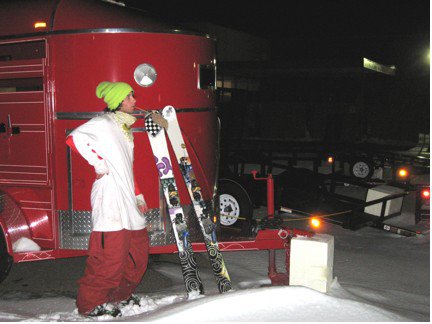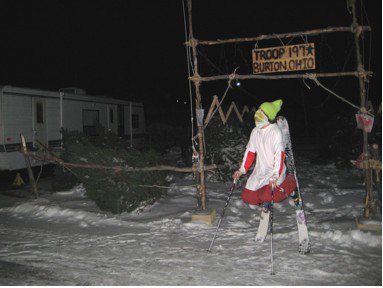 Then we had even more late-night fun, Ohio-style.
My
friend Cory and I made a day trip down to Boston Mills, OH. We made lots of friends and had a great time shredding around. I
never knew how much fun cat track drop-offs could be. Nor did I realize
what a kick these Midwest-ians would get out of my Elizabeths or even
out of the Anthems that Cory was on. These skis, being a bit wider than most in
Ohio, really shined on my vacation at home. I found an entire new
aspect of these skis that I didn't know they had. They were SO MUCH FUN
in the Midwest, on its ice and manmade.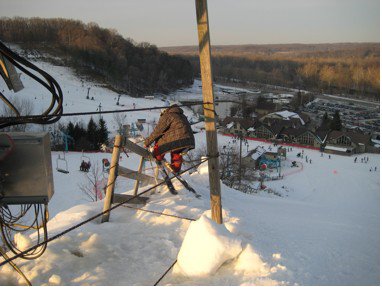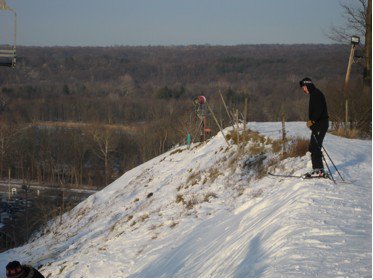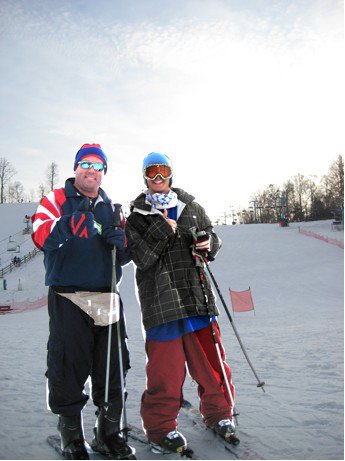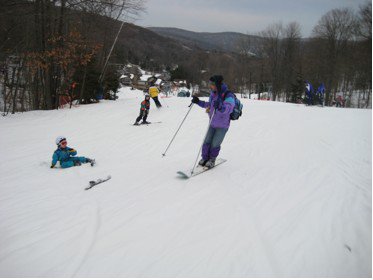 Boston Mills has some great people, along with the Olympic-jacket-fanny-pack-wearer.
Back
here in the Midwest, we have learned to make every day fun, often out
of barely anything. I know many of you are well aware of this.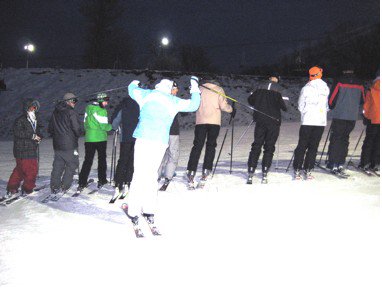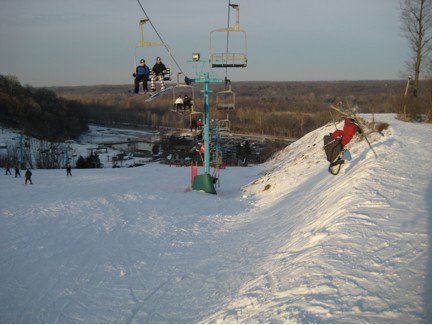 Cory and I decided to secretly jump in a school group lesson that was going on. Notice the two left-most instructees.
A
couple of days later my friend Vince and I trekked it to 7 Springs, PA
in my dads mid-nineties 2-door Saab with 193k miles on it.
7 Springs was having a little rail jam, and respect goes out to Aaron, Tyler, and the
rest of the park crew there who really kept things moving nicely. I
commentated finals and the tiebreaker, which was surprisingly fun. Line
was sponsoring the rail jam and it was great to see the turnout and
attention that the skis got (again, especially the Lizzies). For the
rest of that day, my new friends and I ripped the 7 Springs
rope-tow-accessed park. It was so much fun, and although it would have
been great to have a camera there, it just did not fit with the mood of
the park and the day. Everyone just shreds lap after lap and never
leaves the park or the atmosphere thanks to the quick towrope. It was
an awesome and long day. Vince and I spent the night there with a bunch
of people in a condo and had a great time. Christmas was fun, and with
the help of my family (and Mr. Clause) it supplied my backcountry ski
gear. Be prepared for backcountry updates (thanks to Santa) with POV
helmet cam shots (thanks to LINE).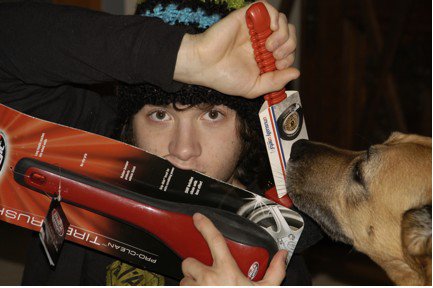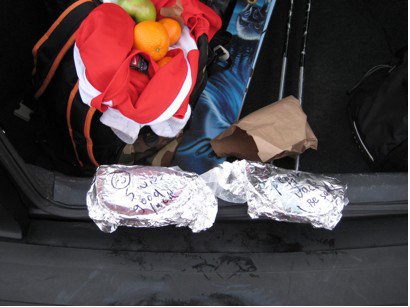 Right: Thanks Santa! Left: Back of the Saab
After Christmas, my family
and I did what every family does the day after Christmas: went
kayaking. They are super into it, and the river was, surprisingly,
empty. The temperature was about negative a million, and it was so fun.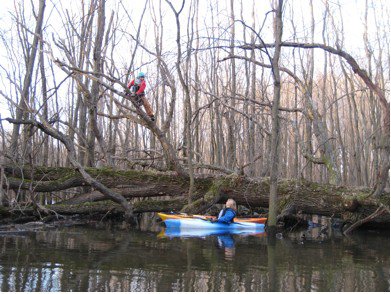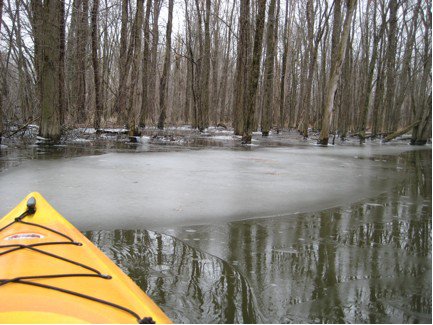 On the 27th DJ and I road-tripped to Peak n Peek, NY for their college
ID night. We rode with some high school friends there and the
conditions were great. After asking everyone we saw and calling
everyone we knew in PA and NY, we finally found a place to crash, only
a short backtrack away in Erie, PA. Once there, we sessioned an Indo
Board hard, ALL night. as my new DSLR shares: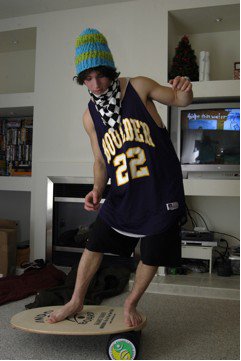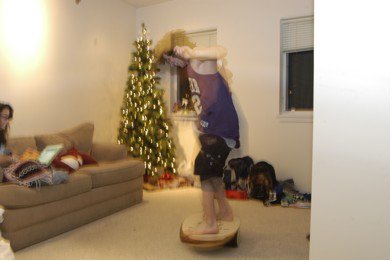 We woke up and
rolled up to Holiday Valley, NY for another day of skiing. After
missing registration, practice and the beginning of a Smith Limo jam, I
managed my way in and jumped in ½ way through the contest. Riding and
training with Line MC Andy Parry,
it was a great day. We met tons of people and had a lot of fun.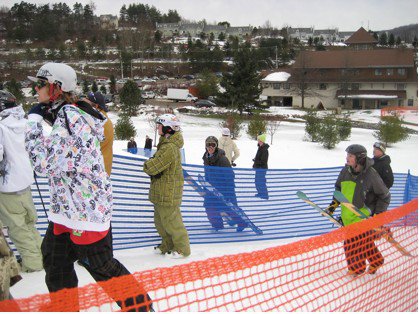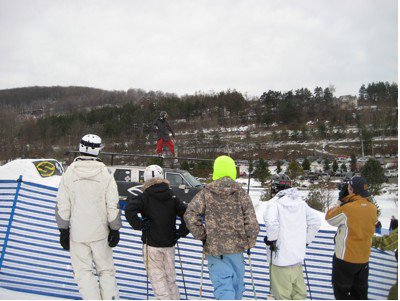 Left: Andy walk on one side of the fence, I prefer the other right: Me on the Smith Limo
Apparently the judges didn't love our tricks, but it was still super
fun. Andy is doing the gnarliest grinds that are brand new and way
creative. If you haven't seen them yet, let alone heard the names of
them, be prepared to be blown away! We rode there for the rest of the
day and night and when it started raining we peaced. A Quiznos dinner
later, made by a girl with very pretty eyes who gave us a small
discount and another small get-together at our lovely hostesses
apartment, DJ and I were back home in Ohio before the sun rose, having
had a great road trip. Once in college and moved across the country,
being with true, old friends is the best thing ever.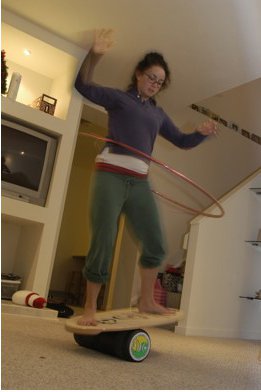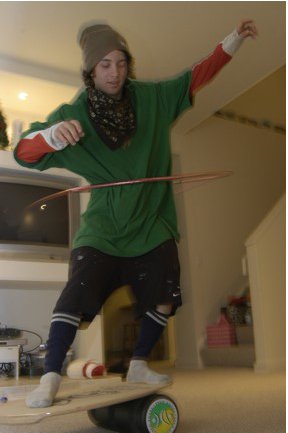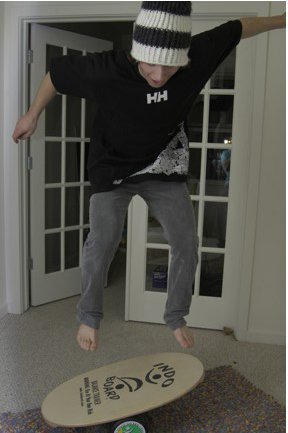 After she did that, we had to try our best. But man, did we suck.... but at least DJ and I each GTS
I could Indo Board for the rest of my life. The instructional video alone is worth every penny.
Yesterday
I journeyed back to Boston Mills, the "bigger" of the closer hills here
in Ohio. With 200 vertical feet, they had a rail jam and it was really
fun. Fourteen-year-old Line MC Brad Bulzan placed 2nd with his huge bag of tricks and I managed to just scrape by him, walking away with a generous envelope.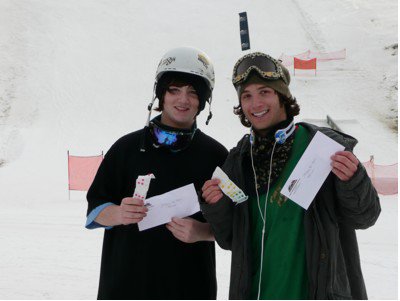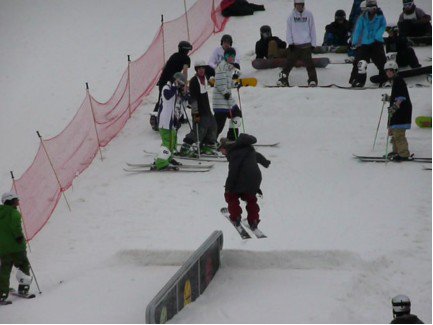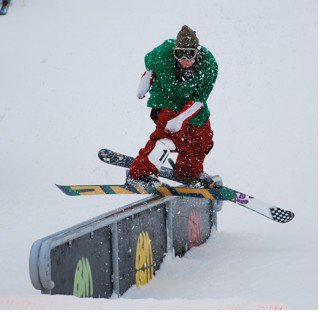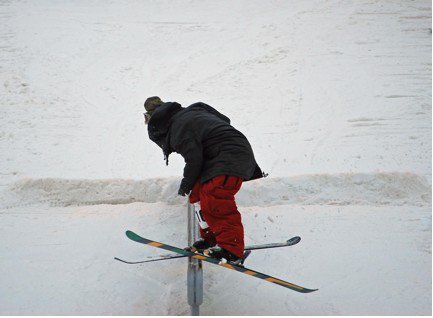 Props
go out to the Boston Mills/Brandywine park crew, including Jeff C. and
the new management that is getting the parks up early this year. I had
a great remainder of the day, shredding with old and new friends alike.
Until next time, always remember, Midwest is best. See below:
And you get to do this if you're around in the summer! Til next time Newschoolers   -Brody