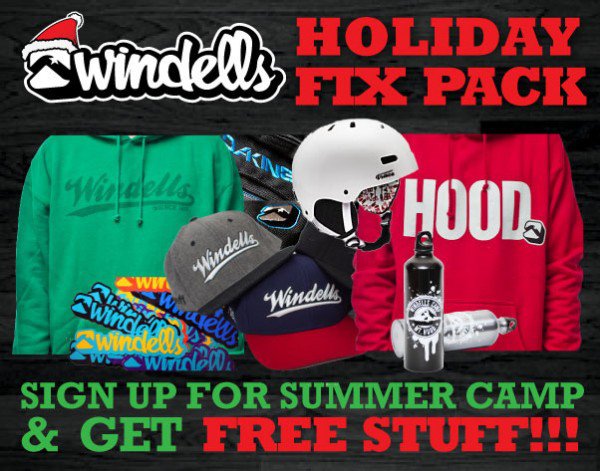 We have so many giveaways, and we know it can be hard to keep track of all the good deals. So to keep the trend going, we have yet another giveaway for you guys. This is one of our favorites. The Holiday Fix Pack is back! For those of you who took advantage of it last year, it's back again for your pleasure. All you have to do is sign up and pay in full for a summer 2012 session before December 31st, and you win big! Receive $100 off your session along with a Windells swag back with amazing holiday goodies. Use it for yourself, gift it to your friends, either way, this is a win-win deal.
Be one of the first 15 people to register and pay in full for Summer Camp by Dec. 31st and receive the Holiday Fix Pack including:
$100 Discount on 2012 Summer Camp Session
Windells Exclusive Hoody
Windells Custom Hat
Windells Water Bottle
Custom Dakine Pack
Windells Sticker Pack
New Helmet
It?s that easy, simply enter iheartwindells into the Discount Code field during your online registration and Windells gear will be shipped right to your house.
Windells - BMX. Skiing. Skateboarding. Snowboarding.