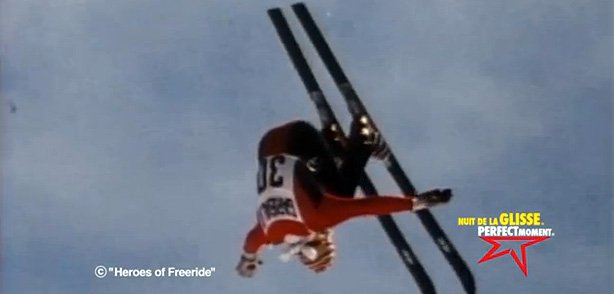 After a good long chat with the guys at Perfect Moment, they've produced the first episode in a great new series called 'The History Of Freeride'. Now it doesn't sound like the new blockbuster that will win Emmys, Golden Globes, BAFTAs, whatever it is you win for TV shows these days but trust me on this, it's incredible. It's delightfully informative about the history of freeride but also ridiculously hilarious as well.
There's only so much you can learn about the history of our sport before you remember that back in the 70s, everyone looked like an idiot. Yes, I understand that in the 70s everyone thought they looked good and we'll think the same in 30 years time about what we wear now. But the hilarity goes so much further than that. It's like watching epic fails on YouTube – it's too good. It's good to know about the tricks we saw in the Hot Dog contest but my favourite part is when the moguls come in and the guy flies all over the place scaring the shit out of the crowd.
Anyway, here's episode 1 and I'll be bringing you the rest of the series as it gets released each week!
The first video from Perfect Moment Entertainment's look back on the last 30 years of Freeride Sports. This episode takes us way back to the beginning of the Freestyle Skiing Movement in the early 70′s! If you've never heard of hotdogging before, you're gonna love this!
Thanks to Nuit de la Glisse's original Director, Dick Barrymore for the Footage.
History of Freeride: Episode 1 – Hotdogging
Related posts:Salomon Freeski TV Episode 16: History of Freeskiing If you think Freeskiing is a new sport, think again....