Words by High Fives Foundation
Photos by Elevated Image Photography
2013 TRAiNS Freestyle Ski and Snowboard Contest took place Saturday, April 20 at Alpine Meadows Ski Resort. With 30 competitors participating, the event donated $5,000 to a variety of selected charitable organizations including The Sarah Burke Foundation, The Bob Woodruff Foundation and The Shane McConkey Foundation.
Competition categories included: Best 540, Best Backflip, Best Switch Trick, and Best TRAiN.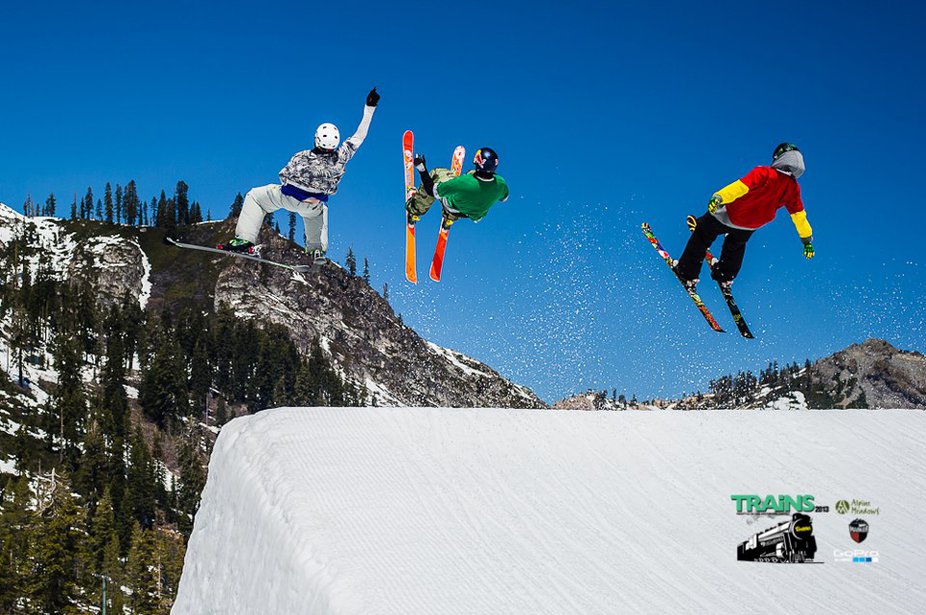 Kyle Smaine, Nick Goepper, Noah Wallace
"The event was a huge success and raised a lot of money for three very deserving charities," High Fives Foundation executive director Roy Tuscany said. "Hundreds of spectators enjoyed sunny skies, amazing ski and snowboard action, custom-made bigtruck Brand hats, music from the Silver Boombox Thief, pig pops and Jamie LaValle's world famous chicken wings from the Full Belly Deli (Truckee) at a world-class venue, Alpine Meadows, produced by Crux Events."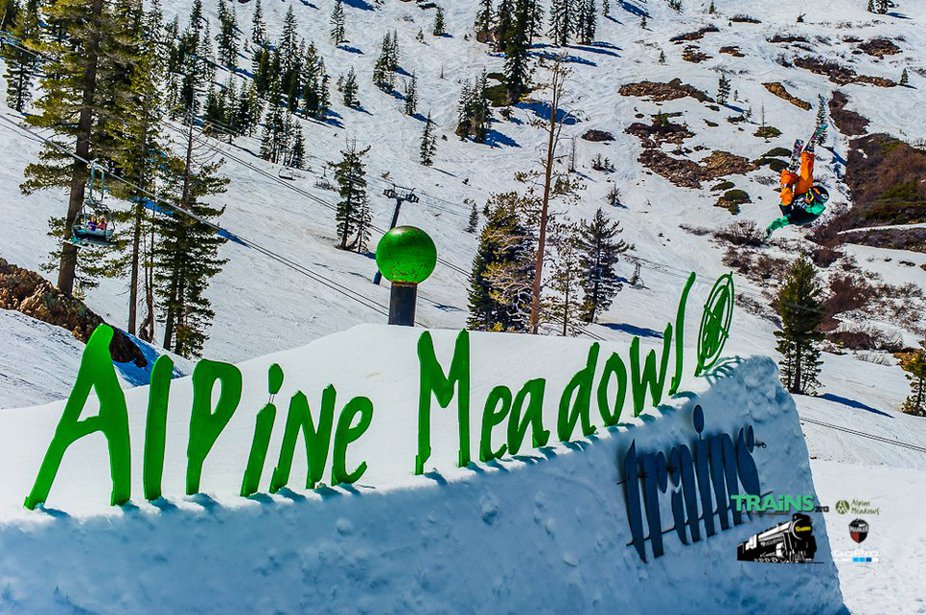 Cody LaPlante
The winners are as follows:
• Best 540: Skiers Nick Goepper and Kyle Smaine. They both donated their $1,000 cash purse to The Sarah Burke Foundation.
• Best Backflip: Snowboarder Toby Miller. He donated his $1,000 cash purse to The Sarah Burke Foundation.
• Best Switch Trick: Skier Raleigh White. He donated $1,000 to The Bob Woodruff Foundation.
• Best TRAiNS Team: consisted of snowboarder Will Mayo and skiers Harry Meyer, Jason Arens, Becca Roberts, Will Wesson, Khai Krepela, Noah Wallace, Garrett Russell and High Fives – Winter Empowerment Athlete – Jake Hickman. Hickman returned to the competition this year after recovering from a traumatic spinal cord injury in 2011. The team donated their $2,000 cash prize to The Shane McConkey Foundation.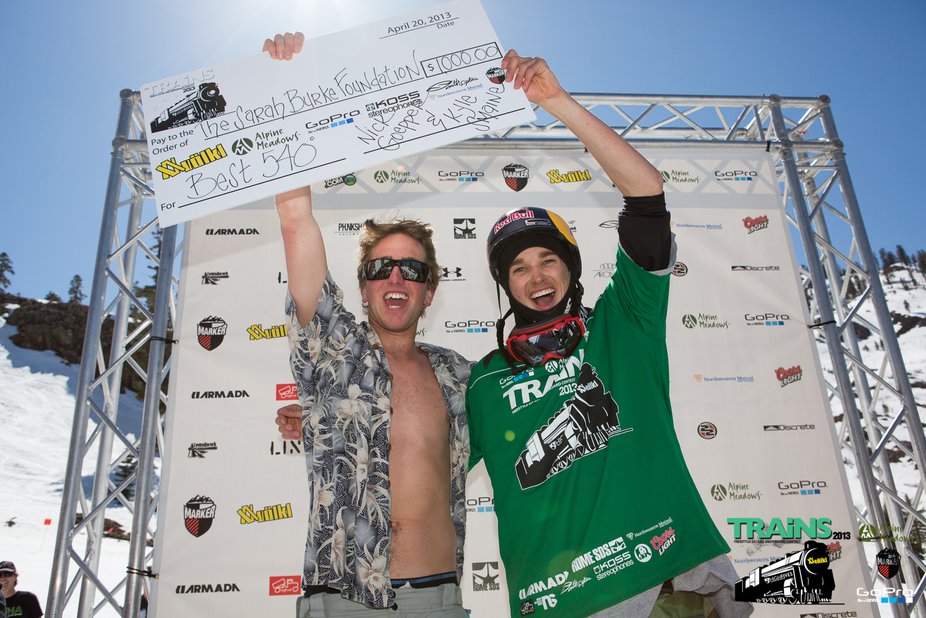 Kyle Smaine & Nick Goepper donating $1,000 to the Sarah Burke Foundation.
To see these athletes in action, watch the 2013 TRAiNS video, produced by Shreddy Times, below...
https://www.newschoolers.com/videos/watch/632037/TRAiNS-2013-
This style-centric event was presented by the High Fives Foundation, Volkl Skis, Marker Bindings, GoPro and Alpine Meadows.
Khai Krepela
Following the on-the-snow event on Saturday, 75 people gathered on Sunday evening at Twenty-Two Bistro and Bar, located in the Village at Squaw Valley, for the TRAiNS 2013 Conductor's Dinner. The Conductor's Dinner is a way the High Fives Foundation gives thanks to the individuals and companies who support the Foundation through its marquee events.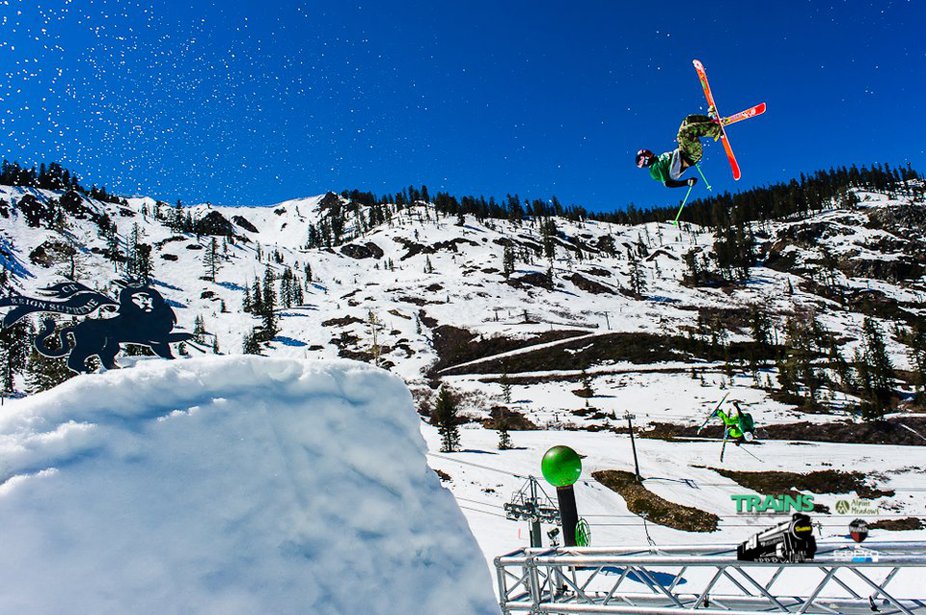 Nick Goepper & Robby Franco
The dinner included a silent auction, raffle, wine sampling from Hatcher Winery, Red Bull and Tito's Handmade Vodka specials along with a fabulous dinner from Twenty-Two Bistro and Bar.
The High Fives Foundation raises funds to support injured athletes through laidback and fun fundraising events, like TRAiNS. The next marquee event for the Foundation will be the 3rd Annual Charity Golf Tournament. It is scheduled for Thursday, May 16, 2013 at 11 a.m. at The Golf Course at Grey's Crossing in Truckee, CA. Details can be found at www.highfivesfoundation.org.