High Five returned for its twelfth iteration this year and it was my second visit to the big show. Last year, when I subbed in for Twig's liver, left lasting impressions in terms of incredible ski content and somewhat savage hangovers. This year was set to be even bigger and better than the last with an increased focus on the festival side of things and a lineup of movies that seemed even more exciting and anticipated than the last world-class selection.
High Five brings all the biggest names in the industry and their latest flicks to the beautiful spot of Annecy to showcase their winter's (or in some cases multiple winters) work and blow off some (or in some cases, lots of) steam in preparation for the seasonal cycle to repeat itself again in a month or two.
As always there are two main aspects of the festival; the cinema and the main outdoor arena - with an outdoor screen, skatepark, climbing walls and stands for the brands we know and love. It's always great to get your hands on next year's skis, give them a flex and see how the topsheets look in real life. Sadly for the first time in recent years, it rained heavily at the festival. Luckily the Capeesh stand had Mario Kart to entertain even the soggiest and muddiest of attendees as well as collaboration belts that boldly state, "social media ruined skiing." As the freshly appointed social media guy at NS, I can't comment on this statement...
_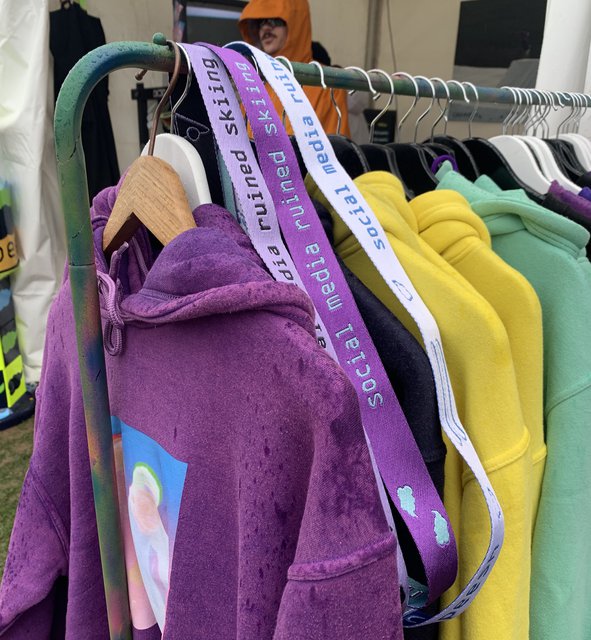 I definitely bought one though...
_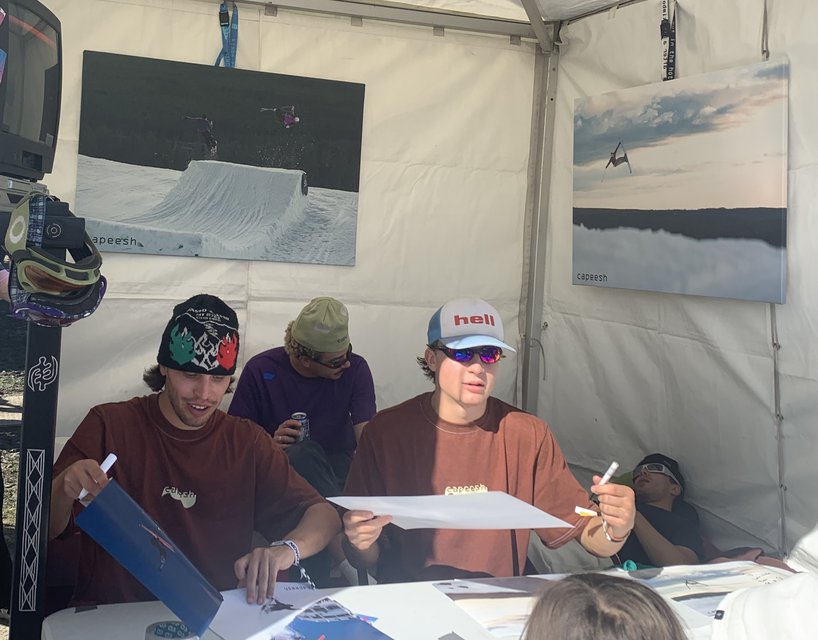 Hugo and Kai offering one of many opportunities to get shit signed!
_
The cinema hosts premieres for all sorts of snow-based cinema, from documentaries on cross-country skiing to street projects - sometimes inexplicably back-to-back. The premieres pack out with fervent fans and often the riders themselves - the Harlaut movie, Pueblo, had its screening enhanced by the raucous barking that preceded and followed nearly every shot. Swag is thrown out and an incredible viewing experience is presented due to massive screens and booming surround sound.
There's no shortage of big names to spot and mischief to get up to. Annecy is a small enough place that simply wandering the streets means you're more than likely to bump into riders and friends alike. It's a rarity that so many heads in the industry are gathered together in one place and it's an honor to mingle with some of the finest minds in the space and talk plenty of off-the-record shit.
There were many highlights - and the film-related ones will come below - including discovering Twig's proficiency in French, successfully ordering food for about 15 skiers (with varying dietary requirements) in a belligerently French-only restaurant. Tall T Dan's presence was another - introducing him to tartiflette and watching the slow spread of Arsenic attire to skiers from his seemingly bottomless backpack - and getting to know the Finns from Forre, their movie being an anticipated highlight and winner of Best Short Film. Somehow, they're all still alive and definitely a danger to have a beer with.
_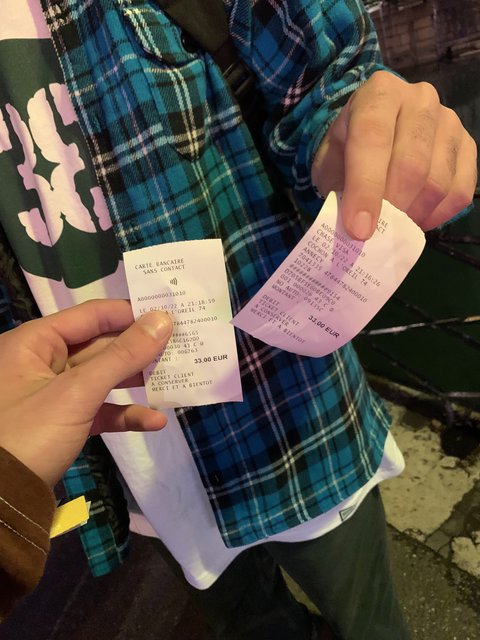 This is what happens when you have dinner with Tall T Dan
_
Among all the spectacular content we witnessed over the weekend one project stood head and shoulders above the rest for me, and speaking for him Twig also, was The Bunch's project (not the one that won Best Film) Längtan till Áhkká (Longing for Áhkká) which documents Magnus' journey to follow in the footsteps of his great grandfather to summit the Áhkká mountain in northern Sweden. This documentary piece has won awards at many film festivals that do not solely focus on snowsports and stands out in its own right against the larger genre of cinema as an incredible piece of art and storytelling. As soon as you get a chance to watch it absolutely do! Many Fantasies Later is a masterpiece in its own right too, far more ski heavy, and a deserved winner of movie of the year at the High Five Awards.
Some of the other highlights from the weekend that didn't involve drinking beer or eating copious amounts of melted cheese included:
- Bella Bacon's shots in Pueblo, gnarly tricks and spots, and the clips are put together to bring the hype!
- Anni Kavara's street shots in CAST Forre movie stood out, her style remains iconic and we hope to see a continuation of stacking street shots around the hectic comp schedule.
- Ferdi's segment in the SLVSH movie Feeling Crazy was just bonkers, he's too good and makes it look all too easy, giving all of us tall guys no excuses when it comes to style.
- Heavy techno and serious carving from Daniel Loosli in Sanctuary.
- The incomprehensible editing of timelapse footage and real-time ski action in Relativity from Real Skifi.
- Both Buldoz projects, you guys are crazy. The summer cut is out now and the winter one is even better.
- Finally, the all-female Recipe from Coleen Ballet-Baz was dope from start to finish, the interview segments were intertwined with epic skiing perfectly to combine narrative and gnar excellently.
As always, thank you to the organizers and the homies for making this weekend in Annecy a banger!