Words & photos by Kyle Meyr
There are moments in our lives that we lack effective adjectives to describe and thus deem them "indescribable". My job requires that I verbalize these moments in a manner that helps you best realize what I felt when I witnessed it, but that has never been so difficult as it is now. The past few days have truly been indescribable, and to verbalize them without the conviction they deserve would demean the entire week, so consider these words a compliment to Chaoz Productions' newest film coming out this fall.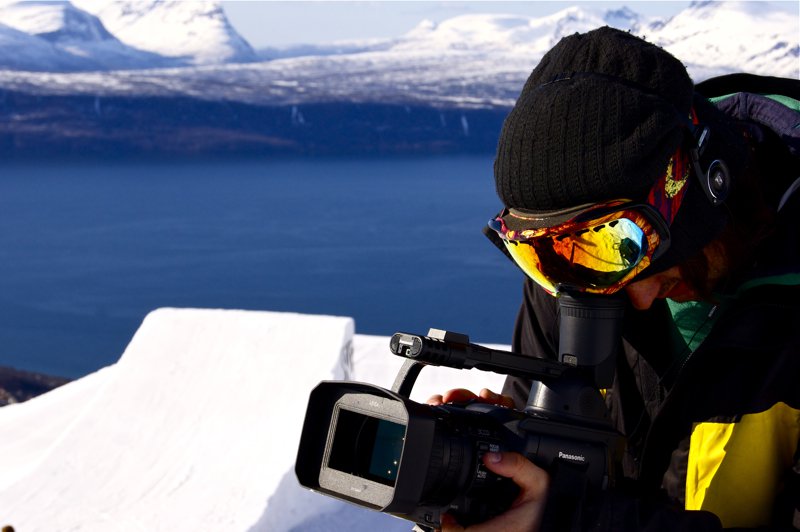 Chaoz Productions' Eivind Aurstad
So, picking up where we left off, the sun has risen and a new day in Narvik begins. The grey weather that has plagued us since the day we arrived was in full force and plans to switch accommodations promised to take a greater part of the day and kept the riders at bay. With nothing to do but sit and watch the marriage of Prince William and Kate Middleton, everyone gathered around the TV with a surprising amount of enthusiasm that occupied more than a few hours of the day. After being pried from the television, we packed up the van and made the quick journey to our new residences, rustic cabins on the outskirts of Narvik right on the waterfront, where we soon discovered the mono-channeled television set which ensured that we wouldn't miss one second of the replays of the Royal wedding. Unsurprisingly, cabin fever was quick to set in and as a result, a raucous uproar of enthusiastic nature could be heard from Cabin 5 every time William and Kate's balcony kiss was shown. Soon enough we made the decision to halt our approach towards insanity and called it a night.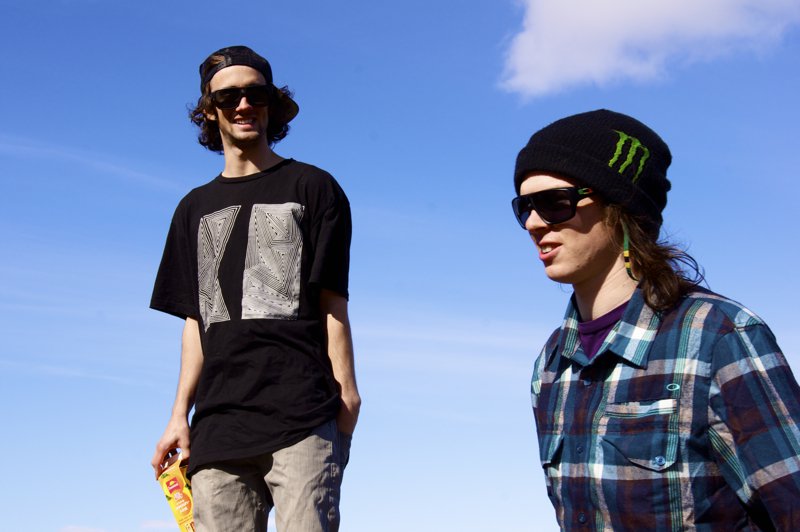 Lasse Nyhaugen and Kim Boberg.
With the arrival of PC Fosse and some promising weather, it was sure to be an amazing day. 8:30 am saw the awakening of Eivind followed by incessant pounding on doors to drag the riders out of slumber and into their gear ready to hit the mountain. Two hours later and everyone else was just waking up… Despite that faulty wake-up call, we were all itching to rush to the mountain for the first hits of the day. Lo and behold, in true Northern Norwegian fashion, the window of sun that promised us amazing weather came and went and we were back under cloud cover in flat light. Nonetheless, the riders wasted no time stepping into their bindings and began taunting the kicker with speed checks between gusts of wind. Eventually the riders built enough confidence to hit the jump but tricks were kept to a minimum to preserve themselves for a sunset shoot.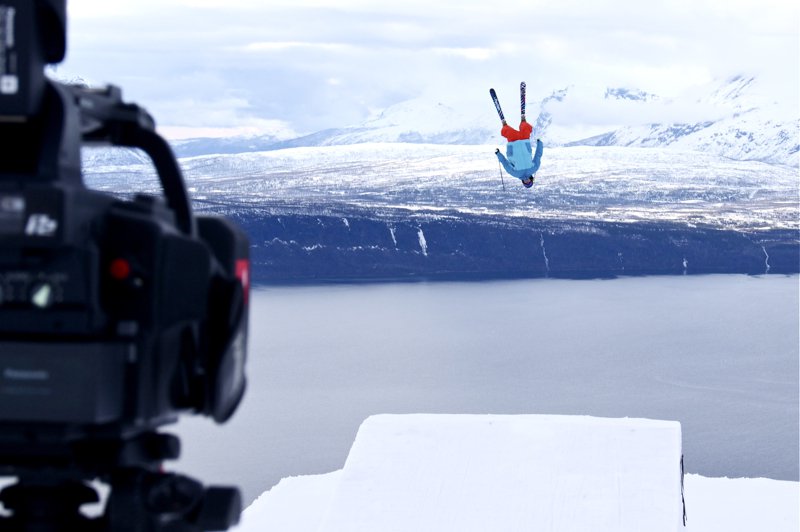 PC Fosse celebrates his first day on the kicker with a huge back flip and had us all screaming, "Again!"
Boredom was once again quick to set in and the riders made haste to occupy themselves with their imagination and the few props they could find. Pole tricks turned into sword fights, outbursts of song turned into a singing competition between PC Fosse and Kim Boberg (congrats to PC, who won with a flawless rendition of "I Believe I Can Fly" by R. Kelly) and improv comedy turned into "yo mamma" jokes.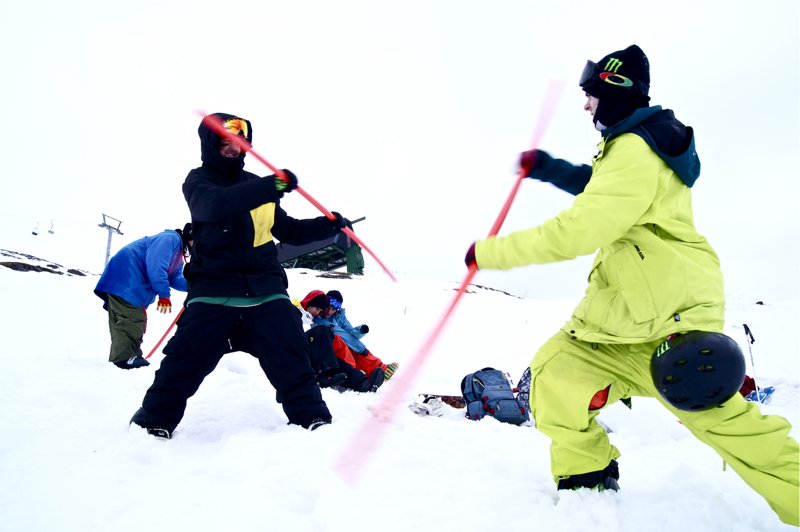 Eivind and Kim beat boredom by beating each other.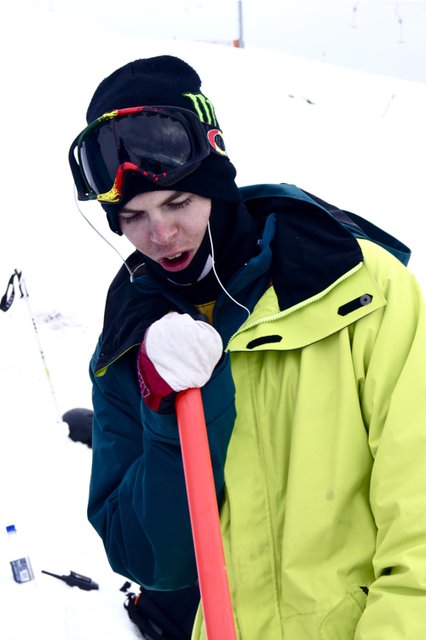 As tone deaf as he might be, Kim tries his hardest to out sing PC...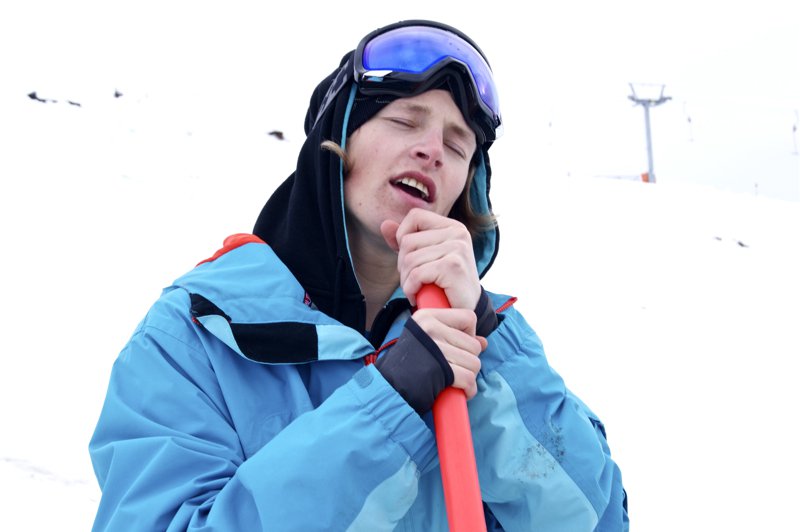 ...but PC eventually sang his way to victory.
Hours had passed before the jump was under considerable weather for a session, but dedicated to the process, the riders and production crew stayed strong. Finally, the monotonous cloud cover that had beset the Chaoz crew gave up and riders scrambled to the top of the in-run to wait for a window. Soon enough, that window came, and the moody weather seemed suddenly willing to cooperate.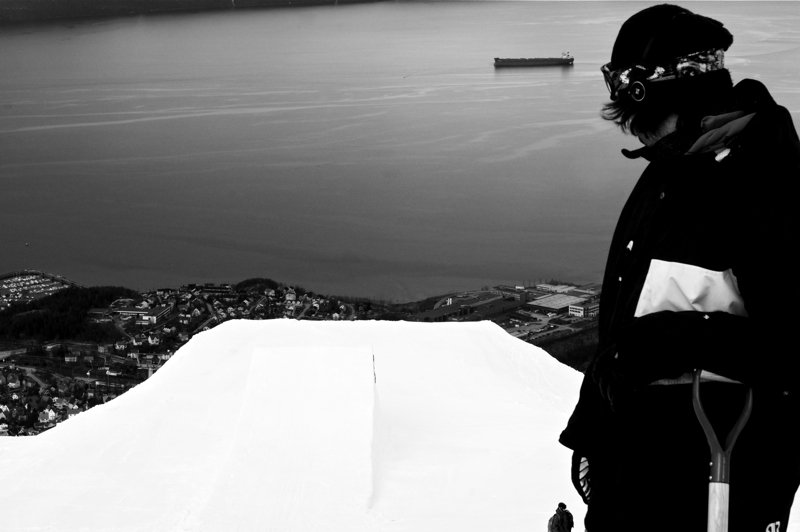 Eivind eyes up the kicker.
Wasting no time, the riders began dropping one by one with a display of talent that I have never seen in skiing before. Everyone was in their element and displayed an amazing array of style. From PC Fosse's huge back flips and double corks to Kim Boberg's unmatched 540s, 900s and switch hits, the jump saw no shortage of talent for the few hours of sunlight we managed to get out of it. Arriving home on the greatest high I've ever derived from a ski session, it took me a while before I fully understood what I had just witnessed; The greatest skiers in Norway doing what they do best on the most amazing combination of transitions during an unforgettable sunset… Little did I know it was only going to get better.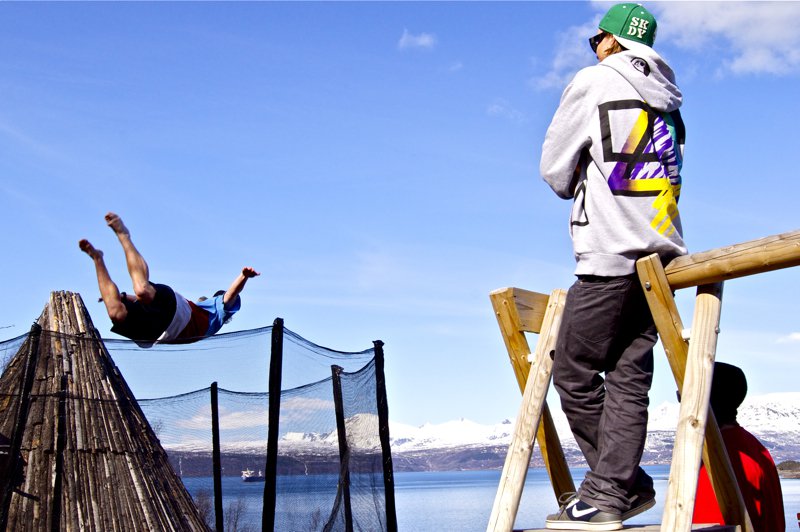 Thomas Dølplads gets upside down while waiting to head up to the mountain.
Day six of our stay in Narvik greeted us with crystal clear skies and the windless warmth that we were all dreaming of just a few hours ago. Yet another rider, Thomas Dølplads, was added to this roster of masterful men, and plans for a heli-shoot dominated our minds while we waited for the afternoon to head up to the kicker. In the meantime, PC and Thomas grew antsy and found opportunities to get upside down on a trampoline and a picnic table. Soon enough, we were gathering our gear and piling into the van to head for the mountain.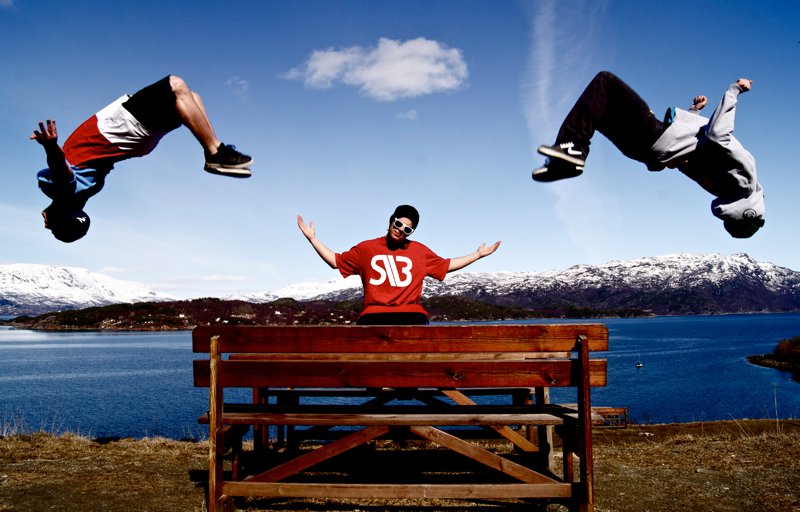 Back flips were in full effect as we waited to load up and head off to the mountain.
With the tormenting weather tired out, the riders seized the day and absolutely dominated Narvik's skyline for hours. Trick after trick after trick was landed with flawless perfection, and with the sun beginning to make its descent towards the summits of the distant mountains, everyone had one thing on their mind, the heli-session. Even the locals gathered anxiously to watch with rumors of the session spreading quickly throughout the town of Narvik. The jump was illuminated with a gilded hue that would make Goldilocks jealous and the riders were beginning to line up on top of the in-run. With the shapers making the final touches to the jump, the flutter of a large metal bird in the distance caused stillness before what was about to be a storm of epic proportions on Narvikfjellet.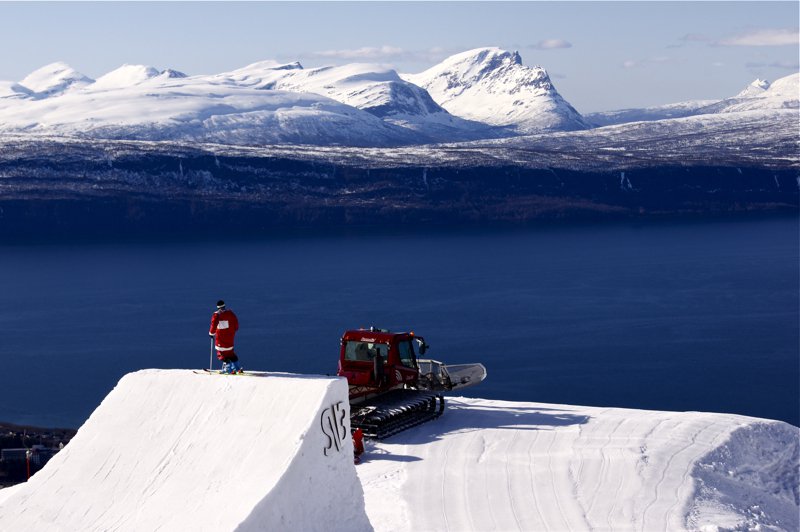 Gaute Silseth eyes up the gap from atop the kicker.
The flutter quickly grew into a roar that signified the beginning of a hectic hunt for perfection that was short lived but carried out with immense intensity and ability, which amounted to a shoot that even I (having seen it in its entirety in the first person) still cannot fully comprehend. With the Red camera hanging out of the helicopter just a stone's throw away from the riders, the sounds of cheers muffled by the ear piercing beats of the blades and the sun toasting the whole scene golden, everyone pulled out all the stops to make this session absolutely perfect. This was one of those indescribable moments and I could only do it justice by leaving it at that.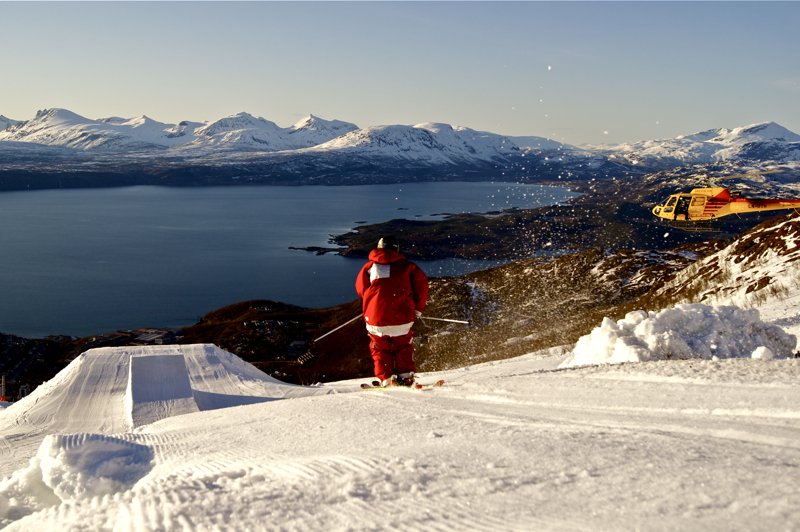 Gaute drops in accompanied by the heli.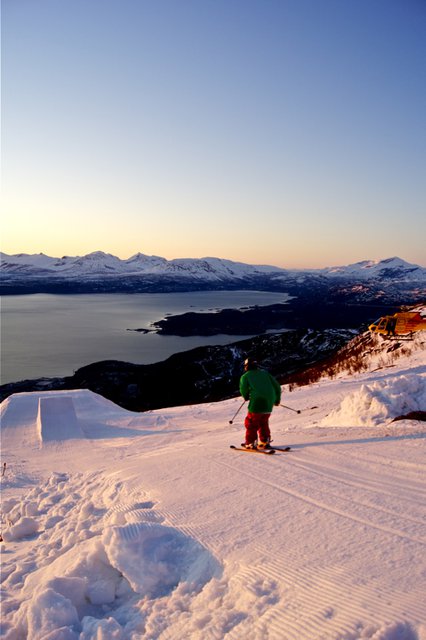 Thomas charges alongside the helicopter.
Once at the bottom of the mountain, I turned to Gaute Silseth with the humility of someone who had just witnessed what I expected was just another heli-shoot for these guys and asked, "So… How did it go?" It is a simple conversation starter that I could use to pry into his mind and derive more insight about how he felt, how everyone performed, how he expected the footage would turn out, etc. But his answer was one of surprising simplicity and conviction. It was not what I was expecting from someone who does this for a living and quickly put an end to any more questions I had for him. It was the manner in which he expressed his satisfaction that displayed the indescribable feeling he must have experienced along with the rest of the riders, the production crew and I. He said simply, "It was the best session… ever" and no one on this trip would disagree.
The riders celebrate the success of the first sunset shoot.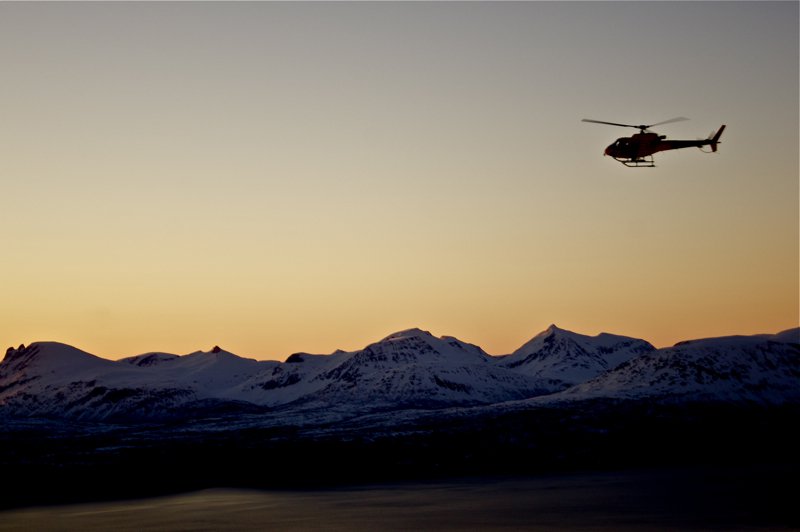 An amazing site to end an amazing day.
To read this without witnessing the events for yourself would be an absolute shame and I wish that on no one, so look out for Chaoz Productions' newest film, due to be released this fall! Also, go to http://www.chaozproductions.com to check out more. Keep following the session here as Chaoz Productions leaves their last impression on Narvik in the final days of this epic trip! And big thanks to Process Films for making this week possible!