Words & photos courtesy of Orford Freeriders
The province of Quebec is usually known for its hard and cold winters, but last Saturday at Orford, we had a really hot rail jam. The traditional opening season event was sick and crowded, as the seventh edition of the OFR Grilly Cheesy Jiby took place on one of the best snow park set-ups in the Eastern Townships. Prepared by René Caza and his crew, the riders had a choice of two lines for a total of 6sixrails. All of the money went to Orford Freeriders Club athletes so they can compete this season.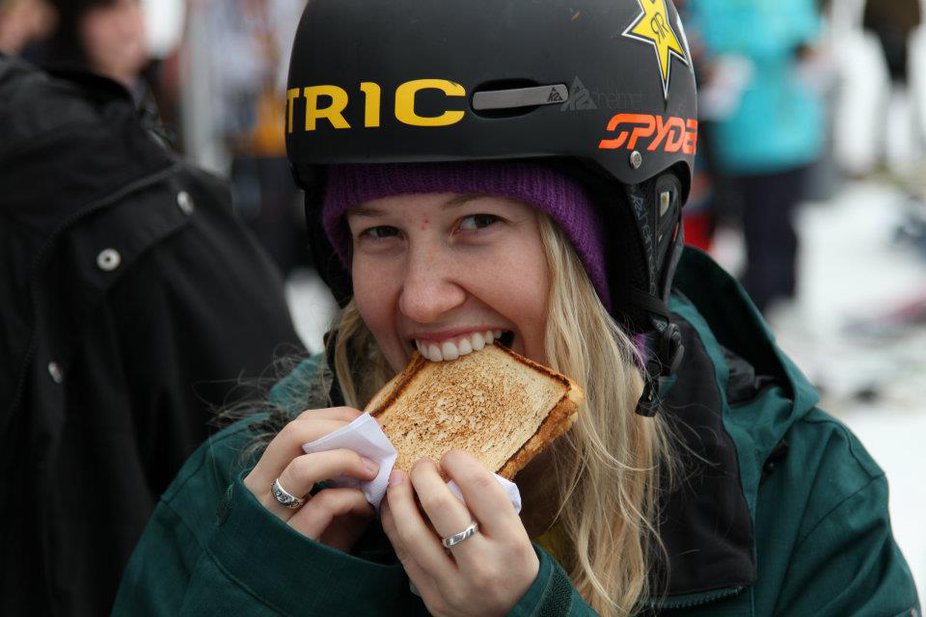 90 skiers and snowboarders showed up for fun, grilled cheese sandwiches and cash. Warm weather with some rain at a certain time, making the course easy to ride. Sick tricks came out of the kids, aged between 10 and 18, including disaster 450 on's, butter 270 lip slides, some clean switch-ups on the flat-down and many, many 450's and 630's out of the up box. Some of the guys gained a lot of attention by even pulling out some flatspins off the little mailbox.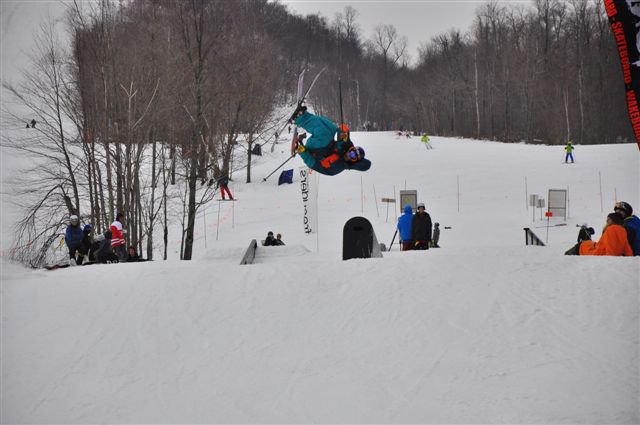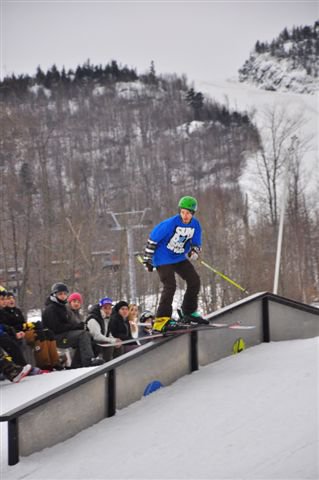 After two sets of qualifying rounds, the best 20 skiers and snowboarders went to final. Judges had a really hard time choosing the winners, who would take home a $500 cheque. One man kept his focus all day long, and proved he was the best on the hill, as Steven Normandin went home with a marvelous grilled cheese making machine and a nice yellow check thanks to his super clean runs. Christophe "Le Roux" Lacombe took second (another podium for him this season), and be sure to keep your eye on him, as he'll be one to watch this winter. Third and fourth place went to Math Rich and Ben Provost, respectively.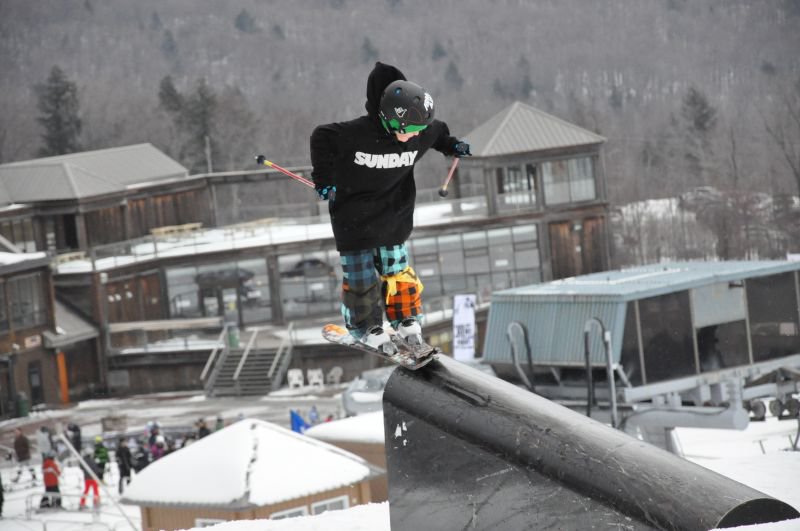 The girls are never left apart with OFR, as Sophie Brubacher took home $200 for scoring first place, followed by Véronique Picard and Marie Pierre Donaldson in second and third, while in the snowboard divsion, local boy Fred Lacroix won for the second year in a row!
Freeski Results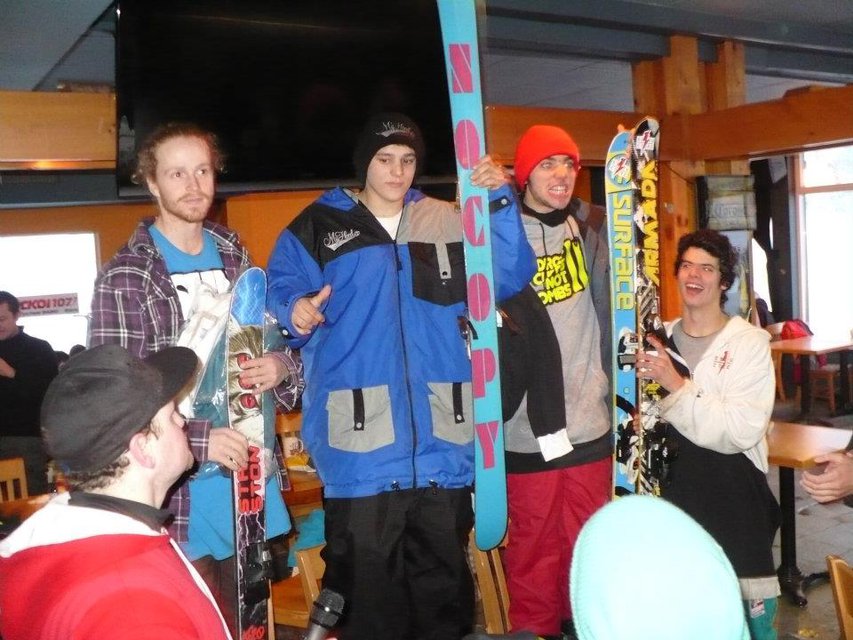 Steven Normandin, Mat Rich, Chris Lacombe & Ben Provos.
Pro
1) Steven Normandin
2) Christophe Lacombe
3) Math Rich
Amateur
1) Laurent Léger
2) Éric Withworth
3) Jérémy Trudel
Women
1) Sophie Brubacher
2) Véronique Picard
3) Marie Pierre Donaldson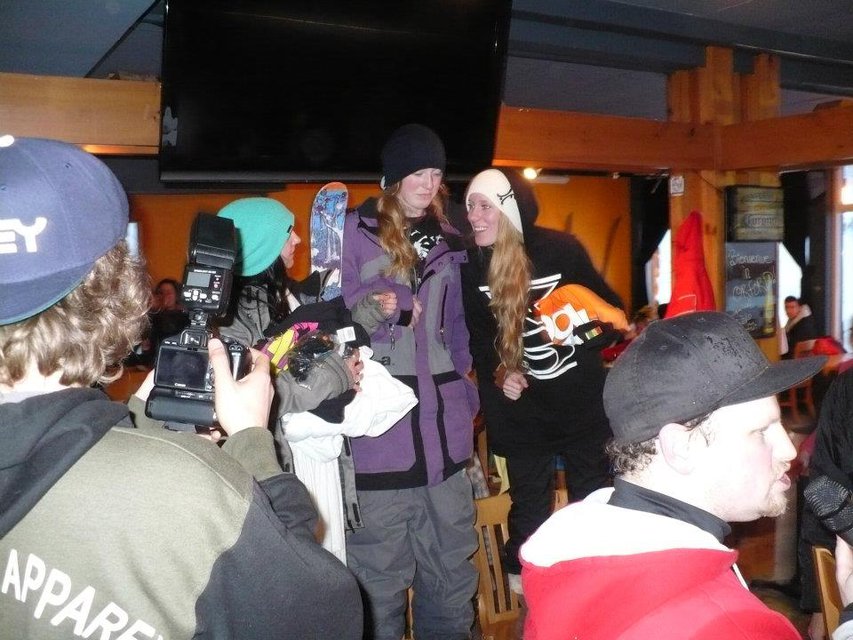 Véronique Picard, Sophie Brubacher & Marie-Pierre Donaldson.
Snowboard Results
Men
1) Fred Lacroix
2) Dilon Ojo
3) Alexis Mailhot
Women
1) Marjorie Couturier
Big thanks to the Mont-Orford employees, and Team OFR's sponsors: CKOI,
Illusion, Orage, Pied Sportif, D-Structure, Location Langlois and
Newschoolers.