About a month ago Google announced a revolutionary product at their I/O Developer conference. The product is called Google Wave and it's going to change the way we think of online communication. Wave blurs the line between email and real-time instant message conversations. It allows you to easily collaborate with lots of friends at once and share photos, links, and videos. Developers will be able to create applications for Google Wave which will integrate nicely into the experience. Last month I applied for an invite code stating that I would be interested in developing applications for the Wave platform and would help to report bugs.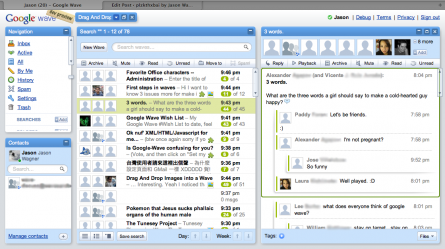 The basic look for Google Wave.
This afternoon the news broke that Google just invited 6,000 developers into Google Wave developer sandbox. This is basically an early deployment of Wave that will help familiarize developers with the platform and give them a taste of Wave's potential. I assumed that most of these invites would be for the developers who attended the Google I/O conference and was quite surprised to see the invite in my Gmail inbox this afternoon!  I was STOKED!!  I registered for my account and logged right in.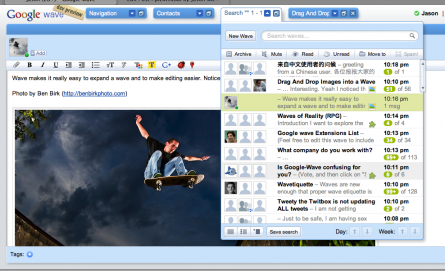 Previews from other Waves are available when minimized at the top.
I'm not exactly sure what I was expecting to see when I first logged in. I guess I thought that it would be a little boring since I wouldn't know anyone else using the service yet. As it turns out, Google created a contact which everyone could include on their waves in order to make them visible to other users. The result was a bunch of "public" waves streaming into my Wave inbox. Awesome, now I have people to talk to! It was cool to see a bunch of users editing the same documents at once. Everything seemed to work nicely on modern browsers (Firefox 3.5, Safari 4, or Chrome). There are a few bugs here and there, but it's working pretty well so far.
I've included some more screenshots of my Google Wave page below. If you're interested in getting an invite, Google announced that they will be sending out 100,000 invites on September 30th. So, head over to the Wave Homepage to sign up. Also, I'd highly recommend watching the Google keynote about Wave (link below). It's kinda long but it should really help to clarify your understanding about the product. I'm going to play around with Wave more over the next few days, and  I will likely add another post about other cool features as I come across them.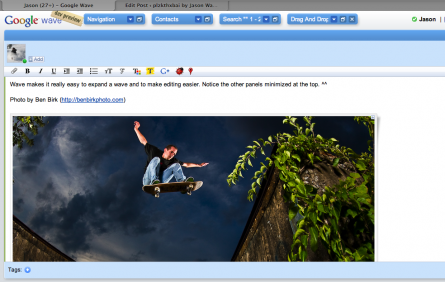 Editing a Wave from full page view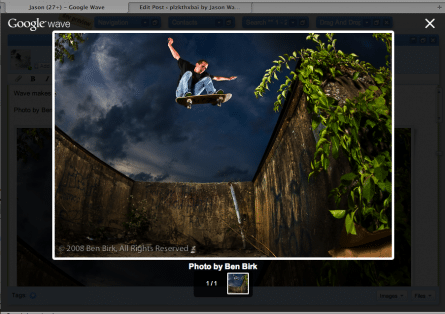 Sexy looking photo viewer built into Wave
Watch the Google Wave Keynote Video on YouTube