Words & photos by Jeff Schmuck
Summer camps in Whistler are over. Dave Murray and PSI wrapped things up roughly a week ago and COC and Momentum had their last day on Friday (although Momentum has one more mogul session going down this week).
So now that it's all said and done, what can be said about this summer in Whistler? The weather was terrific, the terrain was better than ever before, enrollment was up…and did I mention the weather was terrific? Probably, but it's worth saying twice, because let's be honest, the Horstman glacier on Blackcomb has seen it's fair share of rainy and foggy days over the years, but this year we were all able to count the number of those days on just one hand, making for an epic and unforgettable time that was cherished by all.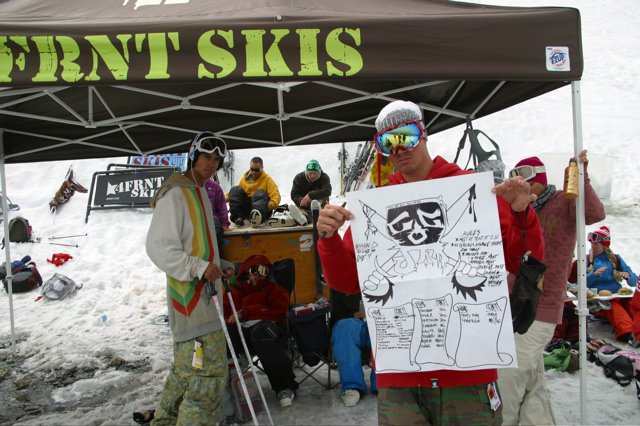 Matt Sterbenz
"In my 11 years of experience this has been by far the most pleasant weather we've ever had up here in Whistler," said Matt Sterbenz, head coach at COC. "The terrain was equally amazing this year, as Arena Snowparks did a knock-up job and I couldn't think of anyone who could do it better, and with Mother Nature's support, we had one of the biggest and best summers in Camp of Champions history. So if you've never been to camp before, I'd put $5 a day into a jar starting now so you don't have to run around looking for more lawns to mow and ways to scrounge money out of your parents to come to camp, and get yourself out here next summer."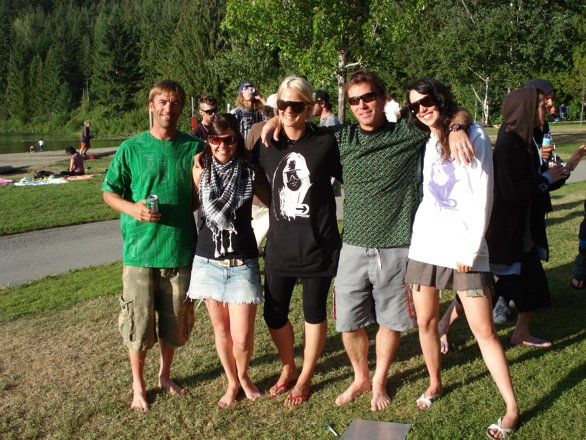 Momentum staffers (left to right) Trennon Paynter, Alex Hetherington, Elsa Hamel-Robert, John Smart and Rosalind Groenewoud
"This summer kicked ass," said John Smart, owner of Momentum. "We had great weather and more land which helped us be able to add more features. When High North turned over and we got that space we also brought a bunch of more people on and were able to run a whole bigger and better show, and it was great. For those of you who've never been out here before, talk to someone who's been to our camp. You can't trust what we who run the camps say, you have to talk to the kids who've come, because they speak with more passion than we ever could."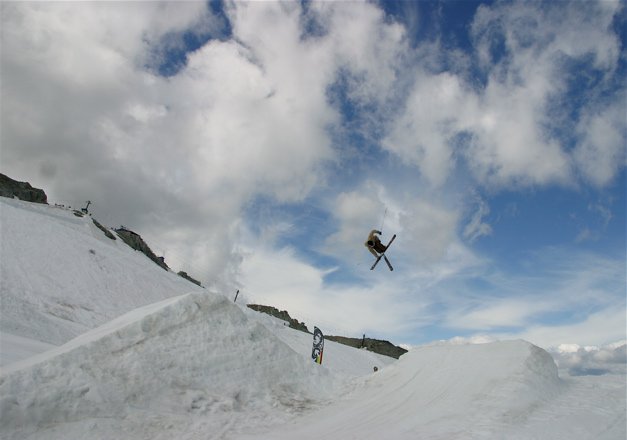 JF Houle at Momentum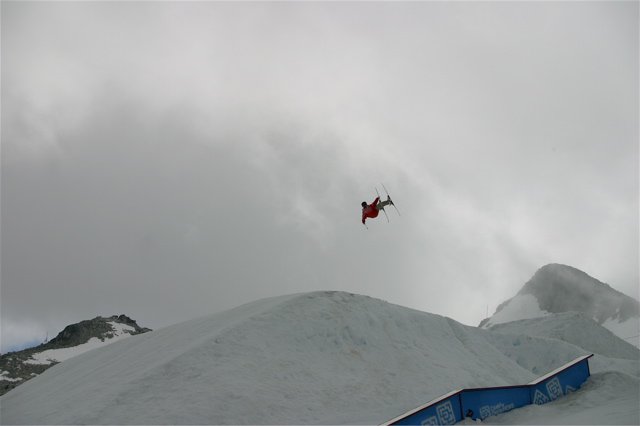 Kalle Leinonen at COC
So as expected, the last week of camp absolutely went off, with guest appearances at Momentum and COC from two of the most energetic figures in our sport, Sammy Carlson and Scott Hibbert.
Sammy was in town with his coach Tommy Ellingson who has been helping him work on some new tricks while fine-tuning his style. Sammy also has a new video project in the works, which he talked to us about in an interview that will be online soon, so stay tuned for that. Pasty was slaying the big jump line at COC all week with switch right bio 9's and 10's and dropped everyone's jaws at Momentum by switch 270'ing onto the top of the rollercoaster wallride…and flatspin 630'ing out.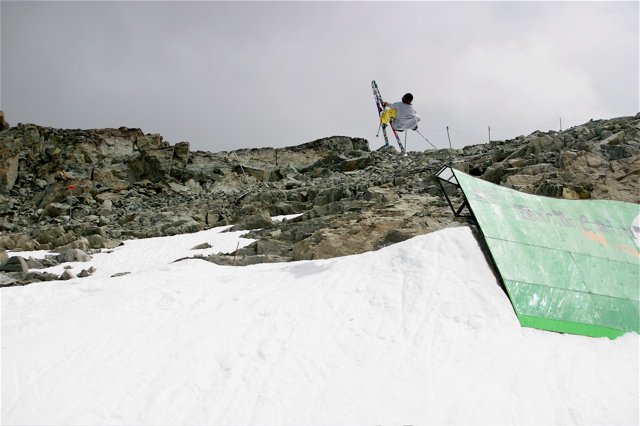 Sammy Carlson
Meanwhile, Scott Hibbert was making the rounds, throwing down some sick 360 screamin' seamen genie grabs for our cameras at Momentum in between manning up on the bag jump at COC.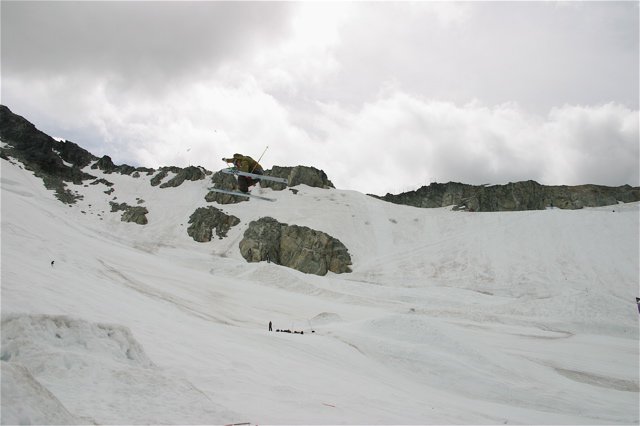 Scott Hibbert
"The first time I was dropping in I was thinking, man, this is pretty gnarly, maybe I should just straight air it," he said. "But I didn't want to look like a pussy in front of everyone, so I just double back flipped it."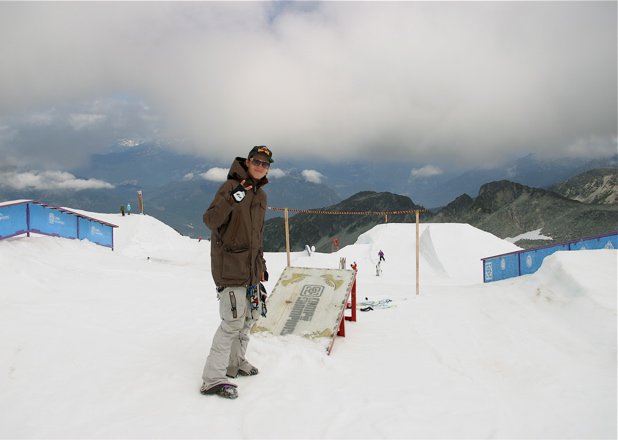 Axe Kill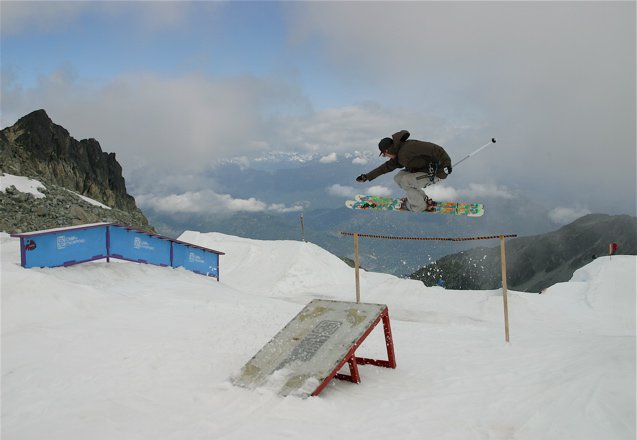 And after spending a week in Quebec coaching water ramps, Max Hill made his triumphant return to Whistler (much to the delight of all the ladies in town) and along with fellow Line team rider Colston Beatson, spent his week ripping COC's features a new one, along with creating some of his own.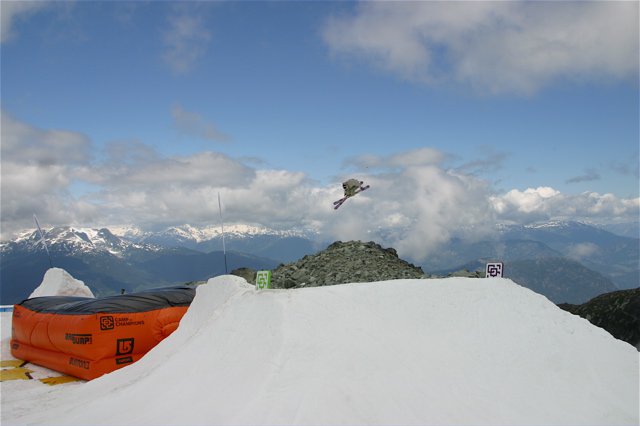 Colston Beatson
Also back on snow after cracking his molars and jaw at the Level 1 shoot in Hood was Jon Brogan, who didn't miss a beat and got right back to work at Momentum throwing down some of the smoothest switch 5's and 7's I've ever seen…and yes, complete with afterbang.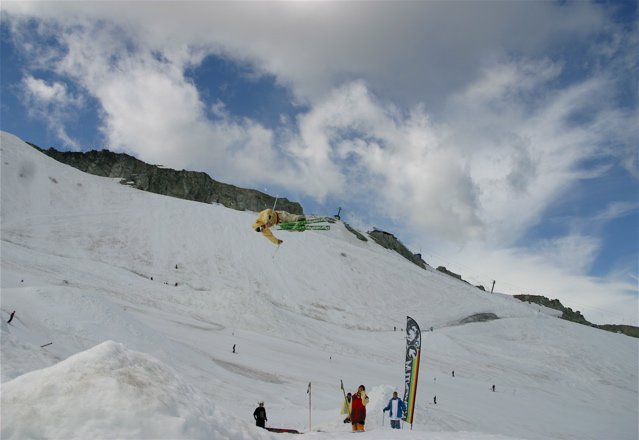 Jon Brogan
Another highlight from the week was the arrival of The Man, Jimbo Morgan, who was in town to spearhead some filming for Greg Stump's upcoming film the Legend of Ahhh's, which will celebrate the 20-year anniversary of his classic Blizzard of Ahhh's.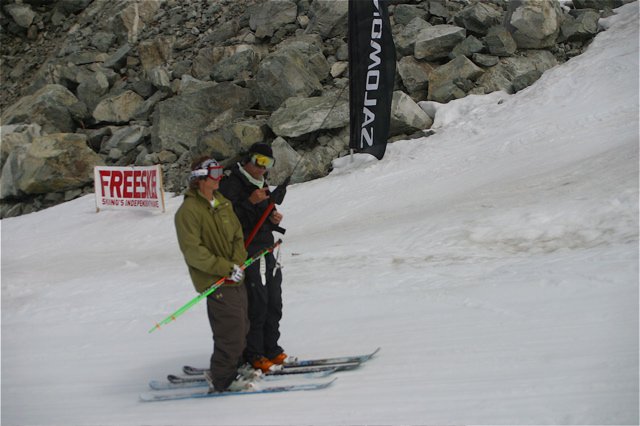 Hibbert & Jimbo Morgan
Thus, a huge shoot went down at Momentum with Tanner Rainville, Matt Hayward, John Spriggs and others under Jimbo's wing, and the footage that will come out of it will certainly be something to watch out for.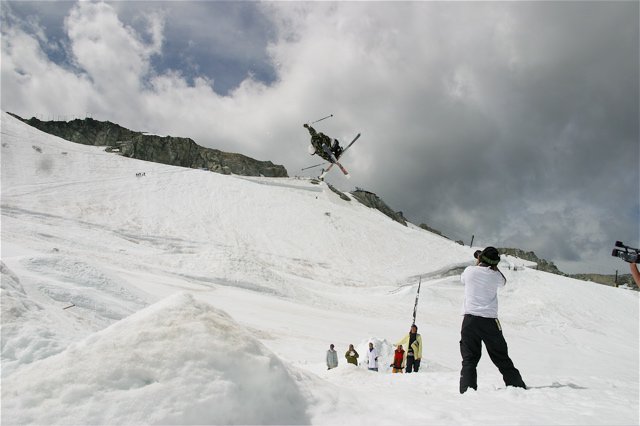 Tanner Rainville and the media circus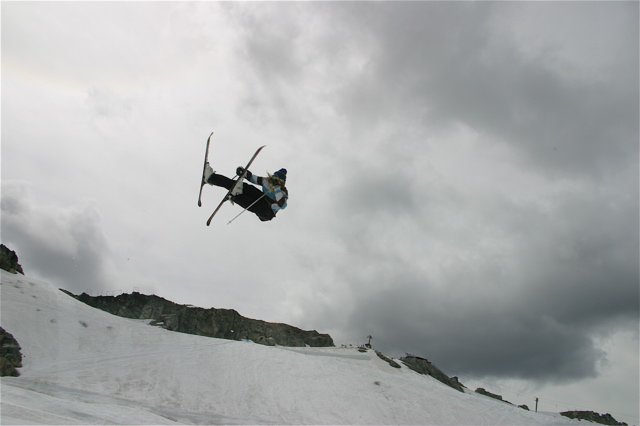 John Spriggs is so damn good lookin that you ain't allowed to see his face!
The last day of COC and Momentum was extra special with Momentum putting together their annual monster rail by stringing together as many rails as possible for a good ol' fashioned session. A number of the boys cleaned it, including but not limited to Mike Riddle, Justin Dorey and camper Mitch Gilman.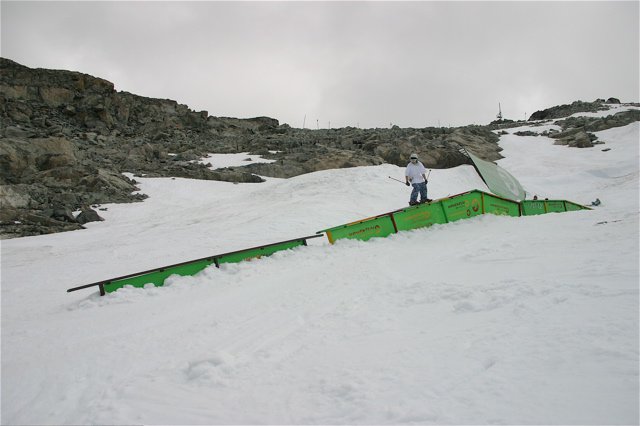 Justin Dorey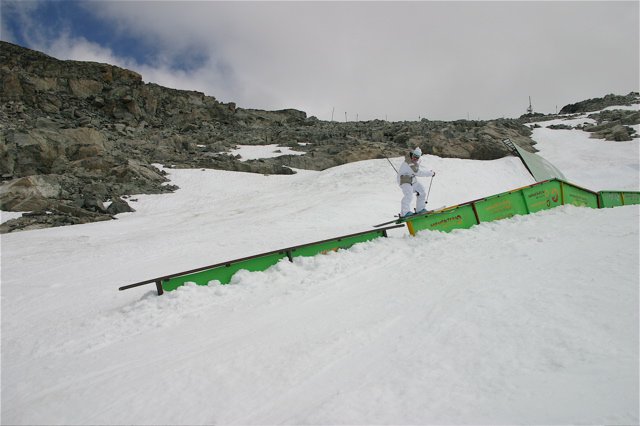 The Riddlers: Mike Riddle...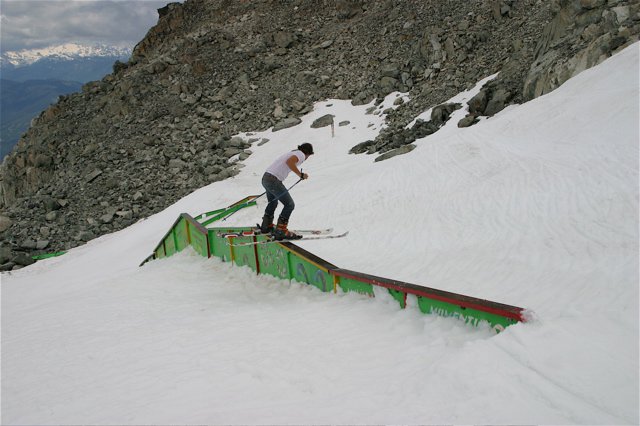 ...and John Riddle. Check them out in the next Batman flick. Heath Ledger ain't got shit on them.
Over at COC things were getting a bit crazy, as the fourth and final cock jam (a free event for all the campers where they're judged on creativity and awarded prizes for it) was in full swing while most of the ski and snowboard coaches switched gear for the day, making for some amazing and downright hilarious times.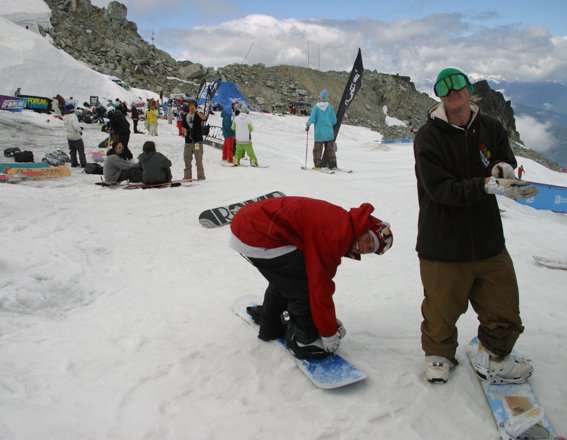 Joe Schuster & Griffin Cummings strap on the boards...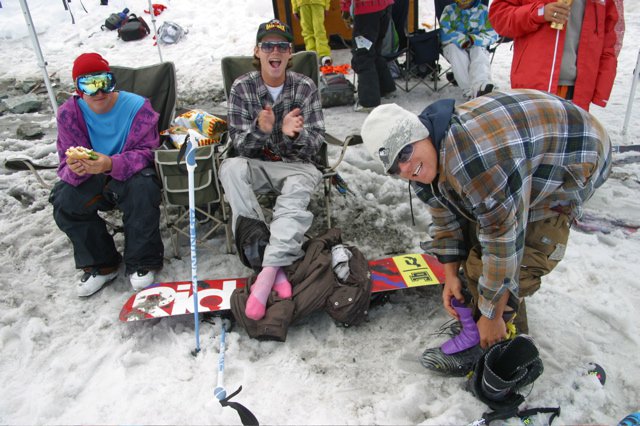 ...while Reno Belisle takes a spin on Max's skis.
"Yeah there's a fair bit of coach crossover today, and I don't mean that in a homosexual way…well actually it kind of is if you think about (laughs)," Sterbenz said. "A lot of the skiers have the coaches snowboard gear on and vise-versa. We've seen some impressive runs by some of the snowboard coaches, in particular Chris Dufficy, who sent it over the big table with a huge backflip, further proving that he is the man in Whistler."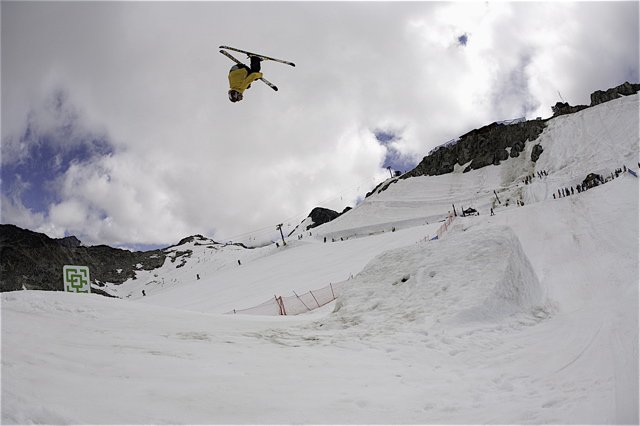 Dufficy on bitch sticks. photo: Dice-K Maru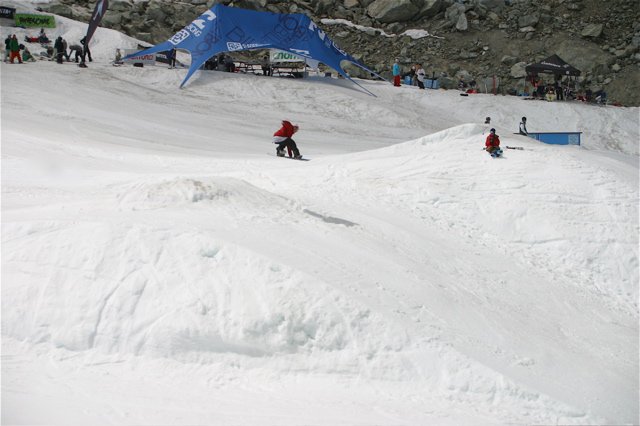 Schuster on the slowboard
Once things on the hill had wrapped up, everyone and their long faces made their way to the last camp BBQs of the year where grill master and overlord of COC Ken Achenbach was cooking more burgers at once than McDonald's in Tokyo, while the old school Red Bull car pumped the tunes as the mini-ramp, ping pong table and Rock Band zone went off in the COC tent for one last time before the campers called it a week.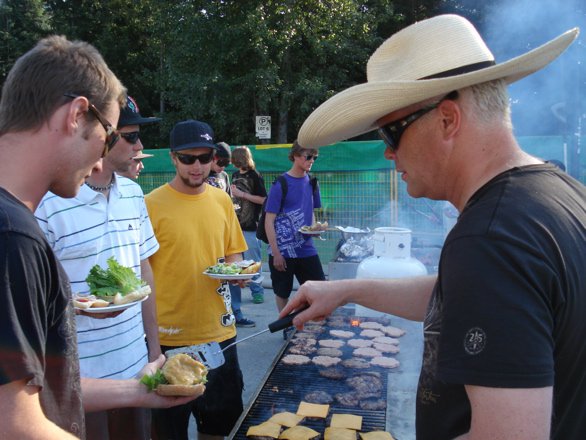 You can't beat Ken's meat
And down at Lost Lake, the Momentum crew sent it extra hard at their wrap-up party, where the weekly Oakley/Skullcandy challenge was not to be missed.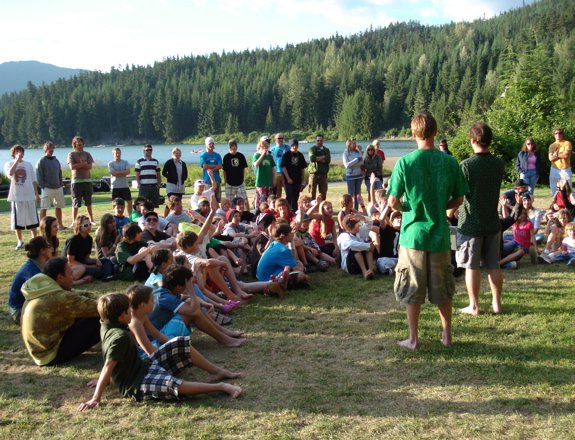 This week campers had to summersault through the park, swim out to the dock in the middle of Lost Lake and back, before rolling through the sand and back into the park, where Slurpees created by the evil Justin Dorey and Mike Riddle were waiting for them. This week's recipe: hot sauce, tartar sauce, vinegar, ketchup, crushed up crackers, and Slurpee, with the winners scoring themselves some Skullcandy and Oakley gear before heading home.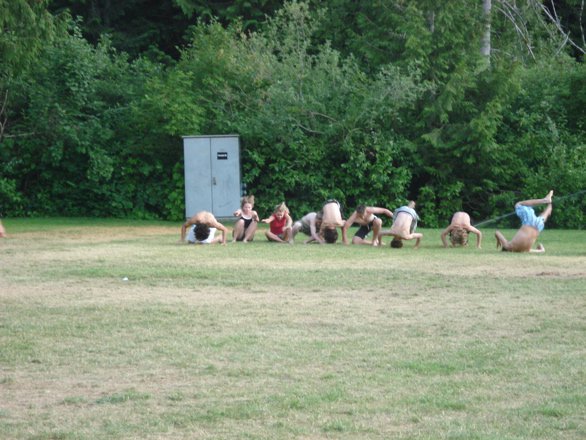 So as sad as it to say…that's all folks. Another summer is in the books and if you were out here, we hoped you enjoyed yourselves as much as we did, and for those of you that couldn't make it, we hoped you enjoyed our coverage enough that you'll start counting your pennies for next year.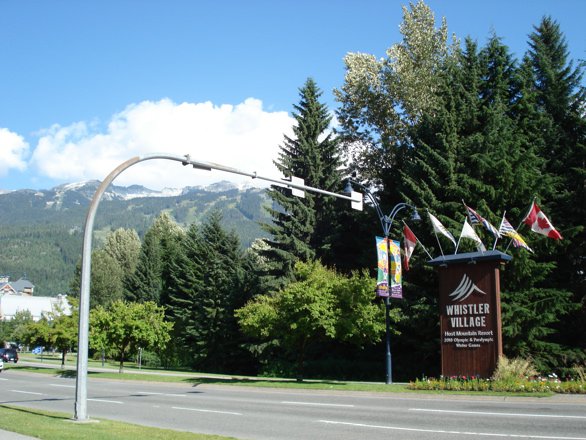 See you next summer!
NS would like to take the time to give a great big HUGE thanks to all the staff at COC, especially Ken, Graeme, Fabia and Tony, for putting us up with a place to stay for the summer (and putting up with us), along with all of our passes, breakfasts, lunches, shuttle rides, tag teaming the NS Bitch contests with us and a million other things I'm probably forgetting right now. You made our summer and jobs that much easier, less stressful and most importantly, more fun. Also big ups to photographer extraordinaire Dice-K Maru, for all his fantastic shots that he hooked us up with for the daily COC updates.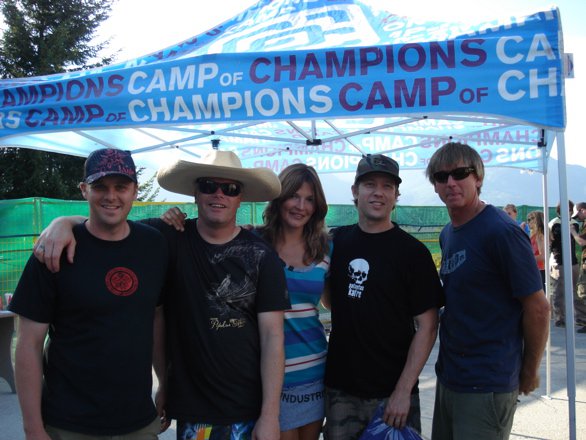 COC staffers Tony Medd, Ken Achenbach, Fabia Bruebler, Graeme Leathem and Gord Calder
We'd also like to give a big shout out to everyone at Momentum Ski Camps for letting us ski the lane, hoisting our banners every day, the swag, the dinners and all the good times we had with them both on and off the hill.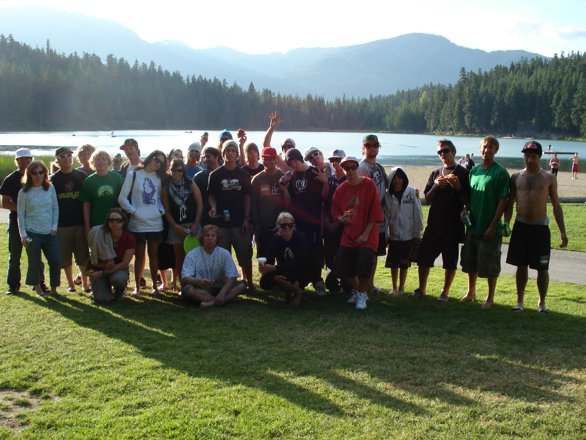 Momentum coaches & diggers
Thanks also go out to all the coaches and diggers, who worked their asses off every day to keep the campers, staff, guest pros, ski patrol, lifties and everyone else in between smiling all day on the hill, which is a lot harder than anyone realizes, so much credit is due.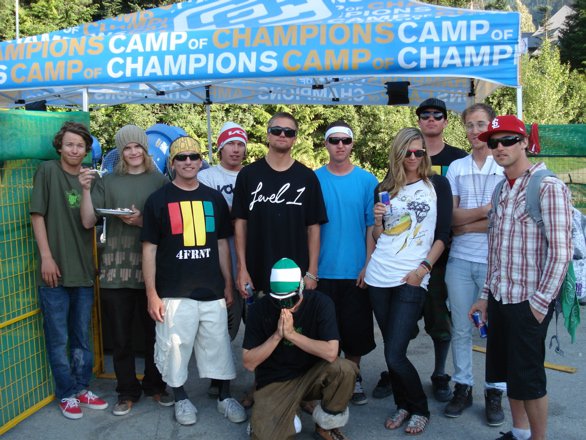 COC coaches
But the biggest thanks of them all needs to go out to the campers, because without them, there'd be no summer camps and quite possibly no skiing. So on behalf of everyone from NS that was out in Whistler this summer, thanks to all you boys and girls out there. Seeing you and meeting you at camp while we watched you learn new tricks as you were having the times of your lives was a blast to watch.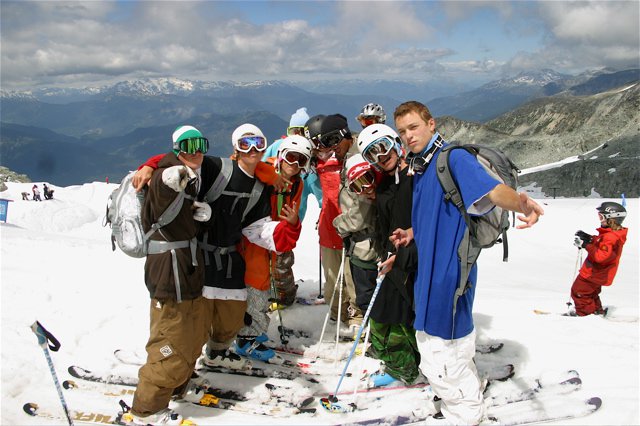 And as I mentioned last week, just because the glacier camps in Whistler have stopped doesn't mean the summer camp-related content will. While on the glacier we did enough interviews with your favorite skiers to keep you amused for the snowless months to come, and although I usually make a rule of not letting anyone know what's coming up in the news, here's a few of the people we'll be posting interviews with over the next few months: Chris Turpin, Sarah Burke, Ian Cosco, Justin Dorey, Mike Riddle, Matt Hayward, Roz Groenewoud, Joe Schuster, Luke Van Valin, Wiley Miller, and Jon Brogan.
And remember that although Whistler is done, Hood is still going strong so if you can't get yourself down there rest assured we'll be hooking you up with a few more updates on what's going down at Windells before the lifts stop there as well. Plus over the course of August and September we'll be featuring stories from Argentina, Chile and New Zealand, where the ski season is just beginning, and…be sure to keep your eyes glued to the site later this week for an official announcement about IF3, including the schedule and all the details for the biggest and best way to kick off next season. Just because the skiing has stopped in our part of the world doesn't mean we have, so be sure to stay tuned to NS through the rest of summer and fall for the best continuing coverage of skiing available anywhere online.