The guys over at Meathead Films are kicking off their Work It Out Tour right on Friday October 1st in Burlington on the University of Vermont's campus. With tons of giveaways, a live DJ, poster signings and a legit afterparty that we're sure you won't be seeing pictures from on this blog.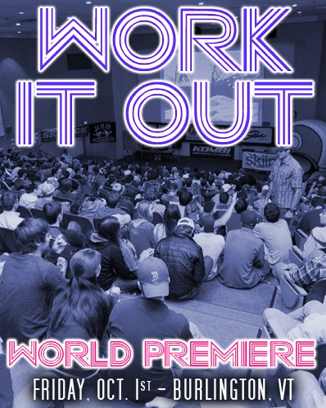 Oh and if you have a mullet…. free admission! Make sure to see this one as it's chalk full amazing skiers who just happen to use Line Skis such as Will Wesson, Andy Parry, Ian Compton, LJ Strenio, Stacey Rachdorf, Erik Olson and much more! Check out the details below:

Friday October 1, 6:30 pm
University of Vermont – Billings Ira Allen Lecture Hall (CC Theater)
University Pl, Burlington, VT
TWO SCREENINGS! 6:30pm & 9pm
As always Burlington will be the big hometown kick off to our "Work It Out" world tour! Come meet the Meatheads, get in on some athlete poster signings, and watch our latest ski flick in the action sports capital of the East to get stoked for this coming winter! Let's pack this out people!
Special Meathead Appearances by: The Hammer, Radio Ron, Dan Marion, Stacey Rachdorf, Ben Leoni, Jay Bowen, Asia Magriby and many more!!
? $5 at the door, and as always MULLETS GET IN FOR FREE (real or faux)
? $1000's in raffle prizes to be won including SKIS
? Loads of FREE schwag, including stickers, posters, Clif Bars, and lots of other goodies
? Live DJ spinning beats before the show
? Afterparty at Metronome starting at 11:30pm. 90's music, Meathead lounge, drink specials, contests on stage, and general rowdiness. Radical.
If you haven't had the chance, check out their latest Two Minute Workout teaser for Jersey