Girls do Ski presents: Woman's Freeski Workshop
Ladies want to unlock your performance potential and take your skiing to the next level?
Join us for the inaugural Woman's Freeski Workshop at Lake Louise Ski Area, February 28- March 1st. This two day sports psychology workshop will be hosted by professional sports psychology consultant John Colman and Girls Do Ski.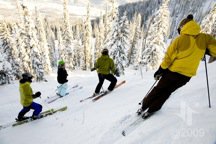 Females at 2009 Fernie girls day out
Photo Jessica Robinson
Rossland, B.C. (January, 25, 2008) – Within the world of Freeskiing where ones life can literally be on the line, fear is often present. Fear can be toxic to ones performance, however, it can also lead to great performances with a certain perspective. This workshop will help you turn fear into focus with on and off hill sport psychology techniques such as; visualization, relaxation, breathwork, and goal setting. Special emphasis will be placed on physical preparation through nutrition. Information on high-quality nutrition will be discussed, and breakfasts and lunches will be prepared to simulate exemplary competition nutrition. Also, John will share stories from elite Big Mountain freeskiers such as Mark Abma, Seth Morrison, Wendy Fisher, Hugo Harrison and others from his interactions with these esteemed freeskiers.
Female skiers of all levels, age 14-35 are encouraged to participate. This workshop is, however, optimal for current or future female big mountain competitors, who are looking to unlock their overall freeski potential.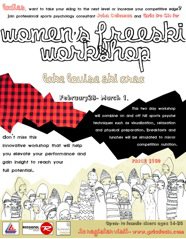 Poster Credit: Sarah Burwash
"Girls do Ski provides a great environment to improve your physical and mental game in the big mountains. With plenty of steep terrain around Lake Louise to apply your newfound knowledge and like-minded women to share it with, this workshop should be a rewarding experience." Colin Wiseman, The Ski Journal, editor
"John Coleman has a unique expertise that combines his love for skiing and in depth knowledge of sport psychology. Don't miss this session if you want to learn how to get psyched and perform at your best under any conditions"  Jean-François Rapatel, High Performance Director, Canadian Para-Alpine Ski Team
The two day workshop price includes: 2 lunches and 2 breakfasts prepared to simulate exemplary competition nutrition, personal sports psychology consulting by John Coleman, an article written by John focused on sport psychology and Big Mountain freeskiing, testimonials from professional big mountain skiers, prizes, and the opportunity to gain specific big mountain knowledge. The workshop cost $150 excluding lift tickets and Registration for the workshop can be done on line at http://www.girlsdoski.com.
Girls Do Ski is the presenter of Girls Day Out events, owned and operated by Leah Evans. Leah is a Rossland B.C. native and current competitor on the Canadian big mountain circuit. Having a direct relationship with the media and athletes, Leah was exposed to the minimal media coverage and established programs for female big mountain skiers. Leah's goal is to provide females with encouragement to help them realize there full potential on and off skis.