Interview by Reed Purvis
Photos by Nicolas Teichrob
While Spanglish is a commonly-known term referring to the mixture of Spanish and English in an attempt to speak Spanish, its lesser known cousin, Frenglish, is beginning to make waves in the southwestern mountainous region of British Columbia. Although many French Canadians living in this region constantly bitch about how much better things are in Quebec, there are a few who actually sort of try to speak English. A new film project from Dendrite Studios is already documenting this sudden rise of Frenglish. The current leader of this linguistic movement is Christian Boucher, aka "little c". A man of very few and very confusing words, little c's dialogue is set against the musings of other non-French speaking Canadians in order to make it stand out even more. In a brash move by Dendrite Studios' Athan Merrick and Nicolas Teichrob, they have been putting to use other non-conventional techniques to bring out the characters behind the skiing. Among these are some sort of high tech camera equipment that elevates their production quality way above porn, a focus on big mountain skiing, a camera mounted to a miniature blimp operated by midgets, and a Bollywood-style musical segment featuring the hit single, Hara Rama Kushboo, from ski mountaineer Amar Andalkar. Even though Dendrite Studios has only been on the scene for this season, revealing words such as gnar, mind blowing, and awesome are already being used to describe this project. An article in the Hollywood Star commented that the film was "a titilating masterpiece that leaves steam on the inside of car windows, and will strip the last shreds of innocence from your 16-year-old daughter." We here at Newschoolers wiped the steam off the windows, so to speak, so that our readers could see the soul of this project, opened up to the world like a young flower spreading its pedals in the morning sunlight.
What inspired you guys to make a ski film of your own?
Athan: It has always been a dream of mine. I was just waiting until I had the proper knowledge and people around me to tackle a project of this magnitude. I've been trying to be successful as an athlete and it is a hard road. I thought long and hard after last season about the decision to give up a bit of my athletic endeavors in skiing for the dream project. The dream won.
Nic: I have always tried to use my passions for the outdoors in a creative manner, and finally the chance came to do a film with a strong working relationship with Athan. I saw a need for something different in the ski film industry and I was in a position in my life to help use this time to create a new type of ski film. 
Athan Merrick
Favorite ski films? Mine is Better off Dead (it's actually a feature film starring John Cusack but it's focused around skiing rather than high school football).
Athan: There are too many to count. My first ski film, MSP's Pura Vida, was a gift from my Uncle, when I was probably around 12 years old. The VHS for Global Storming got completely worn out. From there I have pretty much seen every ski film out there, except Better off Dead, I guess I should get on that one. I go to all the premieres and buy too many DVD's or back in the day VHS's. It's hard on a ski bum budget to afford the ski film fix though. I have also always been a supporter of the new guys when they come on the scene. Rage, Team 13, Wink Inc, Level 1, etc. It's great to see a new perspective. I bought Heavy Hitting's and Pimpin Frogz Whistler classics on VHS when I lived in New Mexico in high school. Those film's convinced me to move up to Vancouver and Whistler to go to film school at UBC and ski as much as possible at Whistler.
 
Nic: Yeah, too many to list. As a kid I loved watching ski films whether it was featuring footage of pro skiers or of my cousins. I have always worked at creating moving imagery in a way that was enjoyable, and the ideas I have are inevitably shaped by everything I have seen in the past...or haven't seen.
Favorite ski film segment or scene or both?
Nic: Todd Ligare's unreleased self edit of unused TGR footage...it's all about super deep pow.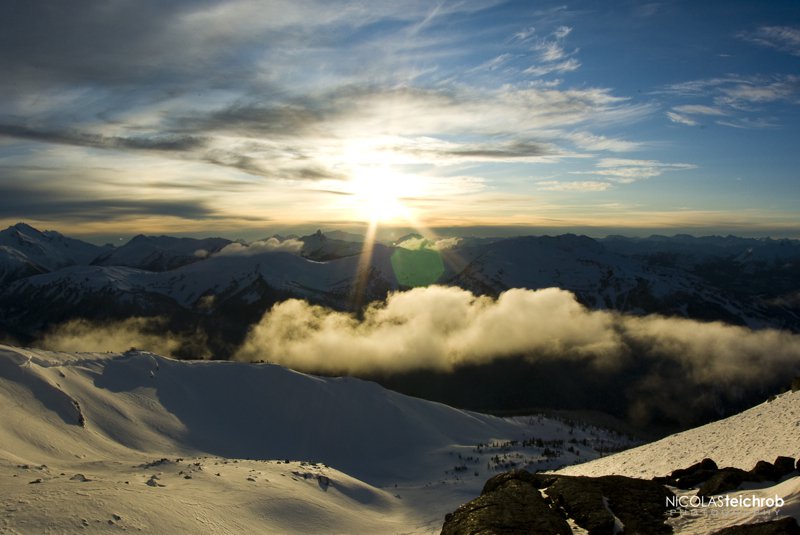 What other types of films have you guys made or worked on?
Athan: My real job is a lighting technician in the film industry. So I have worked on countless feature films and TV shows from small indepedents to mega budget studio releases. I have been a Director of Photography on many short films with nice festival runs and helped produce some as well. Being a DP is my ultimate career aspirations once the ski world has had enough of me.
Nic: A couple years back I entered the Telus Filmmaker Showdown and we managed to make it into the finals on our first try, with a film about 'Creeking'. I come from a photography background and as such I look at things in an artistic way. My brother and I have created films since we were 10 years old and recording on VHS's, so I am stoked to finally be in a position to create something that a larger audience can appreciate.
 
Who is involved in the project?
Nic: Athan Merrick and I are the two main producers of the project, although there are many people helping us out along the way.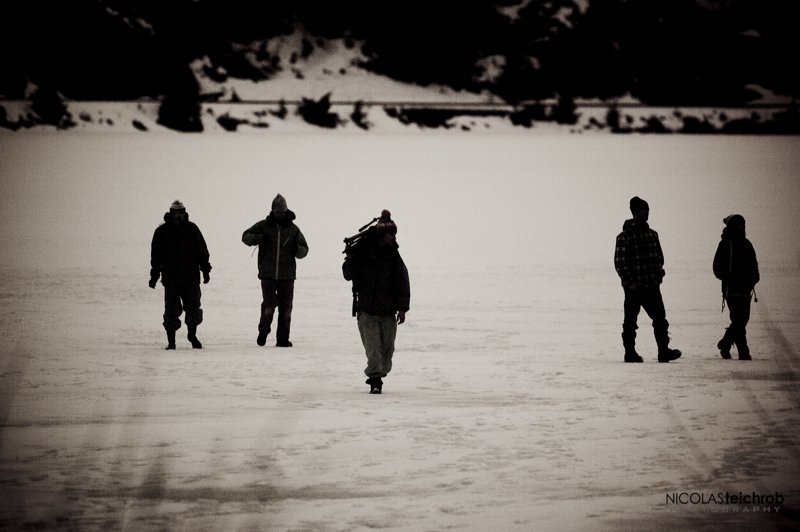 Did you see an untapped opportunity to do something different than the status quo of ski films?
Athan: I think we see a balance. We want to try to find untapped audiences and bring the ski film to a larger world, but most importantly you can't forget about the core and dedicated audience that expects a certain amount of pure stoke and ski porn. We want to blend those ideas into an evolved type of ski film.
 
Can you give some insights as to how your project is different than the standard ski flick?
Nic: You'll have to watch the film to find out...although we will say that the film won't just be about the most well-known shredders killing it via heli access zones that the average skier cannot relate to.
 
Have athletes, potential sponsors, people involved in the industry, etc. been receptive to your ideas or have they been more skeptical, wanting to stick with what is safe?
Athan: All of our athletes have never really had their "shot" at a ski film segment. So they are amped and willing to put the time in. The potential sponsors/industry folk have been much more skeptical. Some people believed in us and we can't thank them enough. Everyone we have talked to is super excited about the Perspectives clips we have put out so far. The tide is changing for sure. I was talking to an athlete the other day about money in the ski industry. He was on one of the major companies ski teams for around five years and got cut recently. The first year he was one of 143 athletes receiving gear and money. The next year those athletes receiving payment got cut to 70. It has been declining ever since and this year they are down to only six paid athletes. I think that speaks volumes to the current state of the ski industry. All we have is gear to help offset our costs, and our budget is out of our own pockets. Hopefully we can change that.
Nic: It has been interesting, but somewhat what we expected. The skiers have been so willing to input their ideas and time and I think some of the guys that will have killer segments have really been lacking the attention within the ski industry that they deserve. As Athan mentioned, the ski industry has been less receptive and everything is out of our own pocket.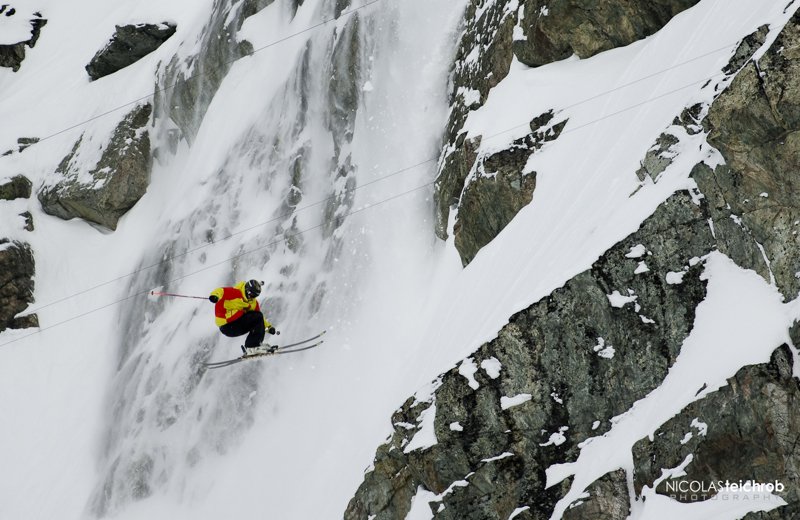 Chris Turpin
To what degree does music serve as an inspiration in dreaming up sequences or ideas?
Nic: I am a strong advocate of music, but I think music adds to a segment vs creates a segment. I always have music ideas in my head, but it is the footage and athletes' styles that create the vibe of a segment. We just try and put music with the footage that compliments it.
 
The people involved in Dendrite Studios come from different backgrounds don´t they? Does this give you a more diversified look at skiing or making a ski film?
Athan: We are from very different backgrounds. I think it is essential to have different minds involved to look at all the different possibilities. The right people and the right talent have come into place. Nicolas and I worked as a photographer and athlete very seriously all of last winter and a fair bit the winter before that. We were both so drawn to the visual aspect of playing in the mountains that the idea for a ski film incubated and was discussed for a long time. It was a natural evolution in my mind. Without Nic I wouldn't be making this film, plain and simple. There are so many other great minds who have contributed to this project so far and there will be many more to come.
Nic: Athan has been instrumental to helping this project see fruition. Like he said, we have worked together creatively for a couple of years and it was a common vision for something new and original that is allowing this to happen. As a photographer I naturally enter this project with a different perspective than Athan and that is very important. We also have a number of other people that are helping to make our ideas come to life and we are very thankful for that.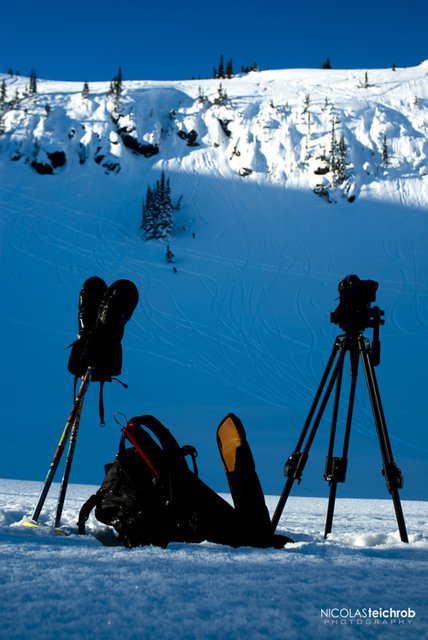 How has coming from a real background in filmmaking outside action sports helped you take a different approach to ski filmmaking?
Athan: I guess it has allowed me to see that there is major room for aesthetic, creative, and narrative growth in the ski film arena. We are trying to push the boundaries of all three.
 
Any interesting or funny obstacles that have come up?
Athan: Time. Can't I have more time, please. I feel like this in pretty much all aspects of life though. Brett Crabtree, the 2008 Freeskiing World Champion, has been crashing a lot this year as well as stomping a lot, partly because he always seems to choose rather large airs in not the greatest conditions. Sickbird winner Christian "Little C" Boucher has been looking on a lot of those times. Christian is kind of a dark individual who is pretty quiet. He has been laughing a lot at Brett's decisions and crashes. Hearing him laugh is so unexpected that it makes everyone else laugh. Then Christian mumbles on and on in a mixture of English and French while he is laughing. It is already hard enough to understand him, so it's pretty hilarious. Now even if Brett isn't there one day and we pull up to a new zone the guys will say, "I will ski the straight line. I will ski the double. Those turns look nice." Then they all point up at an unjumpable 500 foot cliff and say, "And there is a cliff for Brett." It always gets a chuckle out of everyone. Brett takes the ridicule like a champ though and always bounces back.
Nic: So many moments of unpredictability all the time. Like hiding in a zone for two hours until sundown to get a shot of a line, only to be skunked out by deteriorating avy conditions and skiing home with no footage at all.
You're trying to achieve a high production value aren't you? What types of equipment are you using to achieve this?
Athan: Shhhhh. It's a secret. Some of our production value is in our Perspectives clips. Watch them and figure it out for yourself. This question would require way too long of an answer.
 
Perspectives #1 - Winter Prep
Perspectives #2 - Night
 
Perspectives #3 - Behind the Scenes of Deep Winter
 
Perspectives #4 - Point of View
 
Perspectives #5 - A Sample
 
Perspectives #6 - Ten Years
 
Perspectives #7 - Traveling to the Ski Salt Lake Shootout
Is there an overall message or purpose that you want to portray other than showing exciting ski footage?
Athan: There is no "cause" behind the film. The Fine Line was in my mind the best ski film of the last few years and it had a great purpose behind it. There will be underlying tonal messages throughout the film though. We are excited to bring it to the people and the skiers everywhere.
Nic: As Athan put it, there is an underlying message we want to present, but basically we want to portray the age old sport of sliding downhill on skis to as broad of an audience as possible, while maintaining a high level of skiing action and awesome footage.  
For more information on Dendrite Studios, check out dendritestudios.com