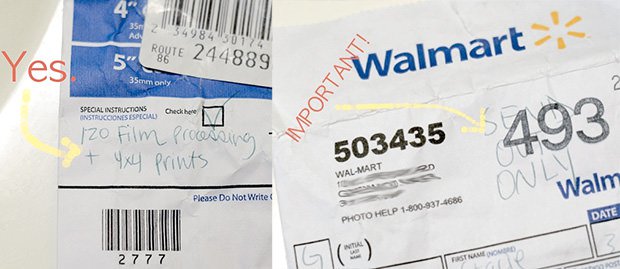 Want to try your hand at shooting medium format 120 film but not sure where you'd get it developed? Stacie Grissom of Stars for Streetlights recommends WalMart as an easy and affordable option:
I have an awesome tip for you. I actually got my Holga prints developed through Walmart for about $3 per roll. That's it. I could not believe it. Here's what you need to do:
For each roll of film, take a separate film envelope and write "SEND OUT ONLY" at the top. Then fill in your info. "Send Out Only" means that Walmart will send it to a photo lab to be developed instead of developing it in the store. I don't know how many (if any) Walmarts still develop 35mm film, but they definitely won't do 120 film. Just send it out to a lab that knows what to do. Next, in the special instructions section, make sure you write "120 Film Processing, 4×4 prints." And then drop them in the box! It's seriously that simple. I was really paranoid when I sent out my film, but Walmart actually did a nice job.
Grissom also offers a number of other tips for shooting with Holga cameras.
7 Tips for Holga Cameras [Stars for Streetlights]