FWT Rookie George Rodney confirmed his Freeride World Tour title win title today with 3rd place in the 20th Anniversary Verbier Extreme. I was fortunate enough to be watching from the top of Mont Fort and it was a crazy experience. Cards on the table… prior to today I'd never watched a full FWT stop and had no clue what to expect coming in to the event. I didn't even really know how the events were judged beyond 'most death defying wins'. Luckily I had Beanie Milne-Holme (Faction TM) explain to me how runs were scored and catch me up on what was going on.
I've covered/been to a fair few contests this year and I have to say despite my lack of freeride knowledge this was right up there with my favorites. First off, the skiing was insane. The athletes are so unbelievably good that it doesn't look real. But the crowd is almost as important and it was massive today. There had to be several thousand people perched on every available inch of available snow watching what was going down.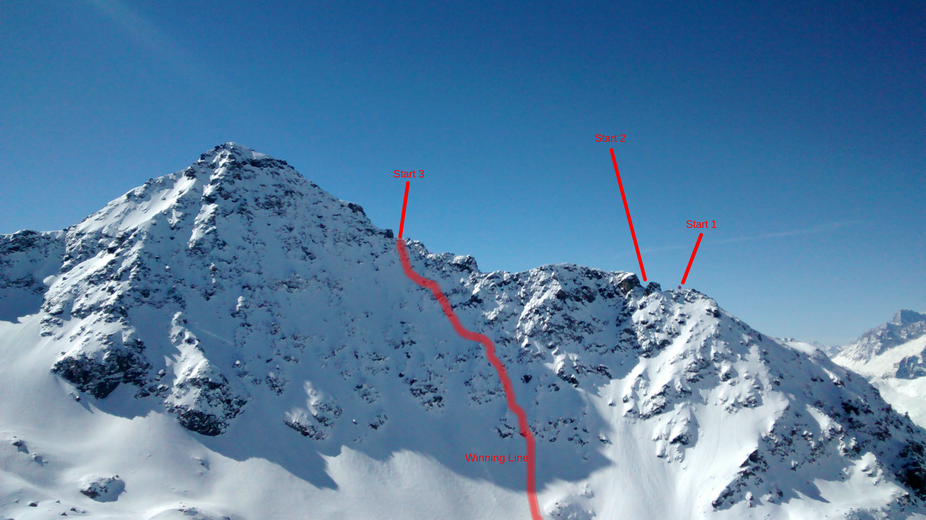 The women were first to drop and there were two standout runs. Italy's Silvia Moser took a crazy line that nobody else went near, far to the lookers right of the venue but was penalised for hesitation and ended up in second. But the event winner and overall FWT Bronze Medalist Hazel Birnbaum had the clear run of the day stomping a massive double stager at the bottom of the venue to win by more than 10 points.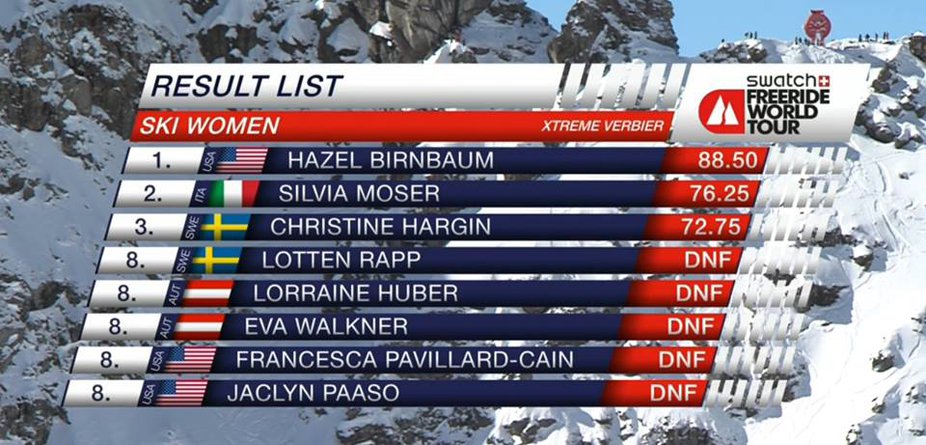 On the Men's side of things wild card Aurelien Ducroz took home the gold with the first run of the day, with a crazy run to the lookers right of drop in 3 highlighted by one of the biggest drops of the day, right at the top of his line over high exposure. Second and third were unlikely NS member Reine Barkered and the new tour champion George Rodney. Both rode similar lines to Aurelien but with slight hesitations before the key features for which they were docked points. Other notable performances were from Jeremie Heitz, who stomped a gnarly triple stager at something like 120 kmph (they announced it but I can't remember) and Matthias Hargin, a current World Cup alpine racer, who had arguably the smoothest run of the day and stomped the 'cliff of doom' which took out roughly a quarter of the field.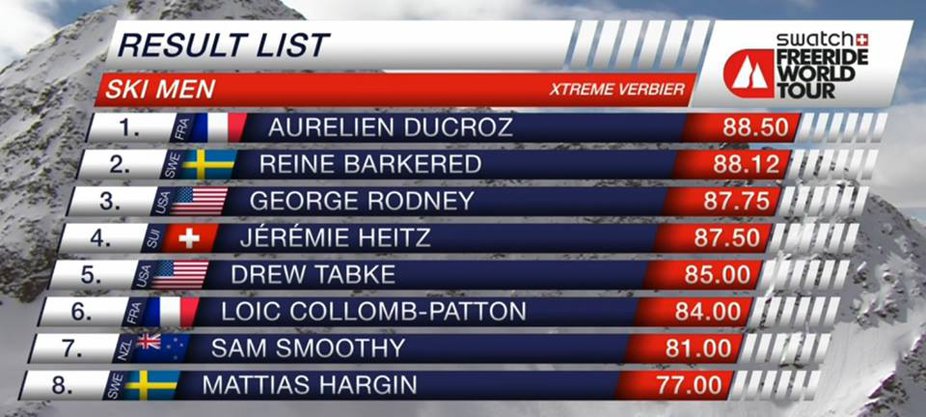 Being there was an amazing experience and I'd recommend checking out a stop to anyone who has the chance. In the mean time, you can watch the full event replay here:
http://www.redbull.tv/videos/event-stream-504/freeride-skiing-snowboarding-action-in-switzerland#autostart