Words by Kyle Meyr
Photos by Kyle Meyr & Daniel Tengs
In the beginning, Emil Fossheim created Heaven on Earth. A weeks worth of pushing snow amounted to what became perhaps the greatest battleground to host the ongoing skiers' conflict of man and physics I have ever witnessed. A flawless 25-meter kicker that steps down five meters into the sea was the culmination of a tedious amount of pushing and scraping. Still, one cannot help but smile every time you lay eyes on this sculpture. It is a moment which totally alleviates any frustration, aggression or despair, and a moment that has kept us all on the edge of our seats as the session approaches.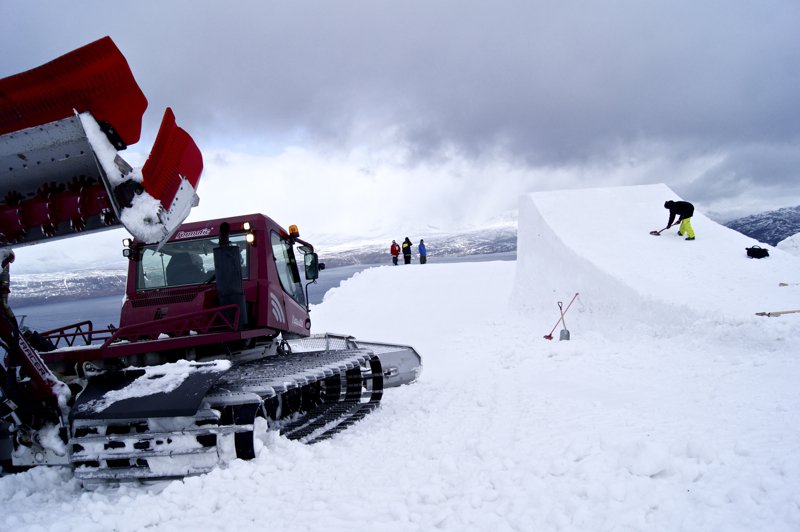 Narvik, lying two degrees North of the Arctic Circle, seems to have a bounteous supply of these moments. From the tankers hovering idle in the pristine blue waters of the surrounding fjord to the mountains looming thousands of feet above, this town is a film production crew's wet dream realized. Chaoz Productions jumped at the opportunity to shoot here and the results are bound to be staggering. Six of the greatest talents in the ski industry (Fridtjof Fredricsson, Gaute Silseth, Lasse Nyhaugen, Thomas Dølplads, Kim Boberg and PC Fosse) have been beckoned by this scenic rarity to provide what promises to be a chapter of epic proportions in this battle between skiers and God's will.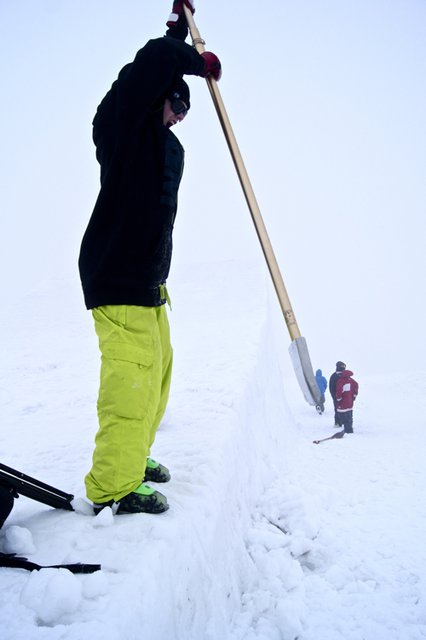 Kim Boberg therapeutically shaping the kicker.
The first part of this episode saw some laborious efforts by skiers, filmers, shapers and photographers alike to perfect Narvik's newest edition to its skyline. Toiling over shovels and in snowcats, everyone put forth their best effort to ensure this vision of the perfect spring session came to fruition. With constant heavy cloud cover, spurts of sunlight provided incentive for much needed breaks for everyone to drop their shovels and congregate to just enjoy everything Narvik has to offer.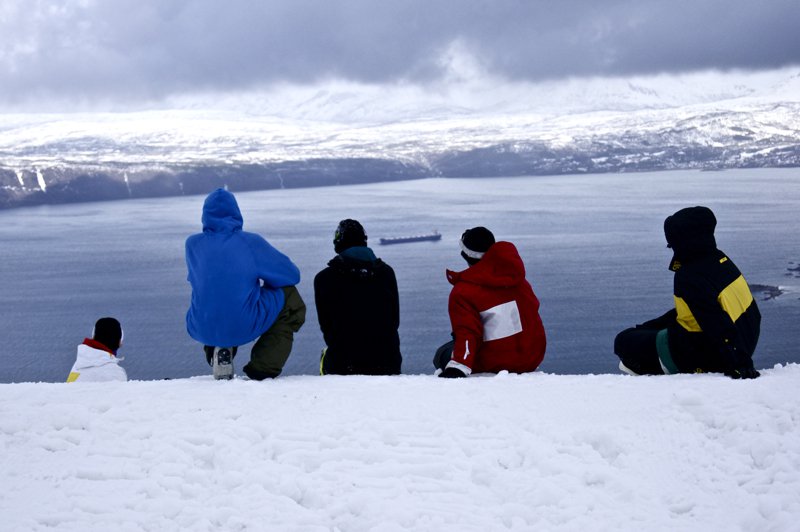 Chaoz Productions takes a moment to enjoy Narvik from the knuckle.
Stories were shared and smiles were a guarantee amongst this environmental ideal. Itching to finish this kicker, long days and achy muscles were put out of mind as some of the riders stole chances to commandeer some unlikely equipment with surprising competence. Kim Boberg had a chance to steal a snowboard and launch off of the side of the kicker and bust a method grab with enough style to make even the most old school snowboarders jealous.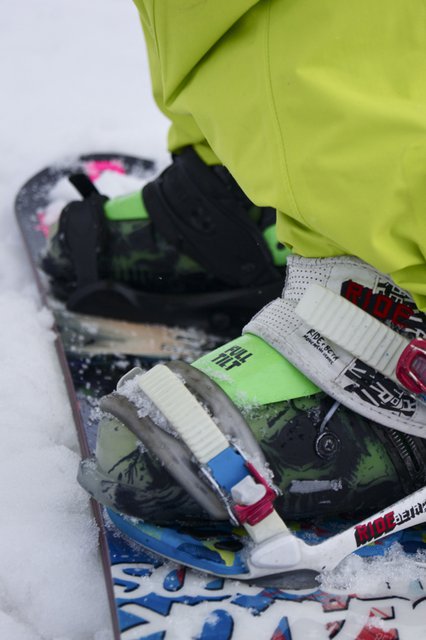 Kim Boberg commandeers a snowboard...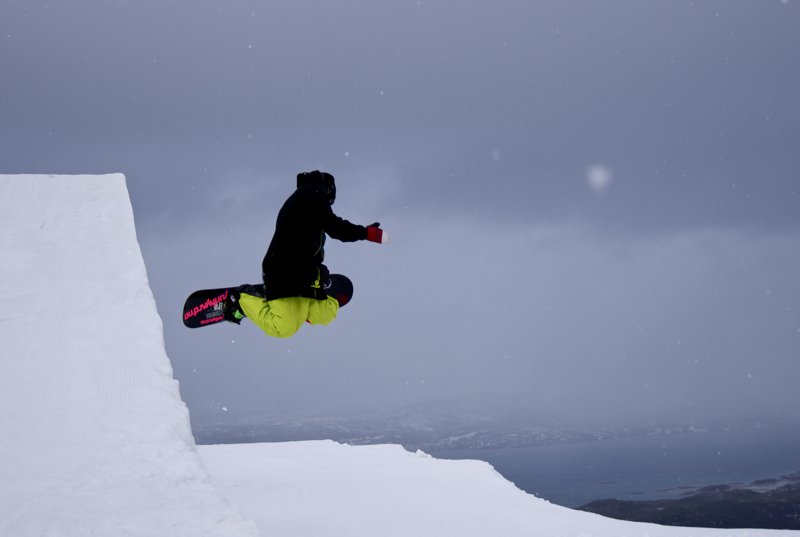 ...and slays the one plank.
Gaute Silseth took advantage of an opportunity to take the reins of the snowcat and create a zig-zag pattern next to the jump that was too incredible to be accidental. As if that wasn't impressive enough, he honed his concentration for a second go to correct his squirrelly first attempt and made it smoother than Joe Smooth's "Promised Land" could ever hope to be.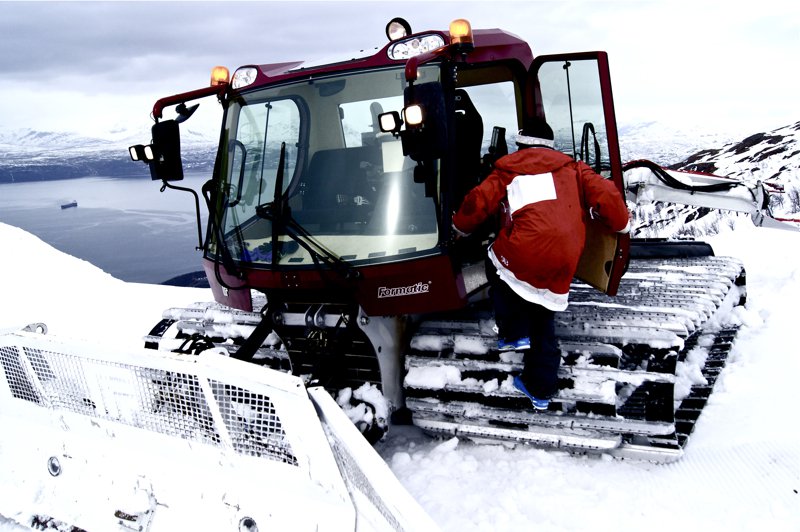 Gaute Silseth sneaks into the snowcat to prove his grooming skills...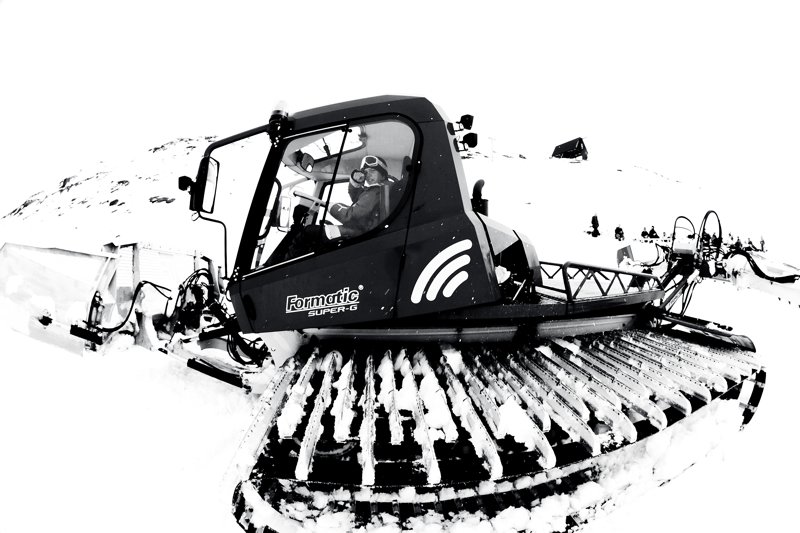 ...and leaves a path of perfection.
Soon enough the time had come. The jump was finished, the riders were speed checking and cameras were out waiting for that perfect moment when the wind would die down and the sun would come out to garnish this playground of perfection. With concerns of a short landing, flat light and unpredictable wind, the air was electric with nervous anticipation, which would soon be settled by one man who was more man than the rest.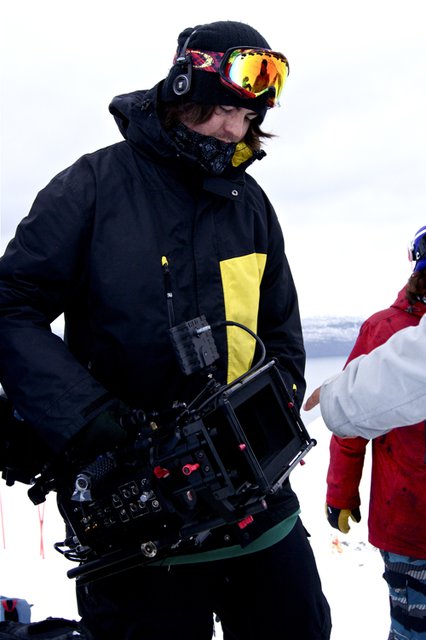 Eivind Aurstad brings out the big guns.
A burst of confidence from Lasse Nyhaugen saw the first hit on the man-made masterpiece inspire a free-for-all of first hits from all of the riders. Riding on this cloud of confidence, Lasse was also the first to spin off of the jump with a textbook cork 720 nose grab that dropped jaws for miles. With slow test spins finally showing a glimpse of the jump's potential, everyone with a camera in hand rushed to stake claim to one of the infinite angles provided by this arctic idyll. But as quickly as it started, the session was over. In hopes to save the jump from further rutting, the athletes packed up their gear and descended down to sea level… Well, all of them but one.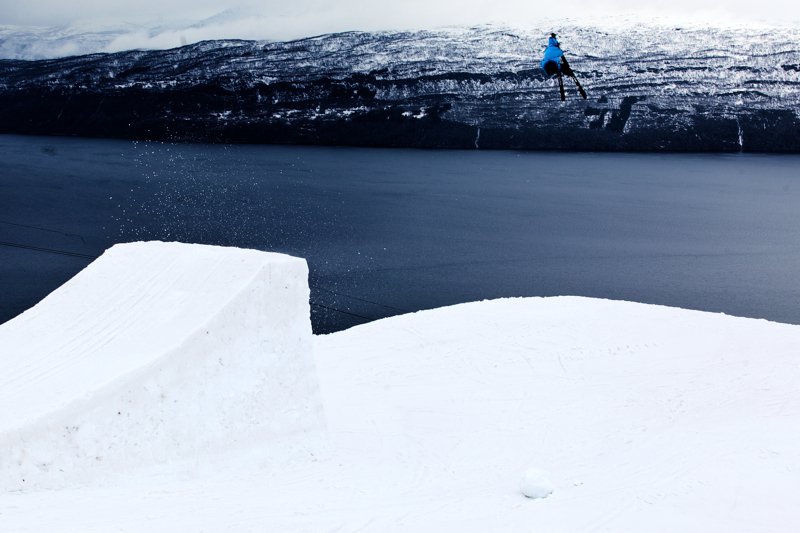 Lasse Nyhaugen spares no time and sets the tone of the session of the day.
Gaute Silseth stayed behind and absolutely stunned with his defiance to conform to the rest of the crew. Trick by trick, the jump was put into its place by Gaute's enthusiasm. A corked 900 nose grab, a huge corked 540 double nose grab, and a corked 720 tail grab were just some of the tricks Gaute pulled out of his sleeve for this inaugural session, but it was the first double cork that really set the tone. A double corked 1260 garnished with a perfectly held mute grab dropped jaws and panties throughout Narvik.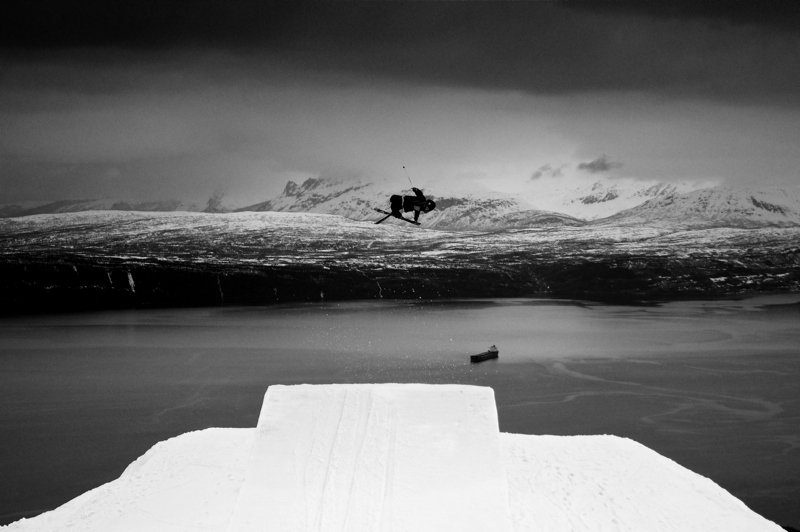 Gaute Silseth steals the show with a tail grab of epic proportions...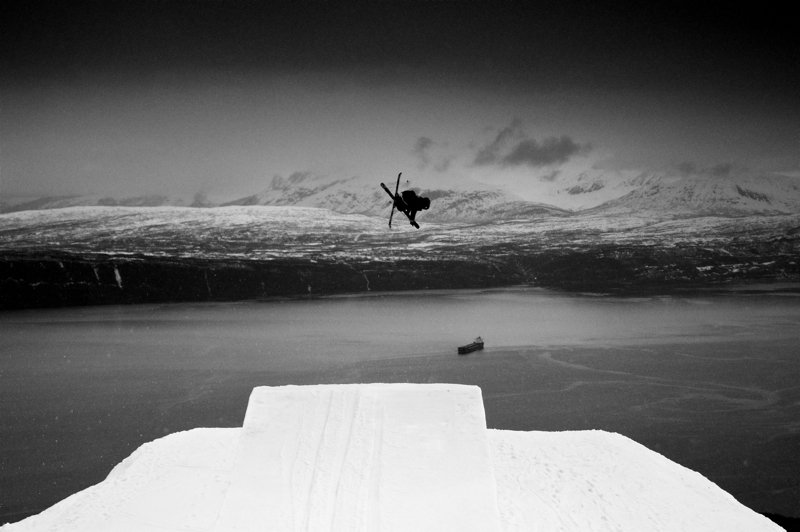 ...playing guitar, without a guitar.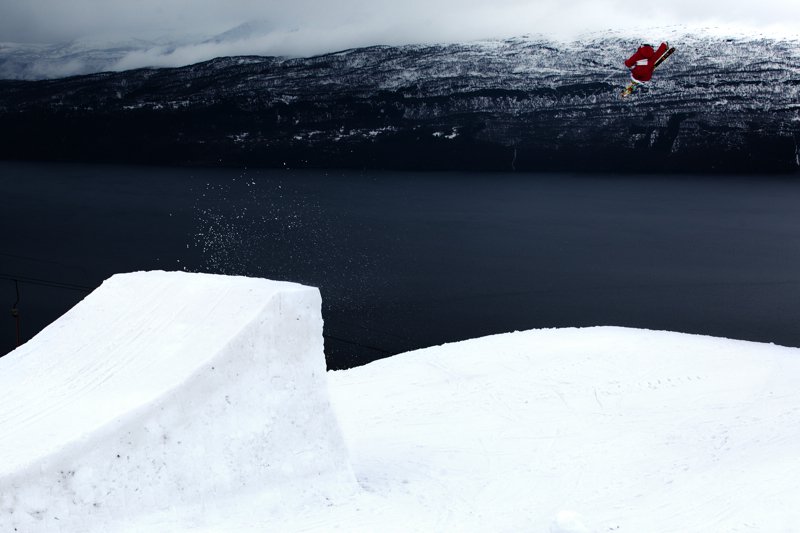 ...a cork 900 nose grab.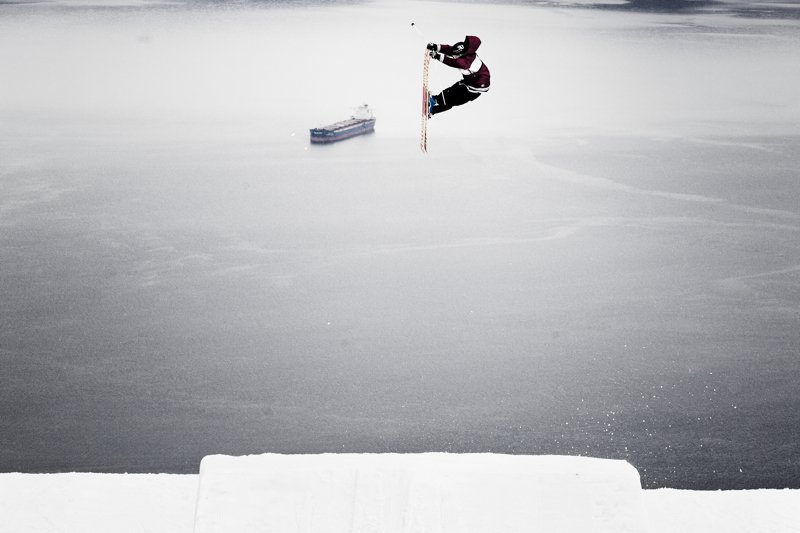 ...and showing a ship who's boss.
It was at that moment that I realized the true nature of what this session was going to accomplish, and after sitting down with some of the riders later, my confidence in this upcoming week only grew. With fears of a less than perfect in-run and landing being thrown out the window, the riders were all in agreement that the jump was a confidence builder in itself. Perfect transitions, copious amounts of hang time and a sweet spot on the landing no one could miss, this jump could best be described by the one reoccurring word on every rider's lips, "smooth".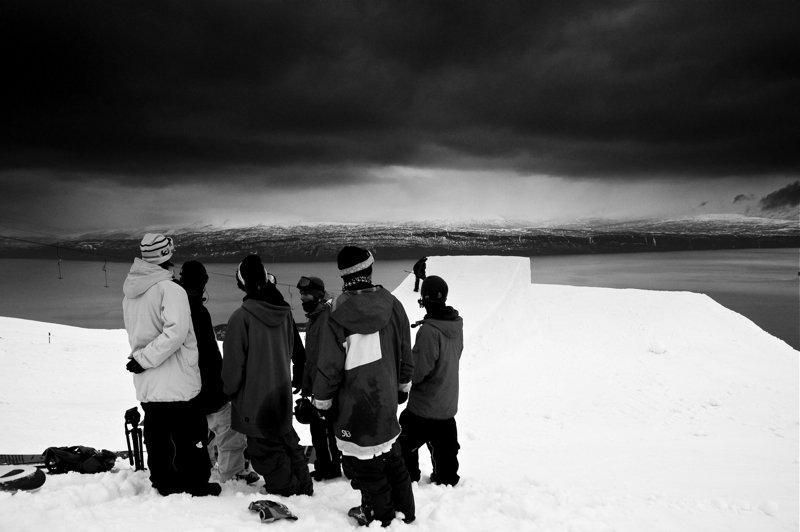 Now, a new day has dawned on Narvik and riders are itching to get back on the mountain to continue. With promises of new tricks, an abundance of cameras, a heli, and an immense sense of enthusiasm resonating throughout the riders, this week will be host to a park shoot you won't want to miss, so stay tuned to Newschoolers for more updates from this battle above the Arctic Circle!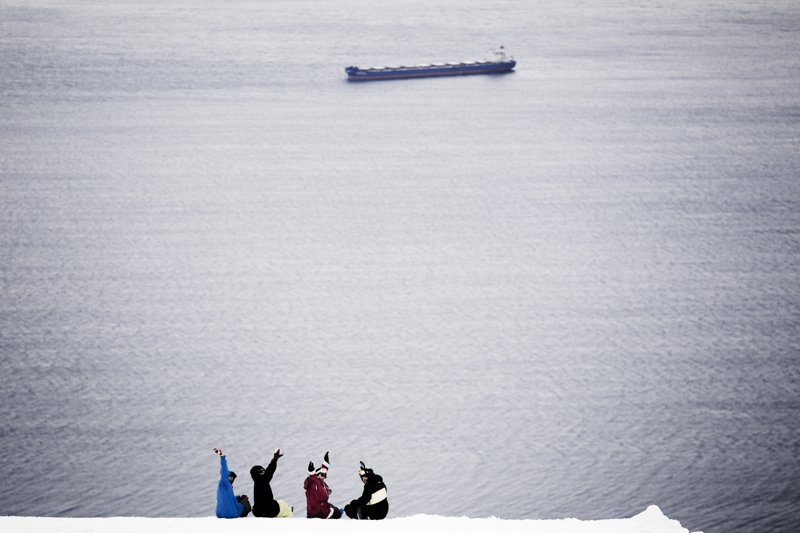 Chaoz Productions more than ready to make this one unforgettable week.
A big thanks to Process Films and SB Sportswear for making this shoot possible, and be sure to check out Chaoz Productions at http://www.chaozproductions.com.