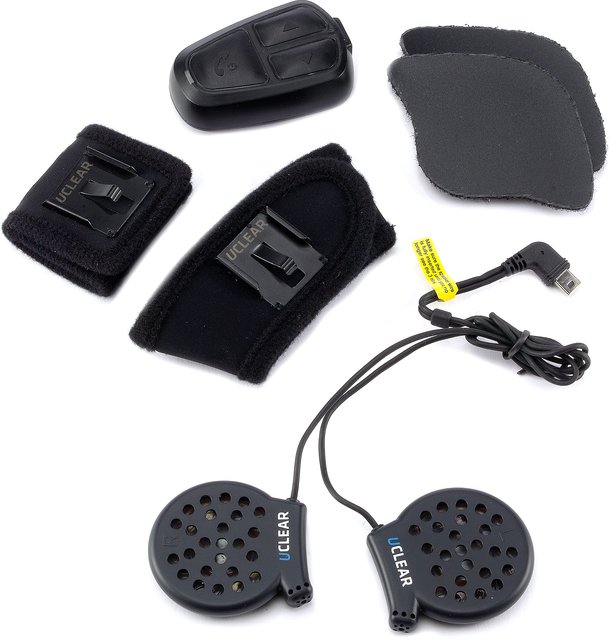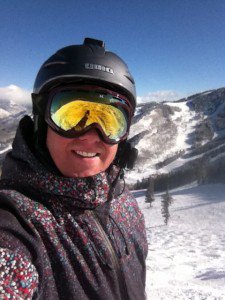 The UCLEAR HBC120 SNOW Helmet Communicator is a hands-free bluetooth system designed to seamlessly attach to your helmet and enable streaming music as well as phone calls with noise reduction. So does it work? Yep, pretty damn well. I paired it with my iPhone and tested it out in various conditions, and overall it performed quite well.
Going Wireless
Prior to using the UCLEAR, I had tried the Giro Tuneups Audio Drops Kit. I was impressed at how well the mute/volume control worked, but other than that at $30 you get what you pay for. The helmet clip broke pretty quickly and having something wired to your helmet, which I take on and off throughout the day, is pretty annoying. The UCLEAR is a massive upgrade there.
 
Tunes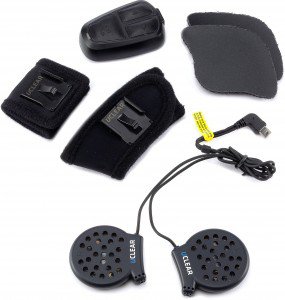 Music is the main reason I wanted to try these. I'm anti-blasting music into your headphones on the slopes when there's people around, I think that's pretty dangerous, but on the lift and on average runs I'll have the music just loud enough where I can have a conversation at normal speaking volume and still be able to hear my friends talk. A solo run on an empty trail? OK, I'm turning it up.
The UCLEAR works great in both scenarios. I do have to pop my glove off to adjust the volume, which I'm not crazy about. There are big buttons for volume adjustment, but my gloves are just too bulky to easily touch the right one. For $230 you'd think this might be something they could improve upon.
Calls
While the music was good, phone calls is where the UCLEAR really shines. The speakers that mount into the earpads of your helmet also contain the microphones. While it seems the microphones are way too far away from your mouth and also covered by the foam of your helmet ear pads to be able to pick up anything you're saying, the quality is shocking. I've had conversations with people who had no idea I was skiing and didn't have to raise my voice at all.
The convenience is where it gets cool. While listening to music, the phone just starts to ring. All I have to do to answer it is say, "answer." I'm then chatting away without taking my gloves off and without cramming my iPhone up into my helmet (I keep it in one of my jacket front pockets). I could hear the callers clearly and they could hear me. Very impressive.
Charging
The control unit is rechargeable and holds a charge pretty well. I'm able to get in a whole weekend of skiing on one charge. They key is remembering to have the charger with you if you need to rejuice. It's a standard USB connection.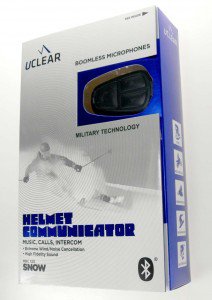 Aesthetics
The unit looks a little bulky, but you definitely don't notice it as you're wearing it. It's got a couple d
ifferent velcro straps that attach to the straps of your ear pads which makes putting it on very easy. I'd prefer a lower profile, but if that's what it takes to go wireless, I'll take it.
Overall
At $229.95 it's a bit of an investment to go wireless.However, I didn't see any bluetooth options on the market that were significantly cheaper. One upside to this over getting a bluetooth enabled helmet is that you could use this for other sports like biking or motorcross.
Pros:
Great call quality and functionality
Good music streaming
Good, uninterrupted bluetooth connection
Easy to attach
Easy to charge
Cons:
Volume buttons aren't glove friendly
Some button controls are complex (ex. pressing power and volume to switch tracks)
Large profile
General Specifications
Talk time
Up to 10 hours
Standby time
Up to 2 weeks
Battery type
Rechargeable Li-Po
Charging time
2 hours
Bluetooth design
Version 2.1, class2 (EDR)
Design type
Rain and snow resistant
Operating temperature
-20 °C (-4°F) to 60°C (140 °F)
 
- Dave Hall