You've seen the commercials. Omni-Heat is 20% warmer. Little silver dots. A hot girl in a bikini skis through a snow wall in Sweeden (there are others, but that's my fave). So is it legit? Check out the vids below, and the write up even further below.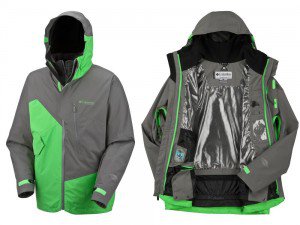 In order to get honest feedback and perfect their designs, Columbia has initiated extensive field tests on its new Omni-Heat line of clothing. As part of this program, they reached out to SlopeSource to test out the Powder Bowl Parka. I've tested it out skiing at Vail, Beaver Creek, Breckenridge and Keystone in conditions ranging from 10 degrees and windy, to knee-deep powder, to beautiful bluebird days. Here's the scoop.
The write up:
In sum, if you're looking for an affordable ski/snowboard jacket that will meet any range of conditions, this is a solid parka. It's a 3-in-1 system which means it has an insulated liner that you can wear on it's own, a shell you can wear on it's own, or combine the two for a completely bombproof jacket.
Is it 20% warmer? I don't know. I'm not sure how you measure this. I can say, it is definitely warm. I wouldn't hesitate to wear this in sub zero weather with just a base layer underneath. What impressed me is the breathability. The first time I put the parka on indoors I thought I would be far too hot to ski in it, however when I got out on the mountain I found that I stayed toasty without really overheating. So am I sold on Omni-Heat? Yes, I do think it works quite well. Is it 20% warmer? I'll trust Columbia on that one.
While Omni-Heat has been getting all the publicity, there's a bunch of other "Omni's" going on here as well:
Omni-Heat: As mentioned, the silver dots making the jackets 20% warmer. Both the shell and the liner have this feature.
Omni-Tech: This is a waterproof and breathable fabric featured on the shell. As I mentioned earlier, I was quite pleased with the breathability, and none of the elements got through.
Omni-Shield: An advanced repellency system on the liner. This means the liner alone will work nicely in a light snowfall, but probably not in a rainy downpour.
My favorite features:
Liner – I love the liner. I wear it all the time. It's light, warm, simple and super comfy. It packs down pretty small and can be worn on it's own quite a bit.
Pit Zips – These are well designed. They're easy to access, and the zipper doesn't get caught in the mesh liner like on so many other jackets.
Pockets – Tons of well-designed pockets with waterproof zippers. There are a bunch of options for your MP3 player, which I love, including a pocket you can access without unzipping the front of the shell. And it has hand warmer pockets and two gear pockets on the front.
Fleece – The fleece that lines the pockets and neck of both jackets is super soft. Love it.
Versatility – The shell is not insulated so it will be great for spring skiing, or for mid-temperatures when paired with a fleece layer. The liner can be worn on it's own while doing other outdoor activities or around town. And when the two are combined, you've got a very warm system for cold temperatures.
Features I'm not crazy about:
Size/Shape – The cut seems ideal for someone taller and skinnier than me. I'm short and stocky, so in order for the chest to be big enough, I wear a large, which makes the sleeves a little too long on the shell. Not as much of an issue on the liner.
Bulk – I usually wear insulated shells over a base layer to ski, so the combined liner and shell is a bit more bulky than what I usually wear. If it's below 10 degrees outside though, I'll welcome the bulk.
Style – I do really like the style of the liner, but the shell is just OK. My friends like the bright green on the shell because it makes me easy to find, but I haven't received any compliments from cute lifties on it yet.
Image samples of the conditions the Powder Bowl Parka was tested in: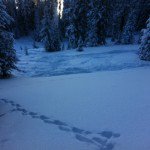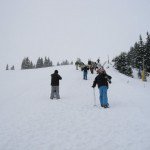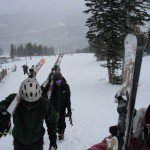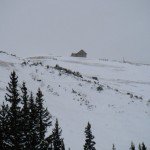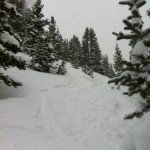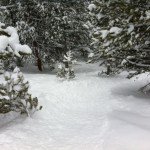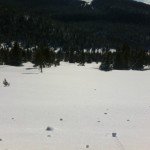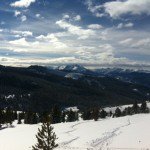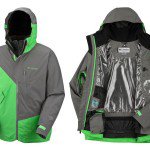 .