I don't really know where I was planning on going last weekend, but as soon as Mousseau annonced that the NS crew was going to be at Loon all weekend, I cancelled my instructors shift Saturday, and headed north bright and early. Even though I had already visited Loon earlier this season, I couldn't have been more excited to go. It may mean I have to cut something from the list overall due to time constraints, but it was definitely worth it. It was hands down the best day I have spent skiing so far.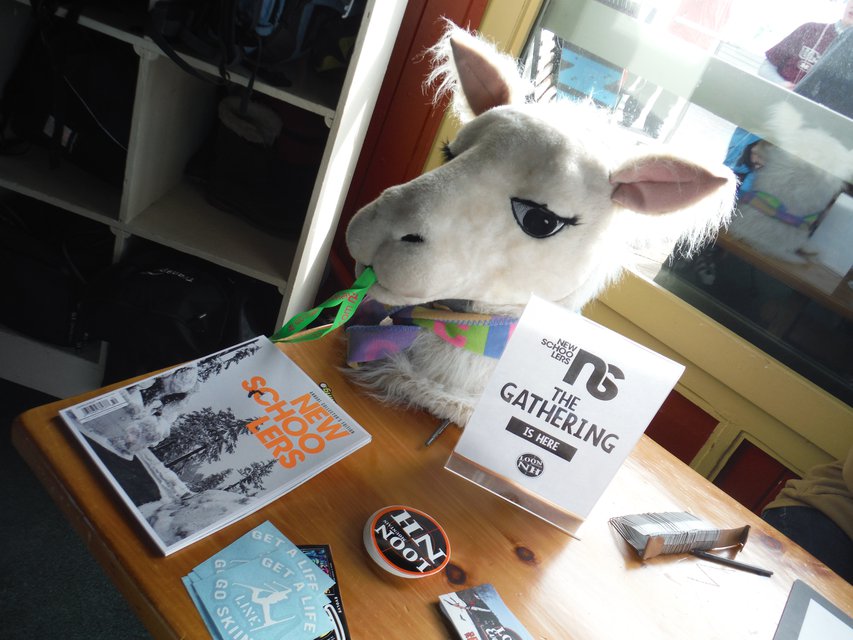 I arrived at the mountain nice and early, and wandered my way to the Paul Bunyan room. I managed to beat the NS crew there, and only NS user Nacho_Macho_Man managed to beat me there. A lone Loon Mountain employee was sitting at the table, handing out discounted tickets for NS members, and respectfully rejecting snowboarders trying to get in on the savings. Tickets were 60 dollars (and apparently would have been less, but the NS staff didn't realize that it was a holiday weekend, MLK day is an American thing). Having beat pretty much everyone but the hordes of vacationers to the mountain, I jumped in the gondola and headed to the summit to get a few runs in, and to scope out the parks early.
After taking a single, non park run down the mountain, I was good and set off to spend the rest of the day in nothing but the parks, and it was only 9 AM. The parks that were open were the top half of the 'LMP' (as the bottom was being reshaped for the Knockout comp taking place on Sunday), 'Springboard', and a smaller progression park on 'Little Sister'. Here is the video run through of 'LMP' and 'Springboard' if you are interested in whats set up.
https://www.youtube.com/watch?v=FeaKovEu9FM
After getting my videos shot, I headed back down to the lodge. I could see the llama on the deck from a mile away. I threw my skis in a rack and headed up to meet the crew. I was greeted by the llama and a photographer who took a few pictures, and I went in to introduce myself. I apologize in advance for not remembering everyone user names, or actual names, because I have always been terrible with names. I introduced myself to Mousseau (who was a huge help in getting the GTNS off the ground) and the rest of the NS crew, and hung out in the lodge for awhile. Free shwag was abound, with copies of the NS mag on every table, and tons of free goodies. I got one of the nice new black on black NS hats and yet another FD balaclava, along with lots of stickers. After awhile, they asked me if they could interview me about the Grand Tour on camera. I was taken aback and nervous as hell, but I'm not going to say no to something like that. They asked a few questions, I felt like I mostly stumbled through them, being completely caught off guard, but I managed to get through it. I've never been interviewed like that before, it was exciting.
Mousseau and I outside the main lodge at Loon.
It was only around 9:30, and the crew wasn't heading up the mountain till 10:30 or so, and there were still only a few members who had checked in, so I took a couple runs through the park. The main park, like usual was slightly above my skill level, but there were a few real low round tubes that I worked on. Springboard however was excellent. Springboard is pretty much right where I am at skill level wise. When I returned to the lodge, quite a few members had arrived. I introduced myself to several of them, and much to my surprise got a "You're NH_Operator? You can't just casually drop that, you're famous!"-jkfreestylin. I had no idea I was famous, I know people like the tour, but getting these kind of reactions is above and beyond my wildest expectations for this little project. I can't thank everyone and the community on NS enough for supporting me.
Knfoley2, myself and jkfreestylin.
Once the NS crew got all their equipment in order, we headed up the mountain. With it so busy, and us having a group of probably 15 riders at this point, the gondola was out of the question. So we jumped on the Seven Brothers chair, and transferred up to the summit via the North-Peak Express Quad. At some point on the way out the lodge, someone gave me the Llama head to hold. Now you can't just hand someone this thing and not put it on. I ditched the helmet and goggles, and went up the mountain reppin NS as the llama, getting all kinds of crazy looks from everyone. A group of 15+ riders all in tall-tees and jackets riding with a llama and tons of camera equipment draws attention. Here's what I looked like.
When we got to the top, I was still wearing it, so what better way to get to the park than to just ski with it on? We headed down to the LMP in a big herd, and I quickly discovered how hard it is to ski with it on. It's like having a sail on your head that catches the wind while you can only see what is directly in front of you. The looks from random passers buy though were totally worth it, it was absolutely hilarious. With lift lines being somewhere in the 30+ minute range, the best plan was to hike the park, so we set up, feature by feature hiking the parks. The NS crew pulled out a ton of super nice cameras and filmed/photographed everyone all day. Calling out specific tricks, best one got some free swag. Not having much experience on the stuff in LMP, I kept the llama on for what I am sure turned out to be some sick shots of people hitting the rails and jumps. Being a mascot is pretty fun!
Credit - Newschoolers.com
After we had our fill of several features in the LMP, we trained our way out of the park, getting what I'm sure will be some sick jump footage too of everyone there doing a jump line, hopped back on the lift and made our way to Springboard. Now that we were in a park I could handle, I relinquished the llama to someone, and got in on the action. We spent a good long while on a long flat box in the park. After we moved down to a jump, having a spin to win contest for more gear. I believe the winner of that one was knfoley2 with a 900 off a pretty small jump.
The Llama watches you sleep...and throw 9s.
From Springboard we rolled into the progression park on Little Sister. We trained our way through that, with someone tapping the llama off a hip for maximum steeze. It was already past noon, so we headed into the lodge for lunch. I definitely could get use to rolling around the mountain with such a large group, its so much nicer than doing everything solo.
Tap dat llama! - Photo credit Newschoolers.com
During lunch, there was a completely disgusting challenge to chug some god awful concoction that Mousseau whipped up to win a hoodie. If I recall correctly, it consisted of milk, orange juice, Tabasco sauce, mayo, relish, chips, pretzels and hair from the llama. I wanted no part of that, as I did not want to feel terrible for the rest of the day.
The NS crew preparing the concoction of doom.
We finished up lunch and headed back up the mountain. It seemed like the lift lines were just getting worse, but as is life at a destination resort on a holiday weekend.I rode the lift up with Mousseau and got to chat with him and another member, which was pretty sick. I asked him some stuff about the journalism program, among other topics. We made our way back to Springboard, as it seemed that most of the NS members in attendance were much more comfortable there than in the LMP. Another long session on the long box started off with a Big Air Dave style contest, for who could straight air out of the box the farthest, and ended with a long game of SKI. In between sets of people I would hit the box, working on some stuff.
NS box session.
Unfortunately, just because I had day shift off from my instructor duties, didn't mean I had the night shift off. at about 3 I had to head out, leaving the session early. I said goodbye to everyone, leaving mid game-of-SKI, so I have no idea who won unfortunately. I took a few closing pictures, and headed down, taking my last hits in the park.
Again, Mousseau and I right before I headed out.
I was frankly amazed at how hard the NS crew worked while they were there. I had assumed we would just be hanging out with them in the park all day, maybe one camera to capture the event, but they spent the whole day filming, shooting and giving stuff away. A few of them got to hit some features, but for the most part they were doing a great job giving the meet-up structure, and capturing everything on film. I had no idea it took so much effort to run what I thought was going to be a 'little' event. I thank everyone who made it happen (including Loon for hooking us up with cheap tickets!), and hope we get to do it again real soon.
As far as my opinion on the parks, as always Loon does a great job with them. I absolutely loved Springboard, and was so happy to have a park loaded with features I could do some real work on. I would love to be there when they have all of their parks open, but I am definitely not going to have time for that this season.
This Wednesday (1/22/14) I am going to be hitting up Okemo I think. I need to start knocking out some of these Vermont mountains or I am going to have nothing but 2.5 hour drives left to do by the end of the season. I need to start hitting the bigger mountains regardless of how many trails they have open, or I simply wont have time to visit everything. Unless mother nature decides to grace us with a ton of of snow very soon, I am just going to have to deal with big mountains only being 50% open. If anyone is going to be at Okemo this Wednesday, PM me or let me know in the comments!
Anyone who has photos of me from the meetup, please let me know! I would love to get copies of them! Thanks!
Keep on shredding!