World-class athletes took to the skies under optimal flying conditions on Sunday during Freestyle.ch Finals in Zurich, Switzerland, delivering freeskiing big air at its absolute finest. The whirlwind weekend in Zurich attracted a total of 32,000 thrilled fans, with its Sunday program marked by sovereign victors and packed crowds, not to mention a Crossover Session like never before, where the fans audibly crowned Elias Ambuhl as crossover.champion. In short, Freestyle.ch 2012 was quite simply history in the making.
In addition to a host of BMX, FMX, skateboard and snowboard events, freeski qualifications took place on Saturday, which saw the impressive field of 16 cut down to eight, as Andreas Håtveit, Phil Casabon, Markus Eder, Russ Henshaw, Gus Kenworthy, Tom Wallisch, Kai Mahler and Henrik Harlaut all earned themselves spots in Sunday's Semi-Finals.
During Semi-Finals, Henshaw, Håtveit, Eder and Kenworthy just missed the cut, setting the stage for an exciting four-man final as Casabon, Wallisch, Harlaut and Mahler squared off for the chance to become Freestyle.ch Champion.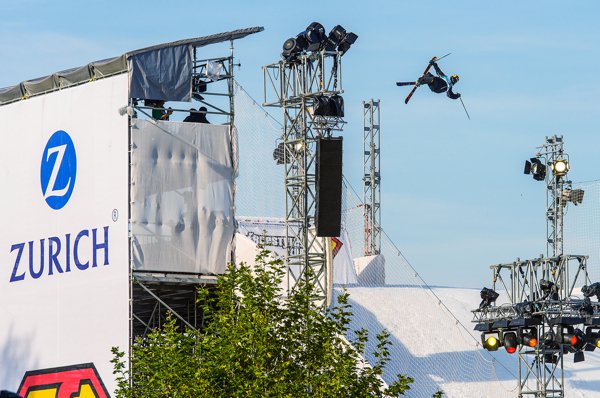 Kai Mahler. Photo by Marc Zander
In the end, Casabon edged out Wallisch for the third and final spot on the podium with a switch cork 10 truck driver, Mahler took second via a switch double misty 12 with an uber-tweaked mute grab, and Henrik Harlaut took home another Freestyle.ch victory with his patented nose butter double cork 12.
Results
1) Henrik Harlaut
2) Kai Mahler
3) Phil Casabon
4) Tom Wallisch
5) Gus Kenworthy
6) Markus Eder
7) Andreas Håtveit
8) Russ Henshaw
9) Jossi Wells
10) Jonas Hunziker
11) Elias Ambuhl
12) Jon Olsson
13) Sammy Carlson
14) Vincent Gagnier
15) Aleksander Aurdal
16) Jacob Wester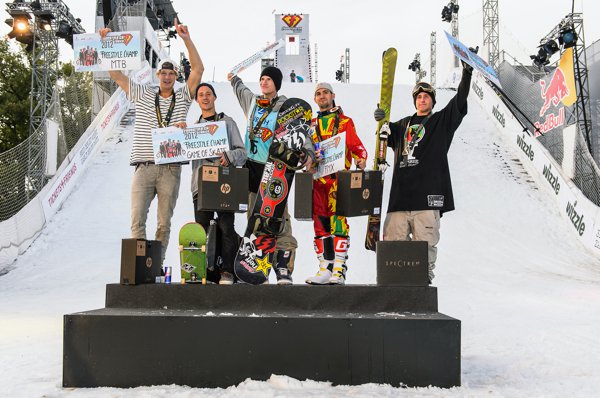 Freestyle.ch Champions: Martin Söderström (BMX), Sven Kilchemann (Skateboard), Chas Guldemond (Snowboard), Dany Torres (FMX) and Henrik Harlaut (Freeski). Photo by Marc Zander
For more information on Freestyle.ch, check out freestyle.ch, and to see how this event affects the AFP World Tour Rankings, go to afpworldtour.com.