Words & photos by Josh Anderson
The Freeskiing World Tour finally made its way back to Kirkwood Mountain Resort last weekend, after a month long delay waiting for Ullr to get his schtick together. He came through, laying down enough white carpet for the event to go off, and for local boy Jash Daiek to bring home both the event win and the overall tour McConkey Cup win. The Thursday Qualifier day saw some tour regulars like John Lange and Davis Souza gunning to stay in the event and an assortment of other travelers and local rippers vying for a chance to ski Kirkwood's otherwise closed Cirque on Day One. The tail end of a storm breezed through Kirkwood with flurries of snow and broken sun as Squaw Valley's Robin McElroy took the win for the ladies, and Blackcomb's Laurent Gauthier took it for the gents. Last to make the cut was Tahoe boy Davis Souza, who would land himself in third on day one of the competition. Then the second to last skier of the day decided to get weird and take off everything but a cock-sock for a competition BN. The kook did not get DQed, but failed to qualify. As the day drew to a close and the first official athlete meeting drew near, monster sled rigs, camper pickups and Subarus brought favorites like Daiek, Oakley White-Allen, Silas Chickering-Ayers and the rest trickling in, while the French contingent including Guerlain Chicherit and Julien Lopez apparently opted for the more standard private jet entrance to South Lake Tahoe.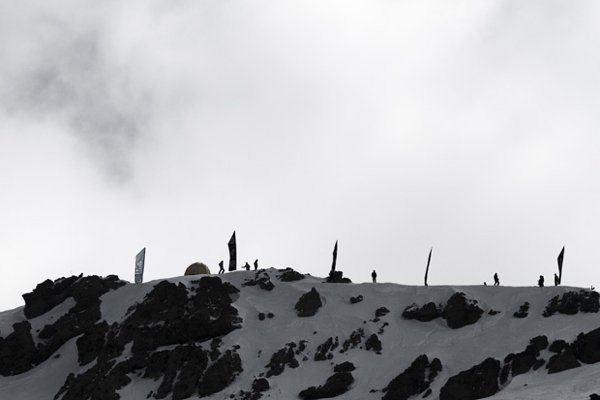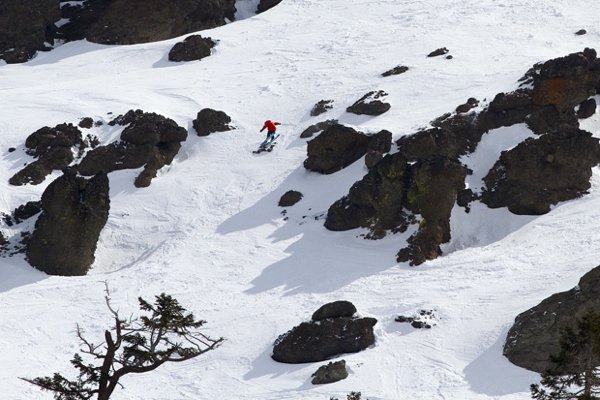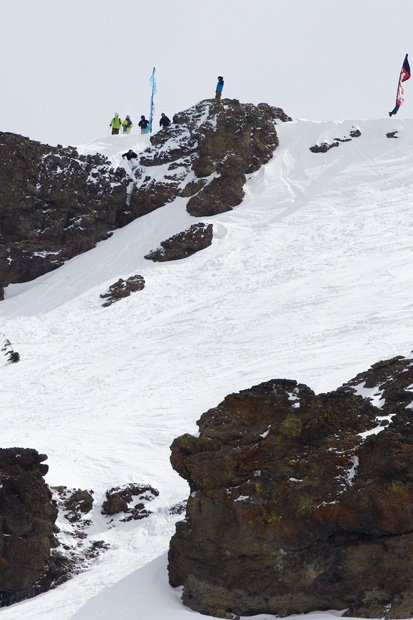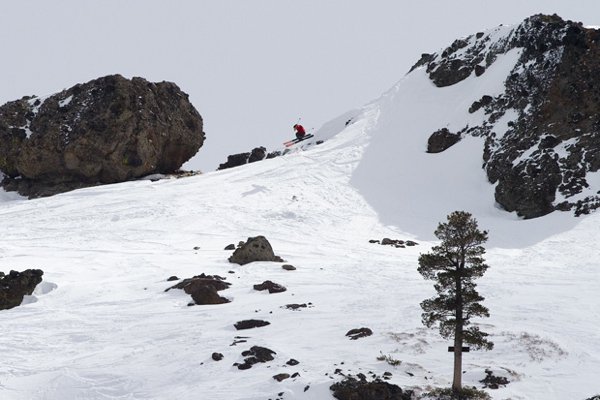 Ben Paciotti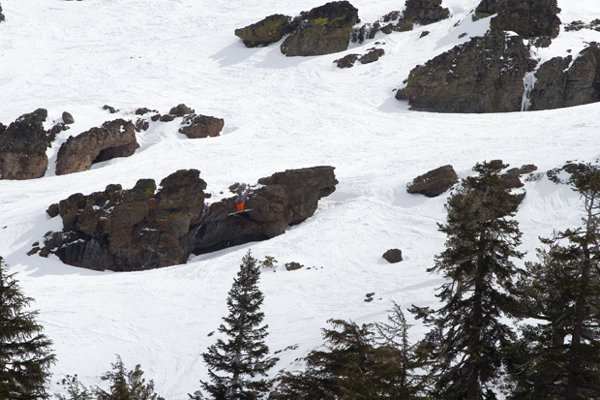 Davis Souza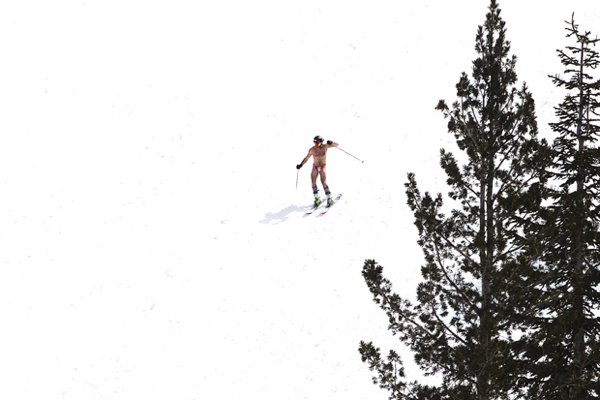 Some kook
The day one sun rose to a fresh few inches of snow and bright blue California skies. An auspicious cast of judges were on hand to judge the event, in absence of tour head-judge and figurehead Jim Norm Jack (RIP Jim Jack). The panel included Jamie Burge, Skogen Sprang, Eric Schmitz and Hugo Harrison. I met up with a crew of good friends from the North end of the lake and got right to posting up in a magnificently appointed snow-couch for the majority of the day, eating tasty Black Diamond burgers, sipping brews and snapping photos of the ensuing on-slope shenanigans on the looker's right side of The Cirque.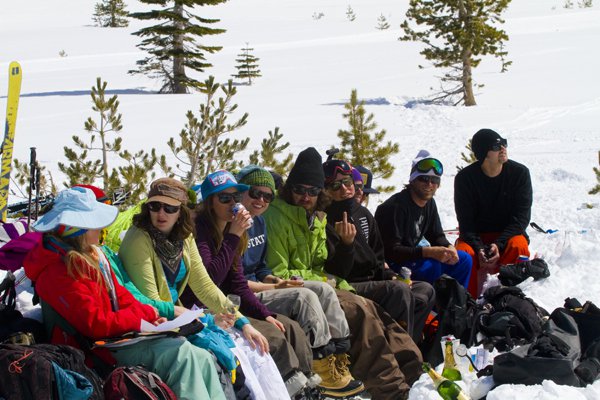 Highlights from the first day's action were Ashley Maxfield stepping up to the men's tee by skiing the same top line as Guerlain Chicherit eventually would. Mat Jackson, Sean Collin, and Silas Chickering-Ayers took advantage of the large airs available in the middle of the venue. Johnny Collinson sent pretty much the biggest landable cliff on the venue, then followed it up with a massive blunt grabbed cork 3, barely overrotating and washing out his chances to move on. JJ Schiller and Willie Schneider got tricky with backflips and corked 3's, while Matheiu Imbert put down what was definitley my personal favorite. After picking his way through the rocky top section, he navigated through a quick chute, into a windlip where he threw a 3 up onto a pad which he touched just long enough to set up for the 20 to 10 foot double awaiting him. Stomped. He then found a few more booters for a few more tricks. It was good enough for fourth place, right in front of a tied Mat Jackson and Derek Pearson, and behind Davis Souza, Sean Collin and Silas Chickering-Ayers, the day's leader.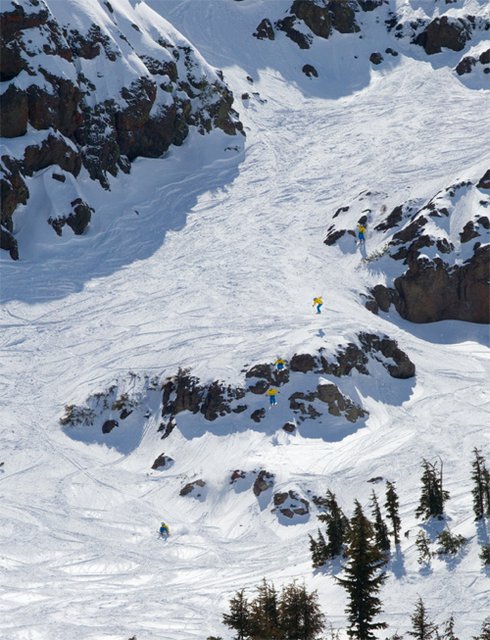 Mathieu Imbert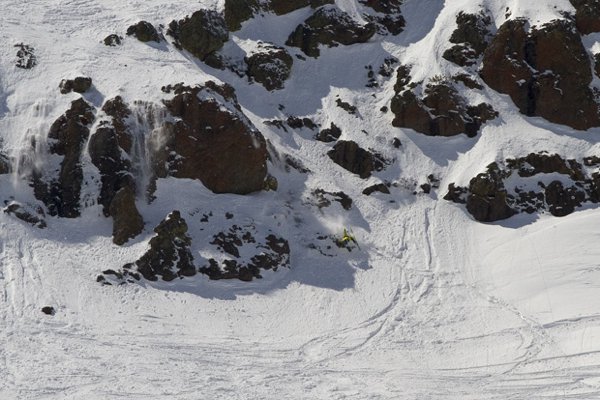 Cliff Bennett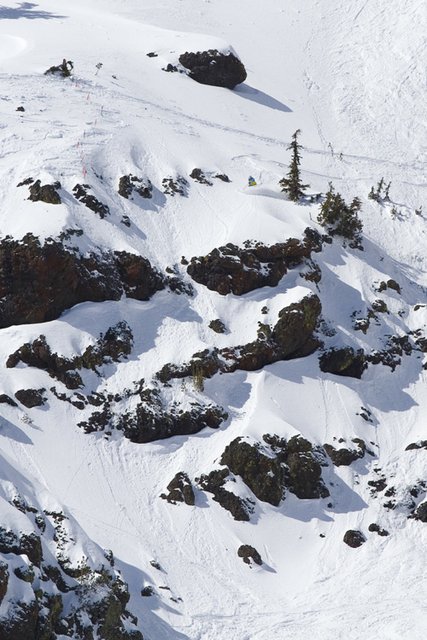 Ashley Maxfield...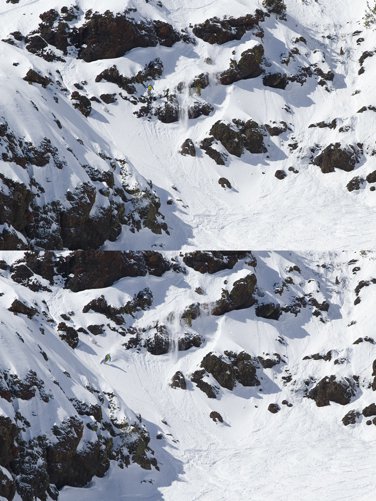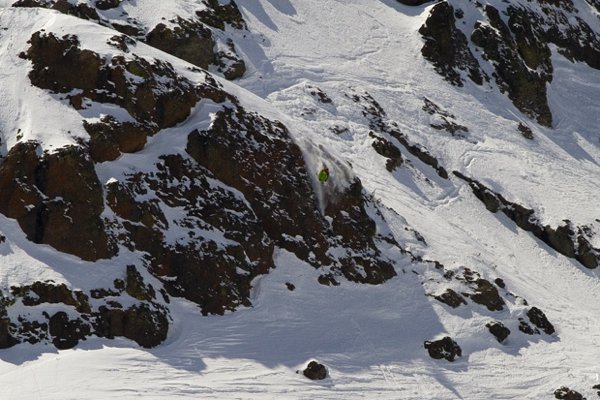 Johnny Collinson...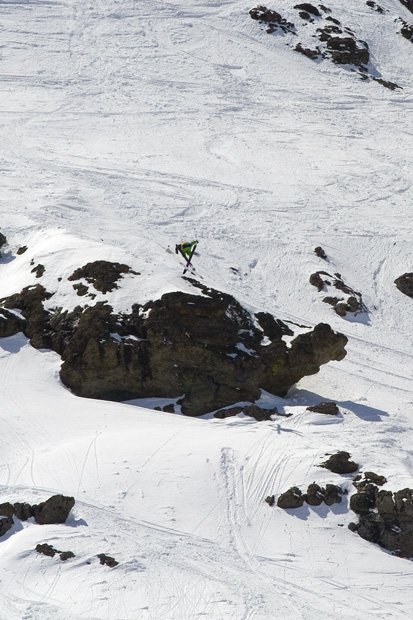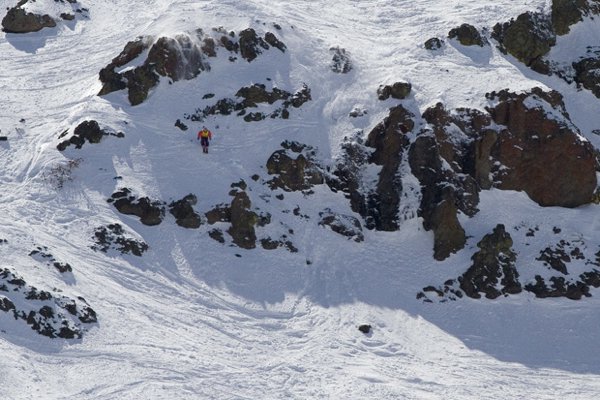 Josh Daiek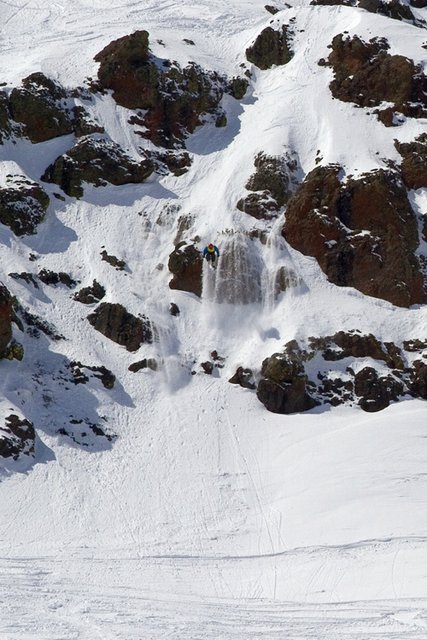 Mat Jackson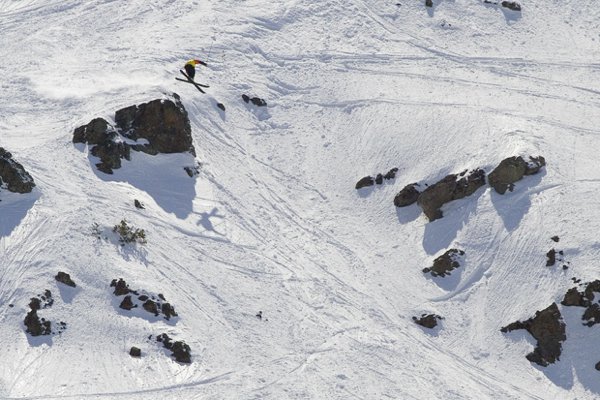 Willie Rocket Schneider...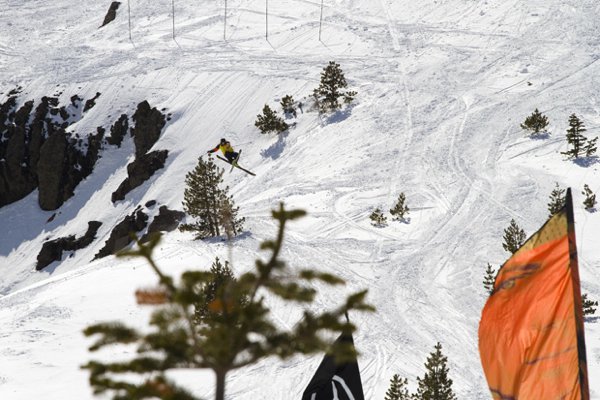 The action continued on cold, soft snow in the shade of the looker's left side of The Cirque on day two. With overall tour titles on the line, and a lot more rock showing than in most years, a lot was at stake for the remaining riders. The ladies stepped in to shred away, with Maxfield and tour newcomer Ashley Bembenek again showing they could swing with the gentlemen, skiing hard and fast through a tight chute with an exit air.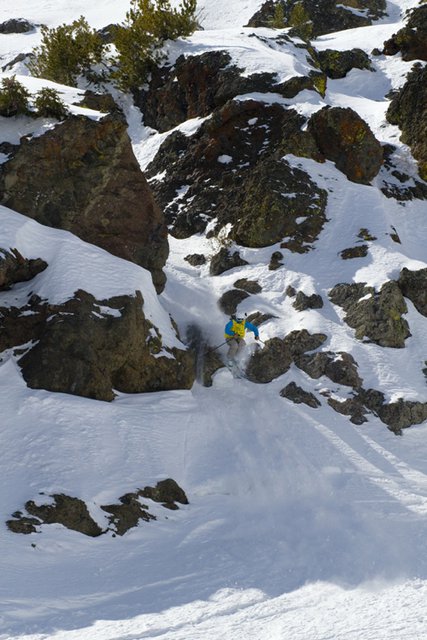 Ashley Maxfield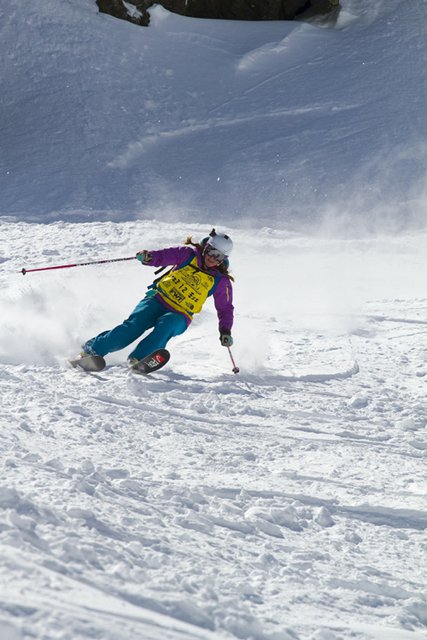 Crystal Wright, Women's Tour Champion, heads up, goin fast.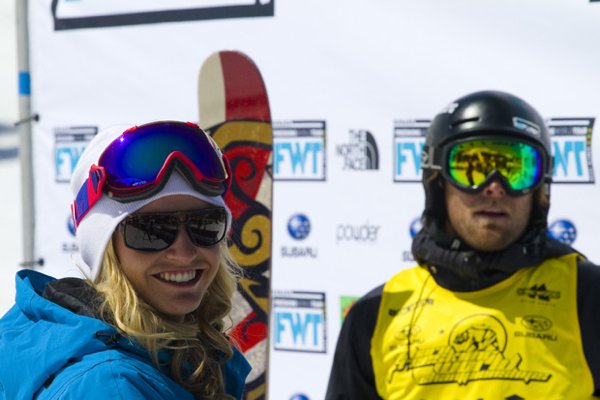 Amy Engerbretson on the color commentary with John Lange.
The top male contenders hoping to sip some glory from the coveted McConkey Cup were Daiek and Chicherit, sitting in 8th and 26th places, respectively. Chicherit was second out of the gate with a run chock full of airs and a hefty lawn dart front flip, setting the bar. Conor Pelton soon stepped up with a 180 over exposure into a buttered switch 180 off the drop, constituting a pretty little butter 3 up and off the drop. Lots of big smooth airs were taken all over the venue, with a solid 30 foot entrance air into the top bowl being favored by many competitors. Lower down, several rollers, wind-lips and booters were utilized for plentiful tricking, including an ill-fated rodeo 5 attempt. One of the clear stars of the day, the eventual sickbird winner and general zen-master of tele-shredding, was Jake Sakson, who spun some massive cliff drop 3's and a rocket air for good measure. Julien Lopez even got in a big ol' backflip, but not as big a backie as JJ Schiller threw later in the day off of a massive top air with some consequences (after which he sadly walked out of a ski on putting it to his feet). But the day couldn't end without some drama. The winds gusting around the mountain decided that at 2:30, they would pick up Kirkwood's bag jump that was set up near the base area and drag it across the lower slope, under a chair and eventually into the lift terminal of the high speed Chair 6 quad. Lift disabled. Evacuation begun. All ski patrol were summoned to lower skiers from the stricken lift and the competition was put on hold with the riders' safety in mind in ski patrol's absence. An hour passed. Then two. The sun started dipping behind the Cirque, but at long last order was restored and the competition resumed. No sooner had it started, and it was a good thing that ski patrol was back on call, than Riley Bergseng lost control of a turn in the upper section, impacted a rocky spine and bounced off a 30 foot air, knee apparently obliterated. Ski patrol brought in the toboggan and set up a rappel to ease it down the only skiable chute in that section of the venue. The sun then lowered even further and the snow started forming a nasty crust for the remaining riders, including Daiek, Jackson, Souza, Collin, Imbert and Chickering-Ayers. When all was said and done, a bit of a judging shake up would leave Daiek with the win on a fast, solid run followed by Sean Collin, Jake Sakson, Willie Schneider and Silas Chickering-Ayers. Next year hopefully it will snow a bit in states that aren't Washington, and we will all get to see the consistently elevated bar of freeride big mountain skiing move even higher. Until then...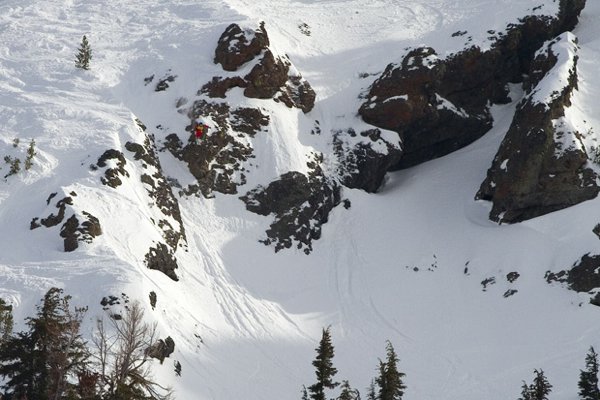 Sean Collin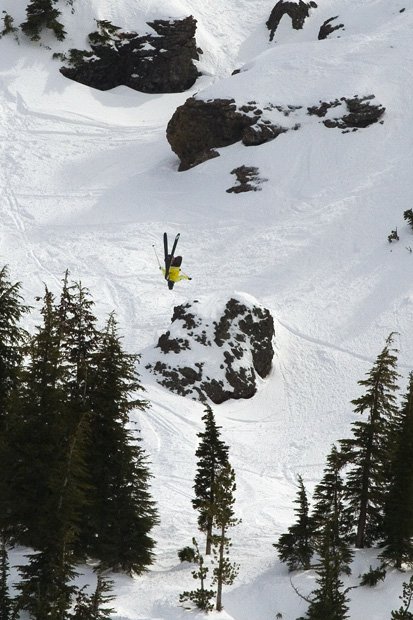 Julien Lopez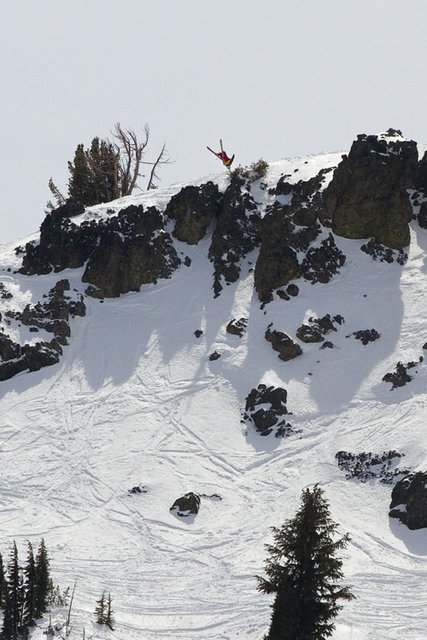 JJ Schiller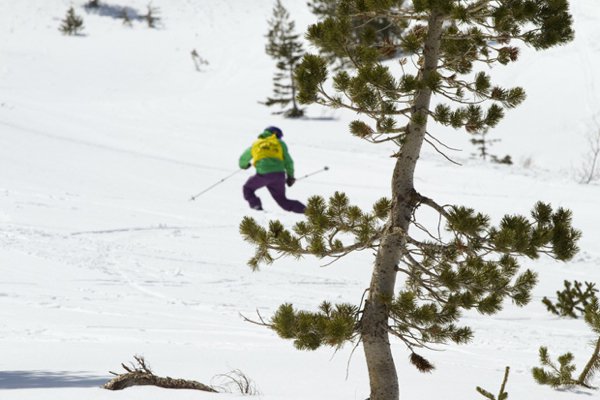 Jake Sakson achieves, the zen of the switch tele turn, after crushing it. A haiku.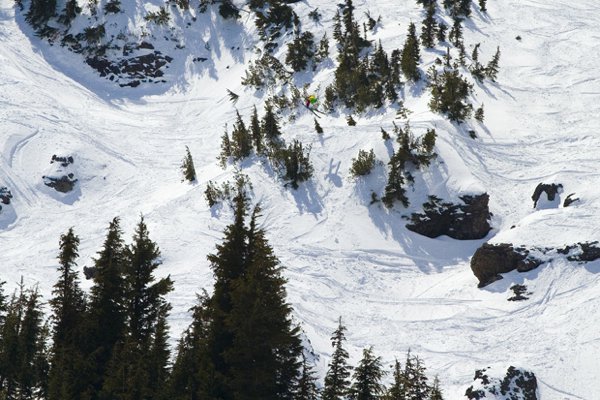 Conor Pelton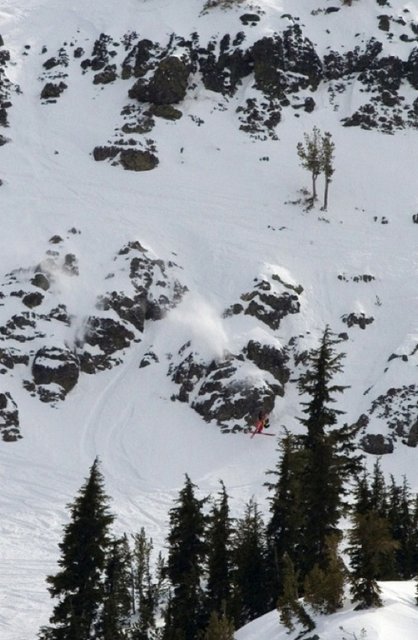 Riley Bergseng, in a spot of trouble. I was actually scared just to snap this shot.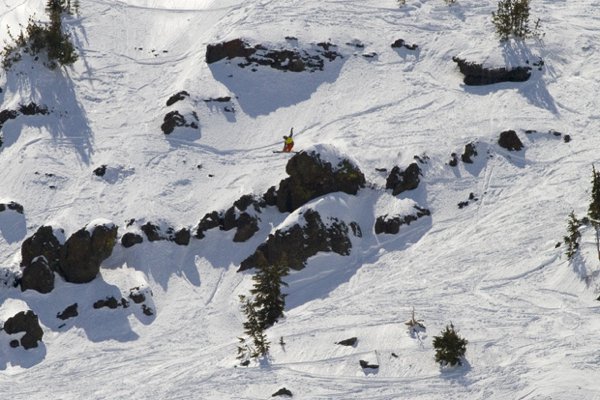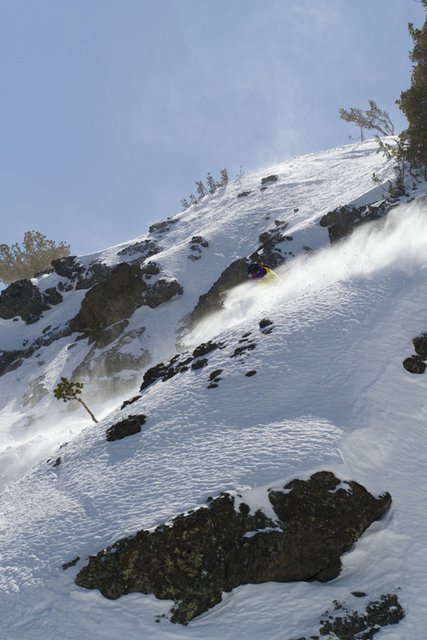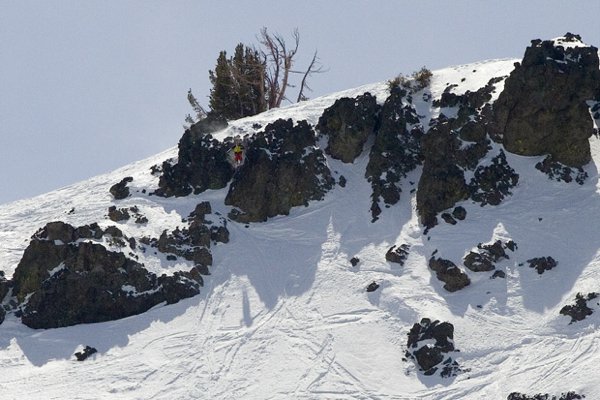 Top air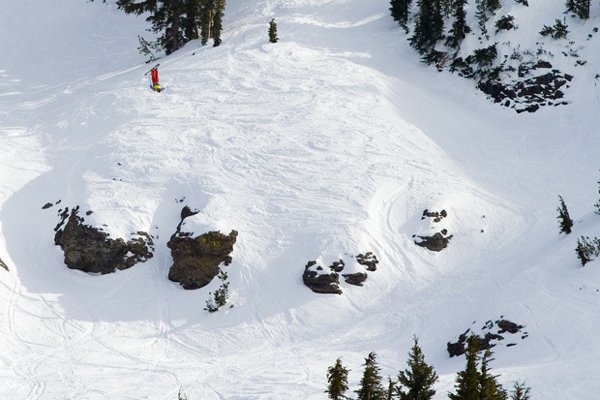 Davis Souza
Daiek about to go 'bows up in victory mode...