Words by Bene Höflinger & Basti Färber

Photos by Flo Breitenberger
After a bad winter in the Alps last year we decided in the summer of 2011 to shoot outside of Europe for our next movie. We also wanted to take advantage of the opportunity to visit our 'Good-Bye Germany' friends Dani Gassner, Flo Göller and Chris Graf in their new hometown of Whistler, BC.
Once the decision was made, Basti Färber, Dominik Hartmann, Marinus Höflinger, Georg Stückler, Tobias Huber, Katha Schröer, Flo Breitenberger and I started planning our five-week trip to the unknown. Since we're all students, we figured the best time to go would be during the 2012 winter semester break. After a really good early season in Europe which saw unusual but welcomed amounts of snow (which also delayed our flight), we finally arrived to spring-like +17°C tempartures in Vancouver after uncountable hours of traveling.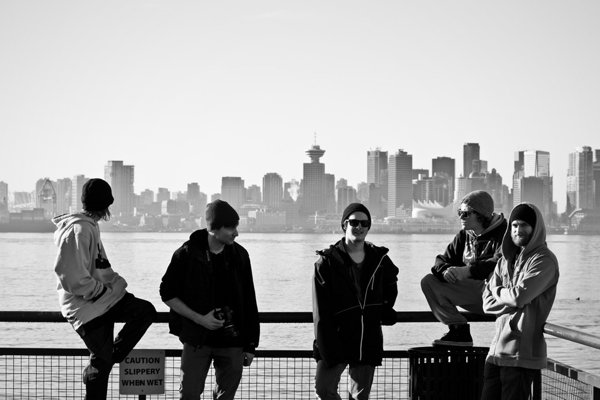 Vancouver, BC
Despite the warmth, we still found no reason to question our decision to travel to Canada, as during our five-weeks stay we still got to experience what a Canadian winter is all about...untouched deep powder.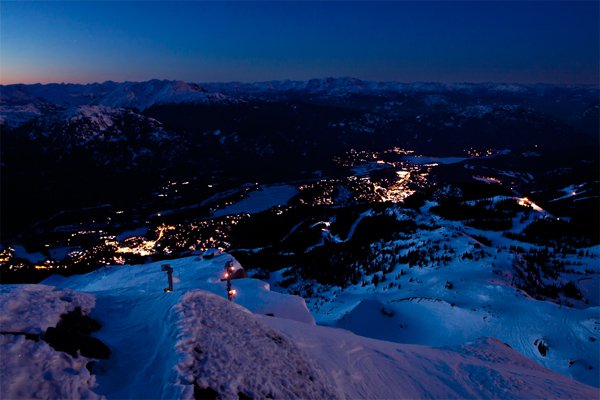 Whistler, BC
After arriving in Whistler we met up with our friends Flo, Dani and Chris, and as we figured out right away, all three of them are already real Canadians, which was evident by the stunning fleet of trucks, jeeps and sleds in front of their house, which was a shared flat of nine people.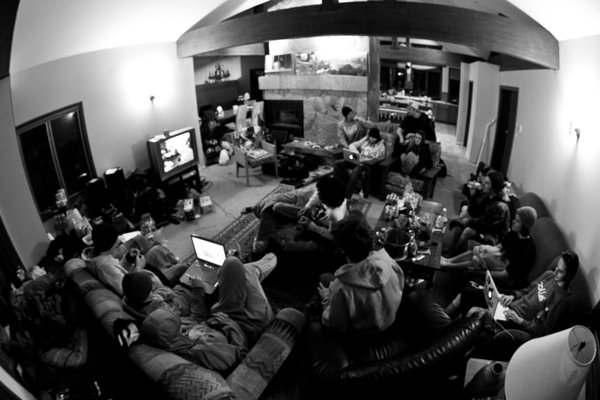 Although our trip started off promising, the spring-like temperatures and the poor snow conditions were not fun at all. But due to the knowledge of Flo and Chris and aided by touring skins we had the chance to ski terrain that the usual Whistler visitor wouldn't be able to find. Thanks again boys!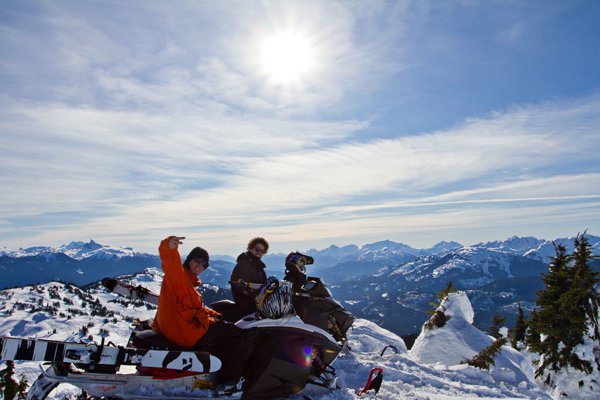 Sessioning the backcountry and park in Whistler.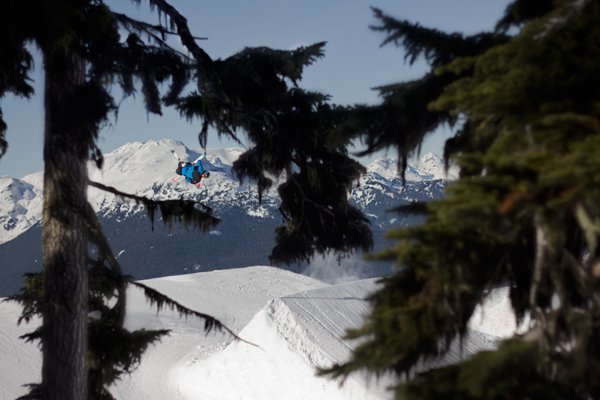 After spending 10 days in Whistler we headed to Revelstoke, where it finally started snowing, and didn't stop for the next three weeks. In contrast to what it can be like in Europe, it was really interesting to see that absolutely ever skier at the resort was shredding powder with hardly anyone on the groomers. Because of this, we found it difficult to find untracked snow, so we had to figure out an alternative location to get shots for our movie. Rogers Pass in nearby Glacier National Park is less than a one-hour drive from Revelstoke and offers pretty much the best terrain you can imagine. But since there are no lifts and no sleds allowed, you have to put on the skins and literally earn you turns. For the zones we skied we first had to skin up at least 600 meters of altitude difference, but for us it was a fair trade because in exchange for the climb we got a phenomenal playground embedded by real Canadian champagne powder. More than just happy, we fell asleep between 8pm and 9pm for the next 10 days, ready to get up early each morning to start our next perfect but exhausting powder day.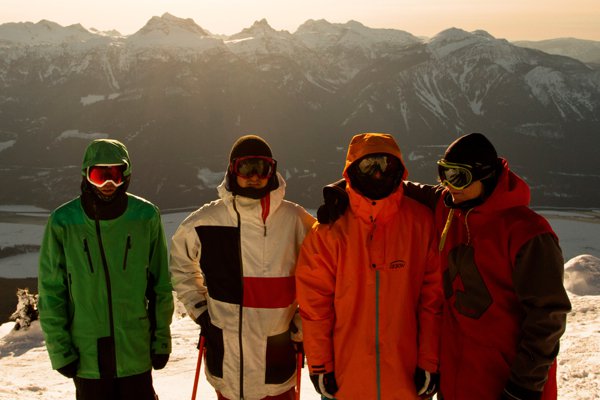 Freeski-Crew.com in Revelstoke, BC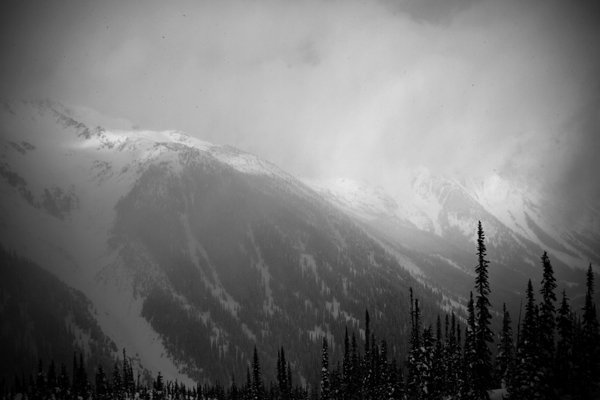 Rogers Pass
Our next stop was Rossland, a touristy little town with typical Canadian flair, where we lived in a hostel without warm water and heat insulation, but with a really nice atmosphere, so we started to enjoy our time there quickly. Just out of town and up the hill the good people at Red Mountain Resort treated us well with great conditions and easily accessible terrain, where we were lucky enough to find some good kicker spots, so we spent our time building booters for a day before beginning our journey back to Europe.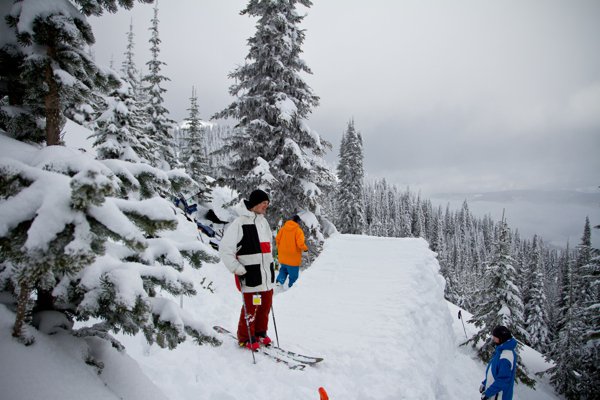 Building and sessioning booters at Red Mountain Resort in Rossland, BC.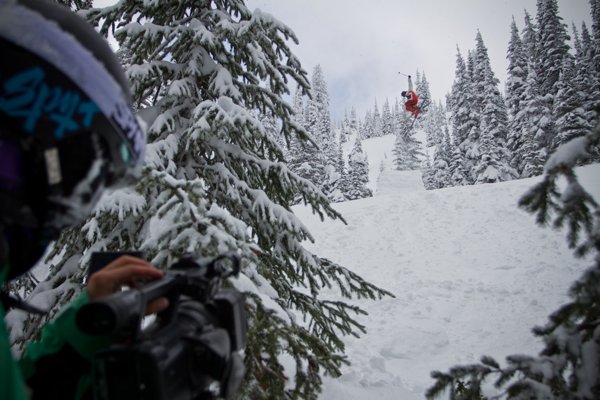 All in all it was a perfect conclusion to a brilliant trip, but there was still one factor missing, a little one, but still an important one…partying. Thankfully for us, the colorful and flashy city of Vancouver provided us with everything we needed to put an exclamation point on the end a perfect trip.
For further information on our trip and other projects be sure to check out http://www.Freeski-Crew.com, and stay tuned for the release of our upcoming movie in the Fall of 2012.