Cover Photo of Angel Collinson in Paradise Awaits
The women in the big-mountain ski scene are arguably the most underrated skiers on Newschoolers. Luckily, there's now an article to inform you about a handful of the best of all time - this one. There are endless women who have thrived in the big mountain scene and progressed the sport, but the woman listed below stand out for their skills, legendary lines and for inspiring other women to step up to the plate.


Kristen Ulmer has no fear - it's not in her vocabulary. In the 90s she was the first female big mountain rider to make waves in the ski community. It would be a disservice to not include Kristen on the list, as the stunts she pulled have yet to be repeated by many athletes on modern skis. Watch this old TGR clip of her stomping a superman off an Alaskan face on straight skis to understand.
https://www.newschoolers.com/videos/watch/879165/Kristen-Ulmer-Skiing-in-Alaska-for-TGRKristen learned to ski on the icy slopes of the east coast, then moved west to begin school at the University of Utah in 1985. She bounced between competing in moguls for the US Ski team and filming ski movies in steep, gnarly terrain. She became well known for her ability to send massive cliffs without hesitation and her expertise in mountaineering. In 1997 she was voted the best female skier in the world at the Powder Awards, the same year she claimed the first female descent of Wyoming's Grand Teton. While she no longer sends 60-foot cliffs, she has found her niche in teaching others about fear.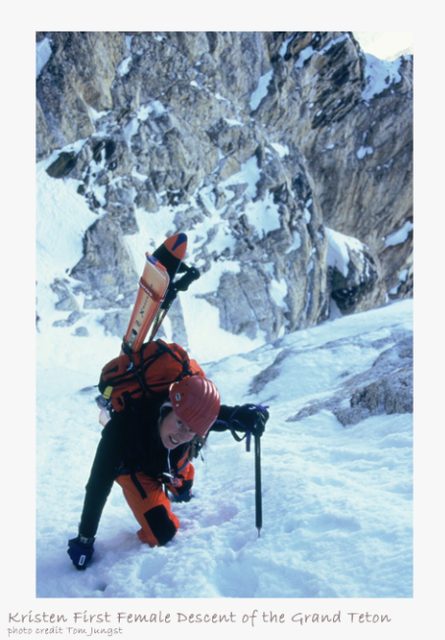 Wendy Fisher was another one of the early women in the big-mountain scene. She could send smooth lines in steep terrain anywhere in the world. And on straight skis too - pretty damn impressive.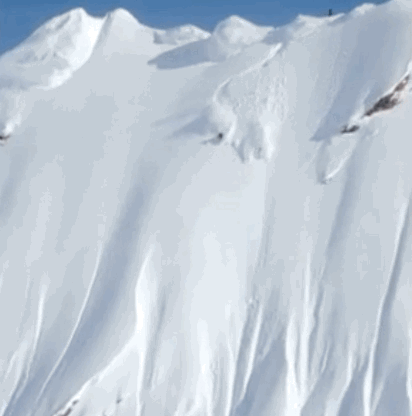 Full video segments from MSP can be watched here
Wendy is originally from Squaw Valley. She later attended the Burke Academy in Vermont and made the US Ski Team her sophomore year. However, the many years of racing led her to burn-out from the sport altogether. She quit the US ski team and made her way down to Crested Butte where big mountain skiing lit her passion again. Wendy began to compete in and win extreme skiing contests all around the globe. In the spring of 1997 while in Chamonix, MSP asked Wendy if she could film a ski segment, which was later featured in the movie "Pura Vida". After an impressive performance, she continued to film segments for MSP as well as other companies for years after. Wendy became a huge influence on the up-and-comer skier Ingrid Backstrom as well as many other young skiers. Currently, she still rips over in Crested Butte.
https://www.newschoolers.com/videos/watch/879166/Super-Mom---Salomon-Freeski-TV-S7-E09
Best Short Winner at the 2014 Powder awards


Ingrid Backstrom is a living legend. She's originally from Washington and moved to Squaw Valley in 2000 to ski bum for 'a year'. She began to compete and win in the majority of the big mountain competitions she entered, but her talent was shown more spectacularly in the spotlight of Squallywood. Ingrid's skiing caught the attention of Gaffney, who then asked her to film for Matchstick Productions in 2004. Her breakthrough performance was in MSP's film "Yearbook" where she absolutely charged jaw-dropping lines on British Colombia's steepest faces. Charged is an understatement.
https://www.newschoolers.com/videos/watch/786703/Ingrid-Backstrom-Steep
Since then, she has appeared as a regular in films by MSP and Warren Miller among others. Thanks to her starring roles, countless young female skiers have been exposed to and influenced by Ingrid's skiing. She helped show that it was possible for a woman to create a career in freeriding. She floats through pillows, charges down steep spines and drops massive cliffs without hesitation.
https://www.instagram.com/p/BMpT8AGhFk1


Lynsey Dyer is a child of the mountains, hailing from Sun Valley, Idaho. She grew up as a successful ski racer and received a scholarship to attend Montana State University. In 2004 she switched to competing in extreme skiing competitions where her skill was apparent - she won every single contest. Lynsey skis with a confidence seldom seen, resulting in smooth lines though steep faces and narrow chutes. It also gives her the necessary mindset for landing huge airs off cliffs. And I mean huge. Since competing, she has filmed segments for Warren Miller, TGR and MSP and was even the first female to be featured on the cover of Freeskier Magazine in 2008. In 2011, she received Powder Award's Skier of the Year award.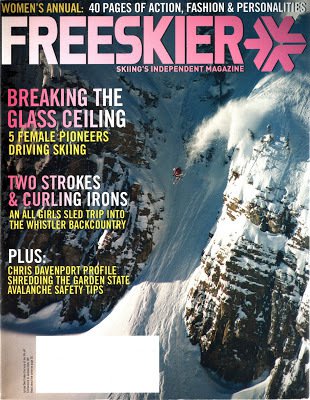 Lynsey has an unparalleled passion for the outdoors and has created of multiple outlets with which she can share her passion with others. She is the co-founder of the non-profit organization SheJumps, which aims to create opportunities and encourage girls of all ages to participate in outdoor actives. She also founded the Unicorn Picnic Production Company, which is known for producing an epic all-female ski movie titled "Pretty Faces." The movie stars both Ingrid Backstrom and Angel Collinson as well as many other charging ladies including Tatum Monod, Hadley Hammer and Elyse Saugstad. Lynsey has become an all-time role model pushing other ladies to get outside and ski hard.
https://www.newschoolers.com/videos/watch/879168/Pretty-Faces--All-Female-Ski-Film

The name Angel Collinson is synonymous with bad ass. No, seriously, ask anyone about Angel Collinson and the first adjective they say will be 'bad ass.' She grew up in the heart of the Wasatch Mountains where the range doubled as her training ground and her backyard. In 2010 she took her skills to the Freeskiing World Tour where she won the winning title her rookie year and again in 2011. Angel is also the first female to have her segment open a TGR film. In 2014's "Almost Ablaze" she is shown fearlessly ripping down spines at Alaska's Taku Glacier while her co-stars struggled in the icy conditions.
https://www.newschoolers.com/videos/watch/879167/Angel-Collinson--TGR--39-s-Almost-AblazeAngel has earned her reputation. She is a powerful skier and easily one of the best in our generation. The technical lines she often chooses have spectators asking 'Where is she going' then quickly shifting to 'Holy shit that was amazing'. Her line in "Paradise Waits" won Line of the Year at The Powder Awards, the first time it has gone to a female athlete. And she isn't just a rad skier - she is also a rad human with an ability to crack jokes and have fun in any given situation.
https://www.instagram.com/p/BLuunIRhK6T


Tatum's Monod motto is "Ski so well, people can't look away." She lives up to her own words. Monod has mastered the art of bringing tricks into the backcountry. Backflips, 360s and shifties with a grab have become standard to see in Monod's edits as well as pillows, powder and cliff drops. Level 1 recently released her 2017 ski segment in "Habit" where she is shown stomping trick after trick in the backcountry.
https://www.newschoolers.com/videos/watch/879316/Tatum-Monod-HABIT-Movie-Segment
Monod was born into a family of skiers in Alberta, Canada but didn't start skiing herself until she was 12. Her natural inclination on skis was apparent, as she was able to stomp her first backflip at the age of 14. Instead of going to a traditional four-year university after high school, she opted for the dream - move to Revelstoke to test her skills. The 2014 film "Less" by Level 1 really put Monod on the radar after she threw down in the terrain in Cooke City, Montana. From then on her influence and notability on the ski community has only risen. In 2016 she won the Skier of the Year from Power Awards, beating out Angel Collinson by just thirteen votes. Her talent and skills are only progressing in freeride with endless possibilities.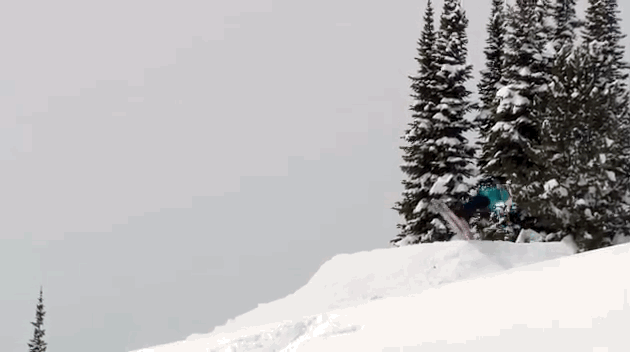 First double backflip filmed with Orage in 2012

These are only six of the numerous amount of woman that absolutely charge in the big mountain scene. The multi-generational plethora of skiers in the article have made it clear that the past was epic, the present is gnarly and the future will be bright for women's freeriding. Who will be the next big influencer in the game?