Tomorrow sees the conclusion of the Freeride World Tour 2015 in Verbier. I'm currently sat in a Verbier hotel room waiting to see the action go down tomorrow morning and it's going to be wild.
Check out the face...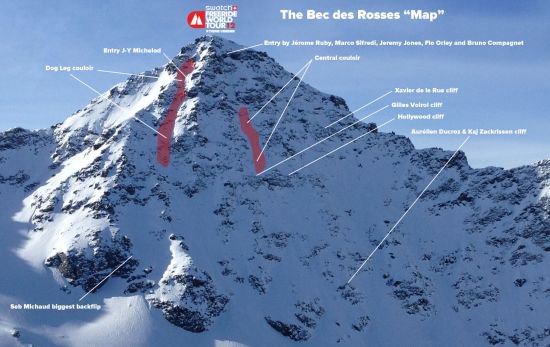 The following guys are competing for the overall title:
Drew Tabke USA
Samuel Anthamatten SUI
Jérémie Heitz SUI
Loïc Collomb-Patton FRA
Kevin Guri FRA
Sam Smoothy NZL
Reine Barkered SWE
Felix Wiemers GER
Juan Bergada ARG
George Rodney USA
Wille Lindberg SWE
In addition we'll see 3 legends of the sport drop in and compete as part of the 20th Anniversary edition of the Xtreme Verbier:
Aurélien Ducroz FRA
Mattias Hargin SWE
Daron Rahlves USA
Freeride legend Henrik Winstedt called the Verbier Extreme the scariest run of his life so it's going to be mental. The forecast for tomorrow is great so make sure you tune in!
http://freerideworldtour.com/calendar/swatch-xtreme-verbier-2015-north-face#live
Here are the most common lines... reckon you could ski them?